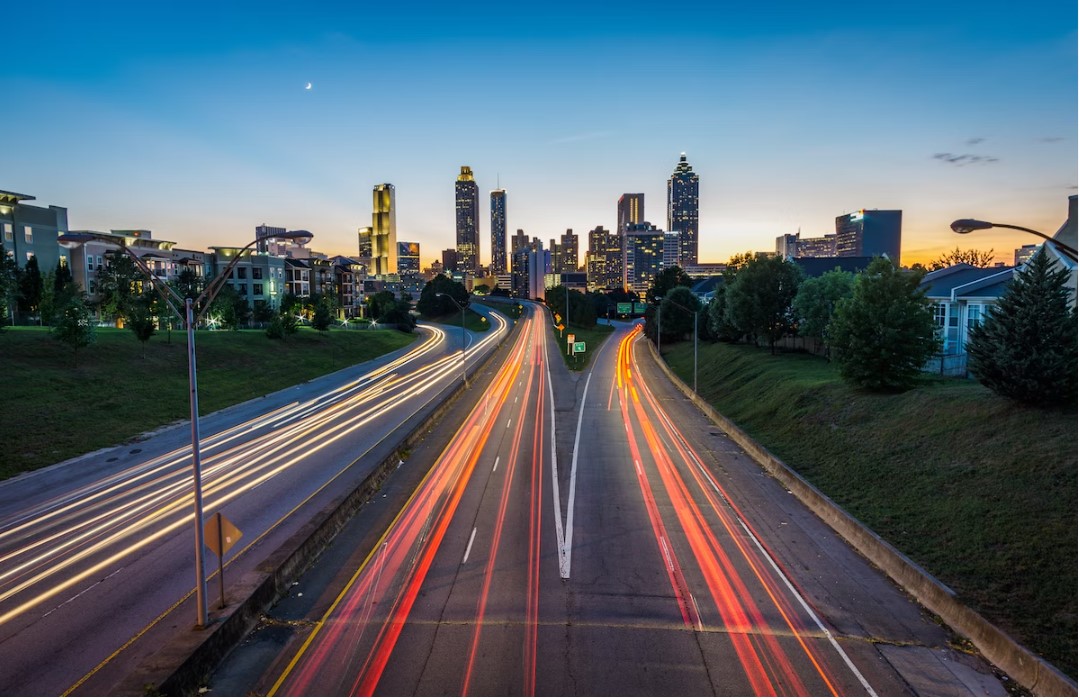 "It's the hub of the Southeast." We spoke to folks at Lateral Link and two Atlanta-based attorneys to find out more about the budding legal scene in the Peach State.
Amy Howe, January 2023
When the bustling city streets are no longer calling your name, and you find yourself repulsed by the thought of being sardined on the Subway in the bowels of New York City, where do you turn? When the Cali-cool shores of the West Coast are no longer able to soothe the flames of extortionate accommodation prices, what do you do? The metropolitan pocket of Atlanta tucked away in the Southeast may just be the answer to your dreams. Whether it's the hikes up the North Georgia mountains, the crystal-clear lakes dotted around the city, or the Atlanta Braves, "There's something for everyone out here," Allie Fennell and Marion Wilson at recruitment firm Lateral Link tell us.
Wilson explains, "While attorneys relocate to Atlanta from all over, it's common to see folks who were raised in the Southeast move back to Atlanta after practicing in major markets such as New York City or DC." Atlanta tends to attract a more mature audience of attorneys looking to settle down long term – without compromising the sophistication of deals and, of course, competitive salaries. "New York can be quite intense; there's a lot of electricity and energy on both the professional and personal side, which can be fun and exhausting," Hillyer Jennings, partner at King & Spalding, explains of his experience in the city in his 20s. "Atlanta is very much long-term livable."
"It's the hub of the Southeast."
Now, you may have already heard of lucrative alternatives to the big coastal players. Texas is often touted as an arena where you can have it all: top-notch deals and a work-life balance, with a generous serving of Southern hospitality. So, what does Atlanta bring to the BigLaw table? "Sure, Texas has 43 companies on the Fortune 500 list compared to Georgia's 18," Fennell admits, "However, if you dig deeper, 30 of the 43 headquartered in Texas are in the energy sector. Compare that to Georgia's list, which is much more diverse." It's a state that's home to the likes of Home Depot, UPS, The Coca-Cola Company, and Delta Air Lines; and when you consider that Atlanta is the nucleus of Georgia's legal scene, you can only imagine the sweet, sweet deals that Atlanta-based attorneys have a front row seat on. Of the AmLaw 100, there are 31 firms with offices in Atlanta, five of which call the city home: King & Spalding; Alston & Bird; Troutman Pepper; Ogletree Deakins; and Kilpatrick Townsend & Stockton. Taking a look at the wider picture, there are also five AmLaw 200 firms headquartered in the city: Fisher & Phillips; Morris, Manning & Martin; Smith Gambrell & Russell; Arnall Golden Gregory; and Fisher Broyles. Matt Zischke, partner at Atlanta-heavyweight firm Nelson Mullins sums it up quite simply: "It's the hub of the Southeast."
The city houses one of the fastest growing legal markets – year-end reports from Wells Fargo for 2021 suggest that, on average, revenue growth at Atlanta-based firms surpassed that of the national average. This impressive growth is down to a number of factors, not least: 1) the sheer volume of investments being made to grow the business scene; 2) the traffic flowing through the city (we're not talking about road traffic – although that is a sound indication of a growing metro!), given that Hartsfield-Jackson Atlanta is statistically the busiest airport in the world; and 3) more bang for your buck – the biggest of BigLaw firms in Atlanta have recently made the move to match New York's Cravath scale, and with Atlanta's significantly lower cost of living, your money stretches much further.
Atlanta Hiring
Plenty of attorneys have already been making moves to tap into the Southeastern oasis. Hiring data collected by Lateral Link in the graph below shows the hottest practice areas to date.
"As with most markets, we see the trend towards hiring junior to mid-level associates in Q1 and Q2. The attention then turns towards mid-to senior-level associates in the fall," Fennell explains. But times are a-changing in the BigLaw hiring world. She adds, "Because of the mad dash for the junior to mid-level associate hiring in 2021 and 2022, clients are now turning their attention towards mid-level to senior associates in Q1 of 2023."
Business is booming
Lateral Link's data shows that litigation, corporate, real estate, and labor & employment consistently remain the busiest practice areas in Atlanta in terms of attorney hiring, but there are others that have been on the rise in the past year. "The area that we are currently seeing an increase in demand for is mid-level data privacy and cybersecurity associates," Fennell tells us. The increase in demand for associates to fill these positions is certainly being felt on the ground, as Jennings agrees that "The tech piece is certainly what we're seeing expand."
This is, in part, thanks to the tech talent coming out of the local colleges, including the Georgia Institute of Technology (Georgia Tech). Jennings goes on to explain, "Big companies like Microsoft, Google, and Visa are investing in operations here to tap into that talent." Microsoft has had a presence in Atlanta since 2007 and has taken steps to play a major role in the city's growth and innovation. Just recently, in April 2022, the tech corporation announced plans to add to its campus development in west Atlanta. The past two years have also seen Google and Visa open new offices in the city. What's more, the city is home to a securities exchange, Intercontinental Exchange, and the NCR Corporation, a software, consulting, and technology company, which each drive developments in data privacy and technology transactions in Atlanta. Not to mention, the city also hosts over 700 tech start-ups; Zischke predicts that emerging markets and start-ups are likely to contribute to much of the city's legal growth in the coming years. All in all, the future's looking rather peachy for tech enthusiasts in the area.
On top of the tech piece, Atlanta's healthcare sector is seeing a ton of action. "It's down to a combination of hospital systems and an aging population in the Southeast as a lot of people tend to retire here," Wilson tells us. It's a city that's home to the Centers for Disease and Control (CDC), and has been referred to as the 'public health capital of the world.' This is largely due to the nationally recognized healthcare law program at Emory University, which has close ties to the CDC and carries out a lot of research into the sector. With a number of top colleges producing a pipeline of top talent in the area, it's no wonder so many industries are moving from strength to strength. "IP is also particularly busy now," Wilson adds. "There are more positions open that I can remember ever seeing at this time of year!"
Future growth
Investment is in the name of the game for Atlanta's future as a leading business hub. In addition to the big tech companies making moves in the city, Jennings highlights that "There are a number of venture capital firms based in Atlanta, or at least looking to invest here. There's a good bit of venture capital work to be done on the legal front, and I also expect private equity firms will continue to grow here." The presence of young start-ups in the city makes it fertile ground for venture capital firms looking to invest. There are already a number of venture capital firms headquartered in the city, including Tech Square Ventures and Forte Ventures, and it's likely more will look to open up operations in the area in the coming years. Reports suggest that, while venture capital funding has recently seen a drop in activity globally, Atlanta's figures have been soaring. The PitchBook-National Venture Capital Association Venture Monitor report notes that startups in Georgia raised almost $3 billion by Q3 of 2021.
What's more, attorneys hungry for franchising work are certain to get their fill in the city… It's yet another industry which is poised for growth in the metro. Jennings points out, "There are several big fast-food chains based out of Atlanta." You've got Chick-fil-A, Waffle House, and Applebee's to name just a few. Atlanta's airport sets the city up to be perfectly poised for franchising, logistics, and distribution; companies like Coca-Cola, UPS, and Mercedes-Benz have been benefitting from the location for years.
Payment processing systems have been key to Atlanta's business scene for years. In more recent times, fintech has almost become synonymous with the likes of San Francisco and Silicon Valley, but Atlanta's fintech scene has been quietly budding off of the city's payment processing history. In fact, it's suggested that Atlanta's Transaction Alley is responsible for processing up to 70% of transactions throughout the US.
On top of industry growth, Zischke highlights that the city is ideal for attorneys looking to grow their own books: "It's an extremely busy market; lots of firms are located here so there's opportunity to network," as well as the fact that the volume of companies headquartered in the city "opens up the availability to work with lots of different clients in different industries."
Soaring salaries
Before we saw the rapid salary increases of 2021, Atlanta was falling behind in terms of compensation. Over the past year, Wilson tells us, "First-year starting salaries in Atlanta have increased by as much as 30%." Let's break this down: at least 14 firms in Atlanta now start at $215,000, while another five firms start at over $200,000. More than 11 BigLaw firms situated in Atlanta have matched the lockstep New York compensation scale for all first- to eighth-year associates, while another 12 have adopted a modified version which isn't completely lockstep. "These compensation increases make Atlanta an even more attractive option for attorneys who are interested in relocating to a slightly smaller market without taking a significant pay cut," Wilson explains.
While this is all peachy, Zischke warns, "When engaging lateral relocation candidates, employers want to know it's not just about the money. You have to be able to explain why you want to move to Atlanta."
Atlanta living
And here are just a few reasons why you may want to make the move…
"People can see themselves coming here and buying a house with a yard, as opposed to a one-bed apartment in New York City," Jennings explains. In fact, according to the Atlanta Chamber of Commerce, Atlanta's cost of living is 140% less than that of New York City, 94% less than San Francisco, 58% less than DC, 45% less than Boston, and 17% less than Chicago. To help you visualize just how far each dollar stretches: a salary of $215,000 in Atlanta equates to an eye-watering $527,000 in New York City.
New York City may also be touted as the cultural melting pot, but Atlanta puts up a good challenge for the title. It's a well-known fact that there is no majority racial group in the city. It's also one of the top ten metro areas with the largest LGBTQ+ population. The city boasts a thriving social scene, catering to any and everyone. "The beauty is Atlanta is such a diverse locale," Zischke explains. "There's a lot happening, whether it's concerts, shows, or sporting events." Thanks to its flourishing film scene, the city has also been dubbed 'the Hollywood of the South.'
Not to mention, "The weather's also great if you like it hot!" Zischke adds. "Sure, it's humid and hot in the summer," Wilson concedes, "but our winters are typically mild and short. And we do get all four seasons!"
As well as the city's airport being the busiest in the world, its geographic location means "more than 80% of the US population is within a two hour flight from Atlanta," Wilson adds. "It's easy to take a quick weekend trip home!"
"The Southern hospitality is really what's the best; it feels like home!"
Finally, we asked our attorney interviewees what their favorite thing about Atlanta was at that current moment. "It's a place where people talk about their families at work and try to get home in time for dinner," Jennings notes. He continues, "The Southern hospitality is really what's the best; it feels like home! It's got that culture where you feel like you belong, and there's a mix of city life and non-city life all within close reach." He adds, "As a University of Georgia graduate, it's also nice to be close to Athens, Georgia to make it to Bulldogs football games. I'm loving that the Dawgs are back-to-back national champions!" On that note, if sports bring you joy (or the occasional heartache), the city is home to a handful of pro sports teams and regularly hosts major sporting events, including the 2018 College Football National Championship (which we hear will be returning to the city in 2025!).
Approaching Atlanta
The cherry on top for attorneys considering the jump is the fact that the state of Georgia provides bar reciprocity; you may be admitted to practice on Motion, if you fulfill certain criteria.
So, when's the best time to start looking? "Often, associates incorrectly assume that they should wait until Q1 to start the process of making a move so they can collect their end-of-year bonus," Wilson tells us. "Q4 can be a great time to make a move or start the interview process; there's less competition and you can often negotiate a Q1 start or potentially a make-whole bonus." But Wilson advises it's important to bear in mind that "even if you'd lose the bonus, if the opportunity advances your career and is better in the long run, it's foolish to pass it up for short-term gains."
As we mentioned earlier, Atlanta tends to attract more senior attorneys who have done their time in the New York and DC markets and are looking for something more sustainable long-term. "In terms of demand in the partner space, Atlanta and Miami have led the way in partner percentage increase over a five-year average," Wilson tells us.
"It's still BigLaw!" Wilson warns. "Some folks look to move here because they think working in Atlanta is a cakewalk – it's not.  You will still work hard. And you'll still have the same sophistication of work, working cross office, and working on the same types of matters as in other major cities. But it's certainly a more relaxed atmosphere where you don't hear about people billing 2,600 to 3,000 hours."
---