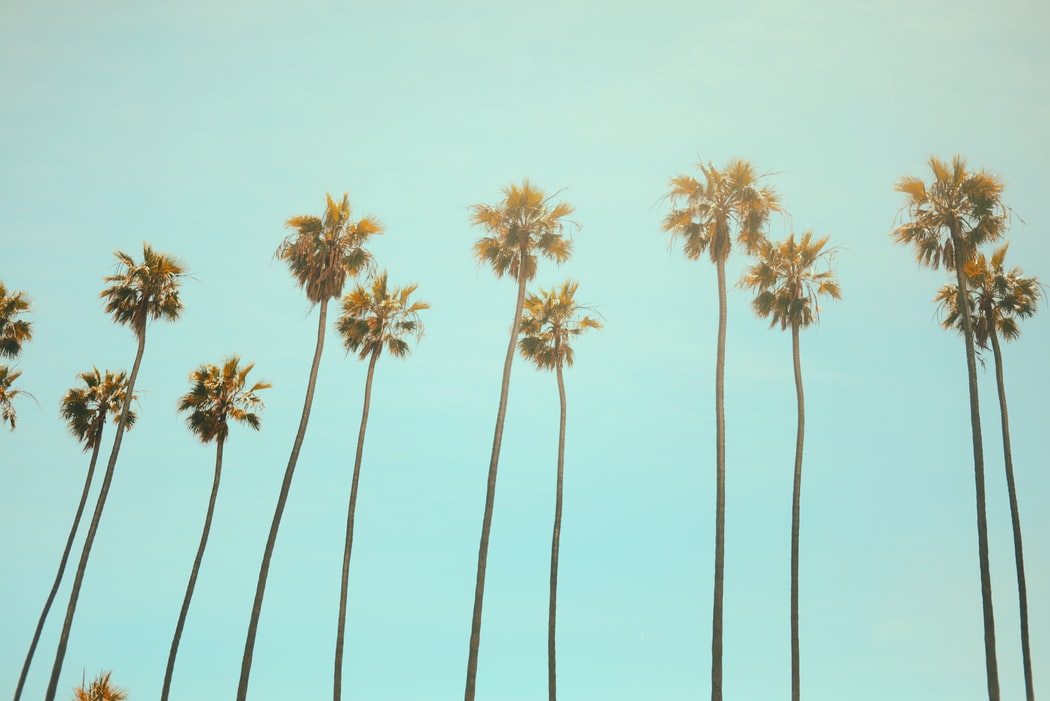 Is California really as cool as the songs make out? We can't tell you if it'll soothe your achin' heart, or if California girls are in fact unforgettable, but we CAN tell you what exciting opportunities it holds for legal careers. We caught up with the team at Whistler and three lawyers that made the move to the Golden State to get the low-down on life on the West Coast.
Natalie Bertram, Dec 11, 2020
California Dreamin'
Ever find yourself staring forlornly out of the window at the bleak winter rain outside your shoe-box apartment, pining for some sun – or at least a place where your home office isn't also your dining table and your bed? You're certainly not alone! More and more attorneys are finding, as Sean Burke, founder of Whistler Partners notes, that "moving West might open up more opportunities for you." Whether those opportunities mean weekend surfing, or getting to work with innovative start-ups and tech giants, the Californian stereotype is seductive. "There are more opportunities earlier in your career, and a culture that accepts that," Burke highlights, which makes it an exciting place for younger attorneys. "There's way more general counsels who are younger than in New York. There's also more fast-paced companies and smaller companies, which lends itself to more risk and more ability to leave earlier in your career."
"Silicon Valley and the Bay area is probably the most competitive and sophisticated legal market in the world. Local firms, national firms, international firms – every law firm wants to be here."
The Californian economy has long veered toward more innovative industries in a way that contrasts with the more institutional East Coast. But even within California, the market is huge and it's worth making the distinction between Northern California and Southern California, both of which are vibrant hubs for legal work. In the north, there's the Bay area and Silicon Valley – the firmly-established birthplace of tech start-ups. "Silicon Valley and the Bay area is probably the most competitive and sophisticated legal market in the world. Local firms, national firms, international firms – every law firm wants to be here," says Dan Mummery, a senior consultant at Whistler Partners (and Dan should know. As the former hiring partner of Gibson Dunn & Crutcher's Palo Alto office, he's seen all types of bay area career trajectories). Not only is the region home to dozens of Fortune 100 companies (think household names like Apple, Facebook, Oracle and Netflix), it creates the right conditions for emerging companies and start-ups at the other end of the spectrum. Dan Malech, VP strategy & general counsel at Plenty and former Wilson Sonsini associate, notes "there's nowhere else like it on earth. Financial hubs have been a thing for a long time now – there are financial centers all around – but no serious tech hubs of the same caliber as Silicon Valley."
Down in SoCal, the glitz and glam of Hollywood and the wider LA area has long attracted big egos and creative talent (as well as their much-needed lawyers). But Whistler managing director Josh Bilgrei highlights that the LA market is evolving: "Southern California is booming everywhere. It used to be traditionally entertainment and Hollywood focused, but now it's more focused on everything – there's more business here, more tech here, and more start-ups here now." And Bilgrei adds, "even more traditional companies are expanding: Google, Amazon and Apple have all expanded their operations in LA, as have industrial-type companies like Tesla and Hyperloop, cannabis companies, and other autonomous vehicle companies." He also highlights the "entertainment-technology convergence" as a reason for an uptick in interest in the California market: "Whether you're a litigator or a corporate lawyer, or at a firm or a company, the entertainment-technology convergence is really what is driving the California economy, the growth and the excitement. That's what is at the heart of everything. People are more excited to be working with a Google, a Netflix, or an Apple, rather than Big Bank A or Big Bank B."
Going (in-house) to California
Where there are growing businesses, there is their growing need for lawyers. Going in-house is a popular option for many, regardless of the coast they live on. Sean Burke admits "in New York there aren't as many in-house jobs on average. It's harder for companies to be based in New York; it's very expensive." Burke gives an example: "if you look at a private equity firm in New York, they outsource almost all their legal bills and their internal legal team could be two to five people. That fund might control millions and use a firm like Simpson Thacher to do their big private equity and M&A, and almost never hire internally. Whereas Google and Apple – they have hundreds of attorneys." He summarizes that "the major difference is that these tech companies hire more people, hire more often, and there's more of them in California, whether big or small." That's not to say these opportunities are zero on the East Coast; Dan Mummery adds "the likes of Facebook and Amazon do have a New York presence now, but it doesn't in any way match up to California."
"Going in-house at an interesting company seemed like it opened more pathways to go from that to a partially non-legal or business-facing role."
Like many, attorney Derek Huoth was initially drawn to California for "the opportunity to work with tech and start-up companies. At that time, California (and Silicon Valley in particular) was the authority on the matter and if you wanted to work with companies in that space, that's where you had to be." After first lateralling from a large East Coast firm to a West Coast firm, Huoth chose to go in-house at media and entertainment company Tastemade where he is now general counsel. "I was the first lawyer [at Tastemade], so coming in it was a steep learning curve – all things legal obviously fell to me," Huoth recalls. "My background was as a corporate lawyer – I did M&A in New York, then venture capital and start-up work in the Bay area. But as in-house counsel at a start-up where you're the only person, there's no room for specialization – you have to do it all. I quickly learned other areas of law that I didn't have as much experience in."
When reflecting on his own choice to go in-house, Dan Malech recalls "I had an inkling that I wasn't super interested in being a partner long-term. I was more interested in the business side of things." He continues, "I was happy being a lawyer, but it struck me, seeing the people in the Silicon Valley ecosystem who came in as lawyers but seemed to have many more options. Going in-house at an interesting company seemed like it opened more pathways to go from that to a partially non-legal or business-facing role." Malech joined vertical farming company Plenty in 2018 [check], where he built out his legal team and has now "taken on a variety of operational and strategic roles as well as legal ones."
Wish they could be California firms
Inevitably, the growth and expansion of major tech companies and the boom in start-ups has meant that "firms that have been in both northern and southern California are expanding," says Bilgrei. "And firms that have an office in one part of LA are opening a second office in LA. Firms that tried to open offices in either city are now trying again. There is huge expansion, which makes it a really good time as there's only so much talent going around." Julieta Stubrin, senior director of law firm relationships at Whistler, backs up this point: she adds that because there are more in-house jobs in California (than in New York), it means "there's less movement between law firms. The lawyer is automatically a better candidate if they're looking at other law firms. In New York, there are a lot more attorneys who might want to switch firms than there are in California."
In this sense, California firms have a greater incentive to make the working culture more amenable for their attorneys. "There are more in-house opportunities and more opportunities to leave – law firms have to be more cognizant of that," Stubrin emphasizes. "In New York, it's more common that attorneys will stay there for three to four years, then there's a good chance they will go to another firm. There's an element of 'you'll bill a million hours, you'll leave eventually and there's no way to stop that, so we're not going to try to adjust your work lifestyle to try and keep you longer. It's just known to be hard and that's too bad.'" However, with established California firms, Stubrin reckons "their attitude is more like 'we're probably not going lose you to another firm, we're going to lose you to in-house'. In terms of perks, maybe you don't bill a zillion hours and you have slightly better chance to be partner – that's enough to keep people, more so than it is in New York."
This plays out in our 2020 research, shown below, where we asked over 3,000 associates how many hours they worked last week.
"We work quite hard as well – I don't want associates to get a false impression."
This was the path that Scott Behar, partner at Fenwick & West, took when he made the move from New York to California. Alongside more non-career/lifestyle reasons, Behar notes that one of his motivations for moving West was "wanting to get involved in the technology industry," and this was something he was able to do at Fenwick. "Fenwick is entirely focused on tech and life sciences clients – we have a strict industry focus. That was the biggest change for me, coming from doing a wide variety of deals in New York – manufacturing deals, financial services, all sorts – to really focusing on technology when I came out to California." Another key difference Behar noticed was that "my move to California enabled me to work in smaller deal teams and get more hands-on experience." He credits these experiences as being one of the biggest benefits to his career, explaining that it enabled him to "be the lead associate on M&A transactions as a fourth and fifth year." Although reckoning California firms may have "a little more respect for time outside work," he also warns that "we work quite hard as well – I don't want associates to get a false impression."
"Tech companies move quickly and don't want to fight over stupid things. It's very down to earth"
Before going in-house, both Dan Malech and Derek Huoth also moved from New York-based and founded firms to California-based and founded firms. In Malech's experience, he stresses that "they're fundamentally different in their DNA, both in terms of the specialties and the culture. First and foremost, practicing at a firm in New York taught me what perfect looks like – if it's not 100% correct, it's wrong." Huoth echoed the same sentiment: "I recall you would really dedicate time and commitment to polishing the stone – to the highest level of perfection with less concern about hours billed." Both noticed an immediate distinction in coming to California and working with a different breed of client: "Particularly with early stage companies, you learn to take that and dial it down – make it more practical and cost-efficient for working with smaller clients," Malech explains. He elaborates that "in New York, if you're doing a high-yield bond deal, there have literally been cases where hundreds of millions of dollars of credit support fell away because of a misplaced preposition. I can't think of any early stage venture deal that went south because of something like that." Dan Mummery agrees that the business climate is noticeably different on the opposite coasts, adding "you can get things done but not in the same scripted way you'd do in New York. Tech companies move quickly and don't want to fight over stupid things. It's very down to earth – people even dress more casually, and people are drawn to that."
More bounce in California
There's a little less specialization required" on the West Coast, muses Burke. "It seems if you want to work on other things or have a broader practice, you're able to do it in California." By comparison, he explains, "in New York, more often it's more specialized. You get litigators from top Wall Street firms who have never taken a deposition, and never worked on a labor & employment case. They've only done big government investigations and a couple of big securities litigation cases." As a direct result, Burke admits "it can be hard to lateral your way directly to an in-house job in California. You haven't really done the things they need on day one. A lot of times people need a little bit of retraining and need to have a different client base for a year or two before they can switch and go in-house in California."
If you're being strategic, Burke advises that "the faster move to get out to California and go in-house is often to go to a firm for two or three years and get some retraining." Scott Behar feels start-ups are the way to go to fast-track your experience, as they are "generalist in nature, meaning you learn a whole bunch of different aspects of what it's like to advise a start-up company, which prepares you well for a general counsel role." Malech and Huoth both followed this path which eventually led them to their current in-house positions. Both agreed that their time at their respective law firms when they first made the move West was "invaluable."  Malech recalls: "I thought about going directly in-house but decided if I was going to move to the Silicon Valley area, it would make sense for me to first learn the ropes at a law firm that specialized at that kind of work." During this time, Malech's exposure to early-stage companies was "really good for building out my understanding of both the technical aspects of venture financing, as well as all the related areas in the Silicon Valley ecosystem." This final aspect, Malech explains, should not be understated: "You learn about the various players and the unwritten rules of how things are done. Learning that was pretty invaluable." 
On moving to a California firm, Huoth encountered "brand-new business ventures, which was exciting for me." He found he was able to have "a greater thumbprint on what the company was doing," while also getting "exposure to a variety of partners, learning styles, and clients, which is harder to get in-house at a company." On this career strategy, Huoth adds: "At a firm, you really develop as a lawyer because firms get to deal with the most challenging issues with different approaches to different problems, and you have the opportunity to learn from the best of the best."
Californication 
"I love living in a city that's close to mountains and close to the ocean," Scott Behar admits. "It gives you the opportunity to live in a city, but also get to be outdoors." This was a common draw for our interviewees: Josh Bilgrei elaborates "People are outside here more and do more activities. There's a different mentality that then resonates through everything else. In New York, you might be talking to a partner about activities, and they might be thinking 'oh maybe you don't have enough work', whereas in LA if you say you're going on a hike, people are like 'that's awesome!'"
This "fundamentally different vibe" also extends to attitudes towards remote working. On the West Coast Mummery noted that "they don't care as much about facetime because, culturally, everybody is working remotely. VCs are at their kids' soccer games with a cell phone doing conferences calls! When the clients are doing that, it makes it a lot easier for the lawyers to do that. Culturally, it's more accepted here – it's a more mobile community here." It's worth noting that Covid-19 has shaken things up a bit, and we expect the East Coast to embrace a little more of this flexibility for the long term. But when the pandemic hit, California firms were well ahead of the game – no firm freaked out at having to adapt to lockdown.
Los Angeles I'm yours
With some closing words of advice, Huoth says: "when looking to move out to California, don't feel the pressure to rush into that perfect job. If you want to work at, say, Snapchat one day, don't just apply to that place and hope to get it. There may be many stepping stones, and the more steps you take there, the better equipped you'll actually be when you get there." For those interested in lateralling to another firm, Scott Behar advises giving "strong consideration to indigenous California firms. If you're going to work in California, there's something to be said for working at a place that is based in California and has strong ties to the community there, rather than just a satellite office of an international firm." Dan Malech emphasizes the value in joining a west coast firm initially, whether that be "to go there and make partner or go with the eye to go in-house. It's a really good springboard along the way, and the relationships I built at the firm are still paying dividends."
---