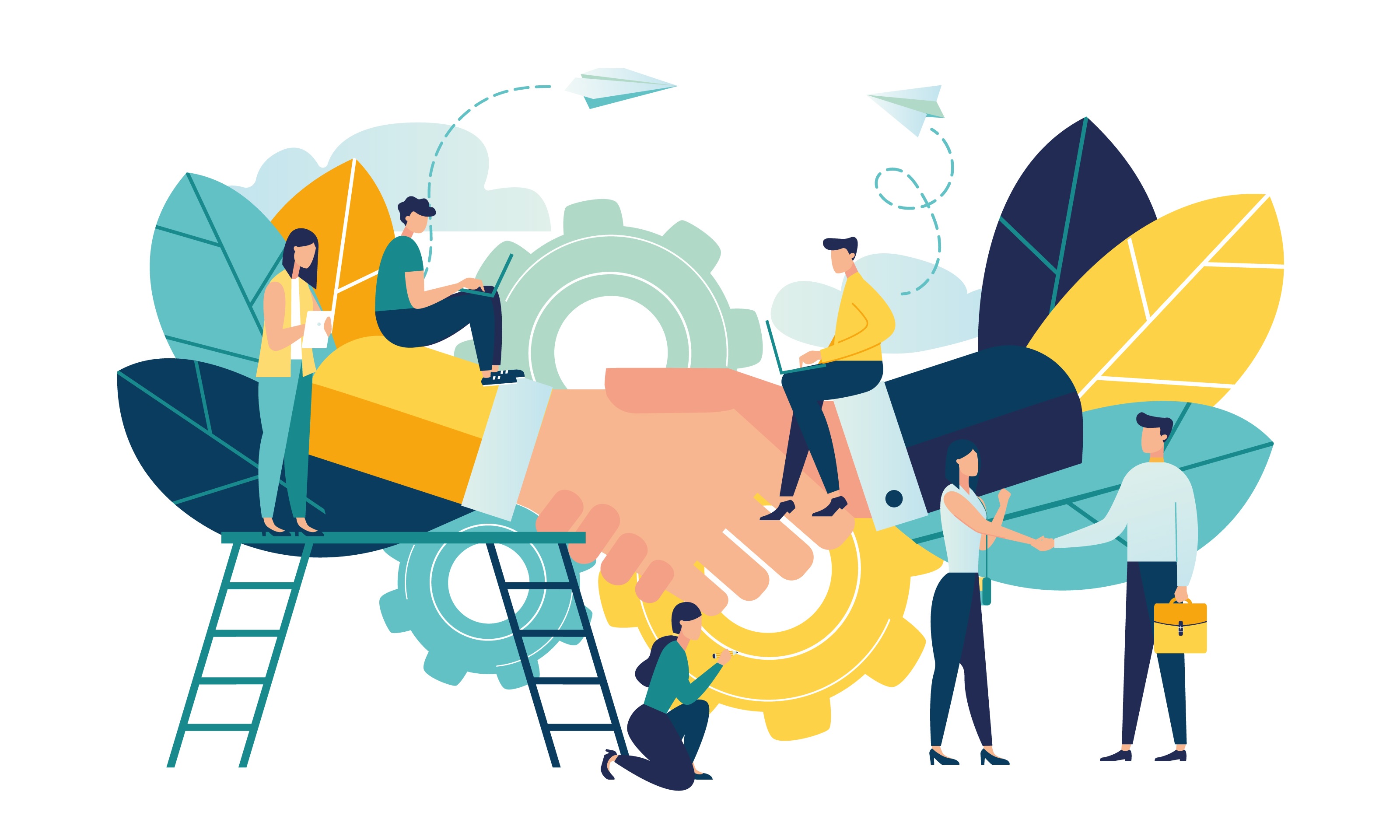 The private equity industry supercharges companies' operations and puts money in the pocket of investors. Goodwin's lawyers explain that work in this area brings much more than financial profit.
Chambers Associate: What does Goodwin's private equity practice do?
Michael J. Kendall: We are the leader in middle market buyouts and growth equity transactions, representing a large variety of private equity sponsors as well as the companies that they acquire and invest in. Increasingly, our work is cross-border as we represent our clients globally from our 13 offices around the world.   
Joshua Klatzkin: We really have a market-leading buyout and growth equity practice that includes over 250 lawyers. From the perspective of numbers, we are one of the largest private equity practices. In fact, Mergermarket's Global & Regional Report ranked Goodwin among the top two advisors, by deal count, for global buyouts and exits in 2018.  We have a great franchise and are continuing to grow.
Milena E. Tantcheva: We cover the lower to upper middle market for funds making private equity investments. We truly shine in the true middle market, and this year we were recognized as Mergers and Acquisitions' 2018 M&A Mid-Market Law Firm of the Year, which is further evidence that our efforts in this space are paying off.
Alese Bagdol: Around a third to 40% of our work is bread and butter M&A and leveraged buyouts. On the buy side, we help our clients with target acquisitions that expand their portfolios. We also spend a lot of time on large cap growth equity deals, where investments are made in growing companies that are a few years away from being ready to go public with an IPO.
Mirela Hristova: We cover all types of funds, including venture capital, infrastructure and hedge funds. In terms of fund size, we cover small funds raising $50 million right up to billion-dollar funds. Over the last seven years, I have seen tremendous growth in both the private equity and funds practice areas.
CA: What does Goodwin's private equity client base look like?
MK: We have a long list of prominent private equity firms as clients, mainly in the middle market. Some of our clients are industry focused, such as technology or health care funds, while others provide stage-specific capital like growth equity funds.
"We like to get to know the management and essentially become an external general counsel."
JK: It's a diverse and dynamic set of clients. While we're sector agnostic, many of our clients are investors and portfolio companies operating in the technology, healthcare services and financial services verticals. Our practice is focused primarily – although not exclusively – on the middle market, broadly defined, although it has grown over the years. We are happy with where we are, and we are definitely the market leader in this vibrant and expansive space.
MT: The client base is probably 70% private equity sponsors and 30% portfolio companies that are owned by the same private equity funds. Our business model is different compared to our peer firms – I feel that is what sets us apart. Once we assist a private equity fund with buying a target, we like to get to know the management and essentially become an external general counsel to not just the private equity firm, but also the company that was the target. This scope means we get to deal with the acquisition and related closing as well as the post-closing integration, including employment agreements and any litigation-based work. 
CA: Could you describe your role as partner within the private equity practice?
MK: I act as both a co-head of the group and a partner practicing in the group. As a partner, I am part of the effort to grow and expand our practice across the globe. My job involves being on the lookout for growth opportunities for our group, collaborating with partners to execute work with a broad range of clients that fund new businesses and seeking to expand our practice through lateral partner recruiting. I also look to develop and grow our associate talent and make them the best private equity lawyers they can be.
"Together with one of the heads of the private equity practice, I spearheaded a sponsorship program for women which consists of pairing more senior partners with junior associates."
JK: I'm responsible for maintaining relationships with leading private equity firms and overseeing deal executions. I serve as a strategic adviser for private equity funds and senior executives in portfolio companies – that's a big part of what we do.
MT: My focus is a little different as a debt finance lawyer within the private equity group. What I do is focused on the leverage piece of a leveraged buyout. I assist our clients in procuring financing; I start with producing the commitment letters and work on a matter all the way up to drafting the definitive documentation for the financing itself. I also work closely with the CFOs of the acquired businesses to make sure they understand and comply with their financing arrangements.
On the firm administration side, I have recently become the new hiring partner of the Boston office. I believe it is important to note that I am a woman in my thirties, and the role I now perform has traditionally been held by those who have a different kind of profile. Together with one of the heads of the private equity practice, I spearheaded a sponsorship program for women which consists of pairing more senior partners with junior associates. This was designed to help junior women lawyers blaze an easier path forward throughout their career at Goodwin. I am also an active mentor and advisor to associates.
CA: Could you describe your role as counsel within the private equity practice?
MH: As a new counsel, it's been interesting working with clients at a higher level, as well as leading knowledge management and mentoring. In terms of growth within my role, I have increasingly been working more on securing client relationships, both new and existing ones. I've also been involved in a lot more management and coordination of large teams and providing review assignments.
CA: What was your role on the latest matter you worked on?
MK: I can give you an example of a company sale we did on behalf of one of our private equity clients. It was a complex, multi-faceted transaction with a sale price of $760 million. My role on that – as it is in all transactions – was to assist the client throughout the early stages, where I worked on the letters of intent and advised them on the structure of the transaction, as well as legal aspects to consider. I managed the due diligence elements of the transaction and negotiated the acquisition agreement. I also managed the other professionals on the transaction and got the deal to close successfully. 
"Gibson is an iconic brand – it still makes guitars in America, so there was a very nostalgic element to the deal."
JK: Last week I closed a leveraged buyout of a growing hardware and software company that serves the government services sector. I led a large deal team that structured, negotiated and executed the transaction. We now represent the target company and will work with management and their new investor to help execute its growth strategy.
MT: I think the deal that has been the most interesting recently involved our client, Gibson Brands, who I guided through a restructuring. I actually started working with them back in 2012, when they first completed a high yield debt issuance. Unfortunately, for several reasons, Gibson was no longer a viable enterprise. My role as a finance partner was to put in place exit financing that enabled them to emerge out of bankruptcy.
I helped them get through the restructuring and come back out at the other end – hopefully as an enterprise that will continue to grow as a performing business unit. Gibson is an iconic brand – it still makes guitars in America, so there was a very nostalgic element to the deal. The work was interesting because exit financing is a very different type of financing to advise on.
CA: What is the most challenging aspect of your practice area?
JK: Private equity is a highly competitive space for our clients, so there is the challenge of trying to position them to succeed in competitive situations. We take a pragmatic approach to risk in the context of business. Ultimately, we serve as business advisors who know about the law, rather than siloed legal advisors. It is also competitive in the sense that there are plenty of other firms nipping at our heels all the time. We've become more of a target as we have grown. However, we continue to stay focused on what we have to do and encourage the formation of strong client relationships across all levels at the firm.
MH: Every day we read around 30 market updates because tomorrow will be a whole new day. With the growing volume of work, we have seen Goodwin become a global leader in private equity. The majority of our attorneys are now overseas. The sheer volume of deals we advise on has changed my work, as has the more complex nuances of the matters we handle. When you go up into the billion-dollar fundraisings, there are so many logistics to consider with sophisticated investors coming in as well as sovereign wealth funds. There are lots of comments and questions. I would say that learning how to handle the complexities in tandem with the volume of work is challenging, but it is a great learning opportunity and an opportunity for growth.
CA: What is the most rewarding aspect of your practice area?
JK: Alongside the relationships we've developed with our clients, we really feel as though we're in a partnership and part of a team here in our group. It's about really being in the trenches together. The other rewarding part would be the platform that we have here at Goodwin, which is deeply invested in growth.
"We had a market that sputtered to a stop during the last quarter of 2018 with no high-yield issuances."
AB: For me, the most rewarding aspect is getting the opportunity to work with incredibly driven and intelligent people at the firm, as well as with clients that are at the pinnacle of their respective industries. We are able to learn so much just by working with them; we always take away lessons from our clients that we are able to apply to future deals. 
CA: What are the latest trends and developments in the private equity space?
MK: A significant trend has been the emergence of a sellers' market. M&A matters have become friendly for sellers – at the moment there is little post-closing liability for the seller. However, if the economy turns and we have a slowdown, the market could cool off. If that happens, the terms will swing back in favor of the buyers and that degree of post-closing liability will also change. 
MT: We had a market that sputtered to a stop during the last quarter of 2018 with no high-yield issuances. That trend has been interesting. As a result, we are now seeing lenders claw back some of the power that was previously in borrowers' hands.
MH: I think we may see a closer convergence between the private equity, tech and life sciences fields in the near future. Our private equity clients have been investing more into these areas. What that means for us as a firm, in the future, is that we will be in a unique position to capitalize on that convergence as we have great expertise in both the technology and life sciences sectors.  
CA: What personal qualities make for a good private equity lawyer?
MK: It is important to have a mindset and an approach that allows you to work well with a large variety of clients, especially as you encounter different kinds of personalities in this space. It is also important to know a lot more beyond what you do as a corporate lawyer in your everyday job. A private equity lawyer needs to be familiar with many different areas of legal and business practice in order to advise clients holistically.
JK: Most importantly, you have to be interested in both the business and the people. You have to be able to invest in a client relationship. You need to dig into their business to see what drives them. There is no rule book when it comes to working with private companies; you need to be flexible in structuring solutions that help your client win and execute the deal. It's fast moving, high stakes, with a lot of moving parts, but it's also a lot of fun. 
"Within the first couple of years, make sure you know how you fit into the bigger picture of the transaction."
MT: A large part of it is about embracing the entrepreneurial spirit of the work. You have to grow the pie – not just eat an institutional pie! We take pride in constant growth, which involves growing both our existing clients and our new client base.
AB: Being creative, practical and demonstrating a real aptitude for business are all important factors in this practice. Anyone can learn the law, but to truly succeed as a private equity lawyer one must fully understand the objectives of your clients and show you can help them achieve their business objectives in accordance with the law.
CA: What can students be doing now to set themselves up for success in this area?
MK: Try to seek out business education alongside your legal studies. Consider cross-registering with a business school or take classes in accounting and corporate finance. It is possible to learn these disciplines on the job as a lawyer, but it would make your life a lot easier if you do so before arriving.
JK: Law school doesn't prepare you as much for this area as you would think. While you need to know a lot of law, day to day what we do is a lot more action-oriented and less "legal" than many other disciplines. The key to success is to have a genuine interest in both business and people. Especially within your first few years in a firm, be a sponge – absorb as much information and experience as you can out of every deal. Never work for anyone who isn't willing to invest in you, your understanding of deals and your development as a lawyer.
Within the first couple of years, make sure you know how you fit into the bigger picture of the transaction. During the first three years at Goodwin, we allocate junior associates 50 hours (on average) of shadow time, which is a non-billable opportunity to learn from senior partners by attending their meetings and calls to get a higher-level understanding of the practice – if you come to Goodwin, take advantage of that and soak up as much as you can.
"All of our offices have a private equity practice, and we opened our thirteenth office in Santa Monica, California in 2019."
MT: I always say that there isn't much you can do to prepare. I would advise students to go on as many trips abroad as you can before graduating. Enjoy your life as much as you can. Corporate work in general (and especially finance) is more of a 'learn by doing' kind of practice. You'll receive plenty of training when you start as a junior associate. If you don't know the answer to something, there will always be someone who would love to teach you. I think that law school often teaches us how to be a litigator, but not really any one kind of corporate lawyer.
AB: Read the Wall Street Journal. We also post a lot of articles related to private equity on goodwinlaw.com, which contain information about the deals we do. Read anything that allows you to understand what is happening in the industry. Other than that, try to take practical negotiation classes or anything that helps you to develop the skills you will be using on the job. Of course, there will be learning on the job, but Goodwin's partners are always available to help you master the skills and guide you along – as long as you have an interest!
CA: What is unique about Goodwin's private equity practice?
MK: One thing we talk about a lot internally is Goodwin's position as the only firm in the world where a leading private equity practice sits alongside a globally-dominant technology practice. Every day we reap the benefits of this. When our private equity investors realize that we have this advantage, they come to us with their technology-related matters. I also think that the size and breadth of our practice is notable. All ten of our offices have a private equity practice, and we opened our thirteenth office in Santa Monica, California in 2019, which will also have a private equity focus, so we are constantly putting teams together across the globe to get transactions done. With over 200 lawyers in our private equity practice alone, we have a significant advantage.
MT: I think that because we aren't heavily reliant on any particular institutional clients, Goodwin lawyers are able to establish client relationships as early as our second year at the firm; we can own those relationships and grow them, right up until partner level. We don't have to wait to develop those relationships. I believe that this is what makes us unique. It's a huge selling point for us. 
AB: For me it's the way all of our practice areas interact. We have a world-class technology practice and we work closely with our colleagues in it. We help that team with M&A deals and technology companies that are at a later stage in their development. We have a very strong set of specialists throughout the firm. Our tax attorneys are the best in the nation and help us structure our deals in the most tax-efficient way possible. Phone calls to our tax specialists are usually the first that we make! The system of working closely together allows us to produce the optimal structure for both our clients and all the parties involved. 
JK: One thing that set us apart is that we have a very flat structure, including among the partners. That's empowering for partners and associates alike. As a group, we are extraordinarily collaborative and really function as a team. I'm based in DC, but 50% to 60% of the deals I work on are with people in San Francisco, so we're very much client driven – not office driven.
Overall, Goodwin is a place where you can truly be the owner of your own destiny. No one will do it for you, but you will have plenty of support to carve your own path. I have been here for 14 years, and I can say that there is no better place for associates to begin their career. Your future is in your hands and we can provide the momentum behind it.
Find out more about life as a junior associate at Goodwin in the Inside View.