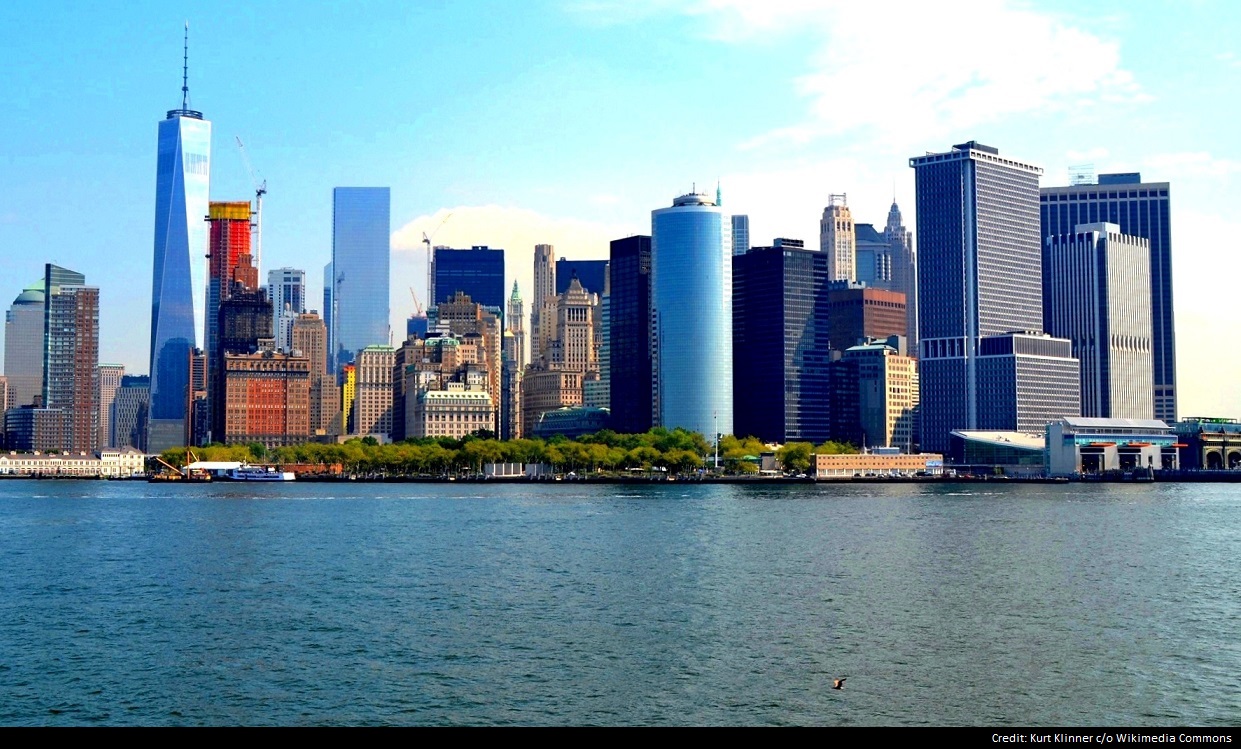 The brightest young lawyers interested in corporate law, litigation or government work flock to New York and DC. Will you be drawn into the melting pot?
NEW YORK
Appetite for a Big Apple
EVERYONE wants to monkey around in the concrete jungle. "It's got everything: the best food and the most diverse culture of any city. It's the best city in the world." Those who crave a spot in the heart of the legal action in Manhattan, though, be warned: the location comes at a hefty premium. Even on a BigLaw starting salary of $160,000, rents are a stretch: "$3,000 a month for a shoebox" makes us question how Carrie could afford those Manolos.
For those willing to commute, New York's most populated borough, Brooklyn, is a popular place to look. However, with the average price of property now at $700,000, it's no longer the budget location it once was. "Queens or New Jersey are now the most viable options," NYC associates tell us. Partners, with a vastly superior budget and often bigger families, "tend to live on the Upper East or Upper West sides. There's more open space and the apartments are bigger."
Gold digga?
In May 1792, 24 stockbrokers signed an agreement outside 68 Wall Street (called the Buttonwood Agreement, as the ink was put to paper under a buttonwood tree) that led to the founding of the New York Stock Exchange (NYSE), today the largest stock exchange in the world. Most, if not all, of the trillions of dollars' worth of financial transactions the exchange hosts are conducted electronically these days, in seconds; but beneath the streets in the vaults of the Federal Reserve Bank of New York, 50 feet below sea level, you'll find more gold bullion than in any other gold repository anywhere on the planet. There are around 530,000 gold bars with a combined weight of 6,700 tons, worth hundreds of thousands of dollars.
"Not all New York legal work is dictated by Wall Street."

 
The financial services industry employs almost 450,000 people in NYC and accounts for roughly 35% of the city's income. The likes of Goldman Sachs, Morgan Stanley, JPMorgan Chase and Bank of America Merrill Lynch require legions of legal advisers, in pretty much every area of law you can think of, from employment to capital markets, white-collar defense to restructuring and tax. The vast amounts of work provided by banking giants remain a big draw for the largest US and international law firms in Manhattan today, as well as smaller niche players. However, as Bess Sully, director of talent development at New York-based Kaye Scholer, points out: "Not all New York legal work is dictated by Wall Street. While every kind of finance work, from straightforward banking and finance to IPOs and LBOs, is available, other areas such as IP and environmental law are generating a lot of revenue."
Around 10% of the Fortune 500 is headquartered in the city (and more in New York state), including Pfizer, American Express and Time Warner. New York has the highest proportion of overseas employers of any US city: one in ten private sector jobs is with a foreign company based in the city. Foreign law firms, including the UK's magic circle firms (such as Linklaters, Clifford Chance, Freshfields and Allen & Overy) have offices in New York and DC to serve international clients conducting business in the region, as well as to compete in the US market themselves.
No city for old men (or Californians)
We asked junior associates if the New York City cliché of insanely long work hours is accurate. Mostly yes, they replied, but it's not just the city's lawyers who could do with some more downtime. "To be honest, people in other industries have to work just as hard," one associate reflected. They were surely thinking of investment bankers – or perhaps over-worked bartenders – when they added: "Being an attorney is probably less extreme than other professions." Still, one admitted that "working in this city can be a little crazy; being on call 24 hours a day can be a little wearing. We probably work harder than in other parts of the country." Others agreed: "In California this schedule would be insane. But the cut-throat image is overplayed."
Get on up, stay on the scene
While dreams of becoming a lawyer in New York were dashed for many graduates coming into the industry in the days after the recession, the situation seems to have picked up, with big firms like Cravath, White & Case, and Kaye Scholer all hiring more summers in 2016 than the previous year. That said: "Junior associates are doing a different kind of work," says Bess Sully, director of talent development at Kaye Scholer, noting that at KS at least: "They're no longer carrying out admin tasks. It's been more cost-effective to outsource those." Luckily for young lawyers, there's a trend toward "retaining people longer" in order to make the most of their experience and expertise. As you'd expect, culture and entertainment-wise New York is "awesome," associates confirmed. There's a seemingly infinite number of visitor attractions and things to do in your spare time; among our sources, the Museum of the City of New York came especially highly recommended, as did the NYC Transit Museum, a little off the beaten track in Brooklyn. Fitness freaks will be pleased to know New York "is a really active city. It's easy to go running, cycling or just for a wander round Central Park with friends." And if for some reason you tire of the metropolis, "you can head out to the beach or mountains," both of which are accessible via car or New York's decent public transport infrastructure.
"New Yorkers rule the world."

 
The final word must go to the associate who described New York as "overwhelmingly awesome. It sucks you in. It's hard to live here then go somewhere else. New Yorkers rule the world."
WASHINGTON, DC
Under (a little less) pressure
While a career in Washington, DC carries similar (if not greater) prestige to New York, "the culture is a little more laid back and less intense," according to junior associates based here. "We are a bit more civilized," one junior joked, "and have a better understanding of balance." One DC-er noticed that their firm "isn't buttoned up or formal, and it's a more collegial and family-friendly environment than my friends at New York firms experience." Part of the reason for this could be the government setting, as one junior put it: "In the government there is a tradition of valuing quality of life." Compared to the perceived excesses of BigLaw in New York, "here there's a happy medium. There isn't a need to sit in your office twiddling your thumbs if you are not doing work. The work ethic here is very, very strong, but it's a targeted effort." Of course, "there are still the normal pressures exerted by billing and client needs."
"Within a matter of months I was on the Hill, advocating directly to congressional staff."

 
"Being close to the political and legal heart of the nation is an exciting prospect," juniors told us of DC's appeal for young lawyers. Government-related work can be a big part of DC associates' workload, depending on the firm: one associate told of "representing local government and regional transport authorities on urban policy issues," while another told us that "within a matter of months I was on the Hill, advocating directly to congressional staff and in meetings with members of Congress." That said, there are certainly places where, as one source put it, "we talk politics every now and then, but it doesn't overshadow the firm. If you're a corporate lawyer or a litigator here, you can have a completely independent practice." Increasingly, DC associates have been reporting on "working for a lot of small businesses and startups."
'The City of Magnificent Intentions'
Charles Dickens coined this nickname for the then fledgling capital city of the United States in 1842 during his tour of the nation. It was only in the late 1860s, following the end of the Civil War, that DC really started to turn intentions into reality. The population grew, peaking at over 800,000 after World War Two thanks to a boom in the number of federal government employees. Today there are over 650,000 people living in DC, though the wider Washington metropolitan area has a population of almost six million. The federal government remains at the heart of the District, employing nearly 240,000 people, according to the Bureau of Labor Statistics. Service industries over the years have flocked to the city to assist those who work in government and, as in the case of many law firms, to help with the very workings of government.
The DC economy didn't suffer as much as other places during the recession, largely because of the steady flow of government-related work that needs to be done, recession or no recession. DC "is a little insulated," NALP's executive director Jim Leipold confirms. "There is so much regulatory and government work that it is less exposed to the ups and downs in the economy."
Working for the man
What sort of government-related work do associates do? Here's a snapshot from interviewees at various DC firms: 
"I did the gamut of healthcare public policy."
"30% of what I do is representing foreign governments on the international law side of things."
"I have been very active in the role of policy interpretation around the health reform bill."
"I work a lot in government investigations, healthcare regulatory and compliance."
"Our group does anything that would be considered FCC [Federal Communications Commission] work."
"Our clients are mutual funds and hedge fund managers. We basically do filings they have to do. We also act as experts for the enforcement and litigation groups."
"We had a lot of post-Fukushima energy regulation to worry about."
"Our clients come from all over the world."
"My work is very DC-based because so many government agencies are here."
"After just a year I'm considered a privacy and data securities specialist, recently working on an FTC regulatory enforcement action."
House of the rising sum
Washington used to be an attractive option for bright, ambitious lawyers who wanted top-notch work but were put off by New York's sky-high rents and apartment prices. However, DC is less and less cheap these days. "Over the last ten years, everything has changed," one associate said bluntly. "There's been a dramatic increase in house prices, and rents – high already – have only climbed higher." Some hoped that "with new buildings going up all the time, prices should stabilize soon."
"The only downside is when you're trying to do a conference call and the White House motorcades go off."

 
Many DC workers commute in from the surrounding suburbs or even further afield from areas like Maryland and Virginia. Once you're in town it's pretty easy to get around on foot. "Walkability is brilliant," enthused one junior. Many lawyers in the District get around by walking or taking the metro as "DC's roads have a tendency to be too busy at times," though we did hear from one who mainly biked. A King & Spalding source this year described their "hilariously idyllic walk to work: I'm in the background of most of the tourist photos! We also have this crazy amazing rooftop where we watch fireworks on the fourth of July. The only downside is when you're trying to do a conference call and the White House motorcades go off."
DC doesn't have the same constant buzz of New York, but there's plenty to keep you entertained if you know where to look. "Venture away from the Mall and there are great restaurants and bars on the 14th Street corridor," one source hinted.