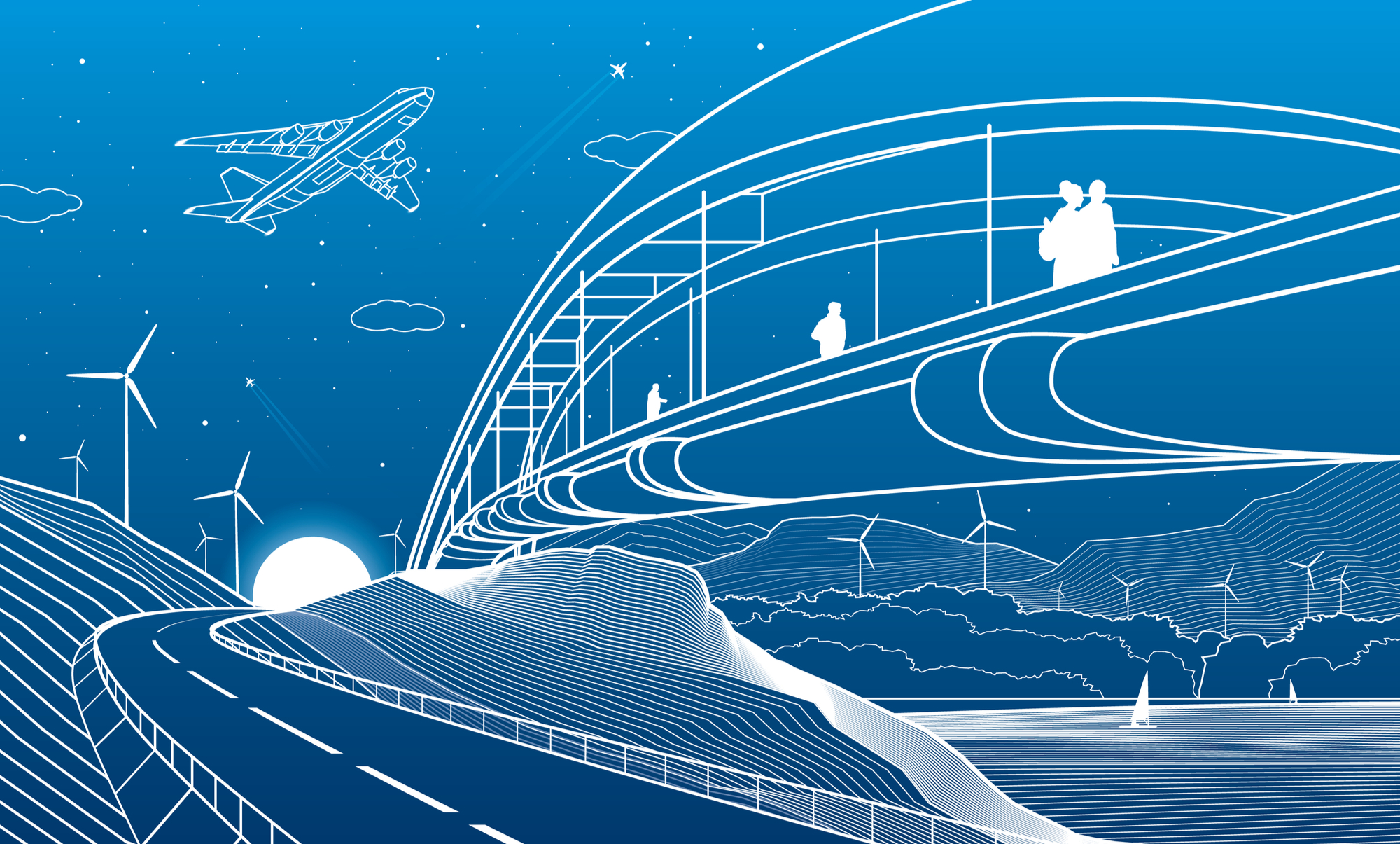 We partner up with Ashurst to go public with how to become a PPP projects lawyer.
Chambers Associate: What are public-private projects?
Tristan Robinson: Public-private partnership (PPP) projects are typically public-works infrastructure projects (e.g., roads, bridges, tunnels, airports, office buildings) involving an element of private-sector participation in, for example, the design, construction, and financing.
Matthew Rickards: A government authority asks a private-sector developer to design, build, finance, operate and maintain the infrastructure. A typical project may be for a term of 35 years: five years for construction and then 30 years for operations and maintenance. Some of the key benefits to developing public infrastructure using a PPP are introducing private-sector innovation and best practice; focusing on the long-term maintenance of the asset; and facilitating more infrastructure investment by using private-sector finance.
Maria Linnen: An example of a PPP project is the Georgia Department of Transportation project, aimed at designing, building, financing, operating and maintaining improvements to its interstate highway system. The Department is in the process of soliciting a private-sector developer.
Kimberley de Looze: A PPP project is a collaboration between a public agency or authority and a private party (or, more often, a team of private parties) to develop a project. The projects that we work on at Ashurst are infrastructure focused, for example building roads, schools, airports and trains. Typically, PPPs involve an element of financing provided by the private entity. This investment is paid back either from public entity funding, generation of revenues from the project or a mixture of both. Another hallmark of a PPP is that it is generally a long-term project involving the initial design and construction of the project followed by 20 or 30 years of operating and maintaining the project.
CA: What do associates do?
MR: A PPP project involves a complex web of contractual arrangements. The principal agreements include the project agreement between the government authority and the developer's project company; the developer's subcontracts for design and construction, and operations and maintenance; and the finance documents. Associates have an important role in drafting and negotiating all of these documents. This involves working closely with the client, which may be the government authority, the private sector developer or the banks lending to the project. It also involves working with other advisers – technical, financial and insurance.
Maria Linnen: The role of an associate will vary depending on the client of the firm. When working on the public-authority side, associates are responsible for assisting in the procurement and execution of the project agreement after a developer is selected. This may include drafting procurement documents (including request for qualifications and request for proposals, and responding to sponsor questions on such documents) and drafting the project agreement and related dropdown agreements that will be executed with the selected developer. If working for a sponsor, you might assist in reviewing the procurement and project documents, and working on the financing documents, and preparing the sponsor's bid. On the lender side, you will be responsible for drafting financing documents and reviewing project documents to due-diligence risks relevant to the lenders.
KD: These projects have two phases – a bid phase, during which several private entities compete and submit proposals for the project, and a closing phase, during which the contract is executed with the successful proposer and shortly after, financial close is reached. When acting for the public partner, associates are primarily engaged in the bid phase preparing project documents, including procurement solicitation documents such as requests for proposals and contract documents to govern the PPP. When acting for the private partner, associates conduct due diligence of the project documents, prepare comments and attend negotiations with the public partner. They also draft subcontracts and, if the client is the successful proposer, they review and negotiate financing documents and assist in reaching financial close of the project. When acting for lenders, associates assist in preparing term sheets during the bid phase and in preparing and negotiating financing documents during the closing phase.
CA: What do partners do?
KD: As well as overseeing all work conducted by associates, partners are heavily involved in high-level project structuring. Partners have an important involvement in determining and negotiating the appropriate risk allocation between the public and private parties. This is essential to ensuring that the project can be delivered on budget and on time and that all parties, and the public, achieve a good outcome from the project.
MR: Partners are responsible for developing the structure of the project and coordinating the drafting and negotiation of all the documents referred to above. Fundamentally this is about allocating risk to the entity within the project structure which is best able to manage that risk. This requires a good overall understanding of how the different parts of the project work together. Given the complexity of a PPP project there are many different people working on the project. A key element of the partner's role is to help manage and coordinate the input from all these people to ensure that the project progresses efficiently. Partners aim to develop close relationships with their clients and the broader infrastructure sector.
"... it's exciting to be part of a practice that is working to make the US a better place to live."
CA: What are the highs and lows of working in this practice area?
MR: There are various highs:
Learning about infrastructure in many different sectors – for example, finding out how the introduction of autonomous vehicles will impact on the road sector.
Working toward building something tangible for the public benefit. After working on a complex deal for many months or years, it is very satisfying attending the project opening after construction has been completed.
Working together with the multiple stakeholders and advisers on the project. There may be tensions at times, but broadly everyone is working toward the same goal.
As for the lows... given the complexity of the projects, progress can sometimes seem very slow. It requires patience!
ML: One of the most exciting parts of PPP projects is the creation of a tangible piece of infrastructure for which the public will benefit. The infrastructure in the US is in desperate need of repair and rebuilding, and it's exciting to be part of a practice that is working to make the US a better place to live. One of the hardest parts of the practice is working through political red-tape that can hold up efficient implementation of a project.
KD: ari Every project is different and challenging and there is always something to learn. Lows include long project timelines that mean you may only work on a few projects in the formative years of your career. As a result, it can take longer to gain a broad range of experience, however, the depth and understanding of the experience you do have is greater.
CA: What internal or external factors are driving the sector?
MR: There is a huge demand for public infrastructure. In developed countries such as the US and Europe, this involves replacing infrastructure assets which have reached the end of their useful life. In developing countries such as parts of Asia and Africa, new infrastructure is needed to support rapidly expanding economies. Another key factor is the shift to new technologies. This includes both a move toward greener technology (see below) and also the development of infrastructure to support connectivity – for example, expanding broadband networks.
ML: The biggest factors driving the sector are the need for new and repaired infrastructure, and years of underinvestment by the government in infrastructure. These factors have created an immediate need to repair and rebuild. PPPs offer a public authority the opportunity to access available private resources, financing and knowledge to react to this immediate need.
KD: I'd propose that the single largest factor currently driving the sector is the ready acknowledgement by all sectors that infrastructure in America is crumbling, and there is bipartisan support to address the situation. Governments are allocating more funding to infrastructure projects and we are seeing the size and scale of such projects dramatically increase. Use of PPPs is increasingly being seen as the best way to accelerate the process of delivering critical infrastructure while providing best value for money to the public.
CA: How is the increase in renewable and clean energy affecting the PPP market?
MR: In the waste sector, public authorities around the globe are using PPP projects to develop waste-to-energy plants. Across many different sectors, the industry is looking at how green technology can be integrated into a project – for example, solar paneling on public-sector buildings or using biomass heating systems. Also, green energy policies mean that a higher public benefit value may be attributed to certain technologies. For example, high-speed rail may be seen as greener than developing more road or aviation capacity.
ML: Many US states and cities have set goals to transition all or a majority of the power generation from polluting sources to clean ones. PPPs are a key tool in developing renewable energy projects that allow states and cities to reach those goals. From the point of view of the sponsors and developers, being able to rely on a PPP, which normally provides certainty around the energy price and demand, is a key factor in ensuring that the projects are viable and can obtain financing. These projects also tend to lend themselves to tax breaks which are beneficial to private developers. For these reasons, the increase in renewable and clean energy will have a positive effect in the PPP market.
KD: The infrastructure industry is not as affected by the increase in renewable and clean energy as other industries. However, the public sector is increasingly driven by sustainability goals and is encouraging and mandating greater incorporation of clean energy for assets with significant energy use. This can have implications on project costs and team structures.
"At Ashurst, we have the opportunity to work for clients on all sides of PPPs and gain exposure to different types of practices."
CA: Where can new associates expect to be in five years?
MR: After five years, an associate will be an integral part of the firm's projects team. The associate will have a good understanding of how projects are structured and how risk is allocated between the parties. The associate will be able to lead on particular documents with guidance from senior members of the team. Individuals may start specializing in certain areas – some may choose to focus more on the project documentation, others on finance.
KD: Within five years, associates can expect to have a deep understanding of the key principles driving PPP deals and will likely have a good understanding of a few key asset classes. They will be attending client meetings and negotiations and running key pieces of the transaction process.
ML: Working in the PPP area offers associates several opportunities in by their fifth year of practice. At Ashurst, we have the opportunity to work for clients on all sides of PPPs and gain exposure to different types of practices. By their fifth year, associates may continue in private practice, or leave the firm to work in-house for a public authority, lender or private developer.
CA: What opportunities are unique to Ashurst?
MR: I think Ashurst is unique in how well it operates as a single global projects team. We have market-leading PPP practices in the UK, Europe, Australia and US. The projects partners and associates around the network work together on new opportunities and share best practice.
This global network also presents a great opportunity for people to move between different offices around the world. To use my own career as an example, I spent ten years working in UK PPP; then seven years in Tokyo focusing on transport and energy projects around Asia. I then moved to New York to help grow the US team, taking advantage of the huge potential for US infrastructure development.
TR: Ashurst has the resources of a global law firm coupled with the local knowledge and dexterity of a law firm with a smaller footprint.
ML: We have one of the deepest benches of associates in the PPP area in the US, which provides us the ability to work in numerous project roles at any given time. While PPPs are relatively new to the US, they have been used in Australia, Europe and other countries for quite a while. Because of our international connections within Ashurst and the firm's focus on infrastructure and PPP globally, we have the ability to access the experience and knowledge of our international offices.
KD: It's also worth highlighting the ability to work on all sides of a transaction. Often firms work exclusively with the public sector or the private sector; at Ashurst we have the benefit of acting for governments, private developers and lenders. This provides a unique opportunity to understand projects from all angles, allowing us to better serve all our clients.
"I think Ashurst is unique in how well it operates as a single global projects team."
CA: How can students and junior associates keep up-to-date with the market and industry trends?
MR: Stay abreast of trends, politics and technological developments in the sector by reading the national and trade press coverage – for example, in the Financial Times, the Economist and Infrastructure Journal. On social media, particularly LinkedIn, follow organizations active in the sector to see industry briefings. For example, Ashurst publishes "InfraRead" every six months, which provides detailed articles on market developments.
ML: I recommend P3 Bulletin and Inframation News. These news organizations provide daily updates on projects and market trends.
TR: The non-profit organization Young Professionals in Infrastructure is a fantastic networking resource and also includes an education and career development arm. Get involved!
CA: What advice would you give to students who are interested in this area?
MR: Read as much as you can about the sector; pursue summer placements at law firms with a good reputation in the industry; consider whether you would be well-equipped for a job that can be intense in terms of expectations and requires an interest both in the big picture commercially and the finer details of contracts. The rewards are collaborative and compelling teamwork, and the satisfaction of bringing to fruition tangible projects that directly benefit the greater public.
ML: My advice is to find courses and internships related to project finance when possible. Because project finance is a corporate practice, if such options are not available (as law school curricula are often litigation focused), seek out internships related to finance, corporate law and construction.
TR: Take classes in public contracting, environmental law and land use. Reach out to law firms regarding summer associate programs.
KD: Focus on building transactional skills. Regardless of which side of a transaction you end up working on, strong transactional skills will stand you in good stead. Having experience in finance, engineering and real estate will also really set you apart in this area of work.

Learn about life as a junior associate at Ashurst