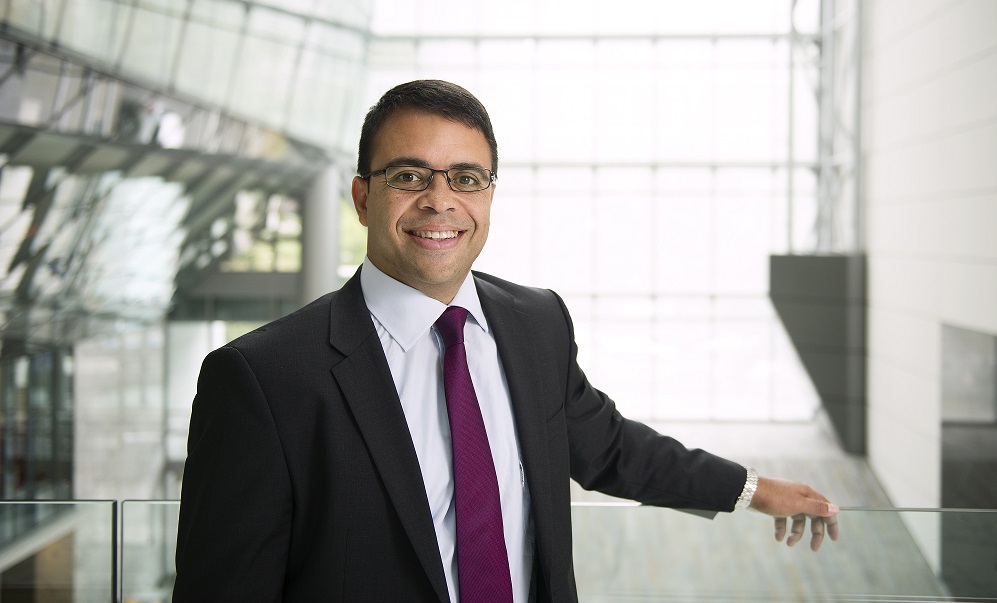 From Sesame Street to Pennsylvania Avenue: human rights star Debo Adegbile tells his story
When did you decide to become a lawyer? Why?
In elementary school. Two factors weighed heavily on my early career plan, one familial, the other aspirational. On the family side, I was an inquisitive kid (I think most parents call it "a pain in the neck"). As a result, my mom would often say to me "You better become a lawyer to put that mouth to some good use." My mother only had the benefit of formal education up to the equivalent of the sixth grade in Ireland but she wanted more for her kids. Her words and dreams stuck with me.
"Legal careers are more fluid today than they were a generation ago. Today, virtually no lawyer will finish their career where they begin it."
At a small but terrific elementary school, Manhattan Country School, founded in 1966 to make Dr. King's aspirations for kids from different backgrounds to learn together real, I learned about Thurgood Marshall. His story seized me. Our nation was founded with some terrific ideals, but also with the glaring flaw of not respecting the dignity of all people. Thurgood, and many others, clearly and convincingly articulated the corrosive effects of that founding flaw, and worked tirelessly and successfully to change it—that really grabbed me.
As an adult and parent I now understand that children have an innate sense of fairness. In retrospect, the dramatic unfairness of a nation that committed itself to ideals of freedom but embraced racial discrimination, inspired me to work for greater equality and opportunity.
Starting out, what were you hoping for and dreading the most from a career in law?
I really wanted to learn to be a good lawyer and to develop the tools to be an effective litigator. I am not one for dread. Dread not, and fear not, but work hard and learn along the way. That's not to say that everything is sunshine. There will be tough days, weeks, months, even years, but always take something positive away from the tough times.
How did you get into the areas of law you are known for today? By design? Chance? Both?
By design. I wanted to litigate cases that matter and to contribute to equality in our country. I have been fortunate to have an opportunity to do both.
What has been the most defining moment of your career so far?
I argued my first case in the United States Supreme Court 15 years into my legal career and nearly a decade into my time at the NAACP LDF, Inc. That case, Northwest Austin Municipal Utility District Number One v. Holder, involved a constitutional challenge to core provisions of the Voting Rights Act of 1965. The experience was humbling, terrifying and exhilarating all at once. It was the last oral argument of the term, and turned out to be Justice Souter's last oral argument on the Court. Our goal was to ensure that the challenged provisions survived—we accomplished that goal in Northwest Austin. It was both a culmination of a boyhood dream and the beginning of a new and exciting chapter in my career.
What have you sacrificed to get to where you are now, and would you do it all over again?
The two most obvious things are sleep and also time with my family. The latter is important to me and the former, as we now know, should be important to everybody. I think a lot more, however, about the sacrifices of those who came before me and created the opportunities that I enjoy. I am grateful. 
What made you decide to go back to private practice after working as counsel for the Senate Judiciary Committee?
Legal careers are more fluid today than they were a generation ago. Today, virtually no lawyer will finish their career where they begin it. I have been lucky to serve at the top levels in varied legal environments: large law firm practice, a public interest civil rights firm, and in government. Recently when my plans for additional government service played out in an unanticipated way, I took a step back and asked myself: "What should I do now, twenty years into my career?"
WilmerHale has a roster of clients with complex legal needs, a superb litigation practice in both trial and appellate courts, and the firm values government service as well as the duty of lawyers to provide pro bono representation. Faced with an opportunity to join a firm that draws upon my varied experiences, recognizes that those experiences will serve our clients well, and enables me to work with first-rate colleagues whom I respect, it just all seemed right to me.
What have you enjoyed most during your career in the legal profession?
Strategizing and executing for clients with difficult cases and complex legal needs. Forming life-long relationships with terrific peers from every phase of my education and career. Cultivating and advising young lawyers. And, not least of all, finding time to laugh amidst the intensity.
And enjoyed least? 
All-nighters. The Supreme Court's decision in Shelby County v. Holder. And, the deaths of two important mentors who passed away too young, John Payton and A. Leon Higginbotham, Jr.
What law would you change, abolish or create? 
It's unsurprising, but I think that the Supreme Court was mistaken when it declared a core and longstanding provision of the Voting Rights Act unconstitutional in Shelby County. By my lights, access to the vote, the foundation of a free society, has a special place.
Who is your legal hero? 
Thurgood Marshall. His life, work and example transformed our nation. He was the embodiment of the words on the façade of the Supreme Court: Equal Justice Under Law.
What career would you have in your second life?
Well since you ask about a second life and not just a second career, I would be a professional soccer player. When I was 12, I bet a camp friend that I would be a pro soccer player. I was certain that I would win the bet. More recently, I tried to persuade a high school buddy and my college roommate that when I was in school it was more likely that I would play pro soccer than be a SCOTUS advocate. They both laughed. Perhaps both notions were ridiculous.
What slogan would you like to be remembered by?
Stand for something. I really believe that the principles for which you stand are more important than the office in which you stand. I'd rather be denied a public office for successfully vindicating the Constitution than appointed to it with a willingness to compromise it.
What advice would you give to students trying to enter the legal profession today?
Measure every job by the extent to which it exposes you to fulfilling work and permits you to develop your lawyering skills or lawyer's "tool box." Also, your relationships and reputation matter more in the legal profession than in most jobs, so tend to both.
What extracurriculars did you undertake at college and law school and what activities – whether law-related or not – would you encourage students interested in going into civil rights law to undertake?
As a student I spent a lot of time engaged in volunteer service and teaching, tutoring or mentoring young people. You gain as much as you give when serving others. That is not the reason to do it, but it is true.
Effective civil rights advocates must appreciate the continuing claims of our history. The dominant narrative that progress in our nation is inevitable and constant, viewed through the prism of history, reveals that every generation has a role to play in ensuring greater equality. Progress is real and must be embraced but each generation must run its lap with the baton. So students should start stretching.