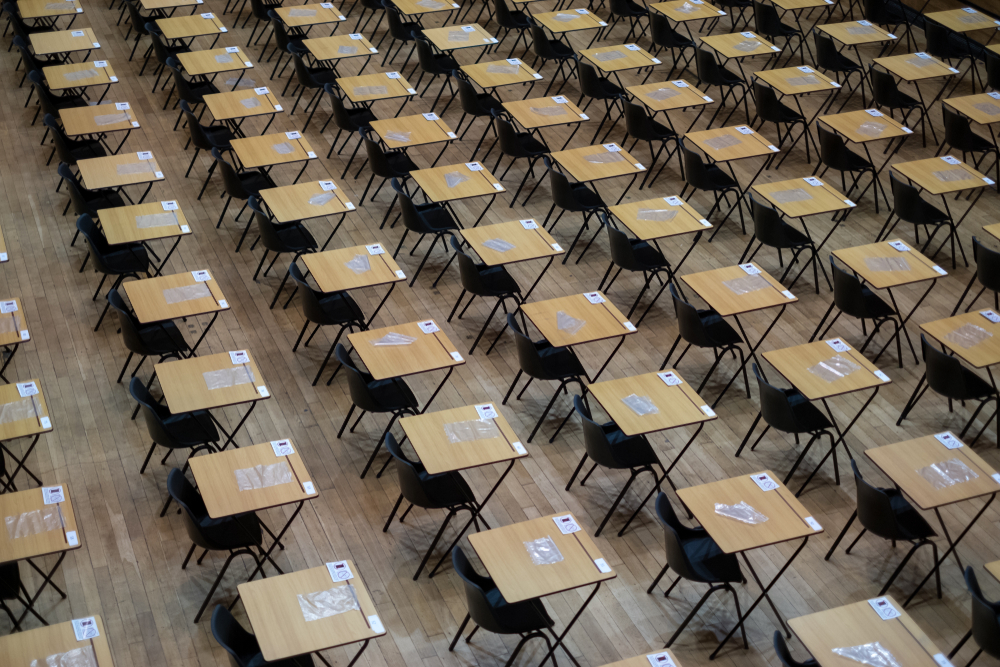 We answer the most important questions about the LSAT, and introduce the alternative - the GRE
Be it personal drive, parental pressure, or a nine-season binge of Suits, something has caused you to ask yourself: how do you become a lawyer?

Answering that question will bring you to one critical step: law school.

And heck, why wouldn't you go to law school? Even those who don't become practicing lawyers can realistically aspire to possessing a refined analytical mind, as well as an impressive knowledge of the laws of this fine land.

But it is a taxing experience: financially, intellectually and emotionally. The financials alone are enough to make intellectuals emotional – the average tuition fee charged by private law schools for the 2021-22 academic year was $53,000. 
We'd always advise you to be as informed as possible – it's a serious decision. Make yourself aware of the cons, while not being overly intimidated by them.

A good starting place is understanding the application process. In this article we'll explore one part of it you can't avoid – the standardized exams used by law schools to assess their budding applicants. 
The LSAT

What is the LSAT?
The LSAT is the only admissions test accepted by all law schools accredited by the American Bar Association (ABA). Take the LSAT, and you'll have a shot at joining the JD courses at any of 199 law schools throughout the US. 
The test is administered by LSAC, the Law School Admissions Council, a not-for-profit organization that also manages other key bits of the law school application. Its Credential Assembly Service processes students' applications, meaning that's what you'll use to upload your letters of recommendation, resume etc.
The aim of the test, simply, is to assess whether the taker has the required skills to succeed at law school – LSAC's website lists those as being "reading comprehension, analytical reasoning, and logical reasoning." The bulk of the test, besides an unscored writing sample, is multiple choice. It requires no actual legal knowledge. Somewhere between 100,000 and 150,000 people take the LSAT every year. 
Until 2016, and the introduction of the GRE as an alternative, the LSAT was the only means of assessing wannabe JD students.
To give you an idea of how competitive the application process is, the total number of first-years across all ABA-approved law schools was 38,202 in 2020.

The LSAT has a reputation for being extremely tough. It is a test that requires dedicated, committed study – don't expect your undergraduate studies to bail you out here.
It's the LSAT's job to ensure the right students get a law school spot. You won't be surprised to hear then, that the LSAT has a reputation for being extremely tough. It is a test that requires dedicated, committed study – don't expect your undergraduate studies to bail you out here.
In sitting the exam, test-takers generate a score that ranges from 120, up to 180. Law school admissions teams then use this score as a factor (a very important one) in their decision-making process.
You can take the LSAT more than once, and it's extremely common to do so. One thing to bear in mind however, is that you do have to report all of your scores when you apply. The important thing therefore, is to try and show progression.


Kati Scannell, associate dean of admissions at the Washington University (St. Louis) tells us: "We love to see a student with dedication, who tries it again and does better a second time."
So you should take the test again after continued study, feeling far better prepared, not on a whim that January is your month, that you found a four leaf clover, or that the stars are correctly aligned. The LSAT rewards practice.

You will have to pay for the privilege though. The LSAT costs $215 (for the 2022-2023 season) each time you sit the exam. There are also fees incurred if you need to change the date or site of your test location. LSAC does run a Fee Waiver service, so if costs are an issue, it's worth reading up on.



<--- Kati Scannell, dean of admissions, Washington University (St.Louis)


How important is your LSAT score?
Very important – that's the short answer. It is one of - if not the - most significant tools law schools have in judging your suitability. There is no strict cut off, no minimum score you must achieve to gain entry, but law schools will have a range of scores which they consider to be ideal. Counteracting a non-ideal LSAT score on your application will require something truly exceptional.


<--- You'll need to know how your LSAT score measures up before applying.

As part of ABA reporting, and in an effort to increase transparency, all law schools must release the median LSAT score of their first-year intake. To give you an even better idea of what score you'll need to impress on an application, law schools also release the 25th and 75th percentiles of the range of LSAT scores achieved by those students they have accepted.

Clearly this gives an idea of the range you should be aiming at. The vast majority of law students (75% or more) joining the top 20 law schools for example, will all have scored above 160. For the top 40, a rough guide would be that 75% of applicants will have scored above 155.

For reference, roughly 3% of people get an LSAT of over 70.

Those with an LSAT score below their chosen school's range are taking a big chance in spending the time and money applying.
Those with an LSAT score below their chosen school's range are taking a big chance in spending the time and money applying. But the other parts of your application do come into play – your GPA, in particular, is an indicator that's just as important when law schools come to assess you.
Law schools also release data analysis of the GPA scores achieved by their successful candidates – so take that into consideration. A poor GPA, relative to the school's average, may need to be counteracted by a correspondingly above-average LSAT score.
None of the endless calculations you can make on this subject rid it of all uncertainty. It's not much to hang your hopes on, but nobody can say for definite that someone with an LSAT score within the 25th-75th percentile range will get a place, nor that someone outside of it will not get one.
A law school application provides you with plenty of other ways to impress. Letters of recommendation, a resume, a personal statement and an interview are all possible requirements in addition to your LSAT/ GRE scores. These other requirements round out law schools' assessment of you, the applicant, and give you the chance to move the needle.
Kati Scannell "encourages students to not only obsess over their test scores. I do feel that some may focus a little too heavily on them. You have to take it seriously, but we also want students to be proactive in conveying all of their skillset and their experiences so that we can fully evaluate them. Some individuals just may not be great standardized test takers, but they would still be great attorneys."
What does the LSAT test? What is in the LSAT?
The LSAT contains a total of six sections, but only four actually contribute to the score that is sent to law schools.
All four contain only multiple choice questions. Two of the four cover logical reasoning (sometimes called arguments). One covers reading comprehension. And the last is titled analytical reasoning, but is notorious under the 'logic games' moniker.
<--- There's no Rubik's Cube involved - unfortunately - but the ability to baffle is comparable.


There is also a variable section thrown into the mix, which serves to trial new questions for future tests. It is unscored, but will appear exactly like one of the four 'real' sections above. When you sit the test you won't know which of the five multiple choice sections the variable section actually was. This means its imperative to take all five sections seriously.
The sections last for 35 minutes each, and you can only work on one section at a time during the 35 minute periods. Between the third and fourth sections, there is a 15 minute break, meaning the total run-time for the five sections is 190 minutes.
But there is one last, unscored, section: a writing sample, which asks you to argue either side of a scenario. Again, you are allowed 35 minutes for this.
Though it doesn't contribute to your score, it is still sent to law schools. Opinions vary on whether it makes much of a difference, or whether some law schools even bother to read it! We'd say that even if there's the slightest chance of it being read and processed by a school, it's worth giving it your best shot on the day. However, the essay writing skills most of you will have gained in your undergraduate degree should serve as the preparation you need. Your score will have far, far greater consequences.
Logical reasoning – This section presents a short passage consisting of several lines of text. For each of these segments of text you are asked a question which calls on you to examine and consider the reasoning of it. There are usually around 25 of these questions in each logical reasoning section.

The thing to keep in mind here is reading with purpose. Ensure that you are processing what you are reading, and identify how the passage pieces its various strands of reasoning together.

Analytical reasoning – This is the hardest section for many people. You'll tackle four scenarios. In each, a set of rules are laid out which dictate the relationship between the objects or people in the scenario. You are then asked several questions on this scenario. Your job is to make conclusions by following the rules that have been set out, deducing the possibility of something.

Diagrams will help you here, but mastering the systematic approach that's needed can be a real struggle.

Reading comprehension – This section asks you to read a passage of text that is much longer than those in the logical reasoning section. You must then answer a series of questions on its content, and what can be inferred from it. It's an exercise in closely reading and understanding the language, as well as digesting the arguments being made, and how exactly those arguments are structured.

There are four passages of text contained in a section – one will actually ask you to read two passages, before asking you to compare and contrast aspects of the two. Khan Academy's Official LSAT Prep tells us the passages are "drawn from four areas: Law, Social Science, and Humanities," but the questions are not asking you to draw on your own knowledge of these subjects. As with logical reasoning, the key is processing what you are reading. A skim read is a good idea to start with, but don't be afraid to return to the relevant sections once you've read the question – this can be essential, depending on the question.
How should you study for the LSAT?
We've provided a very brief summary of the questions included in the LSAT, but you'll need to do a lot, lot more before feeling confident about scoring well in the real thing.
Given everything we've said, you need to be dedicating months, not weeks, to the LSAT. Beyond that, planning your approach to the LSAT is going to be an individual thing. "What I suggest to students is that they are self-reflective," says Scannell. "Do you study best under pressure, in a limited period of time, focusing 200% during that period? If their personality is more suited to a slow and steady approach, they should spend a little bit of time on it each week, and spread it over six months. Each person has to be self-reflective to determine how they will be most successful."
We asked current law firm associates for their advice on how to succeed, and their responses could be grouped into two main categories.

One: create, and stick to a structure for your study. Be disciplined, especially if you're juggling your preparation with a job or college. Life gets in the way, it always does, but having a plan that you can revert to will keep you motivated.

Two: once you've got the theory down, there is no substitute for practice, endless practice. Do enough practice questions and you'll begin to notice the patterns that help you unlock the questions.

You'll need this, because the LSAT requires you to think quickly, very quickly. Increasing your answer rate and managing your time will be a skill that comes with time. 
While general advice articles (like this one) are often useful, you'll need to consult resources that really pick apart the method for each question type.


First of all let's cover free resources. Khan Academy has collaborated with LSAC to provide an official free course including lessons, a personalized practice plan and free practice questions. This is recommended by most law schools.

Then there are those resources with a price attached. You can find endless books, and a whole cottage industry benefiting from the gravity of the LSAT.

We don't doubt how helpful some of this is, but be canny about it. Buying or borrowing second-hand books is an obvious choice. Old LSAT papers are going to be essential. Bar any nefarious means of procuring them, it may be necessary to buy previous years' papers cheaply on Amazon or elsewhere online (LSAC bundles them together into books, meaning you'll get 10 papers at a time).
But resorting to tutoring or a course is a bigger deal. Big players, like Kaplan, offer fully-fledged taught courses for $1,299 for the basic course and up to $2,399 for their tutoring plus live online course. These are not insignificant sums.

The payoff from parting with your hard earned cash is anything but certain. Be wary of claims that these courses can increase your score by a set amount.
<--- Success on the LSAT doesn't have to be expensive.
One ex-Texas Tech School of Law student told us: "The first time I took it I studied completely on my own. The second time I paid for a course and interestingly enough I scored the exact same score. My personal opinion is that if you know you can study on your own, then you should study on your own. If you need more of a structure it can be good to have it."
While an ex-Boston University School of Law student who had paid for a course felt: "The value for me was that it was at a set time, and I had made a monetary commitment – I therefore had to go to class."

An ex-Cornell student had similar feelings about their experience: "I think the class was more helpful in forcing me to stay on track. At the end of the day the most helpful task for me in preparing was to take as many tests as I could. If you take 100 or so tests, by the time you get to the LSAT everything is a repeat question."
And Kati Scannell's opinion on paying for tutoring or a course? "I would be hesitant to tell anyone to take that path." Caution seems to be the consensus among those that know.
We'll say this: it's very possible to do well on the LSAT without taking one of these classes or receiving tutoring. If you are thinking about paying the money, be aware that there is no 100% guarantee it will increase your score.
Do your research and speak to people you trust who have taken the specific course. You should also try and identify what exactly it is you're struggling with before signing up – there may be a cheaper solution to your woes. And speak to the admission teams that matter – they will be the best people to help you decide whether your current predicted LSAT score will be sufficient before you smash open the piggy bank.
When can you take the LSAT?
You can find the LSAT test dates for the 2018-19 cycle below. The registration deadline for each round of the LSAT comes roughly one month before each test date.
When should you take the LSAT? 
Most law school application deadlines come before April. There are exceptions to this, so check law school websites in each individual case. Early decision programs are, you guessed it, earlier.
It's best practice to have the LSAT score you're going to use for applications before you apply. Don't forget to account for the few weeks it takes for LSAC to return your score. 

<--- Winter test dates are an option, but that might be too late for some schools. 


With the current LSAT calendar in mind, some law schools advise you to take the LSAT no later than November (the preceding year). Others list January as the absolute latest. 

But we'd recommend aiming to have your LSAT score ready to go as early as possible. Most law school admissions check applications on a rolling basis, sending out acceptance letters after reading the first applications. 
Most law school applications open in or around September.

To be safe, 'the earlier the better' should be your mantra. Most law school applications open in or around September.
The other consideration to make is whether you want to take the shortest, fastest route to law school. We've discussed the studying and preparation you'll need to do for the LSAT already, so it's worth reminding you to factor in your personal circumstances – work, family, ambitions, lifeplan etc. – before settling on which test date you want to go for.

If you're not intent on immediately heading to law school, and studying for the LSAT while in college fills you with dread – don't do it. Rushing your preparation will not help you. There's always next year. Just make sure to fill that time with experience that looks good on your application.
The GRE
What is the GRE?
The GRE has long been a standardized admissions test for graduate schools, administered by ETS. But, until 2016, it had not been used to vet those applying for law school. The University of Arizona changed that, finding in its own testing that GRE results directly corresponded with the results of current law school students. As such, it was put to use as a reliable test. A whole load of other schools conducted similar experiments before also jumping on the bandwagon. That includes Harvard, Columbia and Cornell.

<--- Pen and paper is so 2010 - prepare yourself for the digital revolution.


The magnitude of this change shouldn't be underestimated, and news agencies as venerated as The Wall Street Journal  jumped on the topic.

So why the change? Kati Scannell tells us the University of Washington's decision was based on accessibility and diversity. "We wanted to be sure that law school is a viable option for the best students in the country and around the world, regardless of their professional or academic background. We felt that the GRE would allow us to consider students from an engineering background, or any variety of backgrounds. We thought it would help us to consider and attract students with a less traditional background." She says the change in attitude came about when "law schools talked with prospective students and realized that we may be closing doors to fantastic additions to the legal community or setting up obstacles, and we wanted to be sure we could be inclusive.
"...we may be closing doors to fantastic additions to the legal community."
However, despite the changes, for the moment it seems that the GRE remains the choice of a minority, rather than the majority of students considering law school. "We havn't seen a large uptake," says Scannell. "Most applicants have taken the LSAT."
Those schools accepting the GRE make it very clear that they do not have a preference between the two tests. Your decision should therefore be based on the options that both tests give you.
While more and more schools are accepting it, its scope is still limited. If law is definitely the profession for you, and that means you want the greatest choice of schools to apply to, the LSAT is still your best choice – for now at least.

If you are considering law as one of a number of post-graduate options, or are looking to switch from a different career path which already involved taking the GRE, then the changes are good news for you.
When and where can you take the GRE?
The test can be taken at any time of year. It's available on paper, but it's more readily available digitally.  You can take it as many as five times in one year, but they have to be 21 days apart. Be wary though, some law schools explicitly state that you cannot select your best scores for your application. Take it multiple times and you may have to disclose all of them.

Here's the full list of law schools currently accepting the GRE.
| | | | |
| --- | --- | --- | --- |
| American University Washington College of Law | Boston University School of Law | Brigham Young University J. Reuben Clark Law School | |
| Chicago-Kent College of Law | | | Florida State University College of Law |
| George Mason University Antonin Scalia Law School | Georgetown University Law Center | Hamd Bin Khalifa University Law School | |
| | Massachusetts School of Law at Andover | New York University School of Law | Northwestern University Pritzker School of Law |
| Pace University Elisabeth Haub School of Law | St. John's University School of Law | Suffolk University Law School | Texas A&M University School of Law |
| University of Arizona James E. Rogers College of Law | University of California, Los Angeles School of Law | University of Chicago Law School | University of Hawai'i at Manoa William S. Richardson School of Law |
| University of Notre Dame Law School | University of Pennsylvania Law School | University of Southern California, Gould School of Law | University of Texas at Austin School of Law |
| University of Virginia School of Law | Wake Forest University School of Law | Washington University School of Law | Yeshiva University Benjamin N. Cardozo School of Law |
What does the GRE test?
In some ways, much the same as the LSAT, though it's probably a fair argument to say the LSAT tries to tailor itself more specifically to the skills needed at law school.
The GRE contains sections testing verbal reasoning, quantitative reasoning, and analytical writing. Just like the LSAT, there will also be an unscored (or research) section included.
You can read a more detailed breakdown on the content of the GRE here.