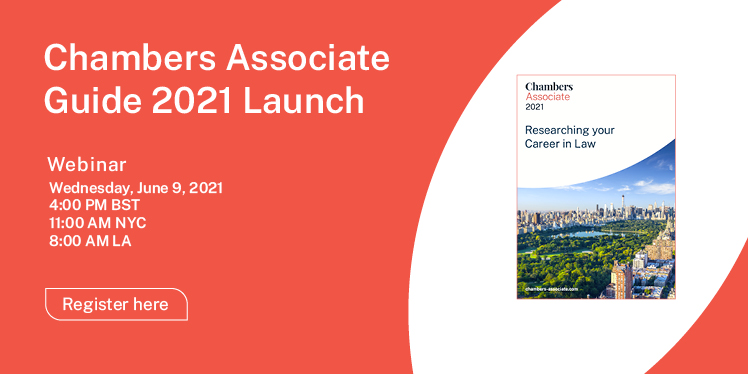 We'll be taking you through the latest findings from our research and keeping you up to date on market trends and developments
Sign up for free here!
Summary
Thank you for your interest in the Chambers Associate Guide. Together we will discuss:
How to use Chambers Associate to find the right law firm for you
Associate satisfaction trends across different US markets
The latest from our research on diversity, equity and inclusion in BigLaw
How Covid-19 has affected the industry
Information on our Career Moves platform for lateral associates
Speakers
Antony Cooke
Head of Talent Products
Chambers and Partners
Antony joined Chambers as a researcher on the Europe team, then became Deputy Editor on Chambers Global and Chambers Europe, before taking over as Editor of the Chambers Associate and Student products. Previously he worked at PwC as an associate in investment management, and at Michelin France as project manager in a company restructuring. He also taught English at St Petersburg State University. Antony graduated in French & Russian from Durham University. He speaks French and Russian.
Paul Rance
Deputy Editor
Chambers and Partners
Graduated from the University of Exeter with a BA in English Literature and from University College London with an MA in 20th Century Literature. Has worked on the Chambers careers guides since 2011, covering research and deputy editor roles. Has a particular interest in diversity and inclusion in the legal profession.
Leah Henderson
Deputy Editor
Chambers and Partners
Deputy Editor for Chambers Student. Leah has a background in journalism and English, with experience in radio, TV and online publications. Before joining Chambers Student, she taught English to professionals in Madrid (her Spanish still leaves a lot to be desired, but she has fun trying)
Michael Bird
Deputy Editor
Chambers and Partners
Michael graduated from Royal Holloway, University of London with a BA in History. Prior to working at Chambers, Michael wrote for US-based entertainment websites.