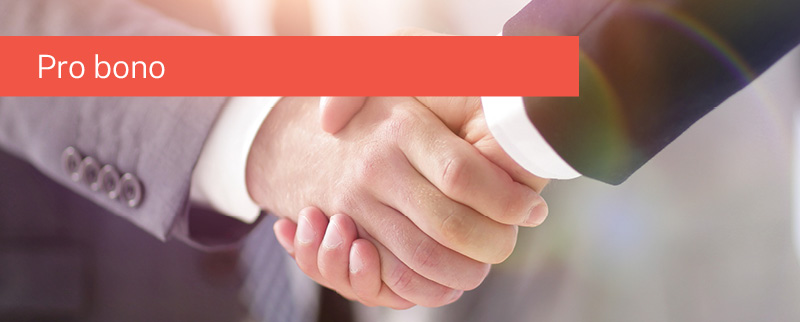 Doing your bit for society, or advancing your legal skills – whichever way you look at it, pro bono does a world of good.
IT'S SHORT for 'pro bono publico', which, you won't need telling, means 'for the public good'. Pro bono is essentially voluntary work carried out by legal professionals – drawing on their legal nous to help out those who couldn't otherwise afford legal advice. The work offers up limitless opportunities, from advising struggling artists on the technicalities of IP law, to helping refugees fleeing war-torn countries settle in the US.
Why do firms do it?
In a profession that is wedded to the billable hour, it seems even shark-like partners have a soft side. The late Esther Lardent, ex president and CEO of the Pro Bono Institute, stated when we chatted a few years ago: "I think that larger law firms do pro bono for the same reason that many individual lawyers do it. There's a sense that there are problems only lawyers can address – it's a special responsibility." She continued: "Fundamentally, this really is a question of passion and a desire to serve." She certainly embodied that passion (look her up for more info on her fantastic work), but it turns out that giving back to the community is also a pretty smart business move:
1. A top-quality pro bono program attracts top-quality attorneys. Those who enter the profession with dreams of changing the world are more likely to join a firm that lets them run with these projects than one that denies them the chance. Increased pro bono opportunities can seal the deal for gold-standard candidates. Pro bono also serves as an incentive for more senior attorneys or partners to stick around.
2. Pro bono has come to play a central role in training for young attorneys. Juniors tend to be afforded heaps of responsibility on these matters, often taking the lead and liaising with the client directly rather than shuffling papers in the background. Not only is it an effective method of on-the-job training, but it saves both time and money on more formalized programs.
"A very big factor in a firm's decision to do pro bono is that it's a great training tool for younger associates, particularly for litigators."
Litigation powerhouse Jenner & Block has long been known for racking up a high average number of pro bono hours per attorney, and 2017 was no exception – each of the firm's US-based lawyers devoted 168.4 hours on average over the year. The firm's previous pro bono chairman, Gabriel Fuentes, explains: "A very big factor in a firm's decision to do pro bono is that it's a great training tool for younger associates, particularly for litigators. Given the type of work that firms like Jenner do – very high-end, with millions or billions of dollars involved in any matter – cases often settle before they go to trial. Sometimes the stakes are so high that the youngest associates don't get the participation they might want." This is where pro bono comes into its own. "The program allows younger attorneys to make decisions about strategy, and learn how to conduct themselves in court under our supervision. They learn all those essential elements of litigation that young attorneys need in order to develop into successful older attorneys and partners."
3. The work is also a tremendous morale booster. Few things in BigLaw will seem as worthwhile as getting an innocent man off death row, or reuniting an asylum seeker with their family. Pro bono recognition events aren't bad for team spirit either. It's known as "pro bono glue," Esther Lardent explained. "In terms of goodwill, branding, and the retention of attorneys, large firms have the ability to use pro bono as a rallying force and a source of cross-office collaboration."
4. A healthy pro bono caseload is a PR officer's dream. Even juniors admit that "the website looks better when you can show that pro bono is widely available." Then there's the fact that publicity regarding a pro bono case is cheaper and much more credible than a paid advertisement. It gets the firm's name out into the community, beyond legal circles. Studies have shown that clients are more likely to part with their money if firms are perceived to be involved with worthwhile causes. In this way, pro bono is a nifty exercise in branding.
Compare firms on pro bono hours
For a prime example, look no further than Gibson Dunn. The firm's renowned litigator Ted Olson teamed up with David Boies, his opposing counsel in Bush v Gore, to challenge Prop 8, a California state constitutional amendment banning same-sex marriage. His work on the lawsuit earned him a place among Time 100's greatest thinkers, and an ABA Medal (the highest award of the American Bar Association). The case caused such a furore it was even turned into a play, 8, which saw Olson played by John Lithgow and Martin Sheen, and Boies by Morgan Freeman and George Clooney. Not bad publicity for a bit of pro bono work.
So, from a business perspective, pro bono makes sense. Why, then, do some firms do so much more than others? According to our 2017 figures, US attorneys at Jenner & Block, Munger, Orrick, Patterson Belknap and Skadden stacked up an impressive average of over 130 pro bono hours each. Compare this to Greenberg Traurig, Sterne Kessler, Epstein, Fitzpatrick, Fox Rothschild and Waller, whose US-based attorneys mustered a relatively low average of less than 20 hours per person.
"It's really nice to step outside of what you're doing for the big clients and help people who wouldn't otherwise be able to afford it."
Like so many things in business, this often comes down to the bottom line: there's a clear correlation between gross revenue and the amount of pro bono that a firm racks up. Take Curtis, for instance. This international firm's revenue has gone berserk in recent years, more than doubling between 2007 and 2013 – and ballooning by over 27% in the following three years. Its pro bono contribution has taken a similar gradient, increasing from an average of 17.5 hours per attorney in 2011 to 45 in 2013. In fact, every year firms in the Am Law 100 far outdo those lower down the rankings in terms of pro bono.
This is largely down to a lack of resources. Your Gibson Dunns (126 hours in 2017) and Ropes & Grays (119) can afford to hire a full-time pro bono coordinator or put together a robust pro bono committee. Many of these law firms have also fostered longstanding relationships with public service organizations. At smaller firms, full-time partners are likely to be juggling pro bono coordination tasks with their already hefty workload, which has a knock-on effect on the program's ultimate impact.
The ratio of associates to partners also plays a part, as does geography. If your biggest office is in Phoenix, Arizona – like Snell & Wilmer (29 hours in 2017) – fewer pro bono opportunities are likely to present themselves compared to a firm based in New York or DC like Cleary (115).
Why do attorneys do it?
After a hard week of training, networking and racking up an obscene amount of billable hours, why spend your time rifling through immigration documents when you could be eating chocolate mousse in front of Unbreakable Kimmy Schmidt? As one associate put it, "there are two kinds of time: time you're billing hours that count, and time you could be spending on the couch."
Well, for starters, doing pro bono work just feels good. One junior associate told us: "It's really nice to step outside of what you're doing for the big clients and help people who wouldn't otherwise be able to afford it." Plus, on a more cynical note: "It's often a more interesting topic of conversation at a party than what financing transaction you just closed."
Secondly, as we've already mentioned, pro bono projects provide some of the best on-the-job training you're likely to receive as an attorney. Another massive bonus is that juniors can actually seek out the type of skills and experience they want to gain, and make a beeline for those cases.
The integral issue of billable hours complicates things. Every firm has a different policy when it comes to pro bono work. Some count time spent on pro bono in exactly the same way as paid client hours (Cleary, Jones Day). Most only count a certain number of pro bono hours as billable (Haynes and Boone, Gibbons). A select few only begin to count pro bono once juniors have reached their billable hour target, while others don't count time spent on pro bono at all. Of course, within these broad categories fall myriad variations, but generally "it's considered part of firm citizenship," one source explained. All in all, the billable hour/pro bono equilibrium is well worth taking into consideration when choosing the firm to kick-start your career.
State requirements
In 1969, the ABA adopted the Code of Professional Responsibility, which stated: "Every lawyer, regardless of professional prominence or professional workload, should find time to participate in serving the disadvantaged." This still stands today, as does the aspirational goal that every lawyer in the USA should spend at least 50 hours a year working on pro bono matters.
In most states, however, these rules aren't enforced (apart from Florida, Hawaii, Illinois, Indiana, Maryland, Mississippi, Nevada and New Mexico). They recognize that attorneys may not be dead on 50 hours each year, but suggest that over the entire course of their career it should pretty much balance out. Some states have also departed from the 50-hour rule, choosing their own aspirational pro bono goal. Virginia, for instance, requires attorneys to dedicate 2% of their professional time to pro bono. In Oregon, the target is 80 hours.
One of the biggest talking points in the pro bono world recently has been New York's adoption of a new hours requirement. On May 1, 2012, New York's then-Chief Judge Jonathan Lippman announced that all applicants for admission to the New York Bar from January 2015 would be required to have completed 50 hours of pro bono.
What sort of pro bono work is on offer?
The opportunities for pro bono work may as well be endless; some firms have an enormous list of options, and strongly encourage associates to bring in their own projects from outside. Others are more limited in their range, working closely with a couple of organizations or insisting that juniors only take on pro bono work that complements their practice area. A lack of pro bono options is a regular grumble among our transactional-focused associates.
That said, in the past few years we've spoken to associates involved in a whole range of fascinating projects, like assisting with Hurricane Sandy relief efforts, volunteering for a presidential election protection helpline to combat corruption, defending families who are having their homes foreclosed, and helping survivors of sex trafficking have their convictions for prostitution overturned (to name but a few).
But it is true that certain types of pro bono matters are likely to crop up more than most: death penalty, civil rights, prisoners' rights, criminal defense and veterans cases tend be the most common.
Current issues in pro bono
After the recession, the 'justice gap' – the divide between the legal needs of low-income people and the ability of civil legal mechanisms to meet these needs – visibly grew. Already bending under pressure, the system came under additional strain. The Legal Services Corporation (LSC), the largest single funder of civil legal services in the USA, has for several years been reporting on the depressingly low percentages of low-income people with civil legal problems who are actually able to obtain the necessary legal assistance. The March 2013 sequestration didn't help matters.
It's perhaps no surprise then that Jonathan Lippman took arguably drastic measures a few years back and implemented a scheme whereby all applicants to the New York bar must have carried out a minimum of 50 hours of legal pro bono work. The new rule has been active since January 2015, and it was estimated that it would add 500,000 hours of voluntary legal assistance in the area.
One of the hottest pro bono matters recently has been The Clemency Project: an initiative in which lawyers have helped non-violent offenders, who would have likely received a substantially lower sentence had they been convicted today, obtain clemency. During his time in office, President Obama granted clemency to 1,927 individuals. In one case, Hunton & Williams (now Hunton Andrews Kurth) obtained clemency for William Ortiz, commuting his 50-year sentence for non-violent, low-level drug offenses.
Immigration and asylum cases have also been on the rise, and this will likely continue in the foreseeable future. The true effects of President Trump's executive order on immigration are yet to be fully seen. In the meantime, Jones Day associates have got involved with the Unaccompanied Minors project. Families who cross the US borders "end up subject to removal or deportation with no access to legal representation." The project aims to help children who have been separated from their families gain Special Immigrant Juvenile Status.