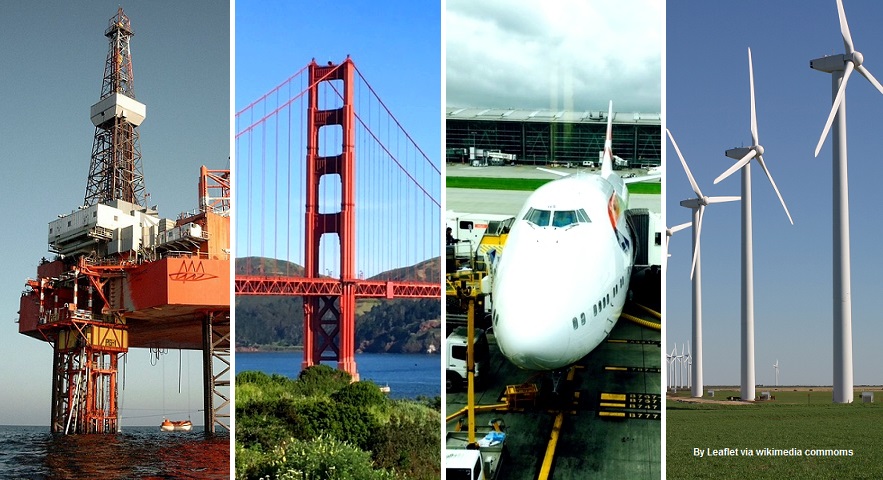 The inside view on Project Finance, by Milbank, Tweed, Hadley & McCloy
What is project finance? 
Project finance involves the development and financing of infrastructure, and spans various industries and locations around the world. It focuses on the financing of a specific asset (it could be a solar power plant, a petrochemical facility, a pipeline, or any number of different assets) in which lenders or investors look principally to the revenues generated by the asset for the repayment of the loans for the asset's development (such as revenue from the sale of power from a solar power plant or sale of copper oxide from a copper mine). As collateral for the loans, the lenders or investors take a lien over all the assets of the project, including the cash flow the project generates and the contracts that assure the stability of its costs and its revenues. This type of structured finance is deployed most commonly in the development of large infrastructure projects and the exploitation of energy/natural resources.
Milbank's clients 
We represent a broad client base, including developers, private equity sponsors, investors, debtors, creditors, and other major parties, in both domestic and cross-border project financings. Our clients are a mix of established, sophisticated institutions such as The Export-Import Bank of the United States, Google, GE, Citibank, Vale, Credit Suisse, Goldman Sachs, and First Solar, as well as newer startup developers.
Our industries 
We are a very diverse practice group and in order to stay nimble and flexible regardless of what the economy is doing, we practice in a wide variety of industries. These range from power projects powered by conventional means, like natural gas, to a cutting-edge renewables practice where we regularly work on a wide range of wind, solar and biomass power plants. We have a strong oil and gas practice involving gas pipelines, liquefied natural gas projects, petrochemicals and other processing facilities. Our mining practice is also one of the most prominent in the world. We are also involved in all kinds of pure infrastructure projects, such as ports, airports, toll roads, bridges and other similar assets. Occasionally, we also are asked to apply project finance principles to other industries such as the construction of new satellite constellations. We once were even involved in the construction and financing of the world's largest cheese factory!
The international element 
The international part of project finance is one of the reasons why it is such an interesting discipline. We regularly work on infrastructure projects around the world, and often in less developed economies, as those are often the places where additional infrastructure is most needed. As we follow international investment flows, many different nationalities are often involved in our deals. For example, we have worked on the financing of liquefied natural gas import terminals in Mexico where the primary investors are Japanese and Korean trading companies, the banks are international government banks from Japan and Korea as well as commercial banks from the United States, and the party purchasing all of the natural gas produced by the project is Mexican government institutions. One of the most fascinating parts of our job is getting together with all of these different actors into a conference room (in New York or somewhere else in the world) to negotiate a commercial transaction. As a result of our international projects, there is often also travel involved in our jobs – associates never know when they may need to travel to Brazil, Chile, Colombia or somewhere else for last-minute meetings!
Key issues and trends, and what shapes our practice 
There are many different factors that affect the kinds of projects we are working on. The first factor is the price of commodities. For example, when prices for natural resources such as gold, copper, silver or other commodities are high, we usually see an influx of mining projects around the world. Conversely, when the price of natural gas is low, we see larger numbers of projects that need cheap natural gas, such as gas-fired power plants, petrochemical facilities (that use natural gas as a 'feedstock') and liquefied natural gas export terminals, where natural gas is super-cooled to allow it to be loaded onto massive ships and sent around the world.
Legislation also shapes our practice. Due to government incentives over the past ten years, there has been an explosion of renewable energy projects, and we have developed one of the most prominent renewable energy practices in the world, from massive utility-scale solar projects in the desert that are so large that they can be seen from space, to domestic roof-top solar projects.
Of course, the general state of the world economy also shapes our practice. Luckily for us, we are diversified in industries as well as in global regions, so we are always well positioned to take advantage of positive trends and to ride out negative ones. For example, we were extraordinarily busy in Brazil a few years ago when that economy was booming, but that work has subsided as a general economic slowdown (as well as some large scandals) have hit that country. At the same time though, other countries – such as Colombia and Mexico – have emerged as economic engines, and we have been well positioned to take advantage of work opportunities there.
Life of an associate 
A project finance associate can expect to represent major financial institutions, sponsors and developers in complex domestic and cross-border project financings. Associates are responsible for structuring, negotiating and drafting the financing documentation that accompanies transactions of this type, including loan agreements and various types of security agreements. Given the cross-border nature of our practice, associates will be involved in not only the negotiation and drafting of the New York law governed documentation, but will also be expected to review and comment upon the documentation being drafted by attorneys located in each other jurisdiction applicable to the transaction. As a result, associates are often required to take the lead in discussing key documentation issues with all attorneys representing the client, who may be located in other parts of the US or the world.
A project finance associate also spends a great deal of time reviewing the project agreements, including the construction contracts, the revenue contracts and the supply and service contracts applicable to a project, in order to prepare detailed due diligence reports for our clients. The purpose of such due diligence reports is to advise our clients on contingent liabilities and legal risks associated with a project that would be material to an investment or a lending decision. Such contingent liabilities and risks are ultimately allocated among the transaction participants in the financing or investment documentation. Given the technical nature of the project agreements, associates will be expected to take the lead in coordinating input from the various technical, financial, insurance and market consultants hired by our clients to assist in the due diligence and documentation process.
Here are some typical examples of work that a junior project finance associate would be involved in: 
Due diligence review and preparing issues memos about the risks in project documents (such as construction contracts, equipment supply agreements, operation and maintenance agreements, fuel supply and transportation contracts and offtake agreements)
Coordinating the due diligence review with local counsel and specialists (regulatory, environmental, real estate)
First cut of drafting the financing documents (such as credit agreement, security documents and note purchase agreements)
Conforming exhibits, schedules and ancillary documents from previous transactions and conforming them to the new transaction
Listening in on conference calls with clients and lawyers as the deal is being negotiated
Making a checklist of the conditions in the credit agreement that need to be met prior to the deal closing. Reviewing items delivered to satisfy these conditions and tracking their delivery in the checklist
After a deal closes, preparing a closing set of all the project and finance documents
What you need to succeed 
A balance of skill sets is necessary for success as a junior associate in project finance. Attention to detail and organization are highly prized. Junior associates need to pay attention to things like defined terms changing or being added as drafts are passed back and forth between lawyers, to make sure that changes are reflected throughout the deal (potentially across seven or eight documents). When a deal is closing, numerous emails will fly back and forth between lawyers and clients, and junior associates need to be able to take initiative to track down those conditions that are required before the deal will close. Intellectual curiosity is also important, especially when conducting due diligence. Senior associates and partners look to the juniors to have a good handle on the project documents and to note potential red flags that they raise, because these in turn affect how the financing documents will be drafted.
Most lawyers don't come into project finance with a background in the area, and few law schools teach courses in the subject matter. Learning happens on the job, first, with the development of the general skill sets needed to succeed as a junior associate. As associates become exposed to different types of projects and types of financing structures, they begin to learn about the market, what is more or less risky for a client and how to manage those risks, along with the various industries, from solar, to infrastructure, to natural gas pipelines.