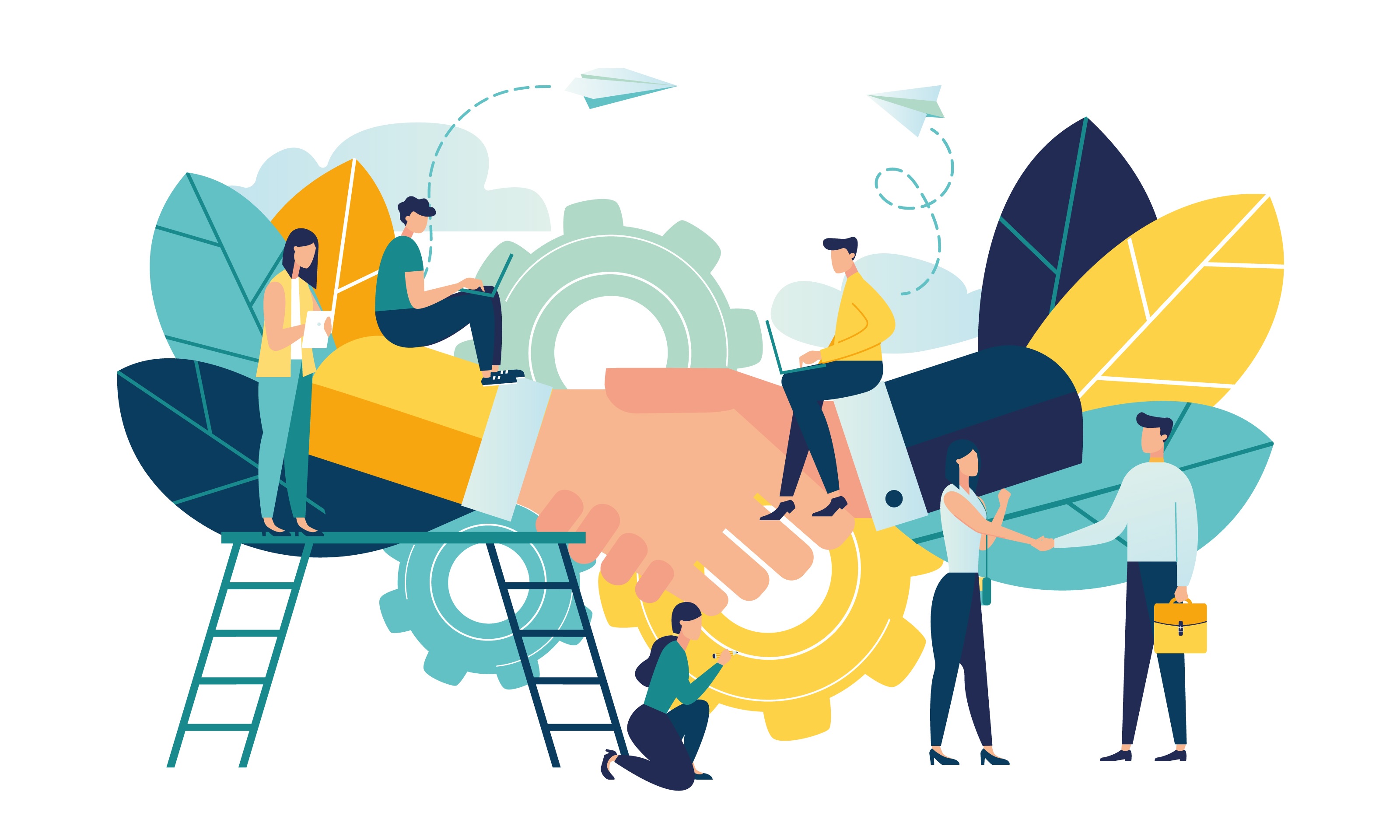 The private equity industry supercharges companies' operations and puts money in the pocket of investors. Goodwin's lawyers explain that work in this area brings much more than financial profit.
Chambers Associate: What does Goodwin's private equity practice do?
Karen Chao: Goodwin's private equity practice covers all legal areas that are relevant to a private equity firm․ We help structure them, form their investment funds, advise on acquisitions, sales, tenders, public offerings, SPACs, represent their portfolio companies, and provide counsel on wind-downs, as well as offer essential specialist input such as tax, regulatory, and ERISA․
Katherine Baudistel: We represent private equity firms in connection with all legal aspects of their business and investments.  Our primary areas of focus include buyouts, growth equity investments, private investment funds, debt financing and ongoing portfolio company representation.  In addition to these practice areas, we also provide unparalleled support for private equity firms and their portfolio companies in other critical subject matter areas such as tax, intellectual property, data privacy and cybersecurity, executive compensation and benefits, labor and employment and litigation.
Monica Kwok: Goodwin's PE practice, which has dominated the league tables especially over the past several years, is a standout practice for transactional matters, including high-profile domestic and cross-border M&A, VC and tech work and general corporate counsel for leading companies and startups alike. We serve clients across numerous sectors including healthcare, financial services and pharmaceutical industries. We represent private equity sponsors, early through late stage investors, portfolio companies, management teams, lenders, financial institutions and alternative investors. Goodwin's reputation as a top-flight corporate firm is most certainly reflected in the stellar lawyers who work here, where the level of camaraderie and teamwork is unmatched.
Cusaj Thomas: Goodwin's private equity practice serves as outside legal counsel to private equity sponsors and their portfolio companies. We assist private equity firms in the structuring and raising of funds, represent them for any platform and add-on acquisitions and sales, serve as ongoing legal counsel for their portfolio companies and assist on a various other complexities that may arise as they grow.
CA: What does Goodwin's private equity client base look like?
KC: We focus on middle market private equity sponsors and their portfolio companies, along with representing companies in which our growth equity clients have invested. In addition to developing partnerships with the private equity sponsors, we take the time to develop a relationship with the management teams of the operating companies in which they invest and are often able to retain the work with these companies, even after they change ownership down the road. Our private equity client base ranges the full gamut from small and/or new private equity firms to mega firms, but the majority of our clients are in the middle market and span various sectors․
KB: Our clients primarily invest in middle market companies, but span a wide range of industries and across geographies.  Notably, many of our clients invest in the technology, healthcare, financial services, consumer and real estate sectors.
MK: Goodwin handles a unique blend of work. The firm has a rock 'n roll reputation for having a broad range of clients on the cutting edge across industries. Goodwin is a special place in that while it has the sophistication, expertise and manpower to handle some of the largest newsworthy transactions of our day, it also attracts a ton of entrepreneurial clients who are just starting out and seeking commercial, efficient, practical advice. For instance, I am very active in our search fund practice, which is composed of the industry's legal market leaders – our search fund team has many decades of combined market experience representing entrepreneurs, investors and portfolios with respect to search fund deals from fundraising to exits and beyond. Having this wonderfully unique range of clients and matter sizes gives attorneys, particularly young associates, on-your-feet practical experience.
CT: Goodwin's private equity client base largely consists of middle market private equity sponsors and their portfolio companies (i.e., ~$10 million to $1 billion). Nonetheless, it is not limited to that. Goodwin's client base in the private equity sector has a wide variety and covers numerous industries. Goodwin often advises their client base on numerous matters outside of a present deal at hand and often provide representation for clients as they continue to grow.  
CA: Could you describe your role as partner/associate within the private equity practice?
KC: I am in Goodwin's private equity practice and focus primarily on leading fund formations․ I am continuously working on developing new client relationships and strengthening existing ones, while helping to train and mentor associates.
KB: In my practice, I primarily focus on M&A transactions – both on the buy and sell side, but I also represent clients in connection with growth equity investments and provide day to day corporate counseling for portfolio companies.  In my role as a partner, I manage our deal team as we advise clients on strategic, tactical and commercial strategies, and I ensure that we execute on those strategies effectively.  I am constantly working to strengthen existing client relationships and work on developing new ones as well.
MK: As a senior associate in Private Equity M&A, I am typically the lead associate on matters, working directly with a partner to effectively run the transaction. I am the point person when it comes to engaging with clients and the other side with respect to negotiations and process management all the way through closing and beyond.
CT: As an associate in Goodwin's private equity practice, I assist on acquisitions or sales for private equity sponsors and ongoing representation as legal counsel to private equity sponsor and their portfolio companies. I may work with the client and team to finalize the purchase agreement (the main document governing an acquisition or sale), and any additional documentations required for closing, assist a portfolio company in a restructuring or corporate governance or help represent a client on a sale to another company or exit event such as a SPAC. I also coordinate with our subject matter experts such as labor and employment, ERISA or Tax to ensure that the client's needs are always met whether they seek to grant equity interests or change hire a new CEO.
CA: What was your role on the latest matter you worked on?
KC: In my role for all matters, I serve as an adviser to our clients by taking the time to understand their business and operations, so I can provide sound advice and judgement. This knowledge allows me to cater our approach to best meet our client's business needs and align with their goals. I also mentor and encourage our associates to give them as many opportunities as possible to work directly with our clients.
KB: On one of my most recent transactions, I represented a private equity fund client in connection with an acquisition of a leading company in the consumer product space.  Our Goodwin team advised our client and helped them navigate the transaction in all aspects from start to finish, including structuring the deal, securing debt financing, drafting and negotiating the definitive transaction documentation, completing legal due diligence, binding a buyer-side representation and warranty insurance policy and executing on all closing requirements.  Along the way, I endeavored to train and mentor my team of associates and to give them leadership opportunities and chances to build direct rapport with the client too. 
MK: The last matter I worked on was actually for a new client I brought in. Under the supervision and guidance of some very supportive senior partners in our group, I served as the relationship manager and lead attorney on the deal, helping the client raise and deploy a fund.
CT: In the latest matter I advised a portfolio company of a private equity sponsor on an add-on acquisition. I worked on the core documentation, corresponded with the client and legal counsel for the other side and served as an advisor to our client to close the acquisition.
CA: What is the most challenging aspect of your practice area? 
KC: There are numerous law firms that work in private equity and it is a competitive space. Clients have a myriad of options that even historical clients can shop around, so it is more important than ever to be responsive and go above and beyond. Companies also have so many choices when it comes to bringing in investors, so our clients need to find ways to set themselves apart. We help them do that by getting deals done quickly and efficiently, focusing on key areas of risk and working with company counsel to create deal terms that are fair to all parties. Our clients are partnering with these companies so it's important that their business relationships get off to a good start. We have to make sure we are protecting our clients, looking out for their long-term interests and providing top-notch legal advice. It's a constant balancing act to make sure all of these components – speed, friendliness, practicality, protection – come together.
KB: One of the most challenging aspects of my practice is that deal work and client needs can be somewhat unpredictable and every day is a bit of a balancing act.  But then again, that's part of what makes it exciting!  Our clients frequently encounter business issues that present novel legal questions.  As a result, we are required to leverage our expertise and ingenuity, and we often need to provide our guidance to them urgently.  In order to be a great advisor and partner to our clients, we have to be thoughtful, thorough, practical and prompt, and we have to be able deliver that level of service consistently.
MK: Being an M&A lawyer requires one to wear many hats – and to look good in them! We provide substantive and commercial guidance and are heavily involved along, with the tax and regulatory teams, with respect to structuring oftentimes very complex matters. Once the matter progresses, the M&A attorneys are then in charge of "quarterbacking" the entire team: internally, among subject matter experts, and externally, with respect to the client, the other side, various third party service providers, etc. There is a lot of responsibility and coordination involved in managing all of the various workstreams that need to come together in order to get a deal closed. Luckily, I enjoy being in the weeds at the center of it all – as a hyper social, hyper organized individual by nature, I thrive off of the responsibility my role affords me and the fast paced nature of our work.
CT: The most challenging aspect of the private equity field is it can be very unpredictable. You are constantly learning on the go and sometimes novel issues arise that you did not plan for. Goodwin has a strong private equity team and oftentimes we are able to rely on each other in these circumstances to ensure we are obtaining the best outcome for our clients.
"It's a constant balancing act to make sure all of these components – speed, friendliness, practicality, protection – come together."
CA: What is the most rewarding aspect of your practice?
KC: I really like that Goodwin affords me the opportunity to work with a range of clients, which I think is unique and special to Goodwin. This gives the opportunity to develop a different kinds of business relationships. I particularly enjoy working with first time fund managers where the stakeholders really depend and rely on you for your advice and counsel, and I get the opportunity to watch them grow from a small fund to a big fund and implement their business objectives. The ability to do both institutional and first-time small funds is both great experience and rewarding. 
KB: The most rewarding part of my practice area is the opportunity I have had to develop meaningful professional and personal relationships with my private equity clients.  As we have worked together over the years, I value the confidence that they have in me as their advisor and as someone whose judgment and guidance they trust.  I always look forward to tackling new challenges with them.
MK: What I like to tell people is that we are in the business of helping people succeed. Every deal is different, and lawyers play a huge role in ensuring that their business principals close deals on desirable terms. I enjoy business development and strengthening my relationships with clients is immensely rewarding to me. Clients depend on us to counsel them through what can be some of the most intense moments in their careers. I take that responsibility very seriously. Watching some of our clients grow their businesses and portfolios has been tremendously inspiring.
CT: The most rewarding aspect of the private equity field is the ability to grow with your client. Goodwin seeks to be a constant advisor to its clients and focuses on the relationships instead of just the task at hand. As an ongoing advisor you often get the opportunity to start with your client and to assist them as they grow. It is rewarding seeing a client reach its goals and knowing you had a hand in every step of the way.
CA: What are the latest trends and developments in the private equity space?
KC: There is a lot of momentum and developments in the funds space. With the new SEC chairman, there's a new focus in the industry, and we are closely following all the new SEC proposals and guidance. ESG also continues to be a prominent trend.
KB: As we're seeing shifts in the economic environment and an increase in interest rates, we are finding that our clients are currently doing fewer platform acquisitions than they were in 2020 and 2021 and are closing on more growth equity investments and portfolio company add-on acquisitions.
MK: What I love most about practice is that it is just that – practice. The issues and actors are constantly evolving, and that gives way for rich opportunities for a practitioner's development. As lawyers, we should embrace our unique access to deals, clients and other practitioners to enhance our substantive skills and expand our networks. Given the uncertain economic climate as of late, parties are turning increasingly to earnouts in purchase arrangements in order to bridge valuation gaps. We've seen a sizable increase in the inclusion of earnouts in acquisition agreements since the thick of the pandemic – especially for midmarket deals.
CT: Deal activity levels have been lower than the prior two years. There has been a higher use of earnouts, increased use of earnings or EBITDA metric and longer performance periods.
CA: What personal qualities make for a good private equity lawyer?
KC: Someone who takes the time to understand the client and their business objectives. Our role is often similar to a general counsel with clients turning to us for advice and guidance. Therefore, it is helpful to have knowledge on practices that will touch a fund like tax, ERISA and regulatory. While you do not need to be a specialist in those areas, having the basic understanding is extremely helpful when a client calls, then you can turn to your specialist colleagues as well. As a private equity fund formation lawyer, you get to watch your clients grow, raise a fund and deploy it so being responsive, on point and understanding their business are instrumental to success in your career.
KB: The best private equity lawyers are very practical and, as a result, are able to give their clients excellent commercial advice.  Although lawyers are trained to identify risks and protect against them, it is important to always layer that with an understanding of a client's objectives.
MK: As with any challenging job, qualities like grit, resilience and the desire to excel are key to success and longevity in this industry. A good private equity attorney must not only deliver excellent client service on a consistent basis, but also go the extra mile and offer up creative and commercial solutions to clients and their businesses, at whatever stage of the life cycle they're in. That is how one exceeds expectations and leaves a lasting impression among clients. However, if I had to choose one trait I've observed across all the most successful private equity attorneys I've come across in practice, I would have to say that a key personality trait, though often overlooked, that is crucial to exceling in this practice area is emotional intelligence. Being the point person for so many workstreams and so many separate teams requires people skills – this comes into play especially during deal negotiations, which, at times, can prove contentious. Deal attorneys need to be able to find a common denominator and get everyone in alignment on terms – that requires being able to read and understand different people.
CT: Adaptability, being able to adapt quickly, learn on the go and think critically are skills that are used every day and can make a good private equity lawyer. The field can be very unpredictable and always thinking on your feet and being able to adjust to new challenges or issues is key.
"It is helpful to have knowledge on practice that will touch a fund like tax, ERISA and regulatory."
CA: What can students be doing now to set themselves up for success in this area?
KC: For private equity funds, reading things like The Wall Street Journal helps to learn so much for your career. It allows you to understand the commercial and business reasons alongside the market to have knowledge into what drives all the different funds out there.
KB: I would highly recommend taking any courses that would cover fundamental corporate law principles (e.g., business organizations, accounting for lawyers, securities regulations, M&A).  In addition, if your law school offers any practical or clinical courses, that is a great way to get some real hands-on experience with contract drafting, communicating with clients and other constituents and problem solving in general.
MK: Focus on consistently doing the best work you can and take ownership of your careers. Hone in on being strategic about making sure you are taking initiative and seeking out opportunities to round out your skills. Understand that while it is crucial to demonstrate leadership skills and potential in the academic arena, corporate practice is a totally different ballgame. It is equally important to develop strong relationships with mentors and sponsors in the industry. Mentorship, like any rewarding relationship, is a two way street. Being proactive and thoughtful in your outreach will help set you apart as someone who is both driven and collaborative.
CT: Most law schools provide a course related to accounting, finance or business management. Take these courses to familiarize oneself with common complexities a business has to face. Understanding your client from their perspective will allow you to bring more value as their trusted advisor.
CA: What is unique about Goodwin's private equity practice?
KC: Goodwin is unique by creating an environment where you can be entrepreneurial while also working with large institutional clients. If you have the desire to pursue something, you have the support of the firm. No one will say it is too small, but rather will encourage you to go after it and explore your interests. Personally, I enjoy that Goodwin allows for a variety in my practice. 
KB: I always describe Goodwin as an entrepreneurial law firm.  As a firm, we allow our attorneys to grow their practices in a way that makes the most sense for their own aspirations, whether that be client base, type of work, industry, geography or something else entirely.  I have been fortunate enough to grow a practice that transcends the private equity space and also includes representation of founders and technology startups in connection with potential sale processes to strategic or financial buyers.  I love the variety and it keeps me excited about my work!
MK: Not only does Goodwin have a sterling reputation when it comes to doing excellent work for cutting edge clients, it boasts an amazing firm culture that makes it an incredible place to be for young, entrepreneurial lawyers who want to grow their practices. The partners here at Goodwin have been incredible mentors and sponsors to me along the way. They have been truly instrumental in terms of my own business development both in and out of the firm. They give me enough rope to independently manage our matters and teams, but are always there to provide both practical and substantive guidance. This type of support has been invaluable in helping me realize the key milestones in my professional development so far.
CT: Goodwin's practice is unique because not only are you able to grow with your client as you work with them. Goodwin's business unit model also allows one to get valuable experience across a variety of areas within private equity such that you can become a strong attorney from all angles and not feel siloed into one specific area (i.e. M&A). It truly embodies an entrepreneurial feel with a sophisticated client base.
Find out more about life as a junior associate at Goodwin in the Inside View.