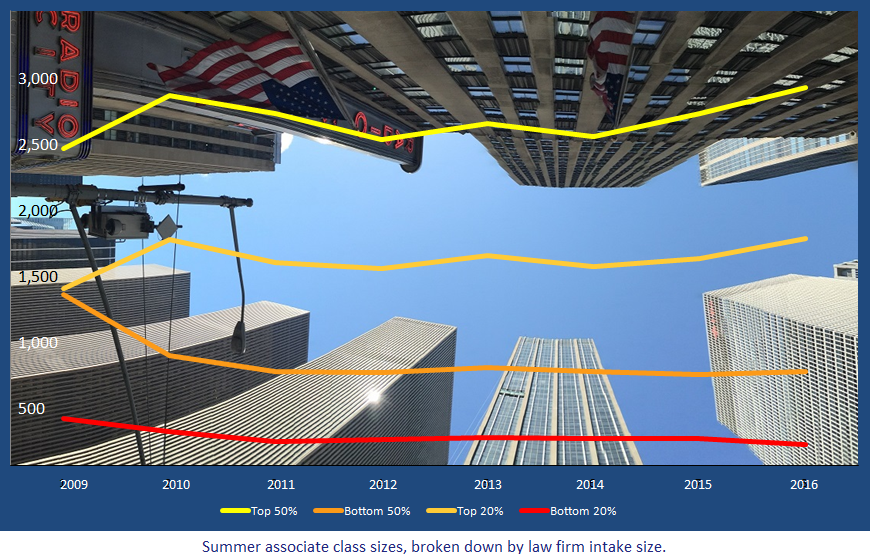 Steady market growth is the headline, but that's not the story for everyone in our 2016 hiring survey...
WOULD a smidge of optimism be reckless in the BigLaw hiring market? Probably. But we should allow ourselves a few seconds of joy before OCIs start in earnest. If our report this time last year pointed to steady growth, then this year's is looking steadier yet. The 93 firms that reported data together grew their collective intake by 7% on 2015. Summer classes are up by the same figure, which contributed to a 73% increase since the gloom of 2010.
The elite just got elite-er
2016's top ten recruiters grew by the highest margin – by 12%. This was down to five big hirers – Latham, Kirkland, Davis Polk, Ropes and Paul, Weiss – swallowing up 682 first years between them and together growing their intake by a whopping 30% on average. But for all except for Davis Polk, this uptick is more pronounced by these firms' recovery from a year or two of lower hiring numbers. In the top ten as elsewhere, there are firms like Jones Day and Gibson Dunn hiring slightly fewer, though we'd put this down to the same cyclical movements.
This compounds a trend we picked up on last year: that the strong are getting stronger: while the top 30 enjoyed a 9% increase, the bottom 20 firms shrank their hiring by 21%.
Summer for some...
The numbers in summer associate hiring paint this picture more vividly: trailblazers like Sidley Austin, with its flashy 77% increase to 188, have helped the largest 20 firms grow in summer hires by 10% this year. Meanwhile, growth below the top 20 loiters at a cautious 3.5%. And these firms are right to be cautious if you track their summer classes since 2009: the top 20 giants revel in their 88% growth since the recession's doom year, while the middle 50% have scaled down their summers by 27% and the bottom third – the smallest summer classes – have got smaller by 64%.
For deeper analysis on market trends, have a read of our round-up of the year. 
Class size changes at a glance – from the 93 firms supplying data:
| | | | |
| --- | --- | --- | --- |
| Market segment | 2015 intake | 2016 intake | % change in 12 months |
| TOP 10 | 1,168 | 1,312 | 12% |
| TOP 20 | 1,895 | 2,081 | 10% |
| TOP 30 | 2,452 | 2,671 | 9% |
| TOP 40 | 2,874 | 3,108 | 8% |
| TOP 50 | 3,186 | 3,454 | 8% |
| BOTTOM 20 | 235 | 186 | -21% |
Summers numbers – from the 79 firms that have given us data since we started in 2009:
| | | | | | |
| --- | --- | --- | --- | --- | --- |
|  Market segment | 2009 | 2015 | 2016 | Change since 2015 | Change since 2009 |
| TOP 20 | 1429 | 2443 | 2690 | 10.1% | 88.2% |
| TOP 50 | 2237 | 1567 | 1623 | 3.6% | -27.4% |
| Bottom Third | 1514 | 531 | 549 | 3.4% | -63.7% |
| | | | | |
| --- | --- | --- | --- | --- |
| Rank | Firm | 2015 intake | 2016 intake | % change |
| 1 | Skadden | 186 | 200 | 8% |
| 2 | Latham & Watkins | 104 | 156 | 50% |
| 3 | Kirkland & Ellis | 114 | 140 | 23% |
| 4 | Davis Polk | 112 | 133 | 19% |
| 5 | Ropes & Gray | 108 | 133 | 23% |
| 6 | Paul, Weiss | 84 | 120 | 43% |
| 7 | Jones Day | 129 | 118 | -9% |
| 8 | Sullivan & Cromwell | 108 | 112 | 4% |
| 9 | Simpson Thacher | 114 | 104 | -9% |
| 10 | Gibson Dunn | 109 | 96 | -12% |
|   | TOP 10 | 1168 | 1312 | 12% |
| 11 | Sidley Austin | 101 | 96 | -5% |
| 12 | Cleary Gottlieb | 92 | 90 | -2% |
| 13 | Cravath | 92 | 90 | -2% |
| 14 | Weil | 64 | 83 | 30% |
| 15 | Debevoise | 76 | 75 | -1% |
| 16 | Mayer Brown | 60 | 68 | 13% |
| 17 | K&L Gates | 85 | 67 | -21% |
| 18 | O'Melveny & Myers | 47 | 67 | 43% |
| 19 | White & Case | 55 | 67 | 22% |
| 20 | Willkie Farr | 55 | 66 | 20% |
|   | TOP 20 | 1895 | 2081 | 10% |
| 21 | Dechert | 54 | 65 | 20% |
| 22 | Baker Botts | 52 | 64 | 23% |
| 23 | Hogan Lovells | 57 | 62 | 9% |
| 24 | Vinson | 48 | 62 | 29% |
| 25 | Morgan Lewis | 86 | 61 | -29% |
| 26 | Paul Hastings | 61 | 61 | 0% |
| 27 | Shearman & Sterling | 48 | 59 | 23% |
| 28 | Proskauer | 62 | 53 | -15% |
| 29 | Fried Frank | 43 | 52 | 21% |
| 30 | Milbank | 46 | 51 | 11% |
|   | TOP 30 | 2452 | 2671 | 9% |
| 31 | Winston & Strawn | 43 | 51 | 19% |
| 32 | WilmerHale | 80 | 49 | -39% |
| 33 | Foley & Lardner | 36 | 48 | 33% |
| 34 | Reed Smith | 47 | 46 | -2% |
| 35 | Cooley | 44 | 45 | 2% |
| 36 | Morrison & Foerster | 43 | 43 | 0% |
| 37 | Cadwalader | 34 | 40 | 18% |
| 38 | Venable | 28 | 39 | 39% |
| 39 | Akin Gump | 33 | 38 | 15% |
| 40 | Alston & Bird | 34 | 38 | 12% |
|   | TOP 40 | 2874 | 3108 | 8% |
| 41 | Holland & Knight | 27 | 38 | 41% |
| 42 | Perkins Coie | 30 | 38 | 27% |
| 43 | Cahill | 38 | 37 | -3% |
| 44 | Greenberg Traurig | 37 | 36 | -3% |
| 45 | Pillsbury | 25 | 35 | 40% |
| 46 | Jenner & Block | 28 | 34 | 21% |
| 47 | Orrick | 31 | 33 | 6% |
| 48 | Baker & McKenzie | 32 | 32 | 0% |
| 49 | Sheppard Mullin | 29 | 32 | 10% |
| 50 | DLA Piper | 35 | 31 | -11% |
|   | TOP 50 | 3186 | 3454 | 8% |
| 51 | Hunton & Williams | 26 | 31 | 19% |
| 52 | Haynes and Boone | 29 | 30 | 3% |
| 53 | Clifford Chance | 29 | 29 | 0% |
| 54 | King & Spalding | 24 | 27 | 13% |
| 55 | Arnold & Porter | 35 | 26 | -26% |
| 56 | Fish & Richardson | 22 | 25 | 14% |
| 57 | Finnegan | 21 | 24 | 14% |
| 58 | Bracewell | 20 | 23 | 15% |
| 59 | Katten Muchin | 23 | 23 | 0% |
| 60 | Allen & Overy | 17 | 21 | 24% |
|   | TOP 60 | 3432 | 3713 | 8% |
| 61 | Nixon Peabody | 23 | 21 | -9% |
| 62 | Freshfields | 17 | 20 | 18% |
| 63 | Fox Rothschild | 12 | 19 | 58% |
| 64 | McGuireWoods | 15 | 19 | 27% |
| 65 | Duane Morris | 10 | 18 | 80% |
| 66 | Kaye Scholer | 17 | 18 | 6% |
| 67 | Linklaters | 23 | 17 | -26% |
| 68 | Mintz Levin | 16 | 17 | 6% |
| 69 | Patterson Belknapp | 6 | 17 | 183% |
| 70 | Irell & Manella | 14 | 15 | 7% |
|   | TOP 70 | 3585 | 3894 | 9% |
| 71 | Jackson Walker | 9 | 15 | 67% |
| 72 | Brown Rudnick | 14 | 14 | 0% |
| 73 | Cozen O'Connor | 14 | 14 | 0% |
| 74 | Pepper Hamilton | 12 | 14 | 17% |
| 75 | Seward | 15 | 14 | -7% |
| 76 | Stroock | 14 | 14 | 0% |
| 77 | Snell & Wilmer | 19 | 13 | -32% |
| 78 | Kramer Levin | 12 | 12 | 0% |
| 79 | Choate | 10 | 11 | 10% |
| 80 | Crowell | 14 | 11 | -21% |
|   | TOP 80 | 3718 | 4026 | 8% |
| 81 | Dykema | 16 | 10 | -38% |
| 82 | Epstein | 8 | 10 | 25% |
| 83 | Munger Tolles | 17 | 10 | -41% |
| 84 | Squire Patton Boggs | 16 | 10 | -38% |
| 85 | Chadbourne | 10 | 9 | -10% |
| 86 | Fitzpatrick | 10 | 9 | -10% |
| 87 | Curtis | 7 | 8 | 14% |
| 88 | Wiley Rein | 12 | 8 | -33% |
| 89 | Kasowitz | 18 | 6 | -67% |
| 90 | Waller | 10 | 5 | -50% |
| 91 | Axinn | 4 | 4 | 0% |
| 92 | Harris Wiltshire | 4 | 4 | 0% |
| 93 | Nutter | 7 | 4 | -43% |
|   |   | 3857 | 4123 | 7% |