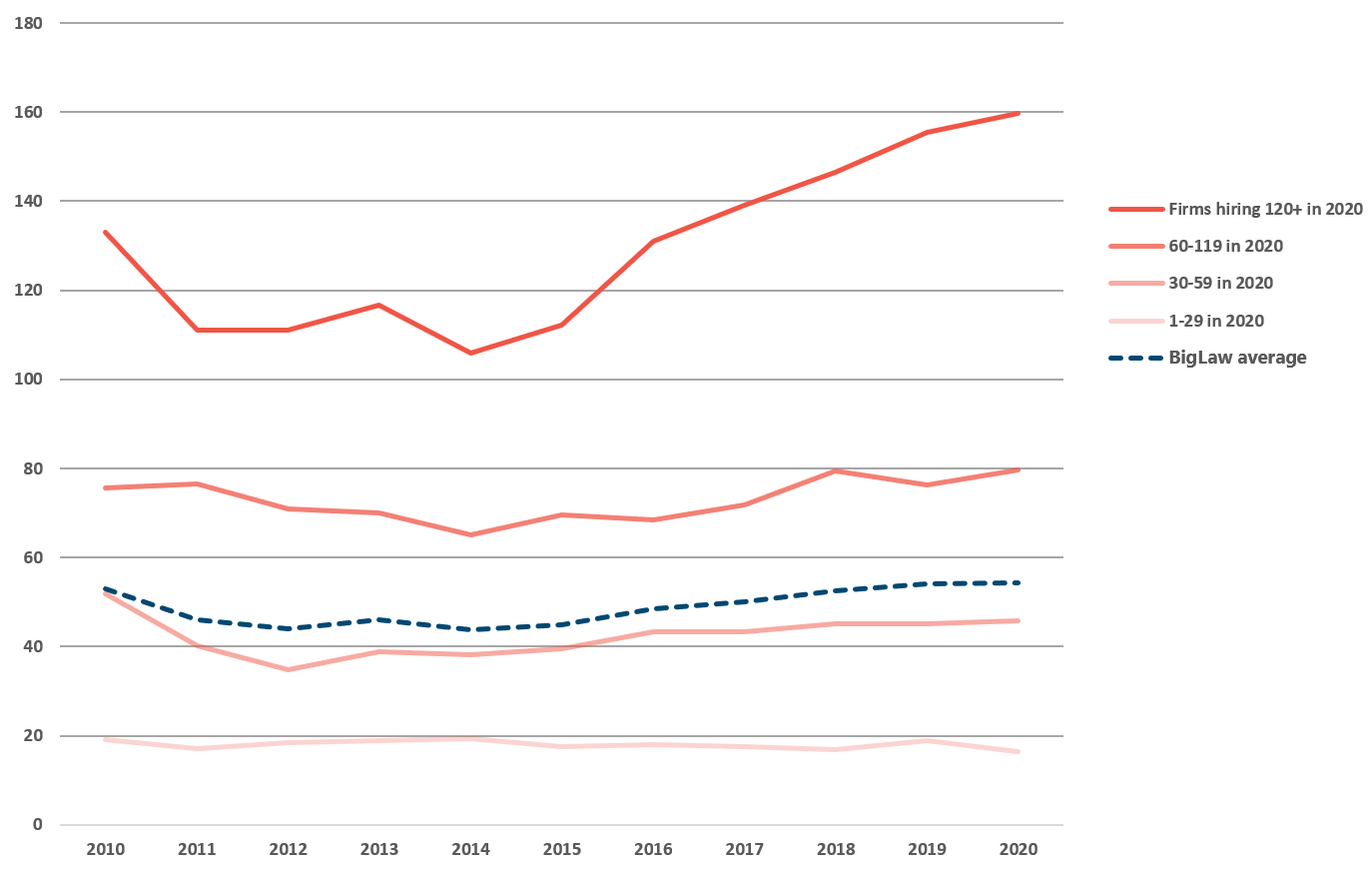 Tracking law firm hiring over eleven years.
Since the start of the last decade in 2010, we've tracked the entry-level hiring numbers for 68 firms. As you can see in the graph above, the largest firms have suffered the most dramatic fluctuations, with a sharp post-recession decline followed by a dramatic rise since 2015, peaking at numbers equivalent to or higher than pre-recession levels. The rest of the market has remained more stable, but smaller firms haven't enjoyed the same headcount growth as their larger rivals. Over the course of the decade, the lower end of the market has contracted even as the BigLaw-wide average has increased.
The table below has individual stats for all of these 63 firms. Though overall numbers have now recovered over the course of the decade, the 2020 coronavirus outbreak caused a decline as firms looked to tighten their belts (though the numbers look lower as fewer firms have divulged numbers). However, with a record peak in 2022, it is clear the market has very much recovered.
| | | | | | | | | | | | | | | |
| --- | --- | --- | --- | --- | --- | --- | --- | --- | --- | --- | --- | --- | --- | --- |
| Firm | 2010 | 2011 | 2012 | 2013 | 2014 | 2015 | 2016 | 2017 | 2018 | 2019 | 2020 | 2021 | 2022 | 2023 |
| Akin Gump | 36 | 40 | 38 | 50 | 33 | 33 | 38 | 44 | 53 | 51 | 53 | 48 | 58 | 49 |
| Allen & Overy | 18 | 20 | 21 | 22 | 16 | 17 | 21 | 21 | 21 | 18 | 15 | 46 | 15 | 21 |
| Alston & Bird | 79 | 49 | 64 | 52 | 36 | 34 | 38 | 44 | 46 | 46 | 39 | 38 | 50 | 53 |
| Baker Botts | 38 | 48 | 48 | 48 | 40 | 52 | 64 | 52 | 56 | 56 | 56 | 63 | 44 | 32 |
| Bracewell | 33 | 23 | 19 | 25 | 34 | 20 | 23 | 26 | 17 | 22 | 22 | 20 | 12 | 13 |
| Brown Rudnick | 15 | 21 | 18 | 20 | 23 | 14 | 14 | 6 | 8 | 10 | 10 | N/A | 5 | N/A |
| Cadwalader | 27 | 26 | 31 | 39 | 37 | 34 | 40 | 32 | 21 | 30 | 24 | 25 | 25 | 34 |
| Cahill | 33 | 41 | 34 | 34 | 47 | 38 | 37 | 42 | 38 | 44 | 44 | 31 | 39 | 36 |
| Choate | 13 | 18 | 11 | 13 | 15 | 10 | 11 | 15 | 15 | 15 | 12 | N/A | 21 | 19 |
| Cleary Gottlieb | 110 | 81 | 93 | 126 | 99 | 92 | 90 | 91 | 120 | 94 | 92 | 50 | 82 | 66 |
| Clifford Chance | 41 | 30 | 24 | 20 | 22 | 29 | 29 | 21 | 28 | 23 | 28 | 28 | 37 | 32 |
| Cooley | 38 | 30 | 46 | 48 | 46 | 44 | 45 | 53 | 51 | 54 | 22 | 91 | 129 | 131 |
| Cravath | 89 | 99 | 44 | 75 | 94 | 92 | 90 | 105 | 92 | 61 | 74 | 84 | 70 | 89 |
| Crowell & Moring | 21 | 15 | 14 | 16 | 18 | 14 | 11 | 12 | 20 | 16 | 16 | 14 | 19 | 115 |
| Davis Polk & Wardwell | 98 | 70 | 92 | 109 | 101 | 112 | 133 | 143 | 129 | 115 | 130 | 107 | 160 | 57 |
| DLA Piper | 62 | 53 | 49 | 50 | 30 | 35 | 31 | 32 | 34 | 51 | 39 | 36 | 48 | 87 |
| Duane Morris | 9 | 9 | 12 | 13 | 9 | 10 | 18 | 16 | 15 | 20 | 21 | 12 | 11 | 13 |
| Finnegan | 27 | 31 | 28 | 30 | 25 | 21 | 24 | 19 | 22 | 27 | 17 | 17 | 9 | 15 |
| Fish & Richardson | 20 | 24 | 20 | 15 | 18 | 22 | 25 | 23 | 17 | 18 | 13 | 10 | 10 | 13 |
| Fox Rothschild | 13 | 13 | 13 | 12 | 11 | 12 | 19 | 24 | 18 | 42 | 27 | 21 | 21 | 35 |
| Freshfields | 8 | 15 | 11 | 7 | 18 | 17 | 20 | 22 | 18 | 18 | 17 | 22 | 43 | 46 |
| Fried, Frank | 53 | 51 | 39 | 32 | 26 | 43 | 52 | 52 | 60 | 65 | 70 | 67 | 74 | 73 |
| Gibson, Dunn | 123 | 89 | 103 | 125 | 111 | 109 | 96 | 93 | 100 | 107 | 120 | 126 | 151 | 168 |
| Goodwin | 87 | 71 | 45 | 53 | 57 | 55 | 60 | 50 | 50 | 69 | 72 | 90 | 157 | 141 |
| Greenberg Traurig | 150 | 71 | 45 | 52.5 | 57 | 55 | 36 | 49 | 38 | 31 | 31 | N/A | N/A | N/A |
| Haynes and Boone | 33 | 23 | 26 | 31 | 31 | 29 | 30 | 39 | 26 | 26 | 28 | 34 | 35 | 35 |
| Hunton Andrews Kurth | 13 | 18 | 19 | 32 | 24 | 26 | 31 | 26 | 41 | 47 | 45 | 32 | 37 | 37 |
| Irell & Manella | 29 | 20 | 26 | 23 | 23 | 14 | 15 | 11 | 14 | 13 | 10 | 6 | 6 | 7 |
| Jackson Walker | 12 | 12 | 13 | 17 | 15 | 9 | 15 | 17 | 13 | 13 | 13 | 14 | 14 | 18 |
| Jenner & Block | 44 | 37 | 28 | 35 | 20 | 28 | 34 | 35 | 33 | 43 | 39 | 31 | N/a | 26 |
| Jones Day | 133 | 94 | 117 | 126 | 101 | 129 | 118 | 120 | 150 | 165 | 157 | 167 | 119 | 161 |
| K&L Gates | 104 | 63 | 51 | 70 | 85 | 67 | 64 | 51 | 51 | 48 | 43 | 48 | 47 | 60 |
| Kasowitz | 19 | 18 | 22 | 18 | 16 | 18 | 6 | 8 | 9 | 11 | 11 | N/A | 11 | 11 |
| Katten | 7 | 11 | 29 | 28 | 31 | 23 | 23 | 13 | 23 | 21 | 20 | 30 | 35 | 39 |
| King & Spalding | 43 | 26 | 15 | 22 | 31 | 24 | 27 | 30 | 35 | 34 | 54 | 59 | 62 | 55 |
| Kirkland | 130 | 142 | 140 | 141 | 111 | 114 | 140 | 172 | 251 | 298 | 285 | 221 | 356 | 347 |
| Kramer Levin | 20 | 14 | 11 | 16 | 17 | 12 | 12 | 11 | 16 | 16 | 19 | 18 | 13 | 16 |
| Latham & Watkins | 203 | 131 | 150 | 115 | 133 | 104 | 156 | 181 | 163 | 160 | 169 | 184 | 262 | 253 |
| Linklaters | 25 | 20 | 19 | 26 | 20 | 23 | 17 | 13 | 22 | 17 | 11 | 16 | 12 | 15 |
| Mayer Brown | 94 | 59 | 30 | 47 | 49 | 60 | 68 | 55 | 50 | 59 | 40 | 60 | 73 | 82 |
| Milbank | 55 | 22 | 31 | 43 | 42 | 46 | 51 | 67 | 79 | 58 | 58 | 57 | 82 | N/A |
| Morgan, Lewis & Bockius | 70 | 51 | 59 | 62 | 56 | 86 | 61 | 52 | 56 | 76 | 79 | 79 | 84 | 79 |
| Munger, Tolles & Olson | 23 | 17 | 15 | 14 | 18 | 17 | 10 | 24 | 22 | 25 | 23 | 29 | 16 | 6 |
| Orrick | 47 | 33 | 39 | 28 | 26 | 31 | 33 | 44 | 51 | 51 | 56 | 48 | 28 | 40 |
| Patterson Belknap | 11 | 13 | 16 | 6 | 6 | 6 | 17 | 5 | 2 | 5 | 5 | 3 | 6 | 6 |
| Paul, Weiss | 86 | 61 | 66 | 97 | 92 | 84 | 120 | 118 | 101 | 117 | 122 | 65 | 78 | 72 |
| Perkins Coie | 37 | 36 | 23 | 27 | 31 | 30 | 38 | 43 | 42 | 36 | 59 | 52 | 58 | 49 |
| Pillsbury | 26 | 26 | 22 | 23 | 29 | 25 | 35 | 37 | 37 | 29 | 31 | 37 | 39 | 32 |
| Reed Smith | 31 | 32 | 35 | 34 | 43 | 47 | 46 | 42 | 46 | 46 | 54 | 42 | 45 | 50 |
| Ropes & Gray | 187 | 216 | 116 | 126 | 96 | 108 | 133 | 152 | 135 | 167 | 165 | N/A | 154 | 168 |
| Seward & Kissel | 10 | 8 | 11 | 14 | 11 | 15 | 14 | 16 | 11 | 12 | 10 | 12 | 12 | 15 |
| Shearman & Sterling | 51 | 70 | 39 | 31 | 39 | 48 | 59 | 64 | 58 | 48 | 50 | 25 | 47 | 45 |
| Sheppard, Mullin | 28 | 28 | 26 | 30 | 31 | 29 | 32 | 28 | 30 | 30 | 33 | 35 | 55 | 49 |
| Simpson Thacher | 83 | 108 | 112 | 97 | 96 | 114 | 104 | 116 | 105 | 104 | 108 | 104 | 148 | 140 |
| Skadden | 184 | 92 | 86 | 135 | 149 | 186 | 200 | 188 | 187 | 165 | 138 | N/A | N/A | 159 |
| Venable | 20 | 23 | 39 | 27 | 29 | 28 | 39 | 33 | 32 | 42 | 40 | 59 | 46 | 3 |
| Vinson & Elkins | 72 | 57 | 70 | 74 | 43 | 48 | 62 | 36 | 68 | 67 | 78 | 77 | 75 | 73 |
| Weil | 54 | 104 | 130 | 77 | 59 | 64 | 83 | 84 | 102 | 105 | 151 | 125 | 124 | 110 |
| White & Case | 54 | 104 | 130 | 77 | 58 | 55 | 72 | 93 | 108 | 111 | 80 | 75 | 93 | 92 |
| Wiley Rein | 13 | 18 | 13 | 13 | 16 | 12 | 8 | 8 | 8 | 11 | 13 | 9 | 8 | 11 |
| Willkie Farr | 47 | 27 | 22 | 42 | 43 | 55 | 66 | 51 | 52 | 51 | 52 | 79 | 97 | 95 |
| WilmerHale | 88 | 99 | 85 | 75 | 105 | 80 | 49 | 61 | 75 | 61 | 82 | 60 | 77 | 72 |
| Winston & Strawn | 69 | 36 | 48 | 41 | 23 | 43 | 51 | 61 | 58 | 59 | 64 | 57 | N/A | 68 |
|  Total | 3,602 | 3,124 | 2,993 | 3,130 | 2,975 | 3,055 | 3,303 | 3,402 | 3,568 | 3,672 | 3,688 | 3,008 | 3,817 | 3,934 |