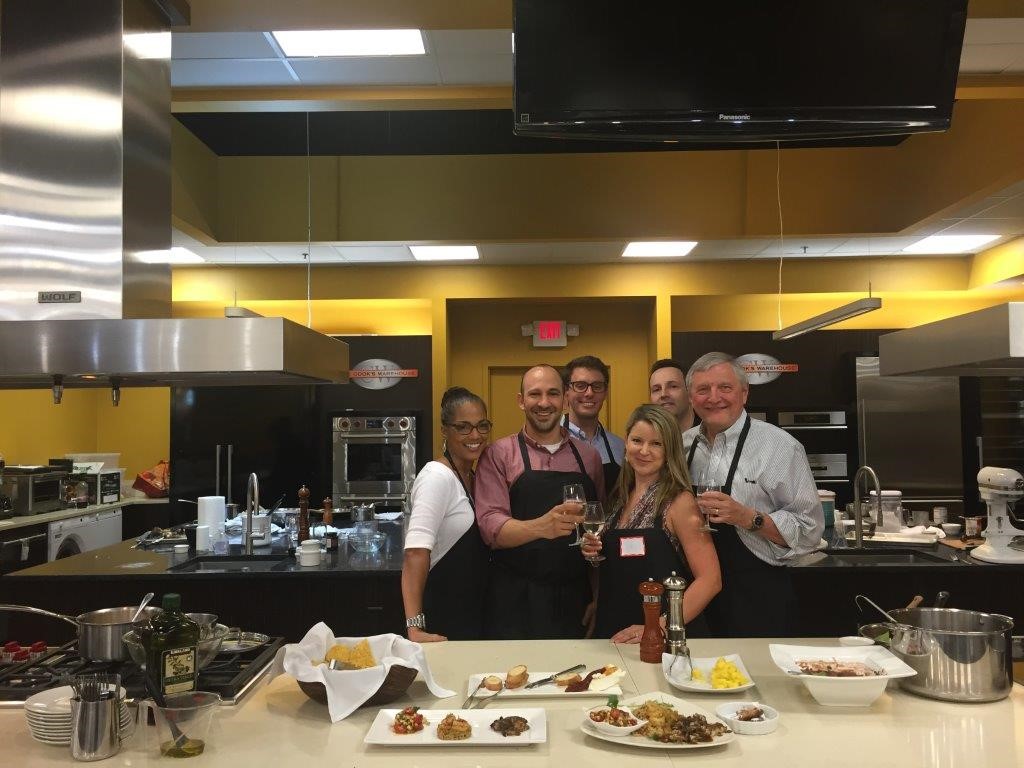 'Culture' is notoriously difficult to sum up. We have combed through comments from 2,000-plus interviewees this year to give you associates' insights into what makes a good culture... and what could be improved.
Main photo: Finnegan, Atlanta
THE POSITIVES
"Very few assholes."
Okay, we'll start with the positives. Associates at firms that scored highly in our satisfaction and lifestyle surveys this year told us much the same thing. Happy firm culture comes from a pleasing mix of heart-warmingly familiar factors: nice colleagues, a decent work/life balance, good communication, teamwork, a bubbly social life (but not too bubbly), and career development opportunities. "There are very few assholes here," a Cozen O'Connor junior neatly summed up. "I genuinely enjoy the company of most people – they're approachable and informal." They aren't merely pleasant: "People know you have a life outside the firm." Like many new associates everywhere, one Jenner & Block interviewee had "imagined BigLaw culture to be 'kill or be killed', but we don't have that at all."
A Cooley associate gave us similar feedback: "An important part of our culture is having smart lawyers but also good people." Furthermore, "we do a good job of having a good time as a group." This was echoed at Harris, Wiltshire & Grannis, where social activities are "ingrained in the culture," and Kramer Levin, where "there's enough socializing but no huge expectation to spend tons more time away from your personal life." Over at Choate, "they try to keep socializing at a level that everybody, including those with young families, is comfortable with." They said their culture more broadly is "all about team work, supporting others and working together to provide the best service for clients." One indicator of Choate's good-humored atmosphere is its firm party, when "first-years do a skit usually poking fun at the partners, and then we have a big cocktail reception and dinner."
There's also "a strong sense of community" at Clifford Chance, and while juniors here aren't likely to poke fun at the partners, "for Hallowe'en we dressed up as Where's Waldo! These events are held to keep us connected and promote interaction." Similarly, Goodwin associates felt their firm "filled its halls with people who are funny and pleasant to work with. We're not viewed as tools for work. There's a much better work/life balance than at other firms." Those at Willkie mentioned "an 'all in it together' mentality even when it's super-busy," a sense of "camaraderie" reinforced by "partners who care about your career development." Finnegan lawyers also highlighted their "team mentality, and everyone wants each other to succeed." Helping this vibe are an "all-attorney retreat" and, much more frequently, "happy hours on our roof terrace."
THE NEGATIVES
"It's constant stress..."
Negative feedback about BigLaw firm culture tends to fall into the categories outlined below. We should point out a firm's culture can vary significantly from office to office and department to department. The quotes below reflect how individuals experienced 'culture' in their team on a particular day. It's impossible to sum up a firm's overall culture in one or two short sentences; nevertheless, these quotes give interesting insights into aspects of culture.
We will look at each category in turn. They are: hours; work/life balance; work assignment; better quality work; training; management and communication; feedback (and praise); support; pay; transparency; perks; diversity; teamwork; and more – or less – socializing.
Hours
"The hours come with BigLaw!"
Unsurprisingly, many associates complained about hours, which they knew comes with the BigLaw territory: "It's constant stress – either you're stressed because you're busy with a heavy workload or you're stressed because you're not billing enough to hit the minimum (when often there isn't enough work to go around and there's nothing you can do about it)." We heard similar sentiments time and again: "The only thing that could improve my job satisfaction is if I didn't have to work as many hours as I do. However, the hours come with BigLaw!"
One solution is to provide "more reasonable deadlines and time management by senior associates and partners," according to one junior source. "The majority of deadlines are not necessarily client-driven, but by a need to always impress clients by delivering things ahead of time despite the impact it has on associate quality of life." Many associates at other firms said the same, with one recommending "more communication as to timelines and deadlines – communicating that you will need to be available during a weekend as opposed to an unexpected Saturday evening email." A rival at a peer firm "could also see myself being more satisfied at my job if the firm took a more proactive approach to letting us know when we're working too much. I hear it incidentally and at reviews, but it isn't like anyone is regularly looking at my hours and calling me to tell me not to take that new deal."
The final word on hours goes to the associate who told us: "Besides the obvious (fewer hours for more money), I would say my satisfaction would be increased if there were maybe just one full day a week where checking your phone isn't necessary, much less required. But that's BigLaw, right?"
Work/life balance
"It's not truly 'no' face-time."
Closely related to hours is the thorny issue of work/life balance. There's a tension at many law firms between treating their employees well (as most try to) while also providing impeccable levels of client service at all times. Again, most interviewees had come into BigLaw with their eyes open, like this realistic lawyer who would like to see "respect for work/life balance and, if no respect for work/life balance, more office perks like free soda or after-hour Uber rides."
A hot topic right now is flexible working, which law firms are increasingly trumpeting. Several sources felt this had been slightly over-egged during OCIs: "During interviews and the summer program, the firm advocated a 'no face-time' policy. While I have found this policy to be a great benefit of working here, it's not truly 'no' face-time, but rather an understanding that flexibility in office hours will be tolerated to some degree. I would have liked a more realistic description of the policy, even though this wouldn't have changed my decision to accept my offer."
For others, on the other hand, little or no face-time can adversely impact culture by turning the office into a ghost town: "The lack of emphasis on face time and treatment of lawyers like adults who can work anywhere sometimes leads to a very quiet space that can feel a little cold and impersonal." Generally, though, people felt that "more initiatives to improve associate work/life balance – such as greater commitment to flexible working conditions, greater maternity/paternity benefits, more transparency regarding partnership prospects, etc" – would be a good thing.
Many could identify with the associate who longs for "sleeping sometimes, seeing my family, not living at work." A remedy? "Better implementation of work from home policy. At present, it requires requesting advance permission from all case teams. This serves as an unnecessary hurdle, as in-office presence is never necessary for the work."
Work assignment
"Clearer assignment mechanisms."
The way work is assigned depends on the particular team you're in, and we would strongly recommend that you do some research into the team in the office of the firm that interests you. That said, many associates at various different firms all wished for "clearer assignment mechanisms" to help them plan their lives more easily. "On some matters, work is assigned haphazardly so that people are doing duplicative assignments and other important tasks are left to the last minute." Others thought that "increased communication between practice groups would improve working efficiency and allow for greater predictability in workload, which would be especially helpful with regard to timing and deadlines." Yet more would also like to see "better work assignment allocation; better communication regarding when assignments are coming up; better IT systems."
The large amount of non-billable work associates have to do in addition to serving paying clients also caused consternation to some: "As young associates, we are looked to frequently help with non-billable work like articles and presentations. Of course, some of this is necessary but becomes stressful when it interferes with the ability to complete billable work." In a similar vein, while everyone should want to do as much pro bono work as they can, too much can be problematic: "There was too much emphasis on pro bono when I started, and it bogged me down later on. I love that we have great pro bono opportunities, but I would advise new associates not to take on more than one active pro bono matter at a time until they are secure in their regular practice."
Better quality work
"A lot of document review."
In recent years, more and more associates have told us that they are happy with their responsibility levels and the quality of work they are given. Reasons for this include vastly improved technology, increased use of outsourced doc reviewers and, driving these changes, clients' unwillingness any longer to pay top whack for junior associates to do grunt work all day. Clients pay good money for associates to do sophisticated work for them, not to train them up. Nevertheless, some associates still told us that they'd like "to have more substantive work. I get some, but I also do a lot of document review or discrete research tasks, so I don't have a great sense of what's going on in the broader picture of the case." Others wanted "more ownership/involvement in projects from start to finish" and/or "more opportunities to choose the type of work I want to do."
These days, thankfully, we only hear a handful of truly exasperated comments out of a total of well over 2,000 BigLaw interviewees: "The last thing I expected was to be bored and doing 1,500-plus hours of document review and binder assembly," one admitted. Another dreamed of "being permitted to work in practice areas I am interested in rather than being pushed into an area I'm not."
Training
"More training on actual substance."
"I think this varies by practice group," one junior source explained, "but I have very much felt like I was thrown into the deep end shortly after starting at the firm. It's great in the sense that I'm learning a lot and getting much more substantive work than I would imagine my peers are getting at other large firms, but I would feel more comfortable (and thus more satisfied) with what I'm doing if I had a bit more training on actual substance. We have gotten trainings on how to use the computer systems and other similar generic topics, but a more active formal training program/CLOs might be beneficial."
In general, most interviewees were happy with the level of training, but quite a few would value "more feedback from partners and supervising associates" and "more meaningful and directed training/professional development opportunities." Unusually, one source had experienced "absolutely no formal training – I expect to do most of my learning on the job, but there needs to be SOMETHING bridging the gap between first-years' natural ignorance and associates' high expectations. It's not fair to either side."
Management and communication
"More dialogue."
Lots of associates around the country told us they'd like "better training and expectations communicated by management" or "better management and oversight. Associates are often drowning in work while others are looking, usually because partners just don't know who is available. This firm needs a manager who isn't simultaneously servicing a full book of clients." Others felt that "more dialogue between the partners and associates would be nice, although they have been making more of an effort this last year to talk to associates and make constructive changes." Greater efficiency would result "if partners were better managers, providing more lead-time for assignments that do not need to be urgent, but end up being so because of a delay in asking for assistance." This chimed with the source who wanted "better communication with managing partners, better accessibility to case managing partners, and better feedback and opportunities for feedback from managing partners." Another hoped to "know that my practice group leader cared about me and my progression at the firm."
Donald Trump has caused problems for law firms in more ways than one this past year, which some associates commented on. One would like to see "more recognition of the actual harm Donald Trump is causing to morale and the psychological toll this administration is taking on me and most my colleagues – and especially minorities. It is like a funeral that has lasted for months in the office and there has not been a word of recognition by management – in fact they have been outwardly callous about it." Another rankled that their otherwise liberal-leaning firm was "providing legal counsel to Donald Trump (some of it on a pro bono basis). FML."
Feedback (and praise)
"I am really unsure of partner expectations."
Closely related to management style is the common gripe that associates aren't praised enough. "Associates need to be appreciated for their work. Partners work associates a lot and don't give them any positive encouragement or support. If you don't bill a crazy amount of hours, then you do not get anything. Partners are unreasonable with respect to expectations." One practical solution might be a "better mentorship and evaluation process. I feel like I have no direct bosses and the partners seem too busy to mentor/provide feedback about work product." A peer at another firm agreed wholeheartedly: "I would like to receive more critical periodic reviews. My feedback so far has seemed rather superficial. I am told I did a good job, or I receive a mark-up of my work and am asked to make the necessary changes. While that is helpful, as a first-year I am really unsure of partner expectations and whether I am actually meeting them."
Other associates too would love "regular constructive guidance from senior associates and partners; of course, there's a formal evaluation annually, but it would be good if the firm culture promoted more feedback on a regular basis (even something really simple)." Other suggested improvements included "more follow-through on projects I help out with; sometimes I am asked to do a small piece of a project and then I don't hear what happens next with it. I would like to be involved for the duration, or at least be told what has become of it if my assistance is no longer needed." Several mentioned it "would be nice to receive small perks or 'thank yous' occasionally. Sometimes it's hard to feel appreciated, apart from a market salary and bonus, which is certainly most important."
Support
"Computer problems."
Grouches about IT are par for the course in any profession, not just BigLaw. "The amount of time I waste on computer problems is depressing," one source lamented. "The firm's technology needs significant improvement," another told us, "and the support staff should be more responsive (e.g., the helpdesk should not take multiple days to bring me a flash drive)."
Staffing is another potential issue, and we heard complaints about both too many lawyers on a team as well as too few: "It's very disorganized – they've gone on a hiring spree without thought of how to fully integrate new groups and work towards an actual cohesive vision for the firm." On the other hand, for someone elsewhere: "My department has been busy for several years, and I think the firm should respond by hiring more people than the usual quota. This issue is very much affecting attrition rates in the department."
Others hoped for "more outreach on the part of partners and mid-level associates to build relationships. I find I have to put most of the effort into fostering work relationships."
Pay
"Higher cost of living."
Associates at firms that raised raised first-year salaries to $180,000 in 2016 were of course pleased with the increase (although some would like even more, to help offset those student loans). However, lots of people cited unfair regional variations in the cost of living as a cause of angst. "Living in an expensive market, plus steep student loans, makes it difficult to appreciate the salary (and therefore feel good about how much work we put in)," one reported. Others bemoaned the "higher cost of living adjustment for New York City as compared to secondary markets. NYC top-tier associates make less after taxes, cost of living, etc. than second-tier associates in Chicago, Charlotte, etc."
In terms of firms' actual policies, there was a call at some places for "more transparency in compensation and bonus calculations and decisions." More than one junior felt their "firm's compensation scheme seems to provide under-market compensation. This is demoralizing." Meanwhile, some highlighted "crappy health insurance" and other benefits – especially the high cost of insuring domestic partners – as cause for disgruntlement.
Transparency
"The larger picture."
'Transparency' was a word associates often used when discussing culture. On their wishlist was "more transparency from management regarding firm decisions" and "more transparent policies and rules; greater associate involvement in decisions affecting associates." Feedback from juniors at many firms of all sizes was consistent with these sentiments: "I am fairly satisfied," one said. "I would say clearer direction at times, or more detail into the larger picture, would be nice." Another desired to "feel more included in the work flow and the higher level decision-making" and wanted "more transparency as to the status and progress of specific deals as well as the firm's business in general." Someone else also sought "more transparency at the firm; better communication of assignments and deadlines."
Perks
"Massage chair...?"
Some associates thought their firms should offer more perks, with one even longing for an "office lounge with massage chair." More common wishes were for things like a "better cafeteria and more options, nightly GrubHub orders, more definitive car service policies, and maybe the occasional swag and/or happy hours."
The ability to take time off occasionally was also high on the list, and one associate went even further by suggesting "something to the effect of a sabbatical in your fifth year (or whatever is halfway point to standard partner track). If I knew I had two months off (for example) at the midway point, to relax and recharge for the next four years, that would be spectacular."
Diversity
"Lip service paid to diversity."
Clients are increasingly insisting that law firms staff their cases with diverse teams, so firms these days have as much of a business incentive to promote diversity as just wanting to do the right thing. While most associates acknowledged efforts being made, many "wished there was more effort into recruiting diverse candidates. Although the firm has some efforts, I believe they are insufficient and more resources could be added to truly change the landscape of the firm." Good diversity can also have positive knock-on effects culturally: "Focus by the firm to make diversity issues a priority would boost morale."
"I have truly enjoyed working with everyone in my department," a New Yorker at a big firm told us. "However, I do not think the firm excels at embracing diversity at all levels of the firm. It 'talks the talk' but does not always 'walk the walk'. There is a lot of lip service paid to diversity, but when you look at the actual data, and the partners the firm brings in laterally and promotes internally, the overwhelming majority are white men. I find this very discouraging. Are there really no women or people of color that the firm is willing to hire as partners? Summer associate classes have become slightly more diverse, but there is a significant way to go." This is something we heard from others at firms all over the country.
There can also be different levels of diversity within a firm, and "more diversity to certain teams" would be a good thing. "While the firm is overall very committed to diversity, certain teams do not see it as a priority. Certain partners treat male and female associates slightly differently, especially from a work perspective, which can get frustrating." Most of the criticisms we heard about diversity were constructive and generally balanced, although one unhappy source mentioned that "there is definitely sexism and a disregard for female associates at all levels, including first-year associates." This, we should emphasize, was not a common experience among those we interviewed.
Teamwork
"More sympathetic and inclusive culture."
A sizable number of juniors mentioned "more team-building activities within the practice group" as something they would improve if they could. "People get so caught up with work that they don't spend enough time getting to know each other." We heard the occasional bit of vitriol, with one source wanting "more people in my group to help share the workload, and less of a work martyr group culture," and another hoping for "a less toxic environment: partners that actually pretend to care about associates." Generally, though, respondents talked in terms of desiring a "more sympathetic and inclusive culture," a "greater sense of community with other associates, and more feedback from supervising senior associates and partners."
More – or less – socializing
"Forced socialization."
Most interviewees liked the amount of socializing that takes place at their firm, but not everyone: "Many of the associates we attract and tend to hire can be socially awkward," one observed. "The people around me could have better attitudes," another said. "While the firm is great overall, there are some miserable people. They don't make eye contact or say hello. It gets old." Sometimes the higher-ups are to blame, and one junior would prefer "friendlier down-to-earth partners. I also don't think there is a good 'team' atmosphere. There is a lot of formal hierarchy too that makes it hard to get good training and experience. The partners in my group don't seem to like delegating to associates much. There is a lot of micro-managing." Another wished there was "less passive-aggressiveness at all levels, and more effort to have easy-to-work-with mid-levels and senior associates."
Some felt "it would be nice to have somewhat more human interaction – a lot of time as a junior associate is spent fairly isolated in your office." Another echoed: "I would prefer if people interacted more with each other. I feel like I don't socially interact with people as much as I expected." But several interviewees would actually rather have "less forced socialization with co-workers." The most negative comment we received about the social side of a firm's life came from this lone wolf: "The recruiters prefer and favor those who drink a lot, rather than those who are quiet, and that is troubling." However, this scathing remark was not confirmed by anyone else at this particular firm, and so should be taken with a grain of salt.