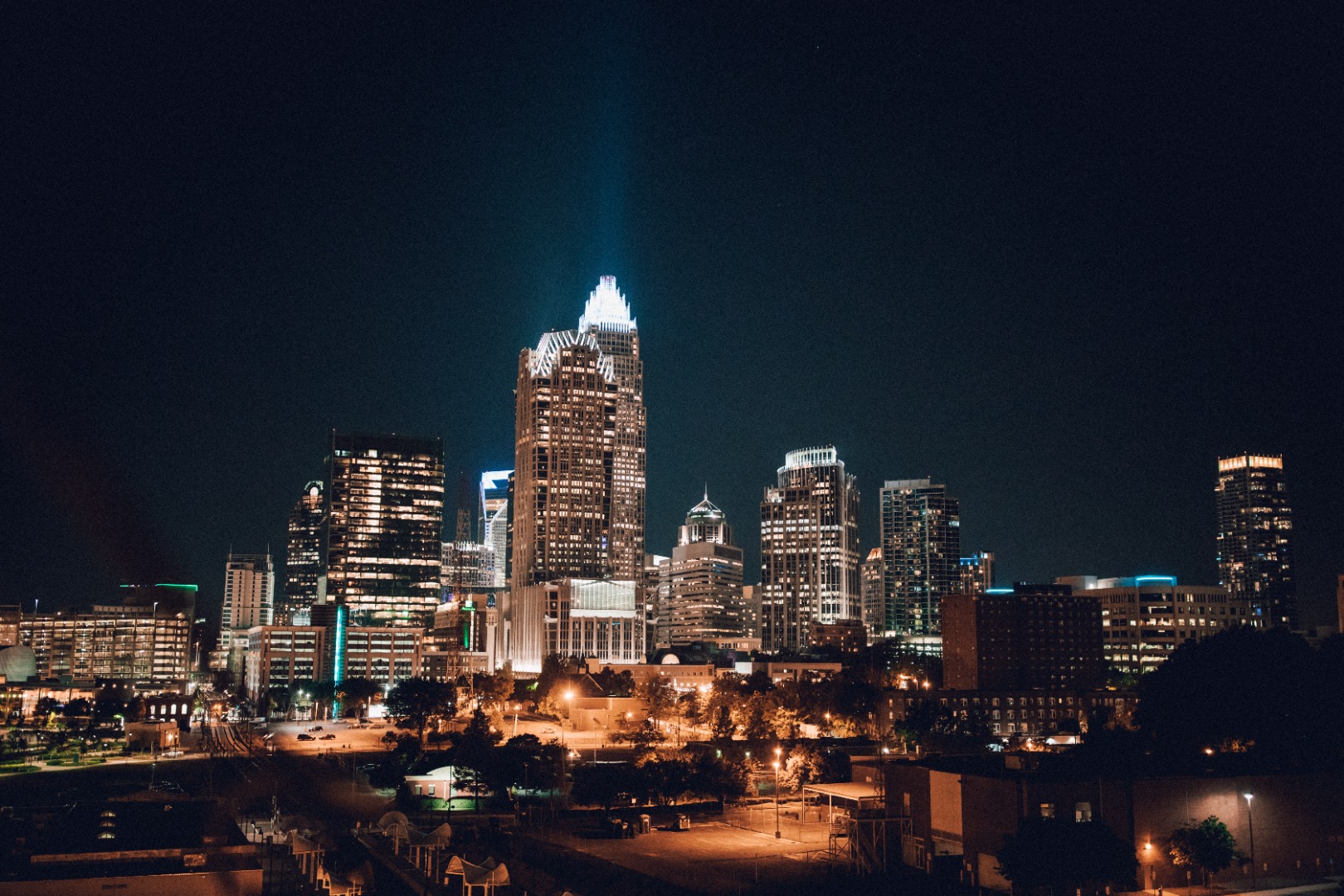 Looking for a top financial hub that hits the work-life balance sweet spot? Pick up the phone - Charlotte's calling!
Chelsey Stanborough, August 2023
Home to Krispy Kreme and the first Hardee's restaurant, North Carolina hits the sweet spot for many things – not least the legal market. According to an article by CNBC, it was America's top state for business in 2022 owing to its thriving economy. A number of economy-boosting deals helped the Old North State secure top spot; one was an agreement with VinFast, a Vietnamese electrical vehicle manufacturer, to build a $2 billion factory in the state, while the other was with Apple, who announced it would be building its first East Coast Hub in the 'Research Triangle' – a middle ground between three universities: Duke; the University of North Carolina at Chapel Hill; and North Carolina State University.
It's a state known for revolutionizing flying – that's right, the Wright Brothers made their first takeoff in Kitty Hawk, North Carolina – and fly it has certainly done. Many a big-time business call the state home, including Lowe's, steel giant Nucor, Duke Energy, Labcorp, Honeywell, and IQVIA Holdings; in fact 13 Fortune 500 companies are headquartered in NC, providing the state's legal scene with a constant stream of prominent matters. Within this list are household names in the financial world; Charlotte itself houses the headquarters of Bank of America, Wells Fargo, and Truist Financial, cementing the city's status as a hot spot for all things finance.
Charlotte and Raleigh are two major cities in North Carolina with burgeoning legal hubs. In this piece, we focus on Charlotte, the state's largest city, and what it has to offer lawyers. We spoke to Jordan Abshire of Abshire Legal Search, and dug deep into the city's market with Stu Goldstein of Cadwalader, Valecia McDowell of Moore & Van Allen, Rakesh Gopalan of McGuireWoods, and Walter Fisher of Troutman Pepper.
Came for the fresh start, stayed for the possibilities
What's a better way to familiarize yourself with something new other than associating it with a well-known hit? We asked Abshire what song reminded him of the Charlotte area: "I think of the song Unwritten by Natasha Bedingfield." And the reason? "Charlotte has such an optimistic vibe; it is clear that its best days are ahead of it. And when you move here, you feel like you can actually play a part in shaping that future. The city is growing fast and is incredibly welcoming to newcomers; you can get plugged into business, and civic and community life right away."
"You feel like you can actually play a part in shaping that future."
The Charlotte market is one that more and more people are relocating to. What's the intrigue, you ask? For Stu Goldstein, "Charlotte has walkable neighborhoods with mature tree canopies. It also has four seasons and mild winters." Other calling points to the area are "the number of professional sports teams" and "easy access to both the mountains and the beach." Where better to find that work-life balance that so many attorneys crave?
In fact, there are multiple benefits to building a legal career in Charlotte, not least the opportunities to gain experience early on. "At firms, matters are staffed more leanly so you have a much greater sense of how your contribution fits into larger matters," explains Valecia McDowell, before adding, "Firms hire much more with the intention of promoting associates." This has two main effects, she explains. It often means "partners invest in training associates," and "clients give firms sophisticated long-term projects because they know there will be continuity on teams." Speaking of longevity, Charlotte offers younger attorneys the chance to "start your career at a place where you could end it," Rakesh Gopalan explains. Associates' client counterparts are usually within very close proximity, sometimes in the same building or next door! Younger attorneys have the opportunity to rise through the ranks at their firm, alongside their business counterparts, so business development is a major focus and associates are encouraged to network and engage with clients early on in their careers.
Charlotte's bringing home the bacon
So, what practice areas are currently thriving in Charlotte? As to be expected by the concentration of financial institutions in city, financial services work is pretty comfortable here – "It's second to none in terms of sophistication and exposure," says Goldstein. It's a place that offers top-tier deals without the fast-paced city lifestyle; you can be "doing front-page Wall Street Journal type work and still get in your car and be at your house with a yard in ten minutes," McDowell enthuses. As well as providing attorneys with opportunities to practice financial work at law firms, there are plenty of in-house positions, too. Finance attorneys in Charlotte often sit just across the table from some of the most sophisticated financial giants in the world, making it just that bit easier to network and build career-boosting connections.
"…front-page Wall Street Journal type work…"
But let's not dismiss the city's litigious strength. Litigation in Charlotte encompasses a huge range of matters, from global investigations to smaller ones, the latter of which McDowell highlights as a "great opportunity to take on depositions or argue a motion at an early age." Thinking ahead to a lateral move, it's this kind of familiarity with court systems and real-life experience dealing with local and international clients which firms seek out in strong candidates.
We've covered the reasons attorneys are attracted to the Charlotte legal market, and it comes as no surprise that the same reasons are captivating large AmLaw firms. Over the last two decades, a number of firms have opened offices in the city, largely due to the presence of big banks in the area. As it stands, a total of just under 40 AmLaw 200 firms have offices in Charlotte. While finance is typically the main draw for firms setting up shop here, some have steadily evolved into full-service offerings. Firms which have seen major success in their office openings and growth here entered the market with solid foundations. Walter Fisher whittles it down to a combination of three factors: "Number one: to already be doing work in the market; number two: to be a known quantity among clients in the community; and number three: to open with people who are connected and well respected within the Charlotte bar."
The introduction of these AmLaw firms to the Charlotte market has had two major effects. It's allowed local attorneys the chance to be part of a 1,000-lawyer strong firm without the need to relocate to major markets elsewhere in the US. It's also increased compensation within the market, particularly among associate ranks as firms look to remain competitive in order to retain top talent. That being said, mo money, some problems… There are still some limitations to partner mobility in the city. Although Charlotte's economic sector has broadened beyond the realm of banking, these clients still tend to make up a large proportion of a partner's book of business. Banks have shrunk their lists of outside counsel who are approved to do specific types of work, so partners looking to lateral may be limited to those select firms that have already been approved by their biggest clients, explains Abshire.
Bang for your buck
Though it's no New York or DC, work here remains sophisticated and attorneys work hard to meet billable thresholds. That said, work-life balance is a major focus: "Time with family outside the office is valued, and clients have more reasonable expectations," McDowell tells us. "2,000 hours look different in Charlotte versus other markets, in terms of overnight and over weekend deliverables," she notes.
And a little goes a long way here. Cost of living adjustment websites show that associates in Charlotte get significantly more purchasing power for their dollar compared to areas like DC or New York by multiples of two or three. Even if the dollar value was less, associates are better off financially in Charlotte!
"The future is bright as more and more companies relocate their headquarters here."
There's a lot in store for Charlotte's economy to continue booming. "The future is bright as more and more companies relocate their headquarters here," Fisher considers. In the past few months alone, freight and railcar provider TTX, and electronic system service provider alpitronia America, have announced that they will be moving their headquarters to locations in Charlotte. The movement of both is set to bring at least $20 million in investments to the local market and create a total of over 400 new jobs. It's a city that's also known to attract banks who move operations here to tap into the well-established banking system and the local talent. It's a locale that's ripe with opportunity for lawyers and firms to expand their client base. Charlotte's calling!
---