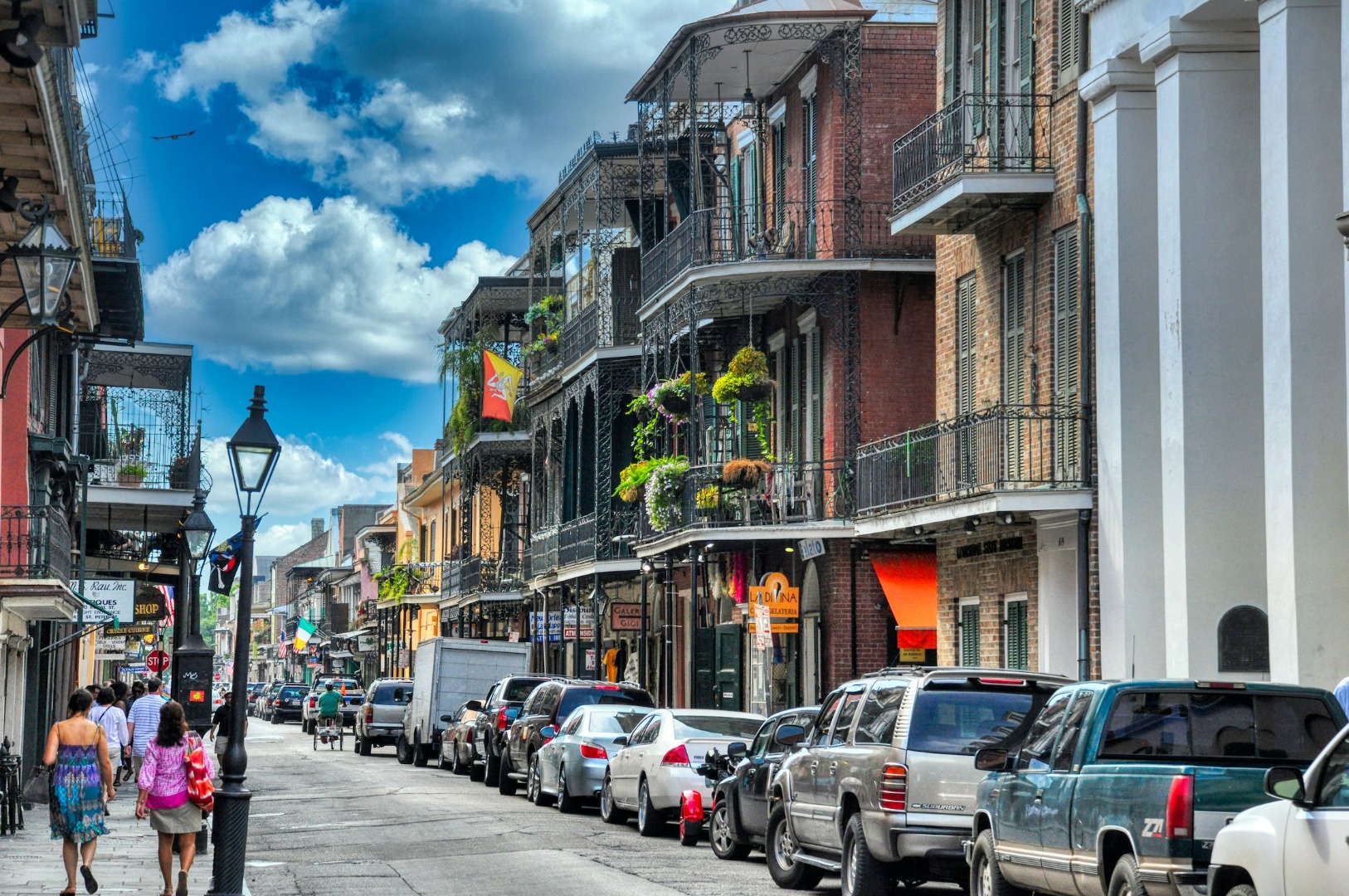 Looking for legal work coupled with a better quality of life and a lower cost of living? Look no further than the Southeast.
The Southeast is proving to be a hotspot for those wanting a better quality of life, a lower cost of living, job opportunities that match their goals, delicious southern dishes, and of course some good old fashioned southern hospitality.
Louisiana, fondly known as the Pelican State, ticks all the above boxes for laterals wanting to partake in the vibrant New Orleans cultural experience. The historic industrial manufacturing and energy sector has shaped today's legal market and continues to do so as the energy sector grows. As such, the state has an array of litigious and transactional opportunities for those looking to lateral.
Neighboring Texas is proving an attractive and viable option for those feeling the southern pull either to go in-house or lateral, as there has been a significant influx of companies and law firms in recent times (read more about BigLaw in the Lone Star State). With a strong economy, Texas has become a hub for a wide range of industries, many of which are hiring in-house attorneys across: retail consumer goods, technology, life sciences, FinTech, and energy (traditional and renewable).
But with all this on offer in the Southeast, it can sometimes be difficult to distinguish the details between the legal markets across the states. So, we've spoken to Lateral Link's Christine Berger to uncover the Louisiana market, whilst Tori Keith turns a spotlight on in-house recruiting in Texas.
The industrial manufacturing and energy sector has long been a part of the state's history, with energy manufacturing taking off in the 1950s. Now home to Shell, Chevron, and other major oil companies, Louisiana's ties to oil and gas are reflected in the New Orleans Saints' team colors: black and gold. The industry's been at home in the state for some time, with the oil rigs in the Gulf of Mexico just a stone's throw away. Speaking of gulfs, the southeast's maritime expertise is strongly linked to its offshore know-how that soon followed. No surprise then that "there are strong ties to the oil and gas industry and several firms have had the same institutional clients over the past 50 or so years," Lateral Link director Christine Berger outlines.  
That historic industry is going from strength to strength with advances in clean energy, alongside a growing movement in recent years in the tech sector in the southeast. The future could hold the possibility for legal tech work as more companies come to Louisiana to join the Silicon Bayou – Louisiana's answer to Cali's Silicon Valley. Since the mid '00s, the area's been home to over 45 tech startups, like Accruent, Gameloft, and Lucid (which recently became the state's first 'unicorn', selling for just over $1 billion), so it's definitely worth keeping an eye on. 
But until then, the litigious Pelican State will continue to expand across the insurance industry. "Litigation with an emphasis on commercial and insurance defense" dominates the state's practice, Berger explains. It's particularly prominent across New Orleans, Baton Rouge, Lafayette, and northern Louisiana.  
"...remains steady and in demand despite the economic conditions and generally slow last few months nationwide."
Berger points out, "Insurance defense and personal injury is not going away. In Louisiana, it doesn't seem to be slowing down and remains steady and in demand despite the economic conditions and generally slow last few months nationwide." Hotspot industries for insurance defense work include oil and gas, maritime, hurricane, retail, and transportation.  
The state's litigious strengths are by no means at the expense of transactional expertise. The state's corporate law has an emphasis on M&A, tax, and real estate. One caveat is that this type of work in the state is on a smaller scale than that of larger metropolises like New York City, Dallas, and Houston. Berger clarifies, "If you are a corporate associate lateraling from a larger city, expect the size of your deals to be smaller. Additionally, your practice may shift from specific to more general as Louisiana does not currently have the volume to support corporate practices seen in larger markets." In recent times, New Orleans has become home to the majority of Louisiana's corporate practice followed by the state's capital, Baton Rouge.  
So, with the above, what kind of firms can you expect to find in Louisiana? Although Louisiana is home to only a handful of BigLaw firms, regional firms have a strong hold in the state. Additionally, Louisiana houses several boutique law firms, a number of which compete with the state's BigLaw and regional firms.  
"Salaries in New Orleans just got more competitive."
Talking compensation, it comes as no surprise that the bigger bucks are on offer at BigLaw and major regional firms. With that said, some boutique firms are now giving others a run for their money. In fact, "salaries in New Orleans just got more competitive with some firms starting first-year associates at $140,000 – up significantly from $125,000," Berger points out. "I have even come across opportunities in New Orleans offering up to $170,000 to first-year associates."  
Although there's not a ton of practice variety on offer in the state, Berger notes that associates in the New Orleans market "are very open to hearing about new jobs and making a lateral move." It is not unusual for associates to change jobs every year and a half or so here, as there are lots of options available and there's a demand for talent. The opposite holds true in Baton Rouge where the associate market is very tight. Berger explains, "Associates in Baton Rouge find a firm and stay there for years. It is not unusual for an associate in Baton Rouge to remain at the same firm for the duration of their career."  
A unique market differentiator is that hiring is very fast paced in Louisiana. Generally, there are two rounds of interviews over the course of two to three weeks; however, things may move faster. Berger explains, "You could go on one interview and hear back the next day," Berger explains. "Firms are quick to make hiring decisions when they meet someone that they like." 
Simply put, attorneys with their sights set on New Orleans are seeking out a better work-life balance and are often willing to take a pay cut in exchange for the culture that the city offers. The majority of laterals to New Orleans already live in the state, are returning to the area, or have some connection to the state.  
"World-class food at an affordable price!"
Something that sets New Orleans apart is "we are always celebrating something," Berger enthuses. "In the spring, we enjoy festivals and crawfish. In the fall, we are going to football cheering on LSU, the Saints, or the Green Wave, who recently put themselves on the map by winning the Cotton Bowl against USC in 2023. In February, we are gearing up for Mardi Gras and going to parades. There is always something to look forward to and be excited about in New Orleans." Plus, "New Orleans boasts world-class food at an affordable price!" Need we say more?

Talking about affordability, despite the lower compensation rates, New Orleans is a very cost-effective city. "Money goes a long way here compared to the rest of the nation," Berger explains. "You can buy a nice home in the city for $600,000 or less and there are great options in the suburbs around $300,000." Ultimately, location and culture are the draw for laterals.  
"Having three to five years of experience is always the best" when it comes to marketability for lateral moves Berger tells us. It is very possible and not uncommon to lateral as a first or second year, especially as a litigation associate in New Orleans. "If you're unhappy with the practice area that you are in, I think it is better to change sooner rather than later as you become more specialized as time passes," Berger explains. "But, in terms of marketability, three to five years of experience is best."  
A noteworthy feature of the Louisiana market is the need for superior academic credentials. It's not easy to land one of Louisiana's highest-paying jobs. The firms offering top salaries are "very strict about seeking associates that graduated in the top 10%, 15% or 25% of their law class." Berger explains, "It doesn't necessarily matter where you went to law school, but the class rank requirement remains strong despite your years of practice." If you graduated outside of the top 25%, fret not, there are still plenty of good opportunities available to you. Those opportunities will most likely be at local or boutique firms and generally offer more modest salaries. 
Laterals moving to the area need to get their ducks in a row when it comes to bar admissions. Louisiana does not offer reciprocity for out-of-state attorneys and the Louisiana bar is known for its grueling three-day bar exam with historically low passage rates. Bar admission is a barrier to marketability and employability so be sure to schedule yourself for the next bar exam.  
"Firms want to see a connection to Louisiana."
Finally, the ability to prove a tie to Louisiana is a must; Louisiana loves its locals. "Firms want to see a connection to Louisiana, and they want to know why you want to live here," Berger underscores. One of the first things asked in almost every interview is 'where did you go to high school?' to determine a potential local connection. Though if you are not from Louisiana, there are other ways to make this necessary connection. "The gold standard is to have family in state or having lived here prior," Berger highlights. "Attending school at Tulane, Loyola, or LSU" is a plus, and even "having friends in-state" can come in handy. Whatever the case, you need to find and prove a connection! Berger provides an interesting example of a successful out-of-state client: "I worked with an associate from Mississippi trying to move to New Orleans. He was not from Louisiana and did not attend school in Louisiana, but he participated in Mardi Gras krewes and had friends in the state, which helped him make the connection and successfully transition his practice to New Orleans." Where there's a will, there's a way! 
Just next door to Louisiana is the state of Texas, which has seen a significant influx of law firms and companies in recent times. BigLaw's booming in the Lone Star State and if you're looking to get your slice, you're in good company; the area's equally ripe with in-house opportunities, thanks to "companies moving their headquarters and legal departments to Texas, driven by business economics," senior director Tori Keith tells us.  
The Texas economy is strong and is a hub for a wide range of industries, many of which are hiring in-house attorneys: retail consumer goods, technology, life sciences, FinTech, and energy (traditional and renewable), are where a lot of growth is anticipated. "Companies want a faster turnaround rate than sometimes what their outside council can provide, and this prompts mid- to late-stage companies to hire – particularly those who are preparing to go public in the foreseeable future," Keith notes. "It's an exciting time to join a company and is a career booster to help take a company public." 
"...investment into one client's business objectives and that satisfaction of seeing a process from start to finish."
So, why go in-house? Well, for some it's an attractive alternative to the billable hour model of law firms; certainly, Keith tells us, "The hours are more predictable, but you do typically work just as hard in-house." For others, it's the "investment into one client's business objectives and that satisfaction of seeing a process from start to finish" which appeals. Moreover, public companies present attorneys with "a whole host of complex and novel legal challenges, additional regulations, and scrutiny which they wouldn't necessarily get to experience in a firm, that come alongside supporting the expansion of a company across commercial related matters, like supporting sales and agreements." 
In-house transition and timing falls into two camps: mid and senior level positions. For mid-level positions, attorneys are typically "four to eight years in, and it tends to be a far more specialized area of law." The interview process for a mid-level position itself takes roughly "six weeks to two months." For senior level positions such as deputy general counsel or general counsel, being a generalist for a business requires the ability to handle a wide range of issues. Hence, a senior position is typically "12 years and up, so that the general counsel can handle the breadth of legal issues and be the lead attorney of the company." Unsurprisingly, the more senior, the longer and more intensive the process is; "It can take three months for a general counsel to complete the interview process with the executive team and board," Keith outlines. 
"People who have moved here from high-cost markets ... have ended up with a net increase overall!" 
When it comes to compensation, it's no secret that attorneys making the jump in-house are often taking substantial pay cuts. "You must be prepared to make a short-term cash sacrifice for the career choice of being in-house counsel," Keith warns. "Companies aren't typically going to pay as much as law firms, so, you need to prepare yourself. Save money, pay off your student loans, do whatever it is!" On the plus side, Keith tells us that, "One thing that makes Texas better is there's no state income tax. People who have moved here from high-cost markets who have taken the substantial pay cut have ended up with a net increase overall!" 
And what's Texas living like, you ask? "Despite the summer being quite hot," Keith quips, there are certainly many benefits to settling in the state. "Hundreds of people who have never been here and have no connection move to Texas with their family for the quality of life and vibrant economy with opportunities." Good public schools, quality of life, and easy access to the great outdoors are all reasons many appreciate the move. 
Top tips for going in-house

Good news for readers: these in-house tips aren't just relevant to Texas so do take this advice on board before you spread your wings! 
Keith recommends really understanding the difference between what it means to be in-house counsel at a private company versus a publicly traded company. It's important to take note of what stage of financing a company is at – it's a factor "sometimes overlooked by candidates!" For example, "companies in the mid- to late- stage are at a particularly opportune time to join for the career growth and economic benefits of equity and expansion," Keith explains. "Public companies have different legal requirements, governance and much information must be disclosed to the public and to investors." The takeaway message is really to read up and consider which type of company is best suited for you and your career goals. 
"You are expected to have the answers and guide the business with a balanced risk/benefit analysis."
In the meantime, while you're still at your firm, "learn as much as possible from partners and mentors as you don't typically have lots of training in-house," Keith points out. "Once you go in-house you are expected to have the answers and guide the business with a balanced risk/benefit analysis." Of course, there are exceptions, but Keith advises, "Learn as much as you can about different matters concerning business – any kind of commercial and transactional work." Moreover, for insight, "any kind of work experience on startups or emerging companies for generalist issues is great experience." 
And finally, be realistic about what going in-house means financially and for your long-term career prospects. It isn't easy; "getting that first in-house job can be a challenge, as a lot of clients want attorneys who have made the leap, like it, and understand the culture and can navigate it well," Keith cautions. "Experience with public company reporting is a great way to transition from firm to in-house, as is transactional, commercial, licensing and privacy." And that's not all. "Another great way is to get exposure to clients who may want to hire you from the firm," Keith notes. Ultimately, "Networking with people who know and trust your abilities is a good way to make that transition." 
---