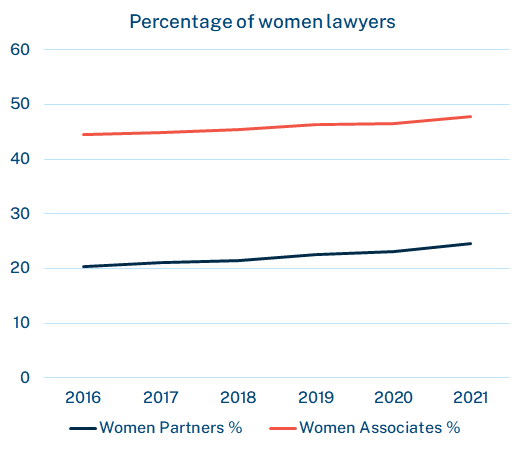 We assess the state of the US legal market in diversity, equity and inclusion
Paul Rance | June 11, 2021
What clearly stood out as we processed the data coming in from our 2021 Associate Satisfaction survey was the lower scores given by Black and African American respondents. In comparison to the other racial and ethnic groups represented in our survey, Black and African American respondents gave significantly lower satisfaction scores when it came to career development, diversity initiatives and mental health and quality of life. They also reported longer working hours, a lower level of client contact, fewer hours of partner contact time and a lower intention to make partner. 
The results are concerning and indicate the ongoing consequences of implicit bias in the legal industry. There will be many other factors at play too, including the psychologically self-limiting effects of imposter syndrome and the difficulty of imagining a future in the partnership when there are few there who resemble who you are. All have a serious impact on law firms' ability to retain their diverse lawyers, but, as our survey results suggest, the careers of Black and African American attorneys are particularly affected. 
Many BigLaw firms – like much of the corporate world – turned a corner in 2020: the murder of George Floyd; the subsequent antiracism protests; the calls for social and racial justice; the increasing societal outrage at police brutality; and the rising prominence of the BLM movement made law firms take a closer look than ever before at their power to prompt change – both internally and externally. Never have we heard from so many firms and their associates about the number of racial justice pro bono programs being participated in. No other research cycle we've conducted has revealed lawyers in such numbers thinking about how they could put their legal knowledge to use to help drive momentum towards racial justice.  
On a broad level, we heard diversity initiatives within firms being spoke about in more encouraging ways too: we were told how diversity programs in 2020 (no matter the focus) had proven to be effective gateways to broadly discussing topics that had previously been confined to the parameters of dedicated D&I meetings and affinity network discussions. Topics like white fragility and implicit bias were discussed and engaged with by a greater proportion of lawyers, according to some of the firms we spoke to. Anecdotally at least, it feels as if a shift has begun in how lawyers are thinking about their personal responsibility to participate in diversity efforts and educate themselves on the issues affecting minority groups.  
We have also seen an increase in the representation of ethnic minority associates and partners at law firms over the past year. While the figures show there is still a long way to go, there are signs that law firms' more sophisticated efforts are beginning to yield results. There are many components to be considered here, but among them are law firms' increased focus on 'equity' in their DEI initiatives and the growing group of firms that have signed up to participate in Diversity Lab's Mansfield Certification programs. The latter's programs have been running for a few years now, which means we are at the point where we can gauge their impact: so far, it looks like they have created positive change, especially among senior ranks, and show how beneficial it is to have concrete, measurable goals to sharpen law firms' focus.  
The emphasis on equity, on the other hand, is encouraging: it involves evaluating and redefining all manner of law firm systems and approaches to ensure that they promote fair opportunity for all. This means that the likes of work assignment systems, mentorship and sponsorship structures, evaluation processes, and promotion pathways will all be scrutinized and re-formulated with this goal of creating equal opportunity for all in mind. That is a notable development: if this emphasis continues with the same momentum it has started with over the past year or so, we can hope that impact of implicit bias will be reduced in a way that it has never been before. Rooting out the ways in which implicit bias can rear its head within the many overarching systems and processes that govern career development at law firms will be a significant step forward. 
For the time being, we still register lower associate satisfaction scores from respondents who identify as diverse, and particularly among Black and African American associates. The impact of the shifts mentioned above have not been fully realized yet, and until they are, the feeling among diverse lawyers will remain the same. After years of only incremental advancement, there is a very understandable level of caution voiced by diverse associates about the possibility of witnessing significant change for the better. Law firms – like the rest of the corporate world – should therefore remain steadfast in their recent commitments and continue with the momentum they have built up over the past year to ensure that 2020 really was a watershed year for change.