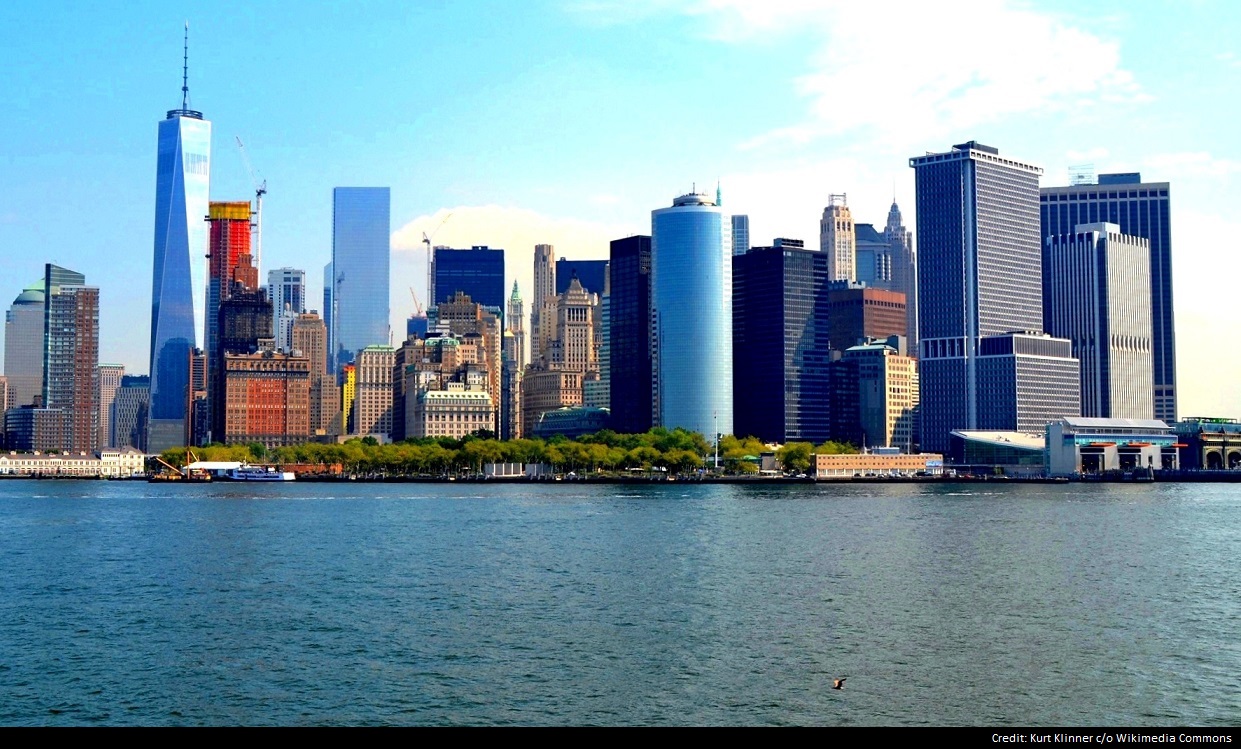 "It's overwhelmingly awesome. It sucks you in. It's hard to live here then go somewhere else. New Yorkers rule the world."
EVERYONE wants to monkey around in the concrete jungle. "It's got everything: the best food and the most diverse culture of any city. It's the best city in the world." Those who crave a spot in the heart of the legal action in Manhattan, though, be warned: the location comes at a hefty premium. Even on a BigLaw starting salary, rents are a stretch: "$3,000 a month for a shoebox" makes us question how Carrie could afford those Manolos. In fact, NYC has the highest cost of living of any US city, and the 16th highest in the world. If you've got any cash left after paying rent, two tickets to the movies will typically set you back more than $30; gym membership can be around $100 a month.
For those willing to commute, New York's most populated borough, Brooklyn, is a popular place to look, and rents in the area are on average 20% lower than those of the city center. However, with the average price of property now close to $800,000, it's no longer the budget location it once was. "Queens or New Jersey are now the most viable options," NYC associates tell us. In more extreme cases, we've heard from sources commuting from out of state (usually New Jersey), noting that the favorable position of many BigLaw firms makes the trip relatively smooth. Partners, with a vastly superior budget and often bigger families, "tend to live on the Upper East or Upper West sides." of the city. "There's more open space and the apartments are bigger."
Gold digga
In May 1792, 24 stockbrokers signed an agreement outside 68 Wall Street (called the Buttonwood Agreement, as the ink was put to paper under a buttonwood tree) that led to the founding of the New York Stock Exchange (NYSE), today the largest stock exchange in the world. Most, if not all, of the trillions of dollars' worth of financial transactions the exchange hosts are conducted electronically these days, in seconds; but beneath the streets in the vaults of the Federal Reserve Bank of New York, 50 feet below sea level, you'll find more gold bullion than in any other gold repository anywhere on the planet. The thousands of tons of gold contained within the vault are worth hundreds of billions of dollars, the vast majority of it owned by central banks of various nations.
The financial services industry employs more than 460,000 people in NYC and accounts for roughly 35% of the city's income. The likes of Goldman Sachs, Morgan Stanley, JPMorgan Chase and Bank of America Merrill Lynch require legions of legal advisers, in pretty much every area of law you can think of, from employment to capital markets, white-collar defense to restructuring and tax. The vast amounts of work provided by banking giants remain a big draw for the largest US and international law firms in Manhattan today, as well as smaller niche players. However, as Bess Sully, chief human resources officer at Sheppard Mullin, points out: "Not all New York legal work is dictated by Wall Street. While every kind of finance work, from straightforward banking and finance to IPOs and LBOs, is available, other areas such as IP and environmental law are generating a lot of revenue."
More than 10% of the Fortune 500 is headquartered in the city, including Verizon, Pfizer, American Express and Time Warner. New York has the highest proportion of overseas employers of any US city: one in ten private sector jobs is with a foreign company based in NYC, and post-Brexit vote the city overtook London to become the most popular location for overseas commercial property investors. A large number of foreign law firms, including four of the UK's five magic circle firms (Clifford Chance, Linklaters, Allen & Overy and Freshfields) have offices in New York and DC to serve international clients conducting business in the region, as well as to compete in the US market themselves.
Center of the Earth
For almost as long as the United States of America has existed, New York has stood as its biggest gateway to the rest of the world. More than 12 million immigrants came to the country via Ellis Island between 1892 and 1954 (though most of the island is in fact part of New Jersey), and NYC today is home to more than three million foreign-born migrants. The Big Apple could also be described as America's diversity capital, home as it is to the nation's largest Jewish, African American, Puerto Rican and Italian American populations. As such, it's all the more disappointing that diversity in BigLaw remains an ongoing issue – you can find more information on the subject here. Multinationals like Baker McKenzie and Shearman & Sterling encourage international travel for associates to help address these issues, but as with most firms, there's still a way to go.
Legendary author E.B. White dubbed New York City the 'Capital of the World'. He probably hadn't stopped to consider the future of legal practice as a multinational enterprise when he said this, but would have been right to do so, as there are few better routes into international law than practicing in the Big Apple. "There's very open communication" at most global firms, "time difference aside there's really no issues collaborating with Paris or London. You learn so much more from people with different backgrounds." Language skills will serve you well if that's a path you want to take (and in NYC generally, as the city is home to speakers of literally hundreds of languages). Associates told us "coming in with a language is a huge plus, it can come up a lot and get you staffed on cases you wouldn't otherwise," though many assured us "it's not essential. What's most important is having an interest in both US law and working with international clients."
No city for old men (or Californians)
We asked junior associates if the New York City cliché of insanely long work hours is accurate. Mostly yes, they replied, but it's not just the city's lawyers who could do with some more downtime. "To be honest, people in other industries have to work just as hard," one associate reflected. They were surely thinking of investment bankers – or perhaps over-worked bartenders – when they added: "Being an attorney is probably less extreme than other professions." Still, one admitted that "working in this city can be a little crazy; being on call 24 hours a day can be a little wearing. We probably work harder than in other parts of the country." Others agreed: "In California this schedule would be insane. But the cut-throat image is overplayed."
You'd expect to be compensated handsomely for your hard work, and you'd be correct to do so. It's of little surprise that the 2016 associate salary rise extravaganza was ignited in New York City, by hyper-prestigious Cravath, Swaine & Moore. The firm's introduction of a $180,000 starting salary for newcomers took many by surprise, but the cream of NYC BigLaw quickly fell in line. Those outside the traditional institutions often thought "it was no sure thing we'd match," but very many firms did.Even more unexpectedly, the move was also followed in markets like Philadelphia and Texas with far lower living costs, leaving associates there "pleasantly surprised" and New Yorkers perhaps feeling a bit shortchanged – as an indicator, living in Houston will save you about 25% of your cash, compared to being in the Big Apple.
"In California this schedule would be insane. But the cut-throat image is overplayed."
While dreams of becoming a lawyer in New York were dashed for many graduates coming into the industry in the days after the recession, the situation seems to have picked up, with firms hiring more summers in the last few years. Luckily for young lawyers, there's a trend toward "retaining people longer" in order to make the most of their experience and expertise. As you'd expect, culture and entertainment-wise New York is "awesome," associates confirmed. There's a seemingly infinite number of visitor attractions and things to do in your spare time; among our sources, the Museum of the City of New York came especially highly recommended, as did the NYC Transit Museum, a little off the beaten track in Brooklyn. Fitness freaks will be pleased to know New York "is a really active city. It's easy to go running, cycling or just for a wander round Central Park with friends." And if for some reason you tire of the metropolis, "you can head out to the beach or mountains," both of which are accessible via car or New York's decent public transport infrastructure.Most places are reasonably easy to get to via the subway network, and the majority of associates we spoke to for our research reported "it's a very convenient location when it comes to public transport, most of the major law firms are within a couple of blocks of each other. But the closer you get to Times Square the busier it gets!" Foodies will be pleased to hear that you're never far from a great restaurant in NYC.
Empire state of mind
Columbia, Cornell and New York University are the holy trinity of law schools in the Empire State, but they're not the be all and end all, and we've interviewed associates at top firms who'd graduated from Fordham, St John's, Cardozo and Brooklyn School of Law among others. Of course, it's perfectly viable to study at one of the country's (or world's) other top legal institutions and make the trip to the Big Apple. While firms in many regions will look for demonstrable commitment to the local area you're applying to work in, that's less important in New York: the prominence of its legal market is reason enough to gravitate there. What's more crucial is being able to explain why you want to work for the particular firm you're interviewing with – Chambers Associate profiles will provide an excellent starting guide, but the more research you put in, the better.
As for exit opportunities, where better to look to the future of your legal career than the home of some of BigLaw's biggest clients? More and more associates are heading to in-house positions than ever before, as companies bulk up their internal legal divisions. Baker McKenzie North American managing partner Rick Hammett explains "what you're going to see is a range of different opportunities, far more than once upon a time when you'd start at a firm as first year associate then simply move forward. What's going to happen as different providers of legal services grow is that some students will embrace traditional opportunities, others will find alternative routes into the profession – for instance, as companies develop their in-house departments." If you do fancy sticking it out and grabbing a slice of the equity at your firm one day, it's worth considering that if a firm's hub is in New York there may be more competition than in satellite offices; on the other hand, close proximity to clients means you'll have a leg up for business development.
The final word must go to the associate who described New York as "overwhelmingly awesome. It sucks you in. It's hard to live here then go somewhere else. New Yorkers rule the world."