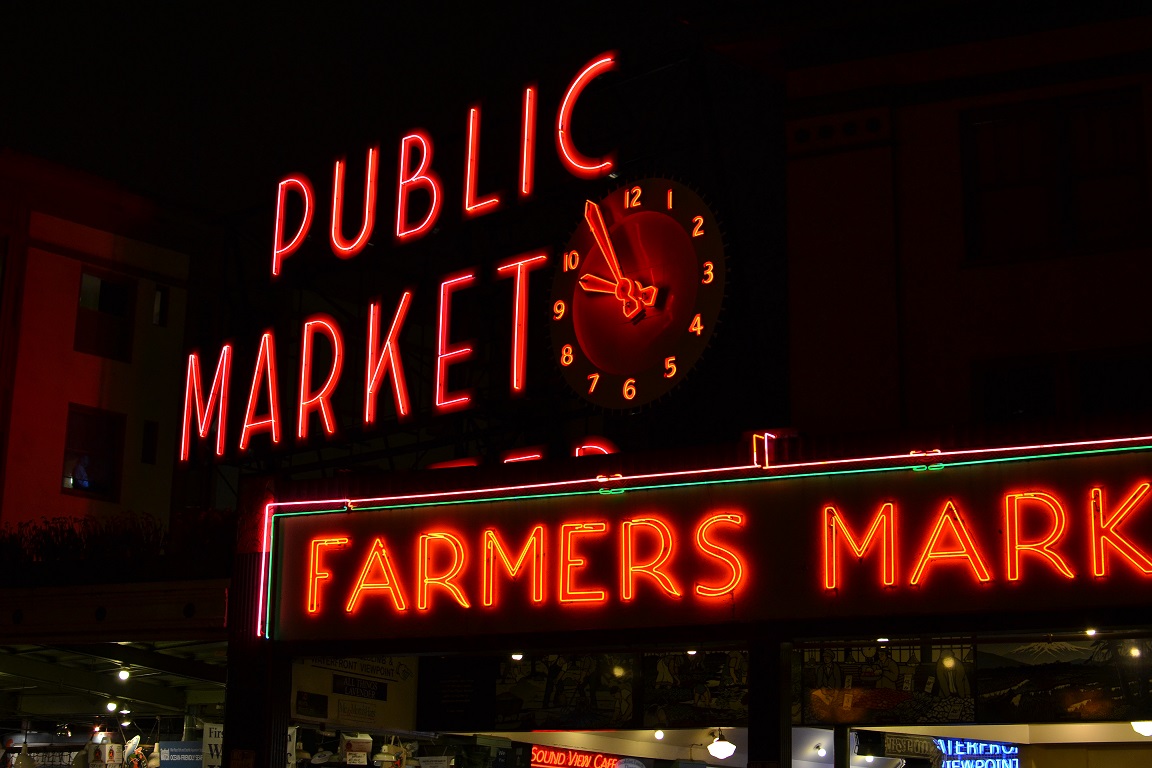 The Pacific Northwest drips coolness: with its grunge heritage and a techy future ahead, is it patently the place to be for young lawyers?
Lately things, they don't seem the same
Seattle: nestled between the picturesque Puget Sound and Lake Washington, flanked by the Olympic and Cascade Mountains, loomed over by Mount Rainier; for many it's synonymous with its old Hendrix and Cobain days, for some it's still reminiscent of jazzy nights with Ray Charles and Quincy Jones. And while these musical legends left a rich legacy in this culturally complex city – as well as some of their old stuff (the Experience Music Project is worth a trip for Cobain's smashed guitars alone) – the city has now put down its broken guitar, emerged gracefully from the grunge period, and got itself on the straight and narrow. So much so that Starbucks is a staple, and even ooze chicness, provided you find the original branch down at Pike Place Market, where they've been spelling customers' names wrong since 1971.
Believe it: today Seattle is a hub for green industry, a model for sustainable development, one of the fastest-growing cities in the country and a major gateway for trade with Asia thanks to its port, the 8th largest in the US. It is home to massive businesses such as Amazon, Starbucks, Boeing, department store Nordstrom and freight forwarder Expeditors International. For obvious reasons, Microsoft is also based here. Time to put down your skinny mocha and do some serious work...
With the lights out, it's less dangerous
Portland – aka the City of Roses – is Oregon's commercial and cultural epicenter. This verdant haven is home to the country's largest wilderness park within city limits, covering a whopping 5,000 acres. It also plays host to the smallest (Mill Ends Park is no more than a two-foot diameter circle). Among Portland's many pull factors are rose gardens, abundant outdoor activities, liberal values, microbreweries and coffee enthusiasm. It has been named the 'Greenest City in America' by Popular Science in 2008, a title Grist surpassed by dubbing it the second greenest city in the world, after Reykjavik. If it's falafel off a cart you're after, Portland is where it's at: both US News & World Report and CNN have named it the best place in the world for street food.
But it's not all pretty flowers and culinary delights. Portland is known for attracting big businesses, most notably athletic and footwear manufacturers: adidas, Nike, Columbia Sportswear, Li Ning (China's largest footwear manufacturer), Hi-Tec Sports and Korkers all call Portland home. KinderCare, Laika, The Original Pancake House, The Spaghetti Factory and Leatherman also reside here.
"Will the last person leaving SEATTLE – turn out the lights." 
On April 16, 1971, real estate agents Bob McDonald and Jim Youngren put these words on a billboard near SeaTac International Airport in protest of the phenomenon known locally as the 'Boeing Bust'. The Boeing company had previously established Seattle as a center for aircraft manufacturing, but following the oil crisis and a costly debacle over the Boeing 747, the company suffered and many were forced to leave the area in search of alternative work.
Thankfully the area recovered and underwent a technological revolution as a stream of new software, biotechnology and internet companies led to an economic revival. This began with Microsoft's 1979 move from Albuquerque to nearby Bellevue. Seattle then became home to a number of tech companies, including Amazon, Nintendo of America and T-Mobile USA.
Portland underwent a similar change in the 90s, welcoming computer components manufacturer Intel, which is now one of the area's largest employers. Today Greater Portland is home to more than 1,200 tech companies, which has led to the nickname 'Silicon Forest' in homage to the area's arboreal abundance. Nearby Boise, aka 'The City of Trees' in Idaho, has also seen a rise in technology investment and hi-tech industry in recent years; resident businesses include Hewlett-Packard and Microsoft.
Degrees of knowledge 
The Pacific Northwest has a "somewhat typical legal market in the sense that you'll find practice groups in all traditional legal sectors, including litigation, corporate, real estate and land use, taxation and IP," says Paul Danielson, recruiter for BCG Attorney Search. However, the area hasn't escaped the influence of its tech-focused residents. Danielson explains: "While not on par with the Silicon Valley in terms of relative revenue and the sheer number of tech-based companies, the tech sector's significance to the overall Pacific Northwest economy is what has driven the demand for patent prosecution work historically. While the demand for patent litigation associates and partners has waned recently due to a rash of hiring in the Pacific Northwest which left firms fully staffed on that front, patent prosecution remains strong in these sectors." With regards to hiring patent litigators though, watch this space, as he explains "it goes in cycles."
Danielson further updates us in 2016 confirming that over the past few years "finance, lending, M&A and litigation have all increased in demand and are very strong at the moment. Litigation is a particularly active market in Seattle right now, so lateral litigation candidates looking to move to Seattle should jump on the opportunity. Taxation work has also ticked up, which is expected at this stage in the market cycle." He explains this is due to a growth in wealth following the business boom, and then families and businesses responding with tax planning.
"Nearly all openings call for a technical degree in computer science, electronic engineering or physics." 
There's an important caveat to consider for all IP-related opportunities in the region, Danielson warns, particularly at midsized and major firms: "Nearly all openings call for a technical degree in computer science, electronic engineering or physics, as well as direct experience with things like software, programming, wireless communications and microchip technology."
There are also plenty of other practice areas thriving in the region at the moment. Danielson notes: "Portland and Seattle have both enjoyed significant and steady population growth due to the attractiveness of the region from a quality-of-life perspective, and this in turn has driven demand for legal services in real estate and land use, as well as litigation positions that emphasize experience with construction disputes, which we see on a relatively regular basis. There is also plenty of transactional work to be had, as many major brands, manufacturers and retailers are hea
dquartered in the area and nearby."
While most industry sectors in the Pacific Northwest were mangled by the recession, Danielson says that "employment has generally come back online at a steady pace." However, "overall demand is still depressed compared to pre-crash levels. For instance, housing and real estate jobs have come back considerably relative to their recession lows, but if you zoom out a bit they are still slightly below pre-recession levels."
Livin' La Vida Legal
We'll be blunt: it rains a lot in Seattle. One Perkins Coie associate called it "the coolest city with the worst weather." Despite this, Paul Danielson asserts that "it is often not as bad as claimed, and many residents prefer it because it contributes to the lush and verdant nature of the local environment." An associate at K&L Gates (Bill Gates' dad gave the firm its current name) agreed
"If it didn't rain so much, it wouldn't look like this. When the clouds go away, it's beautiful." Of course, what's "not as bad as claimed" for one person might be just plain awful for another. Danielson presents us with an example: "During my first year of college in the greater Seattle area, there were over 100 days in a row where it rained at some point, often throughout the entire day. That will get to you after a while."
"You'd be looked at strangely if you wore a suit to work and weren't going to court." 
The region's renowned "relaxed" and "quirky" vibe lends itself an "informal legal atmosphere," our sources agreed. A Perkins Coie associate said: "When I interviewed in other cities, I got taken to the country club, but that just doesn't happen here. It's a very laid back legal environment. People aren't the mythical figures you see at the New York firms, and you'd be looked at strangely if you wore a suit to work and weren't going to court. There's more of an emphasis on a balanced lifestyle too. We have days when we work late, but it's not as regular as in the other legal markets that I've worked in. I like being able to have a life outside of work."
While you could argue this comes at a price since, historically, salaries in the region have been on average between 20 and 30% lower than in the major legal markets, Danielson notes: "We have been seeing a small but potentially significant shift in thinking among many firms towards raising their compensation packages, in part to be competitive for top candidates from other markets, but more likely because the econ
omic and population boom in Portland and Seattle have led to a rapid rise in the cost-of-living, particularly housing." If this happens, then billable hours or billable rates and bonuses will all have to increase. Another thing to consider is that the Pacific Northwest is now targeted by techies working in the Bay Area trying to avoid San Fran and Silicon Valley's super-high rents, which is in turn causing a rise in Portland house prices. This is unlikely to dip again.
"You also see a relatively low turnover at the associate and partner level, because people simply tend to stay put once they are established." 
Major law schools in Portland include Lewis & Clark, the University of Oregon and Willamette, while Seattle has the University of Washington, Seattle University and Gonzaga University. Cooley, Davis Wright Tremaine, DLA Piper, K&L Gates, Stoel Rives, Sedgwick and Perkins Coie all have a big stake in the region's commercial market, though legal work for local businesses and individuals is often performed by "solid midsized regional firms or local firms" because it's a smaller market. Getting hired here isn't a walk in the park, Danielson explains: "Because the Portland and Seattle areas are so desirable in terms of the quality of life, and because the legal markets are smaller relative to major cities like New York, Chicago, Los Angeles and San Francisco, competition for law firm jobs is fierce. You also see a relatively low turnover at the associate and partner level, because people simply tend to stay put once they are established."
"Aside from the generally positive credentials like a degree from a prestigious law school, top grades and clerkship experience, Pacific Northwest firms place a high degree of emphasis on having local ties and/or extensive familiarity with the region," he continues. "A part of this is due to the weather – as lush and beautiful as the region is, a number of recruiting coordinators I have met with from Portland and Seattle firms have stories of lateral associates departing within a year or two after discovering the weather did not agree with them." Our associate sources agreed, with one saying: "I think employers look for good grades, but also some sort of connection geographically. Firms are looking for people who are going to stay; that's a big part of it."