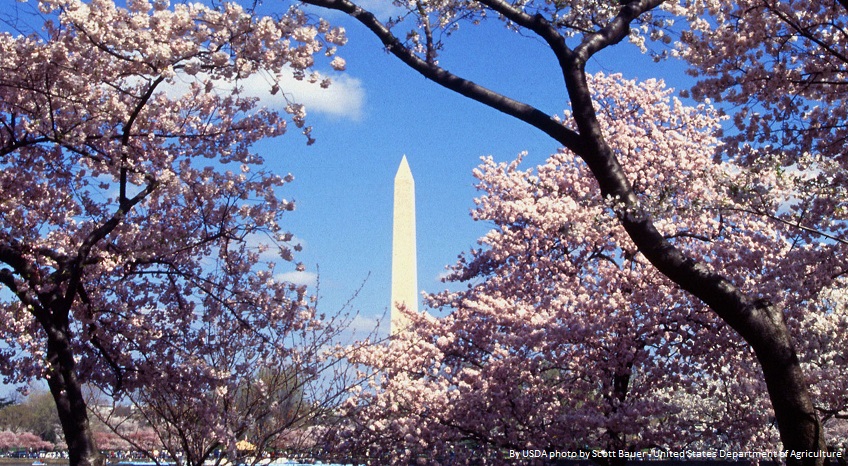 Local lawyers give a flavor of life in the capital.
'The City of Magnificent Intentions'
Charles Dickens coined this nickname for the then fledgling capital city of the United States in 1842 during his tour of the nation. It was only in the late 1860s, following the end of the Civil War, that DC really started to turn intentions into reality. The population grew, peaking at over 800,000 after World War Two thanks to a boom in the number of federal government employees. Today there are over 650,000 people living in DC, though the wider Washington metropolitan area has a population of almost six million. The federal government remains at the heart of the District, employing nearly 240,000 people, according to the Bureau of Labor Statistics. Service industries over the years have flocked to the city to assist those who work in government and, as in the case of many law firms, to help with the very workings of government.
The DC economy didn't suffer as much as other places during the recession, largely because of the steady flow of government-related work that needs to be done, recession or no recession. The capital's share of the $700 billion bank bailout and $814 economic stimulus package deployed to help keep the economy afloat was much larger than the district's size would in theory merit., DC "is a little insulated," NALP's executive director Jim Leipold confirms. "There is so much regulatory and government work that it is less exposed to the ups and downs in the economy." As of 2012, 29% of jobs in DC were related to federal government; the only bigger driver of the economy, to the tune of $4.8 billion, is a thriving tourism industry.
Under (a little less) pressure
WHILE a career in Washington, DC carries equivalent prestige to New York, "the culture is a little more laid back and less intense," according to junior associates based here. "We are a bit more civilized," one junior joked, "and have a better understanding of balance." One DC-er noticed that their firm "isn't buttoned up or formal, and it's a more collegial and family-friendly environment than my friends at New York firms experience." Part of the reason for this could be the government setting, as one junior put it: "In the government there is a tradition of valuing quality of life." Compared to the perceived excesses of BigLaw in New York, "here there's a happy medium. There isn't a need to sit in your office twiddling your thumbs if you are not doing work. The work ethic here is very, very strong, but it's a targeted effort." Of course, "there are still the normal pressures exerted by billing and client needs."
Getting out at a reasonable time means there are more opportunities to sample the area's delights. We've heard from "young and single" associates who were anxious that a more "family-friendly" environment might limit after-work frivolities, but thankfully DC has a thriving social scene of bars and clubs. "Venture away from the Mall and there are great restaurants and bars on the 14th Street corridor," one associate advised.
"Within a matter of months I was on the Hill, advocating directly to congressional staff."
"Being close to the political and legal heart of the nation is an exciting prospect," juniors told us. Government-related work can be a big part of DC associates' workload, depending on the firm: one associate told of "representing local government and regional transport authorities on urban policy issues," while another told us that "within a matter of months I was on the Hill, advocating directly to congressional staff and in meetings with members of Congress." Being so close to the action can be particularly fruitful come election time – in our latest round of research we talked to associates who'd worked on both Donald Trump and Hillary Clinton's campaigns.
It's not yet certain how the winner of the race will affect the local legal market, but on current form, Trump's exploits have made lawyers optimistic about the volume of work. Stroock co-managing partner Jeff Keitelman tells us his firm is "poised for growth coming out of expected changes in the new administration – we have a lot of regulatory practitioners in Washington as well as a good part of our real estate practice," while Richard Hays of Alston & Bird reveals "a lot of our Washington attorneys deal with healthcare public policy, and they've been very busy."
'Many are instead drawn to DC because of the stability of its economy.'
There are certainly places where, as one source put it, "we talk politics every now and then, but it doesn't overshadow the firm. If you're a corporate lawyer or a litigator here, you can have a completely independent practice." Increasingly, DC associates have been reporting on "working for a lot of small businesses and startups." That can involve "a significant amount of contracts work from tech clients" – you might get the chance to draft the terms and conditions for the hottest new app. Admittedly, a proportion of these upstart companies have ties to the government, but many are instead drawn to DC because of the stability of its economy. The shift in startup investment models, from a need for venture capital to more flexible routes such as crowd-funding, has also made it easier for businesses to set up shop outside of the traditional California startup heartlands.
Working for the man
What sort of government-related work do associates do? Here's a snapshot from interviewees at various DC firms:
There's a lot of appellate and Supreme Court work."
"I did the gamut of healthcare public policy."
"30% of what I do is representing foreign governments on the international law side of things."
"We make sure that if an entity is being formed in say, Italy, it's compliant both with local requirements and US securities laws."
"I have been very active in the role of policy interpretation around the health reform bill."
"Our group does anything that would be considered FCC [Federal Communications Commission] work."
"Our clients are mutual funds and hedge fund managers. We basically do filings they have to do. We also act as experts for the enforcement and litigation groups."
"A lot of people do really fascinating work, particularly government-facing enforcement."
"We had a lot of post-Fukushima energy regulation to worry about."
"My work is very DC-based because so many government agencies are here."
"There's a lot of document review in internal investigations, but it's not just simple stuff, you're putting together conclusions."
"After just a year I'm considered a privacy and data securities specialist, recently working on an FTC regulatory enforcement action."
Getting cozy with the government serves another purpose – it could present a cushy career path should you tire of the thrills and spills of BigLaw. "Candidly, I don't know if I'll spend the rest of my career at the firm," an associate confided, "I could easily see myself working for the government. I've talked to the chairs of my group and they said that doesn't matter as long as I work hard while I'm here." Another revealed "a lot of people leave to go into government. Their mindset goes beyond being a partner at a law firm." On the flip side, don't worry if you've got your sights set on a big national firm that joining a base other than New York will limit your path to the top. Firm's DC offices are often smaller, so there's less competition for coveted partnership positions, and growing inter-office connectivity is making it less important where you call home.
House of the rising sum
Washington used to be an attractive option for bright, ambitious lawyers who wanted top-notch work but were put off by New York's sky-high rents and apartment prices. As almost all BigLaw firms pay the same $180,000 starting salary in DC as they do the Big Apple, your money will go further due to the lower cost of living. However, the District is less cheap these days. "Over the last ten years, everything has changed," one associate said bluntly. "There's been a dramatic increase in house prices, and rents – high already – have only climbed higher." Some hoped that "with new buildings going up all the time, prices should stabilize soon." They may be disappointed to learn the effects may be canceled out by continued high buyer demand; while net migration into New York and LA was negative in 2015, DC is only getting busier. The population currently stands at more than 680,000, and the thousands who commute in from neighboring states each day tips it over the million mark on most days.
"The only downside is when you're trying to do a conference call and the White House motorcades go off."
Many who work in the capital commute in from the surrounding suburbs or even further afield from areas like Maryland and Virginia. Once you're in town it's pretty easy to get around on foot. "Walkability is brilliant," enthused one junior. Many lawyers in the District get around by walking or taking the metro as "DC's roads have a tendency to be too busy at times," though we did hear from one who mainly biked. A King & Spalding source this year described their "hilariously idyllic walk to work: I'm in the background of most of the tourist photos! We also have this crazy amazing rooftop where we watch fireworks on the fourth of July. The only downside is when you're trying to do a conference call and the White House motorcades go off."
Working close by to the most famous home in the world is a very real possibility, as many BigLaw firms are based within a few blocks. Alston & Bird attorneys based in DC felt they were "at the heart of everything" as a result, while associates at Baker McKenzie described theirs as a "trophy location." Social occasions could even come with a presidential vibe: at Orrick's office "the closing event of the summer is always in a swanky hotel with a view of the White House." Close proximity to the center of US government is a sure-fire way to be ready as soon as a big political or legal change comes into view.
Finally, it's worth giving a mention to DC's law schools. Georgetown University and the George Washington University are the two biggest players and the best options if you've got your heart set on a BigLaw career. Studying locally before going on to practice in DC comes with the advantage of early opportunities to forge government connections, and "there's a big benefit from having the opportunity to learn from professors on specialty courses. Studying in DC was amazing, you get to see every part of government and other areas of the legal realm."
• New York • Boston & New England • Chicago & The Midwest • Seattle & The Pacific Northwest • California • Texas & The South • The Southeast • Hawaii & Alaska