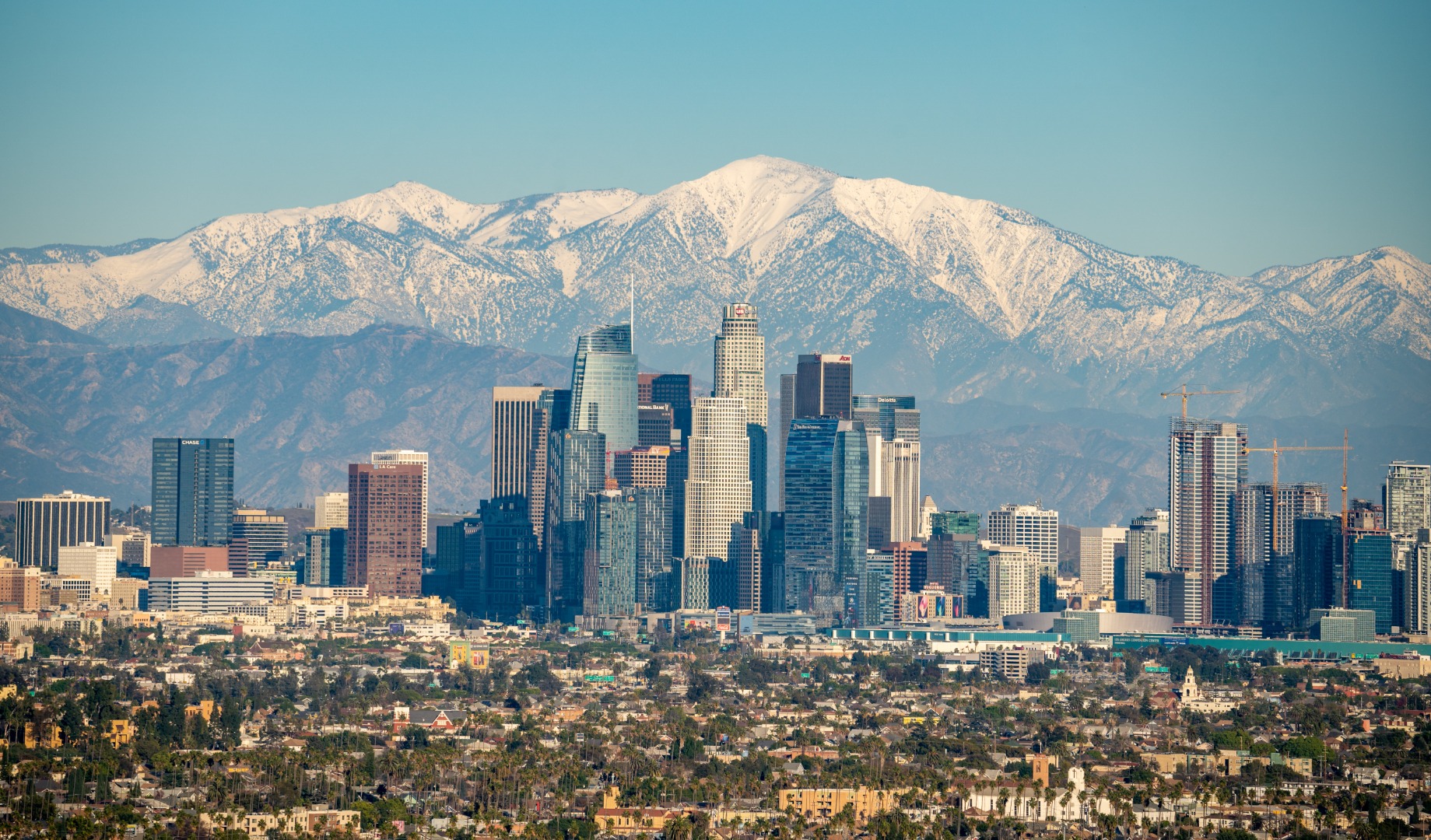 If you're looking to add a refreshing touch to your legal career, why not dip your toes in the Cali-cool shores of the West Coast? The folks at Lateral Link tell us more about the Golden State's flourishing legal scene.
If you were asked to list the top economies in the world by GDP, we bet you wouldn't have thought that one of them isn't even a country. That's right: in 2022, the state of California raked in a whopping $3.6 trillion gross GDP. For comparison, that's almost double that of Canada. In fact, the Office of the Governor of California published an article outlining that the state is set to become the world's fourth largest economy, outranking Germany… watch this space. Regardless of where the state ends up ranking worldwide, it goes without saying that it's the highest-ranking US state in terms of GDP with Texas coming in second at $1.88 trillion – nothing really does come close to the Golden Coast.
Much like its namesake, in the Golden State you'll find California is star-studded with big industry names and A-listers. In fact, roughly fifty Fortune 500 companies call it home, including Apple, Alphabet, and The Walt Disney Company. The same goes for a number of top BigLaw players: think Latham & Watkins, O'Melveny and Cooley. The Cali legal market has traditionally been embedded in the bustling entertainment and tech hubs of San Francisco, Silicon Valley, and Los Angeles. But this work has been meandering further south along the coast for some time now, resulting in Orange County and San Diego becoming strong legal nexuses, offering lucrative alternatives to the ever-crowding metropolises of LA and the Bay Area.
We spoke to Lateral Link directors Christina Ahn, Matt Bennett, and Jonathan Dunn, and managing principal Gloria Sandrino to unravel these beach friendly legal hotspots of the West Coast and showcase what SoCal has to offer associates and partners.
Los Angeles
Los Angeles is home to the lights, camera, action industry of Hollywood, which has set the stage for the development of California's prominence in the media and entertainment legal practice. But LA is home to than more than just entertainment law, as Gloria Sandrino reports the top industries in the city over the past year have been technology, media and entertainment, and privacy and cybersecurity. And although corporate/M&A, private equity, and litigation are typically associated with the East Coast, LA has it in spades, too. Jonathan Dunn told us "these days, the legal market in Downtown LA looks more and more like what you might find in markets like New York or DC. You've got big firms like Kirkland and Latham doing top-shelf corporate and M&A work along with a growing market for securities litigation, white collar defense, and investigations work too." Downtown LA is also a hub for labour and employment work thanks to California's labor laws, "there are a number of thriving L&E practices. Paul Hastings and Seyfarth come to mind here" mentions Dunn.
"It's a great market for firms that take on work in areas like technology transactions, intellectual property and data privacy."
It's no longer just about Downtown LA either; firms are spreading their wings across the city. Matt Bennett reveals many firms are targeting Santa Monica (affectionately dubbed 'Silicon Beach') to tap into its growing tech market. "Years ago, law firms had strong stand-alone media and entertainment practices, but the media and entertainment industries are now driven by technology" Bennett explains, adding that "they've moved into the content and entertainment space. Now, it's all about the likes of Hulu and HBO." That's why, in the past few years, we've seen firms setting up shop in LA without a media and entertainment practice to be close to tech startups. Bennett also shares some thoughts on the practice areas growing there: "It's a great market for firms that take on work in areas like technology transactions, intellectual property and data privacy. A number of those firms have done really well even in context of the last 12 months: Orrick Herrington, Fenwick & West, and Goodwin have all grown in Santa Monica." Nor is Santa Monica limited exclusively to work under the "tech" umbrella, Bennet considers "there are a few other strong areas of practice in Santa Monica: Goodwin, Bryan Cave, and Goodwin all have excellent real estate practices. There are great employment groups at Cozen O'Connor and Hirschfield Kraemer."
Other LA-areas gaining traction include Culver City, which is where Columbia Pictures and Sony Pictures are based. Aside from media and entertainment, Christina Ahn mentions, "Corporate litigation and even labor and employment are big burgeoning practice areas there, and firms are strategically opening up offices to focus on key industries and clients." For example, Davis Wright Tremaine recently opened a Culver City office to help focus on and service its healthcare, media, and entertainment clients. What's more, the location is a massive draw for associates and partners who live on the Westside of town and would rather avoid the cross-town traffic on their commutes. And that's not all; neighboring Century City has long been a mecca for law firms focused on entertainment law such as Loeb & Loeb and O'Melveny & Meyers. It has also seen the likes of Allen & Overy, Ropes & Gray, and Willkie Farr & Gallagher kickstart operations in the area.
For the partner market, the LA legal scene is certainly attractive. Sandrino shares "there's an easy commute between LA, San Francisco, and Palo Alto where attorneys may have clients up and down." The growing number of firms outside Downtown LA is a draw for those who simply don't want the constant city life, or who prefer the more niche practice focus of the new offices.
Orange County
Sitting slightly south of LA is the most densely populated area in the state after San Francisco, known for its trails, tracks, and countless sandy beaches. That's right; Orange County is a legal hotspot in its own right. Bennett highlights that "there are fantastic names in the legal industry here. You can be as elite, high profile, and high tier as you want, but you can also find smaller and quieter things, depending on whether you want to accelerate or downshift your practice."
OC's legal scene can theoretically be split up between Irvine, Costa Mesa, and Newport Beach, though Bennett acknowledges "it is one unbroken urban sprawl!" Irvine and Costa Mesa both have an urban and suburban feel which in turn attracts a younger associate and partner crowd. Work-wise, Ahn describes the area's focus on intellectual property, labor and employment, and real estate. But if you're looking at niche practice areas, they're in abundance in OC. Ahn notes that "trusts and estates work has been picking up steam in recent months, along with real estate litigation" adding "Procopio in Irvine has a strong trusts and estate practice, and Allen Matkins is known for its real estate litigation practice." In Newport, Bennett points out that "so many firms operating in Newport tend to focus on a few key areas like real estate, intellectual property, employment, and litigation." Bennett adds it ranges "from very elite boutique players such as Hueston Hennigan & Irell & Manella, to more mid-market and regional firms like Glaser Weil & Newmeyer Dillion. Larger global firms are less common, but O'Melveny & Meyers and Dentons have offices in Newport."
"It's not quite as sleepy as the images that come to mind!"
As it's right on the coast, Newport is (surprise, surprise!) a beach city, however Bennett adds "it's not quite as sleepy as the images that come to mind!" You'll find plenty of outdoor dining spots, as well as activities like kayaking, paddleboarding, and (you guessed it) surfing. It goes without saying that "the culture and vibe in OC lends itself to slightly more relaxed people," as the big draws are "the ability to be outdoors so much because the weather is so nice," and "so many wonderful trails to walk in nature preserve areas," Ahn tells us.
But don't assume that just because the lifestyle's more laid back, the work is any less prestigious than in LA. Ahn reassures that "there are a lot of bigger AmLaw firm clients with headquarters elsewhere who now have a growing presence in OC. For example, Reed Smith recently opened an office in Costa Mesa, and Holland & Knight opened an office in Irvine." This, coupled with the fact that "several mid-sized firms have a strong presence in the region," means if you're looking to catch a break, you'll likely find it in OC. Ahn hints "to the extent someone is willing to make a trade-off for less hours, we have several clients in Costa Mesa and Irvine who are spin off firms that can offer that."
When it comes to the cost of living, "it is slightly more affordable than LA," Ahn details. Coupled with the fact that "LA and OC associates receive very comparable pay," you may be able to pocket a few extra dollars in the area. In terms of specific locations, Bennett concedes that "Newport Beach is more expensive than Irvine and Costa Mesa; there's definitely an older population living in that area." A case in point: according to LivingCost.org, Newport Beach sits in the top 3% of the most expensive cities worldwide! Bennett suggests, "for younger people looking for affordability, you'll find that outside of Newport."
It's also key to note that recruiters are "typically seeing locals move back into the area," rather than new faces relocating, as Ahn explains. At the very least, firms expect prospective laterals to demonstrate a connection with the local community to ensure the move is a long-term one. Ahn cautions "firms in OC don't want to be a stepping-stone for a candidate to leverage a move to a bigger market; they want candidates to stay." And the path to partnership can even be a bit easier to navigate at these firms' OC offices as well. For instance, Snell & Wilmer's Costa Mesa office elevated more attorneys to partnership in Q2 2022 than its LA office.
San Diego
If you're feeling stuck in somewhat of a Goldilocks paradox where LA feels too oversubscribed and OC is a tad too quiet for you, then San Diego may be just right. It sits at 32nd in Numbeo's 2023 Quality of Life Index by City; it's also the eighth largest city in the US (by population) and has its own legal market. It's an exciting time to work in the legal industry in the area, as Sandrino tells us "the firms coming in are looking for secondary locations for junior partners and associates."
In terms of the industries kicking off in the area, Sandrino says it's all about "Biotech, biotech, biotech!", whichis hot here thanks to the presence of leading research institutions, including the University of California San Diego (UCSD). As a result, biotech companies look to the city to tap into the talent coming out of these institutions. Dunn further highlights San Diego's growing EC/VC (emerging companies and venture capital) practice and startup culture: "It's not on the level of San Francisco, but there is that type of emerging company work there." What else makes this legal hub tick? Thanks to the concentration of biotech companies, Dunn reveals "San Diego is also tapping into IP, specifically patent litigation and patent prosecution. There's a lot more of it here than in OC and LA." Dunn sums it up: "You'll find a lot of IP, litigation, employment, and corporate work."
"If you're looking for a break from a slow crawl on your commute, San Diego fits the bill!"
Like OC, San Diego proves that smaller markets still offer attorneys a wide array of firms to choose from, from big AmLaw firms to smaller boutiques. Dunn reminds us that it is, however, "a much smaller market than LA. There are around three times more job openings in LA than in San Diego." What our interviewees cautioned earlier for OC rings true with San Diego: "It's a market than can be tougher to get into if you have no personal connection to the area" though Dunn adds, "it can be done!" The real appeal of San Diego lies in the fact that "even at the elite firms, the atmosphere is a little more relaxed. It's a draw for people looking for a pace of life that is a notch or two slower than LA" Dunn notes. What's more, he adds "the compensation is the same, and while San Diego is still fairly pricey, it's not on the same level as LA." Another draw is the culture; Sandrino tells us that "it's close to the Mexican border, so it's very diverse." And finally, "San Diego is much less congested than LA," Dunn adds "so if you're looking for a break from a slow crawl on your commute, San Diego fits the bill!"
According to Sandrino, younger partners are often attracted to San Diego as "there's the ability to spread your wings meaning partners aren't restricted to only billing clients in the area." With this kind of flexibility, why not choose to live somewhere surrounded by the ocean with good weather all year round? Another plus point for MLB fans: Sandrino notes "your kids can play baseball all year round!"
Top tips for laterals
If all the signs are pointing to a lateral move, here's some advice from Ahn: "Recruiters want to help candidates, but they're only as good as the information candidates give them about what they really want." Dunn mentions that it is "helpful to clarify your long-term career goals prior to making a move. Do you want to make partner in BigLaw, or do you want to ultimately move in-house? These things influence which opportunities will be best for you." Bennett advises candidates to "be professionally precocious. Be proactive in getting hands-on work that is beyond you," as ultimately, "firms like to see folks who are entrepreneurial and take ownership, as it all feeds into the process of becoming partner."
On the topic of partnership, Sandrino adds: "The key for partners exploring the lateral move today is partner compensation." For women and diverse partner candidates, Ahn believes it's about "origination credit, i.e. 'If I bring something in the door, will I get paid more?'" What's more, unlike associate job openings, it's key to note that "partner roles are not regularly advertised, so have a conversation with the recruiter about your practice, clients, and what your wants are so the recruiter can connect you with best opportunities."
And finally, with firms typically opening up secondary offices in these locations, the idea of offices only offering a handful of practice areas may be daunting for those moving from full-service firms, but Sandrino reassures that "in a world of secondary locations, it's fine to be nimble, small, and focused." She adds "don't be worried about moving to a firm with only two to three practice areas. As long as the partner plan is to integrate you statewide, who's in the office doesn't matter anymore!"
---