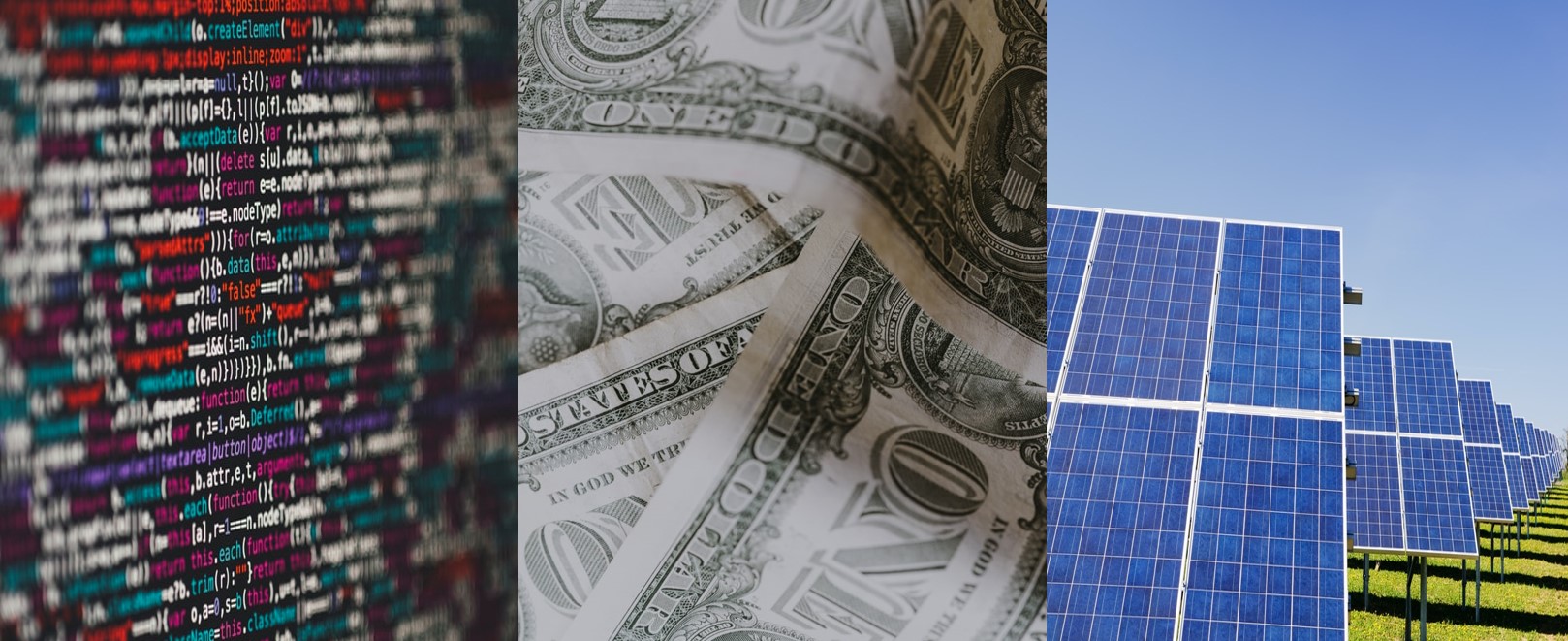 Get the lowdown on career opportunities in three practices that are taking off in 2021.
When change is as large and disruptive as it was on the scale of 2020, there are invariably winners and losers. On the one hand you've got retail, hospitality, leisure and other industries that have been put on their knees in the pandemic, keeping bankruptcy and restructuring lawyers busy.
And then there are the winners. The necessity for businesses to go virtual has created tons of work for lawyers specializing in data privacy and cybersecurity – a practice that was already buzzing because of rapid evolutions in tech. Renewable energy is one industry that's mercifully been unscathed throughout the pandemic, and with the Biden administration pledging $2 trillion to tackle the climate emergency, lawyers in this space are only going to get busier.
To better understand the activity in these three areas, we quizzed recruitment experts at VOYlegal and Norton Rose partner Becky Diffen about the impact of the pandemic, what the lateral market looks like for partners and associates, and the challenges of carving out a career within these lucrative areas.
Bankruptcy & Restructuring
There isn't a single business that hasn't been impacted by the Covid-19 pandemic in one way or another, and, unfortunately, in many cases, that impact has been devastating. Research by PwC shows that Chapter 11 bankruptcy filings about doubled in the first half of 2020 for companies with $100 million or more of liabilities, compared to the same period in 2019. Due to such high demand, "the firms with strong restructuring practices are buried," says Christina Padien, a legal recruitment consultant at VOYlegal. But although the explosion in activity has been largely driven by Covid-19, Padien says that "many were anticipating an economic downturn before the pandemic was on anybody's radar. Many firms were already looking to bolster their benches because they knew something was coming down the pipeline, although nothing on the scale of Covid-19."
After a brief standstill, "we saw a massive uptick in hiring and lateral movement when it became clear that the pandemic was going to have a huge impact on every sector of the economy," Padien explains. "Between May and July, the lateral market was really hot." This was followed by a slowdown "because of the need to have an integration period after that scale of movement." It wasn't until October that many firms resumed hiring for their restructuring practices, although Padien points out that "the deluge had slowed down at this point – many sensed that the onslaught was not going to continue. Partners are still buried in work but not with the same urgency as earlier in 2020."
Given the scale of the disruption, that slowdown may come as a surprise. Padien emphasizes that "2020 is not 2008. Where the previous crash revealed structural instability in the banking market, housing market and fundamental elements of the economy around the world, with Covid-19, the stock market remained relatively robust, and the depths of the instability appear to be more surface level." For that reason, she anticipates that "work resulting from Covid-19 will likely not have the longevity of the 2008 crisis."
That said, high levels of corporate debt (made worse by the pandemic) are one factor that could signal disruption in the future, so the possibility of another major economic downturn remains – Padien points to "a struggling petroleum industry" as an example of other market variables that could trigger further restructuring work. As firms calculate this into their forecasting, it's more than possible that a strong demand for restructuring lawyers will likely be sustained in the next few years. In the more immediate future, activity could pick up again as and when government withdraws financial support.
"Regional firms that have performed well during the pandemic have been hiring gangbusters."
Although demand for partners in this area has soared, "the biggest players aren't fluctuating the size of their restructuring practices based on the state of the economy because they already have well integrated practices," Padien says. "They realize the value of having a robust restructuring practice when times are good as well as bad." She adds that "at these top firms, it's rare for established partners to leave unless there are significant leadership opportunities on offer, such as the chance to head a practice group."
Portable revenue (i.e. a book of business) is a key factor in the partner lateral market and Padien says this has been doubly important in a situation where "many firms, particularly those lower down the AmLaw 200 list, have implemented austerity measures such as cutting partner draws and associate salaries." On the other hand, "regional firms that have performed well during the pandemic have been hiring gangbusters, looking to opportunistically hire partners they wouldn't be able to court in normal times." However, partners should also consider the risks of moving to smaller outfits "that may not have the ancillary practices to benefit your portfolio of clients." Padien adds that partners with good relationships with private equity and fund managers "are particularly valuable and sought after" right now.
"There is a skillset that is definitely transferable from corporate to restructuring."
The associate lateral market has been less busy (which has been true across practices), and movement has generally been restricted to those with relevant experience within the practice. "Restructuring is its own beast with very specific rules and regulations," Padien says. "For that reason, it isn't necessarily easy for an associate in another practice area to transition into their firm's restructuring practice."
But opportunities aren't completely limited to those already in bankruptcy. "There is a skillset that is definitely transferable from corporate to restructuring," Padien confirms. "At top firms these practices are often fairly integrated and it's common to pull associates from the other when it gets busy." Junior associates can take advantage of such opportunities, as "firms are going to be much more likely to retool people internally than recruit someone from the outside." There's a limit to that retooling of course – 8th-year litigators wanting to try their hand in the world of bankruptcy will be sorely disappointed.
Cybersecurity and Data Privacy
The huge uptick in cybersecurity and data privacy work in the past twelve months has been underpinned by the switch to remote working. "Throughout the pandemic, every business that supports human beings has had to invest resources putting more tools and more information online," says Anna Sanders, senior director at VOYlegal.
"Every clinic and every doctor's office has had to expand telehealth services dramatically – and that's just one segment of the healthcare industry."
But unlike other areas that might have experienced a short-term boom courtesy of the pandemic, Sanders anticipates that activity in this area will remain robust long after. "Even companies pushing hard for their employees to come back to work will have to continue to invest in systems that allow people to work remotely and ensure those systems are secure," she says. For example, "in the healthcare industry, every clinic and every doctor's office has had to expand telehealth services dramatically, which is a pretty big change – and that's just one segment of the industry."
As a result, "demand has been way up for lateral hiring" in the space, so much so that "for associates, the obstacles to moving are easier to overcome," says Sanders. "Where previously you might have needed top grades and five years of directly relevant experience, now a few solid years of experience and a good attitude could be enough. As technology moves forward and as regulations in the EU impact businesses across the globe, developments in the last two years are much more relevant than developments ten years ago." Similarly, "firms with incredibly busy data privacy groups that are quite overwhelmed are also being more flexible. Normally, they may be looking for a partner with a $2 million book of business. Now, they may be more willing to look at a partner with a smaller book of business but whose offering matches well with their platform."
Sanders echoes Padien's comments on regional firms too. "From what I've seen, some smaller, regional firms that have a nimbler form of management have done surprisingly well during the pandemic," she tells us. "In those places, they absolutely see the advantages of attracting top talent that otherwise wouldn't have been available."
While data privacy and cybersecurity are often lumped together, Sanders clarifies that "there are two important related functions, one of which is about setting up systems and policies to protect data in the future, while the other side looks backward to make things right when something has gone wrong." Both areas are highly specialized and therefore, like restructuring, the opportunities for associates to move here from other practice areas are limited. Sanders encourages those who are interested to get experience as soon as possible – "interested associates can look for exposure to privacy issues within their current practices or pursue formal qualifications, such as a CIPP certification" for example.
Renewable Energy
Our third and final sector under the spotlight is renewable energy. While not as directly impacted by the pandemic as restructuring, "the renewable sector is extremely active," according to J.B. Pullias, senior director at VOYlegal. And it's only going to get busier. Pullias highlights the Biden administration's $2 trillion climate plan, "with $400 billion targeting clean energy projects – the aim being to get net emissions to zero by 2050."  For that reason, "we are going to see a lot of investment from government, private equity and other sources" into this sector "for years to come."
"The necessary relationships with developers, operators, banks, utility companies, and other are not easy to secure – they take a long time to develop."
Although the sector looks set to have a lucrative future, Pullias underlined the "extremely difficult challenge" for firms trying to build a renewables practice from scratch – even for those with existing expertise in oil and gas. "The necessary relationships with developers, operators, banks, utility companies, and other are not easy to secure – they take a long time to develop," he explains. "In the renewables world, the regulations, rules, and intricacies at play are highly complex and niche – a team has to be well-versed in them to be awarded regular work. The clients that will shell out the work are typically going to gravitate toward known firms that have already proven their expertise in the space." As such, "the firms that will benefit most are going to be those who have had the expertise for the longest time."
From a recruitment perspective, Pullias explains that "the firms most active are those either seeking to add depth to an already successful practice, or those seeking to round out a practice that is missing a key component. For example, they may have a strong M&A or real estate practice within the sector but might be lacking tax or project finance expertise. Attorneys with expertise in theproject finance, tax equity finance, and tax credit aspects of these transactions will be particularly valuable and coveted."
"The renewable energy industry is growing exponentially, and the industry as a whole simply doesn't have enough people with strong renewables expertise to do the work."
Becky Diffen, a partner at Norton Rose, builds on this. "If you are representing a buyer in a renewables M&A deal, a traditional corporate lawyer would need to utilize specialists for the project and industry-specific issues in negotiating the contracts and conducting the due diligence," she explains. "My advice to corporate lawyers who want to get into this industry is dedicate yourself truly to learning the industry – the acronyms, the issues, the policies, and what goes into developing a project."
Those already in renewables will find their skills in high demand. "It's the new industry taking off and going gangbusters," says Diffen. "The renewable energy industry is growing exponentially, and the industry as a whole simply doesn't have enough people with strong renewables expertise to do the work." She adds that "when we are looking at lateral candidates, their experience in the energy sector is vital. It doesn't have to be all renewables as there's a huge shortage of that specific expertise, but, for example, people that have worked on traditional power deals will stand out."
Texas has traditionally been the center of projects and energy work, particularly in oil and gas. It's also a key location for renewables activity – "if Texas was a country, it would be the fifth largest in the world for wind installation," Diffen tells us. The physical infrastructure may be in Texas, but a lot of the legal work behind the projects "isn't being done in Texas by Texan law firms. Most of it is done by lawyers in New York, DC, California and Chicago. That's where the more dominant renewable energy practices have emerged, although that is changing as the industry expands."
Looking to lateral?
Though salary cuts have now been reversed at many firms, Christina Padien highlights that "the austerity measures imposed helped reveal to people why a firm may no longer be the right fit for them." For those considering a move in the practices we've explored, the pandemic has provided a unique window of possibility. 2021 may just be the perfect year for lawyers in these practices to take stock and evaluate their options. 
---