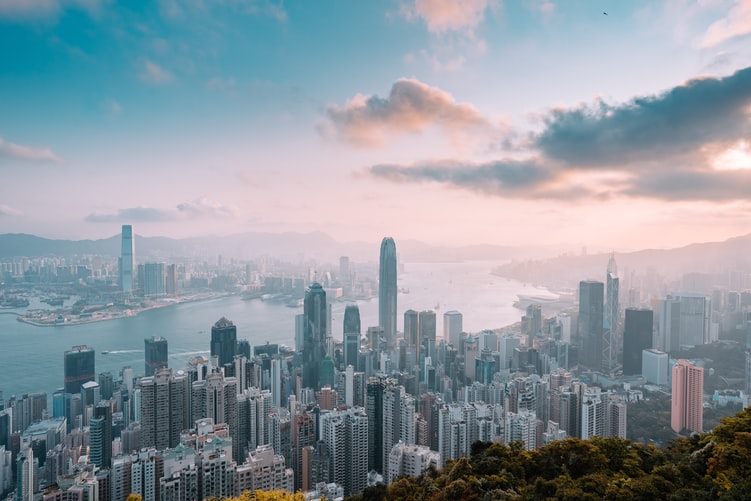 How has the pandemic impacted the Asian legal market? And are there still opportunities for those looking to jump East? The experts at Jowers Vargas and partners at law firms in the region have the answers.
Harry Cerasale, October 2020
Dragon Economy
In the last decade, the word 'disruptive' has become fashionable in boardrooms, signalling innovation in business. But in the wake of COVID-19, it's been deployed with far less optimism, as brakes slammed on the movement of goods, services and millions of people around the world. Despite efforts by governments and international agencies, forecasts from the World Bank suggest a 5.2% contraction in global GDP for the year 2020. In the USA, it's plunged a spectacular 32.9%, representing the worst recession in modern times.
But while many Western nations have struggled to reboot their economies and keep infection rates down, the situation looks a bit different in many of the major economic centers in Asia. "While the COVID recession has hit a wide range of industries as well as businesses of all sizes from Main Street to Wall Street, many expect to see Asia – particularly the larger, industrialized economies of China, Singapore, South Korea, and Taiwan – bounce back sooner than its Western counterparts," says Alejandro Vargas, co-founder of Jowers Vargas, an expert attorney placement firm for BigLaw attorneys in Asia.
"In times of global crisis, China's economy can be seen as a self-sustaining ecosystem."
Indeed, even though China was the first country to be hit by the virus, its economy has enjoyed a comparatively swift recovery to others. "Even in Wuhan – which endured the world's first and arguably strictest lockdown – life is returning to normal," says Evan Jowers, fellow co-founder of Jowers Vargas. "A Wuhan water park even hosted a large-scale electronic music festival in August."
Vargas also points out that "the IMF has forecasted GDP growth of 1.2% in China for 2020, making it the only country this year whose economy is expected to grow." He adds that "in times of global crisis, China's economy can be seen as a self-sustaining ecosystem. Yuliya Vinokurova, fellow co-founder of Jowers Vargas, reasons that this by default makes China "the driving force powering the world out of the COVID recession."
South Korea also appears to have side-stepped the worst: its effective use of a rapid, large-scale testing program has meant the country has avoided any significant and economically ruinous lockdown. Jowers tells us that "the OECD [Organization for Economic Co-operation and Development] predicts for Korea to suffer only a 1% GDP contraction in 2020, making it the second-best performer among large world economies."
But it's clear that COVID's net impact has been resoundingly negative. Singapore remains in deep recession; Hong Kong's economy, compounded by political unrest, shrank by 9% in Q4 compared to the previous year; Japan has experienced its worst contraction on record; while India is grappling with one of the highest mortality rates of any country in the world.
Sector Success 
Like every business, law firms have had to learn how to logistically respond to the pandemic. The transition to remote working has forced a major cultural shift. "Prior to the pandemic, it would have been unusual for the entirety of our offices in Asia to work remotely at the same time," says Yang Wang, a partner at Simpson Thacher & Bartlett in Beijing. He anticipates that "going forward, I believe we may have more flexibility in terms of working from home, especially now that everyone has already set up a home office." 

And as the daily lifestyles of billions of people across the globe have transformed, businesses in the wings have been ready to capitalize. Evan Jowers explains that "it has resulted in significant growth for industries which facilitate the 'digitization' of our lives and livelihoods." The environment has been ripe for a greater uptake in blockchain technology, for example, as people look "to secure online transactions and prevent against cybercrime and hacking."
Alexis Lamb, partner at Jowers Vargas, elaborates on which sectors are cashing in: "New economy companies, such as those in e-commerce, digital entertainment / online gaming / e-sports, FinTech, and blockchain, as well as life sciences, biotech and health-tech, will have the potential to digitize and revitalize markets more broadly." She adds that other 'digitization' industries experiencing a lot of growth out of the pandemic include telehealth / telemedicine; food and grocery delivery; e-learning platforms like Duolingo and Masterclass; online fitness apps like Peloton; virtual meeting providers such as Zoom; and entertainment streaming services including Netflix and Disney+.
"Out of a need to keep human contact to a minimum, the coronavirus has accelerated – and even necessitated – the roles of robots in everyday life."
Robotics is one area that has received a boost during the pandemic. "Out of a need to keep human contact to a minimum, the coronavirus has accelerated – and even necessitated – the roles of robots in everyday life," says Lamb. She tells us drones have been used to disinfect streets in South Korea, while Singapore recently developed a robot-implemented swab test to reduce the risk to healthcare workers. South Korea and Japan have been at the forefront in the adoption of automation, AI and robotics, but China is eager to position itself as a leader in the field. As the virus took hold, "China deployed robots and automated systems to keep their manufacturing industry afloat as human workers were given the order to self-isolate." According to the International Federation of Robotics, China is now the world's biggest operator of industrial robots.
Of course, the desperate search for a coronavirus vaccine has naturally been highly lucrative for the life sciences sector. In a recent article, Bill Gates predicted that India will be critical in producing and manufacturing the vaccine (it already produces 50% of the global demand for a range of vaccines and 40% of the generic demand in the US according to Deloitte).
"Investors have been pouring money into Chinese health-tech startups, and Asian governments are implementing policies supporting telehealth and telemedicine."
But "growth in the life sciences industry has not been limited to drug innovation," says Jowers. "Investors have been pouring money into Chinese health-tech startups, and Asian governments are implementing policies supporting telehealth and telemedicine, which is where life sciences dovetails with digitization." Lamb echoes this, pointing out that "in 2020, biotech and pharma companies have been IPO-ing in Asia at a record pace, with biotech-related M&A surging as well."
At the other end of the scale is the tourism and hospitality sector, which many predict will take many years to recover. As well as the obvious impact of travel restrictions, Jowers explains that the sector has been affected by "the pressure on personal finances, which has reduced consumers' discretionary spending." If there's one story that embodies the desperate state of the hospitality sector, it's the 'flights to nowhere' deals being promoted by a number of Asian airlines, which aim to simulate the experience of travelling without actually going anywhere… Many airlines have thankfully since bowed to environmental pressures and stopped.
Capital in Covid
Now that we have a better understanding of which sectors are thriving, let's take a closer look at how this is reflected in specific practice areas. In the transactional space, we see a mixed bag. Yang Wang tells us that earlier this year in Beijing, "there were a number of significant strategic M&A transactions going full speed, in addition to a steady flow of private equity  buy-outs/investments. When the pandemic hit, some transactions were put on hold, while others proceeded, and while the inflow of new transactions slowed down, we are starting to see a renewed interest in deals."
That compares to the Southeast Asian market, which Yuliya Vinokurova tells us "has remained particularly robust despite several Southeast Asian economies (namely, Singapore) being in a technical recession." She points out that "major Southeast Asian technology companies like Sea Limited are in a position to deploy capital toward aggressive strategic M&A to shore up existing product offerings or diversify their customer base."
Over in the private equity and venture capital space, "we witnessed tremendous growth in this practice area across Asia over the last few years," says David Kuo, a partner in DLA Piper's Singapore office. "2019 was more of a mixed bag – we saw a decline in Greater China (by far the largest market in Asia) and with that, also a decline in 'mega' deals(over $1 billion valuation), although other key markets such as India and Southeast Asia continued to grow." There was also a fall in new investments, as "an increased number of our private equity clients focused on managing their portfolio companies and associated liquidity issues."
"Private equity and venture capital investment has flowed into 'COVID growth' industries such as e-commerce, cybersecurity, and videoconferencing."
Although overall activity is down, Evan Jowers highlights that "private equity and venture capital investment has flowed into 'COVID growth' industries such as e-commerce, cybersecurity, and videoconferencing. For example, India's Jio Platforms – a digital services provider – has been a magnet for private equity investment this year." He adds that "lower valuations have also made hard-hit industries more attractive, such as airlines and tourism," pointing to Bain Capital's recent acquisition of Virgin Australia as an example.Kuo is optimistic that "as companies and start-ups develop businesses that are focused on meeting the needs of the post COVID-19 world, investments and deals will inevitably pick up."
Arguably the busiest practice area is capital markets. Yang Wang puts this down to "companies rushing to raise equity and debt from the public markets and others needing to restructure their existing debt facilities due to the impact of COVID-19." In Hong Kong, Jowers says the market has been booming: "We are not seeing any sort of a slowdown in IPO activity at all. It's shifting from New York to Asia-based exchanges, with Hong Kong and Shanghai being poised to benefit from the NYSE's and Nasdaq's loss." That said, he suggests "this may not be so much due to COVID-19 as it is due to the geopolitical climate between China and the US."
On the disputes front, activity has remained robust as it has after past recessions,including the 2008 financial crash. "Litigation and disputes tend to pick up due to increasing contractual disputes and insolvency situations," Vargas reminds us. "We also could see increased disputes arising out of COVID-19 wreaking havoc on supply chains and making it difficult for companies to meet certain contractual obligations." Jowers also points out that "Singapore has continued to grow as a global arbitration hub in 2020 despite COVID-19."
Golden Opportunities
While many firms are likely to benefit in some capacity from the mass uncertainty triggered by the pandemic, it's the international giants that are likely to emerge in best health. "Law firms with a foothold in both greater China and Southeast Asia will be best positioned to weather the storm," says Yuliya Vinokurova. "Southeast Asia is insulated from much of the geopolitics affecting Sino-US relations, and most (if not all) of Southeast Asia's unicorns are in industries poised for rapid growth in the post-COVID reality."
"Firms with a Silicon Valley-style practice have expressed to us a desire to open an office in Singapore."
Jowers predicts that "there could actually be more firms in the Asian markets. A number of firms with a Silicon Valley-style practice have expressed to us a desire to open an office in Singapore once the right opportunity becomes available to them." He agrees with Vinokurova that "Southeast Asia is perhaps the best diversification bet against COVID-19 that a global firm could make, especially if that firm has a tech-focused clientele or strategic interest."
So, what does all of this mean for associates considering a career in the Asian market? Vinokurova advises lawyers "focus on gaining skills in a practice area that is in demand in Asia – mainly capital markets, M&A, EC / VC, fund formation, and FCPA litigation." Juniors in particular should "consider an EC / VC focus over a more traditional M&A focus, especially with Southeast Asia's growth as an Asia tech center." Opportunities for litigators are more limited. Jowers explains that despite "Hong Kong and Singapore growing as arbitration hubs, the demand for arbitration lawyers is more concentrated for attorneys with UK and other Commonwealth (as opposed to US) qualifications."
Finally, as for "a more superficial reason to move to Asia," Alexis Lamb points out that "many firms and markets in Asia offer an expat package / COLA on top of Cravath base salary and bonus. COLA can add as much as $80,000 or more to an associate's total annual compensation. For US taxpayers, it's also hard to ignore the tax savings inherent in moving abroad, especially once you factor in the Foreign Earned Income Exclusion." For more information on moving into the Asian market, see here.