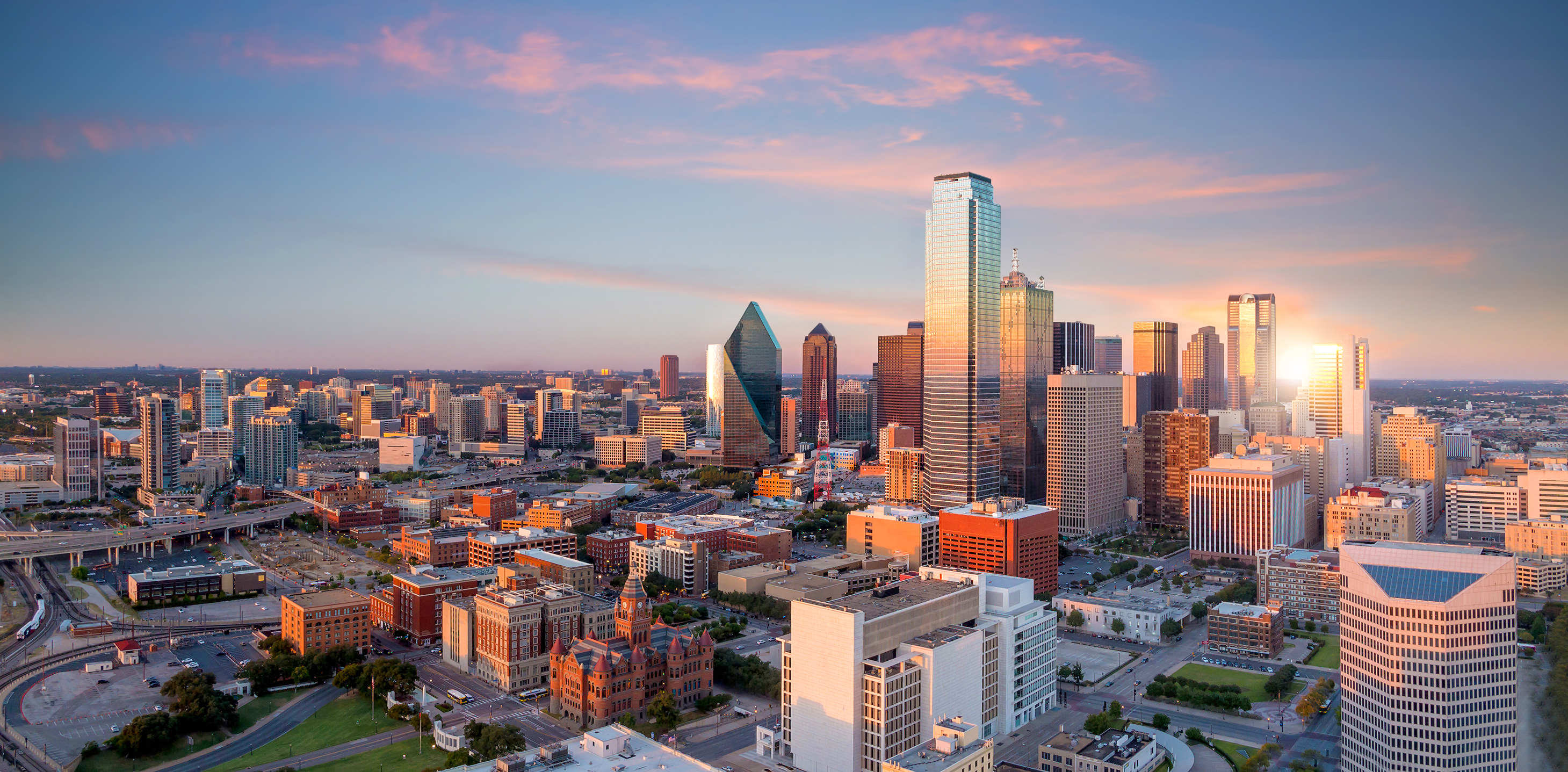 As a state with thriving energy, tech, finance, and consumer industries, Texas has attracted a lot of attention in recent years. We consulted five attorneys from Texas-based firm Jackson Walker to find out everything you need to know about being a lawyer in this much sought-after market.
You may well have grown up with many presumptions about Texas – that it's a predominantly rural state and that business can't be as good as it is in markets like New York and LA. Well, we can safely say that these are very much outdated views. Dallas, Austin, San Antonio, and Houston are some of the biggest cities in the U.S., with the latter arguably tracking Chicago as the third largest in the country.
While energy and banking have been the cornerstones of Texas' economy for decades, the state is also home to booming tech, healthcare, finance, media and entertainment, and real estate industries. With such a flurry of activity, many businesses have been drawn to Texas, from budding start-ups to some of the most established Fortune 500 companies. Throw in some appealing tax rates, and you have the recipe for a healthy business environment that has kept Texas' commercial lawyers very busy in recent years.
On the subject of tax: there's no personal income tax in Texas, which is a big draw for many an established lawyer looking to move to the state, alongside a better cost of living overall. While being a lawyer in Texas is no easy ride – attorneys still very much put in the hours – our conversations with Texans over the years have revealed a different pacing that allows for more life outside of work to be enjoyed. If you're an outdoor type, then you'll no doubt appreciate Austin's hiking and bike trials, while Houston will satisfy the culture vultures looking for world-class museums, art galleries, and theatres.
Finally, if you're looking around your cramped apartment in Manhattan or San Francisco, the real estate market in Texas offers a much greater likelihood of being able to afford a house with a big back yard – and on a Big Law salary that often matches or comes close to the scale set by New York's legal behemoths, your money will go so much further than it would elsewhere. But enough from us espousing the high points of living and working in Texas, here are the views from those who know it best...



The View from the Experts at Jackson Walker
Chambers Associate: Considering the current make-up of the Texan legal market, what do you think makes it unique in the US?
Jonathan Neerman, partner, Dallas: Texas is unique in that we have four major legal markets that service a diverse group of industries.  Fortune 500 headquarters have been moving to Texas for 20 years in search of a predictable regulatory environment.  This has led to an opportunity for attorneys to provide legal services to the technology, financial services, and consumer staples industries.
Clinton Kuykendall, associate, Houston: I think it's primarily our value.  In most instances, a client can get the same level of legal work as they would at a New York, Chicago or Los Angeles law firm without the premium of those cities. Additionally, Houston, Dallas, and often Austin are compensating attorneys similar to those cities, so there is no shortage of talent.
Jesse Lotay, partner, Houston: The Texas legal market is indicative of many of the business and industry trends seen across the nation. There are few states whose oil and gas, energy, healthcare, etc. industries are better market indicators and leaders than those found in Texas.
Miguel Ortiz, associate, Dallas: You have the upside of a large legal market in a big city but you don't have the downside of the increased overhead like some firms with offices in NY.
"Texas is the capital of the energy industry across the world."
Using oil and gas as an example: Texas has a long and storied history of oil, gas, and power development. As other states develop laws and policies regarding oil, gas, and power, they will inevitably lean on and rely on Texas trends in the energy industry to formulate their own. Those states will use Texas' storied history of oil and gas development (and the ups, downs, pros, and cons) to guide them as they develop their own laws – particularly with respect to energy infrastructure as states race to embrace renewable energy projects in wind, solar, power, etc.
CA: What are the key industry sectors and practice areas in Texas? Have any new areas become popular and/or lucrative in recent years?
MO: We are seeing a large increase in the build-to-rent industry with our real estate clients currently due to the increase in homeownership costs.
JL: Texas is energy. Texas is the capital of the energy industry across the world. Even laws, contracts, and operations used in Saudi Arabia rely on the war-tested laws, contracts, and operations in the oil and gas space that were developed and refined in Texas.
Rebecca Chaikin, partner, Houston: Since the Bankruptcy Court for the Southern District of Texas adopted the complex case procedures, the court has become an extremely attractive venue for "mega" cases (i.e., chapter 11 cases with $100 million or more of debt). There were more complex cases filed in that venue in January 2023 than in all of 2022 combined.
CA: What trends have you noticed in the Texan legal market over the past few years?
JN: Texas has seen an influx of national firms moving into the major markets.  This has led to law firm consolidation in some instances.
Competition for talent is higher than it has been in 20 years.  National law firms are recruiting Texas law students to move out of state.  Conversely, out-of-state students are trying to move to Texas.  This gives Texas-based firms an opportunity to build a diverse base of talent from schools around the country.
MO: We are seeing a lot of industries moving to Texas and we are getting that work as a result. We are seeing more out of state law students now wanting to start their legal career in Texas as they see it more conducive to starting a family here.
CK: From my perspective, multifamily and industrial construction are at an all-time high, but the pandemic is still taking a toll on office and retail development.
"...you cannot simply just open an office in Texas and expect it to be profitable. You have to know Texas, its community, and businesses."
Everyone is desperate for help at every level of the law firm. There are a number of out-of-state law firms that have moved in and poached whole practice groups and have otherwise thrown around a lot of money. I've seen a lot of lateral movement at all levels, some of which is driven by money and some by alternative working arrangements.
JL: Over the past decade, it's clear that the world is taking Texas seriously as a market leader in business. This is illustrated by the fact that dozens and dozens of major international and national law firms opened offices across Texas to capitalize not only on the growth in Texas, but also the deals that are formulated and made here that impact the world.
While many firms have set up offices in Texas, only a handful have been successful. It's clear that you cannot simply just open an office in Texas and expect it to be profitable. You have to know Texas, its community, and businesses. This is a reason Jackson Walker stands out. We are Texas (and more).
Clients are becoming more cost-conscious. Why pay high international law firm rates when other firms can do the same work with sophisticated lawyers for sophisticated deals at a lower rate? Another reason Jackson Walker stands out.
CA: How do you think the legal market in Texas will develop? How will it look in a few years' time?
RC: In the restructuring sector, you can expect the Texas market to grow significantly as the Southern District of Texas will likely continue to be a top venue choice for complex, mega bankruptcy cases. Even where such debtors retain large national firms to serve as primary restructuring counsel, those companies will need Texas-based co-counsel or conflicts counsel.
As more companies start in or relocate to Texas, many more mid-market chapter 11 and sub-chapter 5 cases will follow here as well.
Anticipated long-term disruption in the energy market will likely also drive an uptick (again) in filings of energy companies, many of which are based or have significant assets in Texas and would naturally choose to file here.
CK: I think a number of out-of-state law firms are going to find it hard to continue paying the kind of money they do for this market. While Texas is a very prosperous state and there is a lot to be excited about, I do not think Texas-based clients are ever going to be comfortable with some of the rates we're seeing. Some firms will be successful, but I would not be surprised to see a number of out-of-state firms reduce their presence here.
JL: As the Texas economy grows (just look at the growth rate in Texas the last several years), so will its economy, business, and subsequently legal work and needs.
CA: Why did you decide to practice law in Texas? What were the main pull factors for you?
JN: As a native Texan, I knew I wanted to stay in my home state to practice.  I did not have the foresight to know or appreciate how the market would grow to where it is now.  I knew that Texas presented the opportunity to balance good work with the ability to have a family life.
MO: The legal market in Texas is robust. With all of the major firms here in Texas, the sophisticated work is here and the pay is the same. Why go somewhere more expensive to live when my dollar goes farther in Texas?
RC: I relocated to Texas after spending nearly all of my life and my legal career in New York. I moved because Jackson Walker offered robust, dynamic, and challenging restructuring work where I could expand my practice into mid-market cases and bankruptcy litigation, while providing real work-life balance. And I couldn't pass up being in the thick of the most interesting bankruptcy venue in the country.
"The lifestyle in Texas is so much better than in New York!"
CK: I decided to practice law in Texas because it's home to me. Additionally, I can make a New York City/Chicago/Los Angeles salary without the cost of living of those cities. I am not sure why anyone would choose those cities over Houston or Dallas (other than weather!).
JL: I was primarily raised here, so Houston is home.
Nevertheless, if you are going to practice in the energy space, Texas is the capital of the energy world. This is the place to be. You need to be present to win.
CA: What kind of work have you been able to do and what career opportunities do you think have come out of being based in Texas?
MO: I've had an opportunity to get more experience early in my career and get more substantive work because we are able to have more competitive rates because we live in Texas.
RC: I am closer to my clients' home bases, which gives me more and better opportunities to meet my clients and get to know their businesses and assets – which in turn helps me represent their interests more successfully.
CK: Just about anything in the normal fairway of bank-lender financing, both on the lender and borrower side.  I don't know that there is anything specific about Texas other than it feels possible to find and develop clients as an associate here.  I am not waiting on a partner to hand me a book of business.  There is a culture of going out and developing your own way and I think my firm does an excellent job of encouraging and aiding that.
JL: That's a broad question, but generally speaking, Houston in particular is the land of opportunity.  If you have the will, initiative, and desire to standout and outshine the rest, here is the place to do it and the place that you can do it.   
CA: What is the lifestyle like in Texas?
MO: Texans have a sense of pride being Texan. The lifestyle is great because there are opportunities to either live in the city or live in the suburbs and both of those options are possible while working for the same firm.
"...it's really a 'choose your own adventure' state."
RC: The lifestyle in Texas is so much better than in New York! By moving, I have three times the square footage (and a car!) for a little less than the overhead I was paying in NYC. Not to mention a significantly less stressful lifestyle. It may sound strange, but not having to limit your groceries to what you can carry is pretty helpful. And having lots of personal space is really pleasant.
CK: For the average Big Law attorney, it's a great work-life balance that provides a very good salary. You can afford to live close to the city (or not if you choose). It's really hard to beat the life of a Big Law attorney in Texas. There is also ample opportunity to make as much out of our career as you want, and the firms here reward that. So, it's really a 'choose your own adventure' state, and depends what you want.
CA: Why would you recommend Texas as a legal market to join – both for students starting out and lateral candidates?
MO: If you're attracted to all of the things a big city can offer, but are looking for a more sustainable long-term opportunity, Texas is the market for you! If you want to be part of the upward trajectory of the movement of industries to Texas, it's a good time to make the move.
RC: In Texas, you can get the best of all things – interesting and challenging work with talented colleagues and for great clients, but with time to pursue an identity and interests outside of work.
CK: Competitive compensation, lifestyle, and culture – I think you'd be hard pressed to beat Texas.
JL: I would recommend Texas for students and lateral candidates because the state offers a good cost of living, opportunities, and sophisticated deals.
CA: What advice would you give to someone who is setting out to develop their legal career in Texas?
JN: Clerks and new attorneys need to maintain relationships with their law school classmates.  This will be a good source for business for outside counsel.  For future in-house counsel, this same group would be a good source for outside counsel referrals.
MO: Do it! Look into the various legal markets and city cultures in Texas and see what is a best fit for you.
RC: It's never too late in your career to move to Texas.
"We understand the business and our clients, and it's reflected in the sophisticated work that we do."
CK: For someone looking to practice in Texas, I would advise developing some connection to the state. They should visit, take a vacation or two here. Texans are naturally skeptical that people from out-of-state are just using the state as a stepping-stone to the next thing. I know it comes up in our recruiting meetings. That said, if you can establish some connection and show sincerity, then Texans will welcome you wholeheartedly.
CA: Are there any misconceptions about Texas – tied to either the legal industry or the culture – that you would like to dispel?
JN: The biggest myth is that Texas is merely an oil and gas state.  Texas is a leader in the technology, entertainment, leisure, financial services, and consumer staples industries.  There is a diversity of legal work that flows from these industries.  This allows young attorneys to develop their practices as they see fit.
MO: I've lived in other states and it's easier to think that places like DC and NY are going to be the hotbed of legal work, but that is definitely not the case. Texas has comparable sized clients and equally sophisticated work. Even though JW is based in Texas, we also work on deals nationally and internationally. Also, we don't all wear cowboy hats and boots… but you can if you want!
RC: For the New Yorkers considering a move – you really don't miss bagels and street pizza nearly as much as you'd think you would.
CK: I think a lot of people in the other big legal markets believe that we do not do the same caliber of work, and I think that is patently false.  Our attorneys and law firms are just as good and a better value proposition for clients.

JL: In the energy space, in particular, there is a misconception outside of Texas that the oil and gas industry is like the Wild West or like the TV show Dallas, and that the energy lawyers here don't know how to do sophisticated deals. I've had many NYC lawyers try to school Jackson Walker on oil and gas operations. I can tell you that none of them have set foot on an oil drilling site or worked in the energy industry like Jackson Walker's lawyers. We understand the business and our clients, and it's reflected in the sophisticated work that we do. Jackson Walker is energy. Period.
---
 Read more about associate life at Jackson Walker