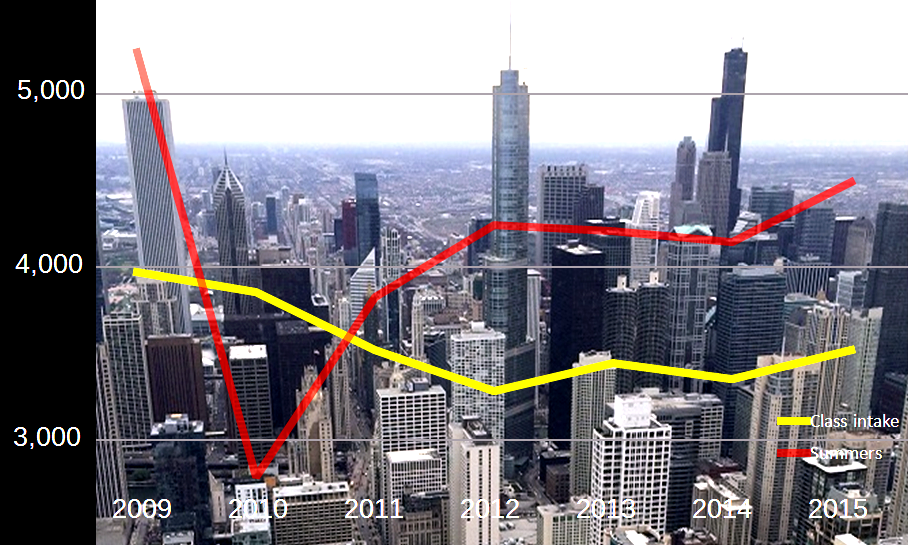 Entry-level hiring stats are better than they've been for years, but competition remains fierce. Here NALP's executive director and some law firm recruiters share their wisdom on how the market's looking and how best to prepare...
Once upon a time, in a land called '2007,' all was well with legal hiring. 60% of 2L interviews led to offers, and 92.7% of summer associates were asked to stay on. Then, in 2008, a great and terrible recession fell across the land. And, well, you know the rest. Credit crunched and boom turned to bust. By 2009, only 69% of summers got offered, and a mere 32% of 2Ls got offered places on summer associate programs. From 2010 onward, however, those numbers have been slowly clawing their way back up, and in 2015 legal recruiting "saw more growth than we've seen in a long time," according to Jim Leipold, executive director of NALP. "59% of firms made more offers than in previous years," he adds.
Even more impressively, in 2015 95.3% of summer associates received offers – up 1.9% from 2014 and even eclipsing 2007's high of 92.8%. Indeed, the sudden drop in recruitment back in 08/09 might even have contributed to today's recovery. "There's a real shortage of midlevel associates with transactional experience," Leipold explains, "so firms are moving their work down to junior lawyers, who they're hiring in greater numbers."
At first blush, it looks like we've returned to the fairytale days of 2007, but it's worth sounding a note of caution. Legal recruitment remains broadly flat, according to NALP, and there is some indication that law firms are already overstaffed. 2015 was certainly a strong year for transactional work, driving demand for legal services, but it's worth noting that litigation still hasn't quite bounced back in the same way. "This actually has nothing to do with the recession," notes Jim Leipold. "It's a much longer historical trend." The cost of litigation and discovery, as well as tighter corporate risk policies, means that the appetite for litigation has been declining for a while now, so the noncontentious side of law has been doing a lot of the heavy lifting.
City to city
This doesn't just mean that aspiring lawyers should think carefully about whether they want to be litigators or deal-doers. It also affects the legal markets of individual cities. "Overall, litigation volume continues to decline," says Jim Leipold, "so in cities like LA where law firms are more litigation-oriented, the legal market hasn't bounced back as strongly" – especially when contrasted with transactional powerhouses like New York. Beyond this, your choice of location may also significantly affect your long-term prospects, particularly if you want to work in a certain practice area. Texas is a natural destination for aspiring energy lawyers, for example, but the collapse of oil prices has led to energy-sector bankruptcies replacing energy-sector deal work. Similarly, while "Silicon Valley really led the rebound after the recession," Jim Leipold tells us, "there's been a bit of a cooling off there as the market wonders whether there's another bubble."
According to Elizabeth Workman, assistant dean for career services at Vanderbilt Law School, "you'll notice that generally speaking, Midwestern firms seem to have a long-term vision for new hires, with an eye on partnership. As you head toward the East Coast there is sometimes less of a premium put on longevity, and some firms are very transparent about that."  Regardless of where the work is, one thing that employers will value is some local knowledge of the area you're applying to work in. That said, as law firm management becomes more spread out and law firms start to market themselves as 'one firm nationwide,' the need to show a link with a particular area has become less important. It can't hurt, of course, but in some cases, showing an interest in an office's particular specialization is more important than demonstrating that you are a 'California person' or a 'Chicago person.'
The early firm...
"Over the last ten years we've seen OCI activity creep into the first week of August from what was September-October," NALP's Leipold tells us. For some law firms, this isn't early enough. In 2015 nearly 40 law schools reported that some of their students received pre-OCI offers, and a quarter of law firms surveyed told NALP they had made at least one offer before the OCI process even started. At the bigger end of law, firms still value OCIs for their structure and relative fairness, but they do acknowledge that they can be something of a cattle-call. "If they can fill spots with top candidates without going through that, they will," explains Leipold.
Of course, there has always been pre-OCI recruiting. Students who studied in one market but wanted to return home to practice law would often write to law firms in their home cities to try and beat the OCI scramble. More and more, firms are reaching out to 1Ls in the spring in an effort to scoop up top and diverse talent before the OCI process gets underway. A common practice is to hold reception events, where applicants and recruiters mingle over drinks. Firms often collect resumes at this junkets, and candidates who make impressions may bag themselves an interview, and possibly even a pre-OCI offer.
In 2008, 37% of candidates were recruited through on-campus interviews, compared to around 23% now. Does this mean that OCIs are on the way out? Not quite. "Currently, less than a quarter of the law firm jobs secured by new law school graduates are obtained through on-campus interviews," says Jim Leipold, "but the ones that are, disproportionately are with large firms." As ever, the bulk of legal jobs are with small and medium-sized firms, and these are often filled the old-fashioned way – networking, face time and submitting resumes.
On diversity
While diversity in recruiting continues to inch up, the law generally remains "the least diverse of all white-collar professions," according to Joseph West, head of diversity and inclusion at Duane Morris (read our full interview with him in the web-only Bonus Features for our Inside View of Duane Morris). Law firms have become better at attracting diverse talent, but they're still finding it difficult to retain diverse lawyers, and minority women in particular. "The attrition rate for minority women in large law firms hovers around 100%," West continues. "I'm not talking about laterals, but home-grown attorneys who have started off with an organization. After six or seven years, almost none of them are still there. Firms are missing out on a huge amount of talent, and the next step is making sure that this talent is retained and has the opportunity to advance to leadership ranks. Inclusion is a key part of that, and that's why my role is Diversity and Inclusion Officer."
Of course, there are many reasons why minority lawyers (or, indeed, anyone) might change jobs, but as West puts it: "Let's not kid ourselves. A lot of people leave because their talents aren't being addressed." A lot of firms, including West's own Duane Morris, have been recalibrating their diversity policies to focus not only on recruitment but also on retention.
Do your homework
Whether you're writing in, attending an on-campus interview or trying to schmooze your way in at a drinks reception, it's important to put your best foot forward. Good grades should really be everyone's priority in their 1L year. Your legal education was expensive, so don't throw it away by failing to do your research. "When students bomb it's often because they treat all firms as if they're the same," says Jim Leipold. "The more that students can do to distinguish firms in their minds the better."
We can't stress this point enough. Every year we hear from law school hiring partners that students continue to come to interviews without even a basic knowledge of practice areas that their firm offers. Find out which practices are flourishing, and keep an eye out for less rosy developments, like senior departures or layoffs. Don't be afraid to ask tough questions at interview – that's an important part of being an attorney, and employers will value your desire for clarification. For larger firms, make sure you know which offices are hiring that year.
In their search for the partners of tomorrow, recruiters are looking for cool-headed candidates with the social skills to win and retain clients. So find a way to demonstrate this and stand out from the crowd. Get involved with extracurriculars that promote teamwork, commercial acumen and written ability. Write for your law review (and ideally edit it), work for a company or nonprofit in your 1L summer, excel in sport, show you can operate outside your comfort zone and achieve – whatever you choose to do, make sure you can talk about how it improved you.
Got an offer?
Congrats! But hold on, hotshot, you're not on the payroll yet. Take nothing for granted – even offers, if you are lucky enough to get them. Act professionally with firms you deal with at every stage of the application process, and beyond. It's understandable that you may need some more time to contemplate your decision, but remember that there are plenty more quality candidates out there who'd pawn their mothers for a job.
Bobby Weiss, director of recruiting at Waller recommends you "stick to the NALP guidelines, which give you a 28-day deliberation period and are accepted by most firms across the country. Inform recruiters as soon as possible when you make a decision, and if you're waiting to hear back on another opportunity, then make sure everyone is kept in the loop. Open and honest is the way to go, and if you're holding out for something else, then let them know that you intend to accept the position unless a certain opportunity comes up."