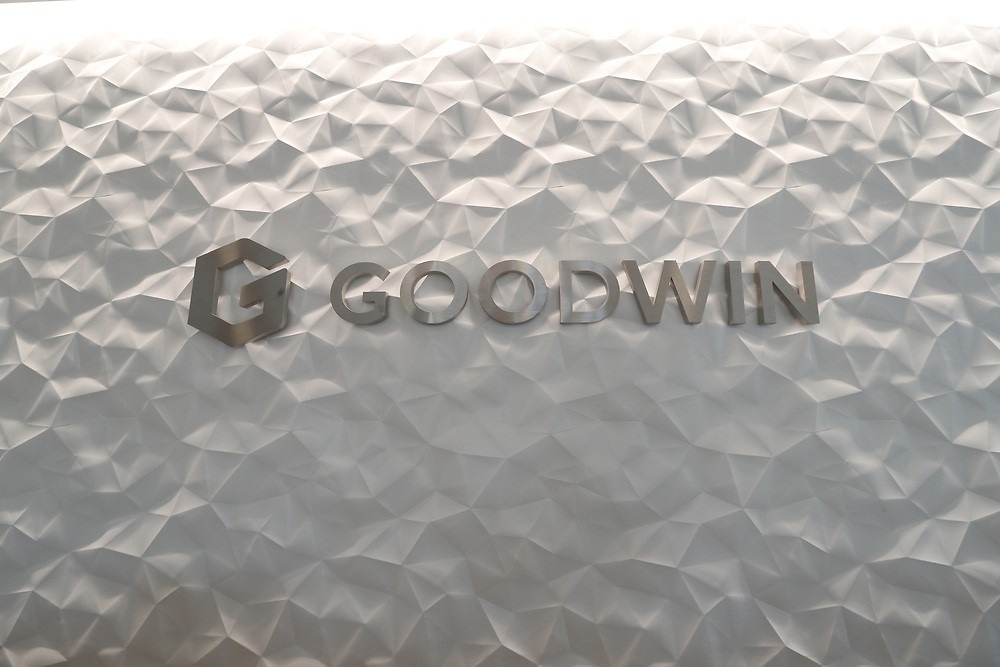 Seven partners from Goodwin share their views on what it takes to become a successful life sciences lawyer.
Chambers Associate: Which practice areas fall within the life sciences sector?
Sarah Ashfaq, partner: The life sciences sector is supported by a wide variety of legal disciplines spanning corporate, intellectual property, licensing, and regulatory practices. At Goodwin, we've built robust teams of life sciences specialists across different practices such as IP, FDA, collaborations & licensing, capital markets, M&A, early stage financing, and litigation. As a corporate lawyer, I provide strategic advice and general corporate counseling to management teams and boards while leading significant transactions on our clients' behalf.

Olivia Uitto, partner: Life sciences companies have diverse needs that stretch across numerous practice areas. For example, they need counseling for negotiating office space that includes lab space for scientific endeavors; in-licensing and out-licensing technology for scientific development and commercialization; collaborating with third parties to accelerate scientific innovation and discovery; interacting with the FDA for approval of therapeutics and devices; developing a strategic, global intellectual property portfolio; merging with and acquiring companies to broaden their technology field and capabilities; and transitioning from a private to a public entity.

Alexander Varond, partner: The life sciences sector is incredibly broad, with opportunities ranging from private equity, M&A, and capital markets work, to regulatory counseling related to FDA, healthcare, and privacy. It also includes patent prosecution, licensing, product liability, and litigation. I'm amazed at the diversity of practice areas in the life sciences sector, and I feel fortunate to have the opportunity to work in an industry that's core focus is helping patients and advancing the public health.


CA: Does Goodwin have a particular specialty in any of these?
SA: We are deeply specialized across all life sciences disciplines, with a global platform for innovators and investors at all stages of the corporate lifecycle. What sets us apart is our holistic approach to our life sciences practice through the integration these practices. We have teams that span a range of disciplines working together seamlessly, collaborating to provide comprehensive solutions to clients. We are also the only firm that has top-tier lifecycle practices in life sciences, technology, and private equity, and are focused on the growing convergence of these industries, which continues to create significant opportunities for our clients.
"I really enjoy the diversity of the life sciences practice. We work with a wide variety of life sciences companies that span therapeutics, diagnostics, medical devices, and all different disease areas."

OU: Goodwin's strength is in developing lawyers with a deep specialty practice within a highly collaborative firm culture. Specialized lawyers across numerous practice areas form teams to build bridges between practice groups to offer unmatched legal counseling. For example, as life sciences companies require representation in licensing with third parties, acquiring therapeutic assets, and developing patent portfolios, teams made up of Goodwin lawyers from various specialty practice groups assemble to offer and share their deeply specialized knowledge. Thus, Goodwin's clients receive concerted legal guidance from deeply specialized lawyers in FDA regulation, patent law, life sciences licensing, patent litigation, and healthcare regulation, among other fields.

AV: Goodwin has one of the most robust and active life sciences practices in the legal industry. One of our group's main goals is to help life sciences companies navigate the full spectrum of their legal issues. The comprehensiveness and depth of our practice enables us to know our clients well and deliver excellent and cost-effective solutions that draw from an integrated team approach. For example, we may initially help a pharmaceutical company on FDA regulatory strategy and then assist with their patent, M&A, capital markets, licensing, and litigation matters. The breadth with which we are able to help clients allows us to form deep relationships and understand their unique culture, challenges, and long-term goals. This strategy continues to strengthen internationally, as we expand our life sciences practices in Europe and Asia.


CA: What do you enjoy least and most about your work?
Noelle Dubiansky, partner: I really enjoy the diversity of the life sciences practice. We work with a wide variety of life sciences companies that span therapeutics, diagnostics, medical devices, and all different disease areas. It's exciting to learn about our clients' cutting-edge technologies and later see them being delivered to patients. Because it's an ever-evolving practice, you're always learning new things with respect to the science and legal and business sides of the deal, and it requires you to be creative and find solutions that work for your clients. Working with so many companies and in so many areas does have its challenges. You need to be able to manage multiple clients and deals at one time and don't have the opportunity to devote all of your time to one company or one product as you may have if you were in house.      
Erini Svokos, partner: I very much enjoy working with our emerging, early-stage biotech clients, helping to understand their new technology and how it can be utilized to save lives. As a licensing attorney, I really have to dig in to the technology to understand what needs to be licensed and what needs to be protected. In doing so, I get a front row seat to learn about new therapies and treatments directly from those scientists or researchers that discovered them.
Deepa Rich, partner. At the end of the day, the life sciences industry is focused on alleviating human suffering and improving quality of life. This attracts amazing people who are at the top of their field and possess extreme intelligence and passion. It is easy to get excited working in this environment. Working with early-stage clients gives us insight into the world to come and the amazing opportunity for translating basic, fundamental life sciences research into a commercially available product that changes lives. The least enjoyable part of this is that we need to record time.

AV: The best part is the people: our clients, the FDA, the Goodwin life sciences team, and the patients. I love working with such passionate, intelligent, and visionary clients, regulators, and lawyers toward a common goal of helping patients. One of the more challenging (and rewarding) aspects is keeping up with the rapid developments in FDA law.

James Xu, partner: Our life sciences clients are some of the smartest people in the world, with advanced doctorates and medical degrees, as well as ambitions to match. Sometimes that can lead to them moving quickly into complicated situations too soon before engaging their legal counsel, which has the potential to make things less efficient in the long run. I would encourage businesses to talk to lawyers and make us part of your strategic advisor circle sooner rather than later. Conversely, life sciences clients are oftentimes on the cutting edge of research and technology. As a result, our clients present novel questions that challenge us to find ways to meet their business objectives. Therefore, what I enjoy most, and what I think is a key driver of our practice is having a deep understanding of our clients' business and science in order to propose creative solutions that reflect the innovative nature of our industry.
CA: What are the differences between noncontentious and litigious life sciences work?
DR: I am a corporate life science lawyer, which means I help clients complete financings, IPOs, collaborations, and other deals they choose to pursue. A deal done right benefits everyone. My practice is not zero sum, unlike litigation or even patent prosecution, where there typically is a winner. More broadly, my philosophy is taking a collaborative approach to understand each side's needs resulting in a better transaction for everyone, as well as making the work more engaging and fun.
"We work with clients that are creating and discovering new ways to treat, mitigate and cure diseases. During the COVID-19 pandemic, many of our clients were at the forefront of developing treatments and vaccines for the virus." 
JX: This is a great question that reflects life sciences as an industry focus rather than a practice area focus. Our life sciences group is multi-disciplinary and cross-office, and is positioned as the one-stop shop for any company within this sector. While my personal practice is in helping companies raise money and operate their business, many of my colleagues advise clients who are involved in litigation or who are trying to avoid litigation in the first place. I would say that there is a different mix of people and organizations who are involved with corporate life sciences and life sciences litigation. For example, while I mainly deal with companies, investors and regulators, my litigation colleagues oftentimes interact with plaintiffs' firms. All that said, there is great overlap between the non-contentious and litigious practices, and a well-rounded lawyer in the life sciences sector will need to understand the dynamics of all areas within the industry. For instance, my litigation colleagues are business-minded and feel at home within the boardroom advising company management in litigation trends as they do in a courtroom arguing their clients' cases. Conversely, a good life sciences corporate lawyer needs to expertly spot issues and think like a litigator, even when negotiating contracts or advising on disclosure practices.


CA: Can you give us an idea of the clients you work with and why they need lawyers?
SA: I counsel a wide variety of companies and investment banks with a focus on biotechnology and pharmaceuticals. They turn to our corporate practice for advice and representation in strategic transactions, securities law matters and a broad array of financing transactions including initial public offerings, follow-on offerings, and private placements of equity and debt securities. I also counsel a range of publicly traded biotechnology companies with ongoing SEC compliance and corporate governance matters.

ES: We work with clients that are creating and discovering new ways to treat, mitigate and cure diseases. During the COVID-19 pandemic, many of our clients were at the forefront of developing treatments and vaccines for the virus. Throughout this development, our clients collaborated extensively with other biotech and pharma partners to advance and manufacture these life-saving technologies quickly — and they needed our help to put these collaborations in place.

OU: My practice centers on providing global strategic intellectual property counseling to small and mid-sized pharmaceutical companies. These clients require something more than preparing, filing, and prosecuting patent applications globally. As the client's current and projected business needs change, the patent portfolio and global patent strategy must also be recalibrated to ensure the patent portfolio yields commercially valuable claims. Patent claims that protect and defend therapeutic assets as they move from discovery, through the clinic, and on to commercialization in the U.S. and foreign countries. Additionally, a client's global patent strategy is developed with not only Goodwin patent lawyers, but also in collaboration with Goodwin lawyers with specialized knowledge in FDA regulations, IP litigation, and IP licensing.

AV: Our clients include a wide array of stakeholders in the pharmaceutical, biotech, medical device, diagnostics, and healthcare fields. This includes manufacturers, investigators, research institutions, investors, trade associations, retailers, healthcare providers, vendors and independent contractors, and non-profit and patient advocacy organizations. For these clients, FDA law is a cornerstone of their mission. Goodwin's FDA regulatory team serves as a core strategic advisor to these clients. For example, we work closely with developers, manufacturers, and marketers throughout the product lifecycle to identify the most efficient pathways to market, achieve regulatory compliance, and further their business goals. We also advise on all aspects of clients' interactions with federal and state regulators who oversee product development, manufacturing, and marketing activities.
CA: How does the work differ from more traditional areas of law such as finance?
SA: Working in life sciences allows us to play a part, albeit small, in helping to solve some of greatest healthcare challenges we face. During the COVID-19 pandemic, we worked with a number of clients working to treat, cure, and prevent further spread of the disease. Being a part of something with such a profound impact on the world and individual lives is incredibly rewarding, and is without a doubt, the most meaningful aspect of my job.
ND: Many of the life sciences companies that I work with are early-stage biotech companies, so you have to be nimble and understand the needs of an emerging company with funding, operational, and regulatory hurdles. Our life sciences companies come to us not only to act as their legal advisor but also their business advisor on the deal.

DR: A lot traditional areas of law deal with risks that are more quantifiable over the short term. With life sciences companies, it can be a decade or more and hundreds of millions of dollars before you know whether the product even works, let alone whether it is more effective than other treatments or will be accepted commercially. In addition, it takes highly specialized education and experience to evaluate these risks, particularly as an investor. As a result, the overall life sciences community is surprisingly small when compared to its huge imprint on GDP.
CA: Where does the life sciences sector intercede with politics?
DR: It is impossible to separate life sciences and politics because the industry is such a fundamental aspect of the modern human existence. Pharmaceutical companies top the industries that actively lobby politicians. Political decisions around what diseases will be adequately funded for research have often had implicit biases. Similarly, decisions around reimbursement can often come down to politics and whether a compelling story can be told or media coverage changes the public's perception. We also see political differences around regulatory function with some people thinking the FDA is too strict and others thinking that it does not do enough. Public awareness and political considerations absolutely affect the viability and availability of potential treatments. Examples of highly politicized diseases include HIV, Breast Cancer, pain management (e.g., opioids), general addiction treatment, and mental health. These political considerations certainly add risk to life sciences companies in their investment strategies.
"It is impossible to separate life sciences and politics because the industry is such a fundamental aspect of the modern human existence. Pharmaceutical companies top the industries that actively lobby politicians." 
CA: Are there any political developments that have affected the sector recently? Are there any on the horizon?
OU: Life sciences companies rely on patent law to protect therapeutic assets, and patent protection is sought on a global scale. A therapeutic asset could have patent filings in the U.S. and in 20-40 foreign countries, which continue to modify and change patent laws in their jurisdictions. For example, Brazil and China have each recently changed patent laws in regards to patent term extensions. Goodwin's patent team collaborates with patent lawyers worldwide to stay abreast of the changing landscape to recalibrate our clients' global patent strategy. Thus, not only are Goodwin patent lawyers collaborative with specialized lawyers within Goodwin, but also globally to ensure a commercially valuable patent portfolio for Goodwin's clients.

AV: The pandemic has highlighted the critical importance of the life sciences sector. The speed at which scientists, industry, and regulators such as the FDA were able to respond was nothing less than heroic. I am looking forward to seeing many of the innovations carry through to the life sciences sector generally. In addition, patient-focused drug development, regulatory flexibility, and the use of real-world data continue to mature and they will play an ever-increasing role in the sector.
CA: What is the most interesting deal/case you have worked on?
DR: We recently closed the IPO for AbCellera, one of the largest biotech IPOs. What made this deal more interesting is not just its size, but also the fact that the market valued the convergence of biotech and technology and the resulting speed enhancement for drug development that AbCellera's platform provides. AbCellera is a technology company that searches, decodes, and analyzes natural immune systems to find antibodies that its partners can develop into drugs to prevent and treat disease. AbCellera partners with drug developers of all sizes, from large pharmaceutical to small biotechnology companies, empowering them to move quickly, reduce cost, and tackle the toughest problems in drug development.

AV: As a former medical device engineer, I saw firsthand the decades-long chain of people and work it takes to deliver products to patients. Without regulatory approval, patients are unable to benefit and companies cannot recoup their investments. I visualize an hour glass. The basic science, engineering, R&D, financing, IP, and regulatory efforts, along with the bravery and sacrifice of patients participating in clinical trials, funnel to a single point (i.e., whether a drug/biologic/device is approved) before expanding back out to reach patients, their families, and the broader world. Accordingly, I have focused my career on that single point. And I feel fortunate to have worked on some of the most important drug and biologics approvals in the last decade, including orphan drugs for numerous rare diseases and first-in-class therapies. My most rewarding experience has been seeing the people that developed and approved a drug (e.g., manufacturers and the FDA) meet the patients whose lives are fundamentally changed by the new therapy.
"I feel fortunate to have worked on some of the most important drug and biologics approvals in the last decade, including orphan drugs for numerous rare diseases and first-in-class therapies."
JX: A recent deal I worked on involved the conglomeration of a number of private life sciences companies aiming to pool resources into a larger organization with the scale and management expertise to advance these companies' businesses in an organized and methodical manner. A number of Goodwin colleagues and I then took that organization public. This strategy is a relatively recent development within the industry that has traditionally featured smaller companies independently raising capital and advancing their research. However, the company's goals and strategy resonated well with investors, and I am sensing more interest in other companies exploring a similar model. While innovation within the life sciences industry most often comes in the form of scientific breakthroughs, sometimes we also have pioneers in the way that companies are run.
CA: What was your role on the latest deal/case you worked on? 
SA: I led the Goodwin team that advised Rubius Therapeutics (Nasdaq: RUBY) on an approximately $200 million follow-on public offering in March of this year. Rubius is a clinical-stage biopharmaceutical company developing a new class of medicines for the potential treatment of several diseases across multiple therapeutic areas. I oversaw a team of associates, including various specialists, such as our intellectual property and regulatory colleagues, to plan, counsel on and successfully execute this offering from start to finish. It was especially exciting because it followed the company's first data read-out since its IPO.
ND: On a recent deal between our client QED Therapeutics and the Helsinn Group with a deal value of more than $2 billion in payments, I led a large multidisciplinary team, including several licensing associates, and colleagues from our antitrust, FDA, patent, and trademark groups. The deal was for a collaboration to co-develop, manufacture, and commercialize QED's infigratinib product that was under FDA review for regulatory approval at the time. The deal was significant because of the timing and impact on the launch of the product. It was also personally significant for me because I had previously advised QED on the in-license of infigratinib from Novartis, so it was very rewarding to see the product further developed, approved by the FDA, and successfully partnered. 

DR: In general, I am responsible for generating and overseeing almost every transaction I work on. Recently, I led the team that advised AbCellera Biologics on its $555 million initial public offering during the COVID-19 pandemic, managing and overseeing a team of lawyers on every aspect of this cross-border transaction. In this regard, I provided strategic advice to the client and helped them develop disclosures that accurately describe the company and the investment opportunity. I also interfaced with the SEC and NASDAQ to navigate the regulatory and listing process.

AV: The FDA has a mechanism through which stakeholders can appeal certain scientific and medical disputes. Through this formal dispute resolution process, a drug, biologic, or medical device sponsor can, for example, appeal a decision by the FDA to not approve a product. I recently advised a pharmaceutical company after they received a complete response letter (i.e., a decision from the FDA to not approve their drug) and led their effort in the formal dispute resolution process. This involved integrating deeply into the client's medical and regulatory teams, understanding the medical, statistical, policy, business, and regulatory aspects of the drug development program, and developing a strategy to negotiate with the FDA and appeal the agency's decision.

JX: On the recent deal I mentioned above, I took the lead in driving the deal forward on a day to day basis. Given the innovative organizational structure, this deal presented a number of questions of first impression. This required significant interaction with all members of the working group in navigating the business, financial, regulatory, and other aspects of the transaction, as well as ensuring agencies such as the SEC were aligned with our approach.
CA: How important is a scientific background to your work?
ES: Although I happen to have a scientific background, it's not necessary for the work we do. I'd say a genuine interest in learning and understanding the science and the biotech industry generally is more important.
OU: Patent law is deeply rooted in scientific discovery and innovation, and Goodwin has a deep bench of lawyers with PhDs in various scientific disciplines. However, it is not just a scientific background that is important, but rather scientific curiosity. Our patent lawyers do a deep dive into the scientific details of not only our clients' technology, but also the technology of companies our clients may collaborate with, acquire, or invest in. Driven by scientific curiosity, our lawyers ask deep and meaningful scientific questions to provide legal advice framed by science.           
AV: A scientific background is helpful, but certainly not necessary. Most of the luminaries in FDA law do not have science backgrounds. That said, an increasing number of life sciences lawyers have science and engineering backgrounds. In FDA law, it often helps to have a science background, experience at the FDA, relevant industry or trade association experience, or significant FDA coursework. I have found my biomedical engineering major, work as a medical device engineer, externship at the ITC, and secondment to a biotech company to be an advantage when advising clients on FDA matters.