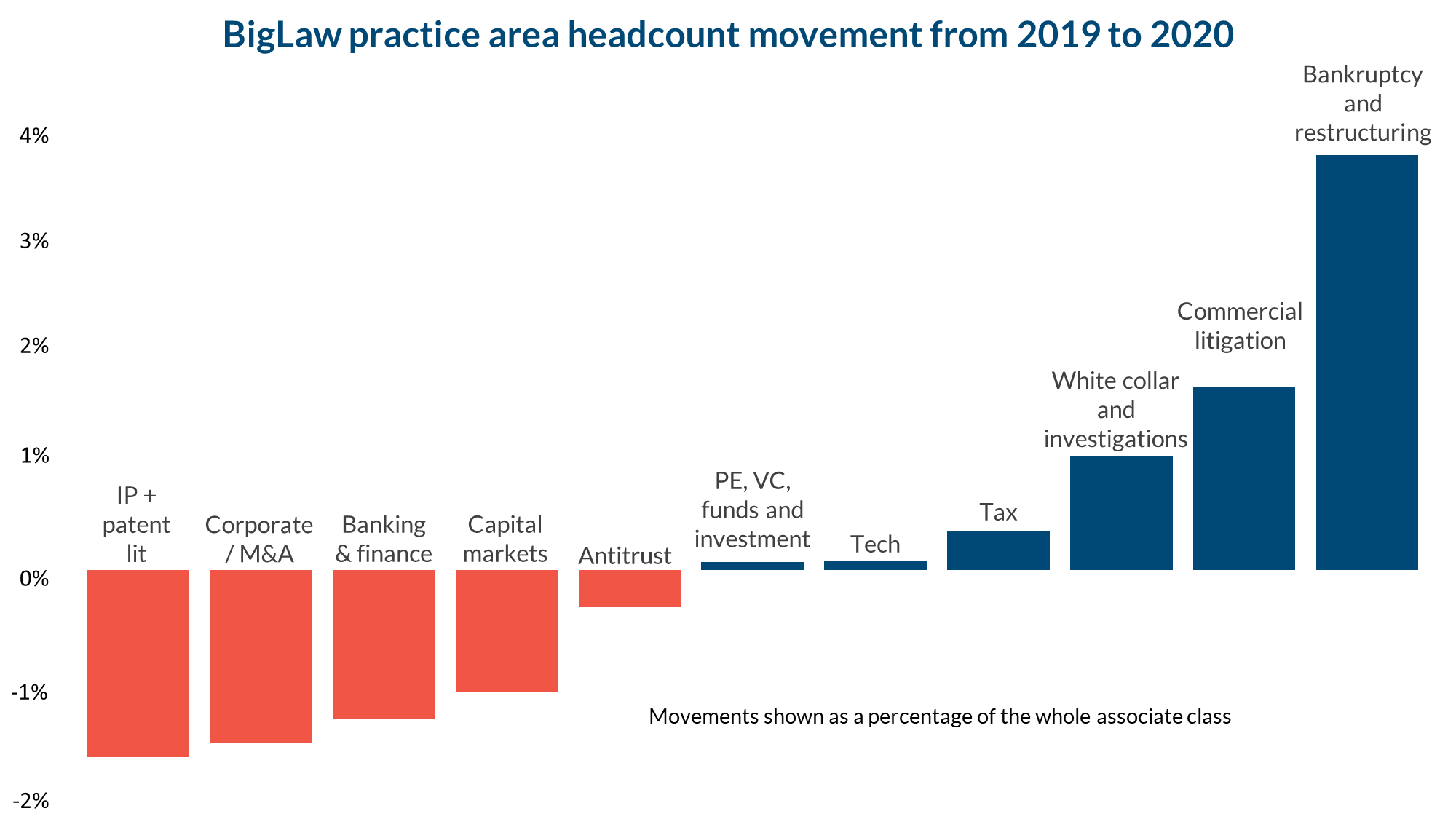 What we've learnt from this year's research into the legal recruitment market
Antony Cooke, June 2020
Covid and Goliath
We've been waiting 11 years to say something dramatic on the topic of practice area headcount allocation and finally we have it. We closed our annual associate survey several weeks into pandemic lockdown, and the results already show a legal profession responding to a countercyclical economy.
As we saw back in 2008-9, when companies face risks, their appetite for expansion slows while they prioritize stability. Research and development activities are put on ice while companies fight fire, so we see a draining of resources from intellectual property teams. Transactional and financial lawyers are less in demand while stable cashflow becomes the order of the day. At the same time, more vulnerable companies hit the rocks and seek legal counsel for bankruptcy, restructuring and reorganization (BBR). And in a force majeure event such as this, with so much at stake, contentious cases and claims go through the roof: litigation has overtaken M&A this year as the most populous practice group.
Against this backdrop we see firms allocating their headcount to prepare for a crisis. We thought it was the right moment to delve into BBR in more detail: we learn from entrepreneurial associates making a career sidestep into this practice group.
The data above shows where 99% of the headcount change is happening in 2020. Note private equity's meteoric rise has only been halted, rather than reduced like M&A – we may see PE take a hit later in 2020 once the shrinking of the investment markets has had a knock-on effect.
The practice groups that have so far been largely unaffected are infrastructural (energy, projects, environment) and governmental, because that work has more permanence. And then tech transactional work has been left alone for the time being – lockdown has created a global surge in demand for tech products and a sustained market confidence we don't see elsewhere.
Tech transactions explained
with White & Case



While commercial nous counts for a lot in your career, we'd urge some caution against an opportunistic choice of practice group, especially since economists are predicting a quicker rebound from this downturn than in 2009. The successful associates we interview picked their path because they were passionate about it, recession or no recession.
'Business as usual' is becoming the PR cliché of these er… unprecedented times, but among students and their career motivations, that really is the case. Again this year we asked associates what was most important to them when they were choosing their law firms. Below are the results from 2020, showing no change at all in associates' priorities.
These results reinforce our research that over the course of a decade, 'law firm culture and social make-up' has risen to the top of students' agendas, and the more traditional signifiers of success – status, power,  earnings – have given way to it. It reflects a generational trend we're seeing of questioning established behaviors and calling out cultural anachronisms; millennials are going to do things their way.
After a few years in practice, we see associates' priorities shift again. Below we examine the factors influencing every associate's next career move and found they suddenly become hungry for more interesting work and want to move away from the BigLaw production line. Cultural factors take a back seat while associates look after their careers and their personal lives. The divergence between the sexes over prestige, money and work/life balance is remarkable here. In a society that continues to place the larger burden of childcare on women, the demands of the legal profession become a big problem, which few firms have squared up to adequately. And that's even before we get onto the topic of bias…
If you need to see what we mean by the law not being sympathetic to extracurricular activities, we have a graph below: a distribution of how associates responded to the question, 'how many hours did you work last week?'
From the sudden increase at 35-40 hours per week, we can see how few people are able to work part-time while they raise children, and the long hours spent in the office rather than with family and friends.
The great irony in the law firm business model is that these pressures create significant losses for firms in the form of attrition. Firms invest a huge amount in hiring and training, so to lose so many after a few years would surely been seen as a failure of the system – except that it's a calculated loss.
Our research this year found strong correlations between specific working cultures and the associate's long-term commitment to the firm. 
Are partners going to include new associates in their top-level work or exclude them? It turns out a culture of inclusivity is fundamental to firms retaining their talent. How effective a firm's diversity & inclusion policies are correlates strongly with the individual's commitment to the long term.
This revealed another big find this year: poor D&I policy and implementation appear to affect the whole group, not just those considered diverse. It means everyone benefits from strong D&I initiatives and management buy-in, and that it goes hand-in-hand with other positive working cultures. 
Acknowledging the pressures of the profession is the first step to retaining talent. We see below that if a lawyer is stressed and the firm does little about it, they will leave. 
The good news is that the profession has paid particular attention to mental health lately. And we have more good news in our tracking of pro bono hours over seven years, which has seen a steady increase.
We interviewed with Brenna DeVaney, Director of Pro Bono Programs at Skadden, who tells us: "I would say in the last ten to 15 years, there has been a real professionalization of the role of counsel or director of pro bono which means we have more, and better, pro bono opportunities for our new lawyers." DeVaney credits law school curricular changes for ushering in "better awareness of the responsibility that comes with the privilege of a law license and the ways in which young lawyers can positively affect change – they can expect to be able to act on that potential as soon as they enter the firm."
Forgetting for one second that we're in the midst of a global pandemic and economic meltdown, there are several positives about becoming a lawyer at this point in history. Among all the grim news, the reallocation of practice group headcount shows what a resilient sector the law is. Many industries don't have that luxury. The relaxing of the NALP recruitment guidelines last year caused uncertainty, but we viewed it as an opportunity for students to get to know the profession with more freedom; a few months is too short a time to build the knowledge you need to make such an important decision. And now social distancing is turning the recruitment cycle on its head, with virtual summer programs, cancelled summers, and deferred OCIs: turbulent times will favor a resourceful and pragmatic mindset.