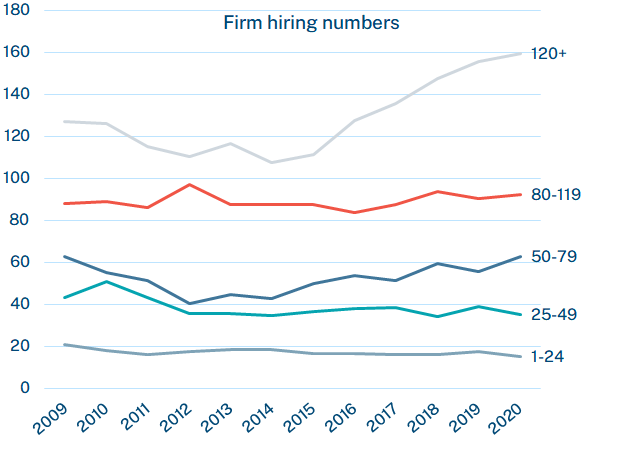 Highlights from our latest season of research into the legal recruitment market.
Antony Cooke | June 9, 2021
The plot thickens
​
If last year's drama in practice area headcount allocation left you on the edge of your seat, get ready for this: 2021's movements hint at long-term economic transformation. 2020's legal industry was shaped around crisis management, with bankruptcy and litigation stealing the show.​
Now, with two years of research elapsing since the pandemic began, we see M&A plummeting even further. Growth areas over the two years continue to reflect an economy in crisis – employment and bankruptcy are still en vogue – and all those unused city centers are creating legal work in real estate. Energy remains buoyant because financing there is sufficiently long-term to be somewhat recession-proof. The only core transactional areas thriving are private equity and venture capital. This climate favors the cash-rich investors who can take advantage of lower company valuations, and disruption creates opportunity.​
But the really interesting story here is how corporate has hemorrhaged associates over to technology, the clear winner from this whole debacle. If you think about how we managed to survive 2020, it makes perfect sense to see a tech boom and it explains part of the strength in venture capital work.  
​
A year on, the pandemic has had the chance to embed permanent change into our lifestyles. Times of crisis encourage ingenuity and invention, accelerating the evolution of our civilization. As we see, lawyers are moving and adapting to help that change happen. This is a resilient industry – whether we have calm or disruption, junior lawyers have a use.​ It's probable lawyers will look back at this period in their lives and see how the work they did had a profound impact on our lives, building a new post-Covid economy. 
Should I stay or should I go?
We asked associates how long they intend to stay at their firms and it revealed strong correlations, affirming many market clichés. Regionally, associates saw a longer future at their firms outside of New York. Women are more likely to plan to leave their firms than men, who are more likely to want to make partner at their firm. And below we discuss the factors behind ethnic groups' differing career opportunities. ​
But here we're looking at the impact practice area has on an associate's willingness to stay at the firm. A trend emerges with the larger intake groups – commercial litigation, corporate, finance – struggling to retain associates for the long-term, while the more specialized groups perform better at retention. That the larger intake groups perform less well is no bad thing – they are after all exceptional training grounds for the first few years, essentially feeding talent into the wider market. We explore this topic in detail here.
In our research globally we see common patterns forming of men and women heading towards different practice areas. On the whole, we find men have a greater penchant for transactional and financial practices and women are found in higher numbers in litigious departments. On joining the profession, we also know that men are more inclined to want to pursue a career in business and women have a stronger need to use their education to make the world a better place.​
Throughout our research we examine how biases and lack of role models inflict a negative impact on women's career. But this is one example of how self-selection sees the two sexes follow different career paths, and in so doing, creating the conditions for different career opportunities. 
Below we asked associates what was important to them on joining the profession, and then how those priorities had changed after a few years of practice.​
We see those initial, perhaps superficial, signifiers of success – wealth and prestige – drop in priority, especially among women, and daily personal gratification taking their place. High-achievers crave intellectual challenge, they want to move on from the procedural junior work and see their careers develop. And above all, the realities of working life kick in and work/life balance suddenly becomes a deciding factor in the associate's next career move. 
Strategic thinking
We asked associates five questions about how they viewed their firms' strategic and commercial stance. Many of the traditional New York elite show more conservative behavior – they've already been in growth mode; they now need to hold their market positions. Among the more dynamic firms are the tech and venture capital firms, and the global firms. The likes of Kirkland, Latham and White & Case demonstrate an appetite for growth in their hiring numbers. Then we see the UK-based elite – Linklaters, Fresfields, Clifford Chance, Allen & Overy and Ashurst – all perceived as more entrepreneurial, perhaps because of the more boutiquey feel at the US offices as well as Freshfields and A&O opening new offices in California. 
​
We charted the firm's strategic position against associate happiness and stress and found a strong correlation: the more dynamic the firm, the happier and less stressed the associate. It's revealing about the mindset of high-achieving lawyers that risk-aversion is code for stagnation; they are happier when they see opportunity.
Tracking law firm graduate recruitment numbers since our research began shows how steady the legal recruitment market has remained. Only the small group hiring over 120 first years has shown dramatic growth, and this growth is created largely by five firms: Jones Day, Kirkland & Ellis, Latham & Watkins, Skadden, and White & Case.
Is diversity improving?
Here we're looking at average numbers of female lawyers and ethnic minority lawyers, and how they progress over six recruitment cycles. 
Ethnic minority lawyers
Progress at both levels is slow, but in ethnicity we see a swift jump in 2020-2021, which DE&I officers have told us is the industry's response to 2020's BLM movement. ​
It's worth noting how the gap between the associate and partner lines remains fairly constant through the years. Among all the challenges DE&I departments face, recruitment is the easier problem to solve than retention. And what we learn here is that the retention rates aren't improving – the gap remains the same – and the problem of improving the numbers of female and minority partners is being resolved by hiring better numbers at entry level, not improving retention rates themselves. The working conditions contributing to attrition among women and ethnic minorities appear to be showing no major signs of improvement. 
Since we began gathering data on the average lawyer pro bono hours billed, we've seen some quick and encouraging growth. Pro bono officers across the US put this growth down to two things: the increase in immigration cases during the Trump administration; law firms responding to the BLM movement in 2020 and putting their weight behind social and racial justice initiatives. 
Trends in diversity, equity & Inclusion>
Regional market trends across the US>
Chambers Associate's editor on the year's trends in legal recruitment