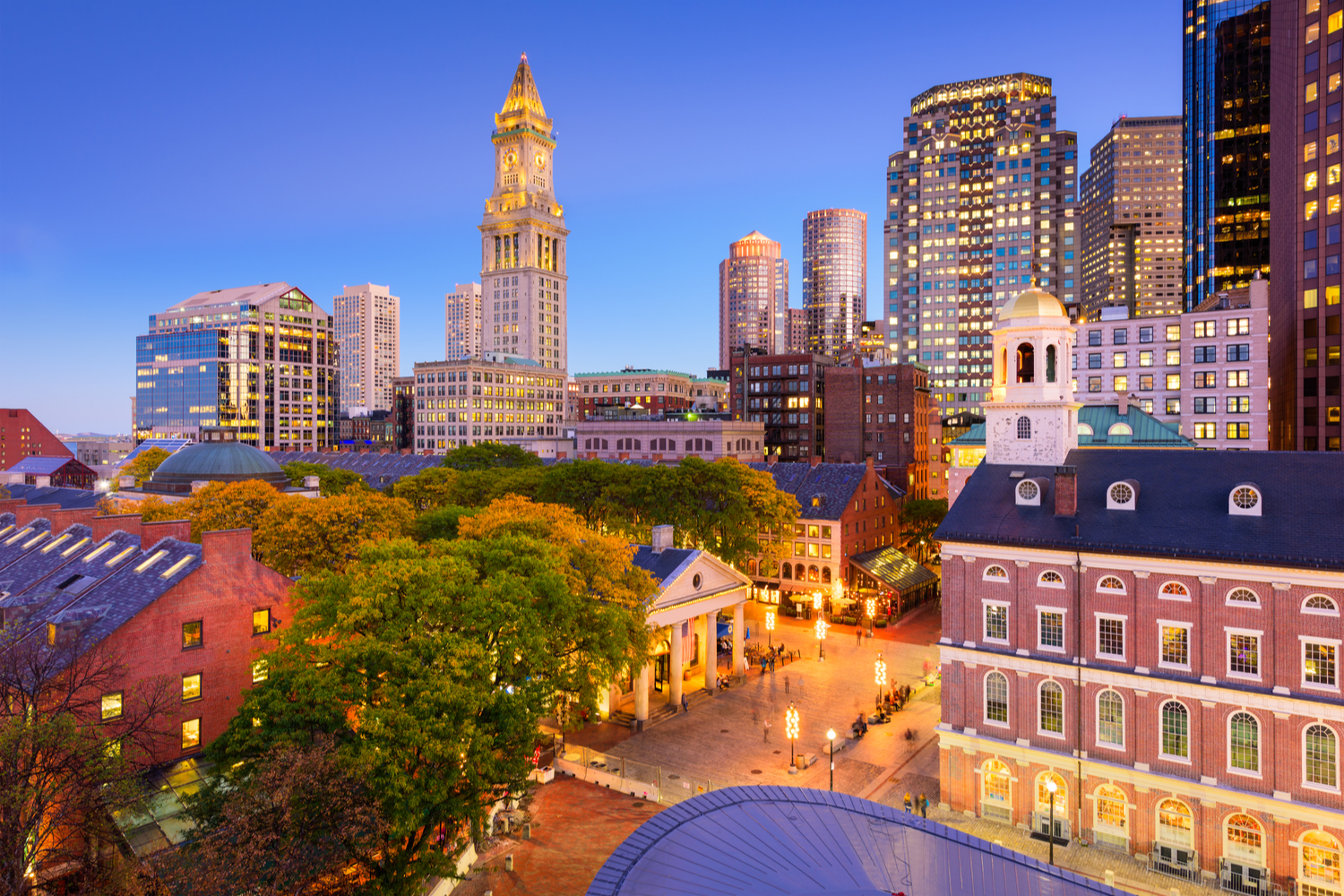 Boston holds the key to a legal career among innovative and diverse sectors. We spoke to folks at Whistler Partners and four Boston-based attorneys to find out more about the legal scene in the Old Bay State.
What first comes to mind when you think of Boston? Is it Mark Wahlberg? Baked beans? The synonymous band? Perhaps it's its top-class sports teams – even across the pond, we're familiar with the famed New England Patriots, the Boston Celtics, the Boston Red Sox (the list goes on…) – but sport certainly isn't the only area where the city offers top-class talent and expertise. Despite the East Coast's more traditional reputation in the business world compared to its vibrant West Coast counterpart, Boston (and New England more widely) is known for a number of innovative industries such as technology, life sciences, biotech, and pharmaceuticals – some of which have been well-established for several years, while others have seen a more recent boom in activity. The variety is certainly in town. As founder of Whistler Partners Sean Burke puts it: "If you're at a bar in Cambridge (MA), you may be sitting next to a philosophy professor working at an Ivy League school, a biochemist working at a pharmaceutical startup, and an IP partner working at a BigLaw firm." For lawyers at any stage in their careers, these ecosystems have created a plethora of opportunities to suit a range of interests, making Boston a worthwhile contender when considering where to practice.
However, with the financial giant that is New York also on the East Coast, Boston can sometimes get overlooked as a place to build and develop a legal career. According to our Associate Satisfaction Surveys, Boston is actually one of the top cities for associate satisfaction, particularly in three areas: retention, remuneration, and work/life balance. On a more general note, Dan Mummery, senior consultant at Whistler, reckons Boston is "generally known as a collegial place. People I know who grew up in Boston are passionate (especially if their sports team is successful!) and it's considered a nice place with a high quality of life." Given the combination of working with a variety of cutting-edge industries in a city that makes time for having a work/life balance, Whistler managing director Francis Kelly notices that folks are starting to clock on to what Boston has to offer: "With the last two people I helped move to Boston, one was a tech transactions life sciences attorney, and the other does early stage and venture work. Both were excited that they could work on cutting-edge matters and still have a life. If you're going to make a move in one of the hottest job markets in decades, why not choose a place where you can have it all?"


Build me up, Boston
Before we dive further into Boston's key industries, we should consider what prompted the creation of this "hub of innovation." Firstly, managing director Tad Gruman highlights "there are a large number of world class universities in the North East that funnel into Boston." Indeed, the North East's "reputation for academic excellence" is far from an overstatement: educational institutions like Harvard, MIT, Boston University and well over 100 more schools call The Old Bay State home. So much so, that a recent study named Massachusetts the most educated state in America (with Cambridge being named the most educated city among small to mid-sized cities). "The area is unique in its high concentration of incredibly educated people," Sean Burke asserts.
This gathering of creative and intelligent folks helped establish a vibrant technology and start-up scene that's almost on par with Silicon Valley – and actually ahead of New York and LA. Today, the tech scene is one of Boston's core industries, with big names including TripAdvisor, iRobot, and Care.com being headquartered in Boston. Sarah Gagan, Global Vice Chair of the Data & Technology Transactions Practice at Latham & Watkins, recalls the early days of her legal career "when the dot com market was exploding – it was a busy and wonderful time to decide to be a tech transactions lawyer." Gagan moved from Toronto to Boston where she was able to gain exposure to both start-ups and their inventor founders, as well as more established companies. She explains: "When you're a tech transactions lawyer, it's important to work with traditional businesses that are transforming through technology, but it's also important to work with the startups and founders that are really changing the industry/technology landscape, and disrupting current commercial status." Similarly, William Perkins, co-chair of Mintz's technology practice, recalls starting his legal career in Boston around the time of the dot com boom: "I found myself doing more and more technology transactions. I did a lot of technology IPOs for telecoms and hardware businesses, and saw many tech companies grow and thrive. I really enjoyed that." Another sector that overlaps with tech and has seen a surge in demand since Covid-19 and the rise in remote working, is SaaS [software as a service]. Cloud-based software is in, and what with the plethora of SaaS companies in Boston (think Toast, Veeva, Acquia, and Hopper, just to name a few), the city supplies a hefty number of opportunities for lawyers to get in on that.
"Especially in the last few years, we've seen an explosion of life sciences, pharmaceutical, and biotech work."
The region's academic roots have allowed for much more than just the technology sector to emerge and thrive. William Perkins adds "tied to the universities in the area are the hospitals, research institutions, and the general healthcare complexes. The research in those institutions is amazing and has given birth to many exciting life science and biotech start-ups." Sarah Gagan notices that "especially in the last few years, we've seen an explosion of life sciences, pharmaceutical, and biotech work. There's really a fantastic opportunity for lawyers who are interested in working with disrupters to come to Boston." Dan Mummery even recalls that "life sciences partners said last year [2021] was the busiest year they ever had – deal activity was just off the hook. Even now, if you look at the funding and investment, it continues to be an insatiable space."
But even before the pandemic, the Greater Boston area has long had a thriving life sciences scene. Take Kendall Square – considered the 'epicenter' of biotech in both Boston and the US more broadly. The space is dense with firms of all stages, from start-ups with hopeful new ideas, through to biotech giants at the forefront of their field. "Particularly if your focus is on the razor's edge type of innovations in healthtech or biotech, the infrastructure and capital coming out of Boston (and Cambridge) are cultivating a thriving ecosystem, in which you can grow a company more slowly and without a lot of the pressures that come from being in NYC or the Bay Area," Tad Gruman explains. The pandemic has also led to a significant increase in funding in the area, making it an even more opportune time to delve into a career in the sector. Given its current prominence, many attorneys touch on life sciences and biotech in their practices, even if it isn't their main focus. For instance, William Perkins notes that "for me, technology means half pure technology, and half life sciences/biotechnology. I work at all stages, and my clients tend to be companies as opposed to the investment firm side. I represent start-ups from their origins – the founders in their proverbial garages – through growth stage venture financing, and then exits (be that IPOs or the sale of the business in a transaction)." Indeed, Marna Pattaropong, who is a partner at Gunderson, made the conscious decision to return to Boston for her legal career partly because she "liked that there was a lot of life sciences work here – I did research as an undergraduate in life sciences, so I thought that having a practice that would likely involve both life sciences and technology would be great."
The combination of academics, talent, and innovation is a certainly good start, but the final ingredient for successful businesses is finance. Luckily, Boston is also home to a high number of private equity and venture capital funds (including Bain Capital and Advent International – two of the world's top ten PE firms) which feed into each of the aforementioned industries. At Gunderson, Marna Pattaropong notes: "We have a large fund formation group and work with more than 450 venture capital and growth equity firms. In the financial sector, Boston has a large active and collaborative venture capital community."


BigLaw the Boston way
With all these businesses laying roots in Boston, it makes the area an incredibly fertile ground for law firms of all shapes and sizes. Some are natives to the area with rich histories and long-standing ties to Boston, such as Ropes & Gray, Goodwin, and Mintz. Others, while not headquartered in Boston, clocked on to the area's potential and set up offices there. Francis Kelly highlights that "a lot of our traditional bread and butter firms like Wilson Sonsini, Gunderson, Latham etc. have offices in Boston. Their headcount might be a little smaller and they're not as dominant in that region as the Ropes and Goodwins of the world, but because the firms see so much value in serving life sciences, biotech and SaaS clients in Boston, we've seen a lot of growth out of our clients in that region." Indeed, Sarah Gagan, who moved to Latham & Watkins' Boston base in 2012, recalls that "Latham already had a really well-established emerging companies practice, and they were going to build that further in Boston. It was compelling to work with sophisticated technology companies as well as start-ups, many of which came out of the wonderful research institutions in Boston. I'm also fortunate in that my firm's tech practice is one of the few in the world with a global presence, which allows us to provide local clients with unmatched resources and opportunity to grow their business worldwide." Marna Pattaropong, who is a partner in the Licensing, Strategic Partnering & Commercial Transactions group in Gunderson's Boston office, estimates that "I spend about 80% of my time working with company clients, helping them with licensing issues, strategic partnerships, and other commercial transactions. The other 20% involves helping investor clients with the various things they're considering – for example, helping advise one of their portfolio companies through a big transaction or thinking through how recent case law may impact their portfolio companies or investment strategy."
"It was compelling to work with sophisticated technology companies as well as start-ups coming out of the wonderful research institutions in Boston."
Another option for attorneys is Boston's array of expert boutique firms: "If you're looking to maintain a sophisticated practice without being beholden to BigLaw billable hours, there are a number of boutiques that take attorneys with exceptional pedigrees (and great attitudes) and allow them a faster path to partnership or a more manageable lifestyle," explains Tad Gruman. Smaller legal outfits such as Choate, Goulston & Storrs, and Nutter McClennen offer lawyers the chance to get stuck into more specialized legal work while being part of a more intimate environment.
Of course, joining a law firm isn't your only option; these hundreds of businesses – new and old – require lawyers to help them navigate regulations and laws, thus creating a plethora of in-house opportunities. Grant Rauscher, who works as corporate in-house counsel for aerospace and defense company Mercury Systems, explains that working in-house allows him to dabble in a broad range of matters: "At law firms, the expectation is for you to specialize in one or two fields, but here at Mercury I specialize in M&A, but also employment and health and safety matters. I also work on litigation here, which is rare – at law firms you don't usually get to do both corporate and litigation work at the same time." Rauscher first made the move from New York to Boston in 2016 – before going in-house in 2020, he spent a few years at Ropes & Gray's Boston office, getting familiar with the Boston ecosystem. "One of my trepidations about moving from New York to Boston was that the quality of work wouldn't be as good and the people wouldn't be as friendly, but with the same hours as before. That wasn't the case at all. Ropes is a number one firm in Boston, especially for M&A. I found everything to be as good there, if not better! The quality of clients was great, the people were wonderful, and the work was interesting. Plus, Boston is a more beautiful city by far, with a better mix of city life and nature."
Unsurprisingly, another prime practice area for in-house lawyers is intellectual property. Sean Burke reiterates that "the amount of innovation in Boston makes IP an especially hot practice area. If you want to go in-house as an IP attorney, Boston will have a ton of options." Grant Rauscher notes that even in his experience, there's a "need to understand IP issues – clients are going to have registered and unregistered IP of all sorts that third parties will want to take – you need to think about how to protect that, and what happens if there's a dispute."


Where everybody knows your name…
As much as lawyers love the work they do in Boston, there are other factors to consider when debating whether to move your entire life to another city. Culturally, some have said that Boston fosters a 'kinder, gentler BigLaw'. Marna Pattaropong was inclined to agree: "Even though Boston is a large city, the legal community feels smaller. In practicing law in Boston, you get to know a lot of the players in the community and it seems more likely that you'll recognize faces at legal events in the city." This, alongside the innovative nature of Boston's key industries, breeds a collaborative atmosphere where "everyone has a common goal they're trying to get to. Parties also know they're probably going to be working together again later on, which makes it a friendlier place to practice law." Along these lines, Dan Mummery finds "there's less pretending that everything needs to be formal all the time! People take conference calls from their kids' soccer games, and that's understood. People are clear that they have families they want to get home to; I think that is really accepted."
"If you're a successful lawyer, you could go there and reasonably expect to buy and own a home and eventually grow into that."
Having the actual space to settle down is another factor that brings folks to Boston. "I think it draws a lot of family-oriented people," Dan Mummery reflects. "The cost of living is good, relative to New York and California. It's certainly not cheap, but if you're a successful lawyer, you could go there and reasonably expect to buy and own a home." Marna Pattaropong reckons this makes the area ideal for those who are "at a later stage in their lives, when their priorities have shifted. People work equally hard as in other cities, but folks seem to put in a lot of effort to balance work with their families and being a part of their kids' lives here. I think that has an impact on the approach to how people practice – instead of staying late in the office to finish their work, they often head home at a more reasonable hour, and if need be, continue with their work from home after taking a break."
In addition to a more accepting culture, our sources were keen to highlight Boston's "proximity to wonderful things." What wonderful things, you ask? Sarah Gagan explains that "the city itself is great, but it's also an hour or two from Cape Cod, New Hampshire, Vermont, the Berkshires… You can also drive to New York City in around four hours." William Perkins agrees, adding "part of Boston's appeal for me is that it's easy to get into – it's a city where much of it is accessible on foot – but it's easy to get out of, too." Of course, the coast may not be quite as warm as the one on the west, but it's always nice to have the option nonetheless!


Shipping up to Boston
So, if any of the factors we've listed have spurred your interest in a legal career in Boston, you may be wondering what the next steps are and how to go about making the move (or simply finding out more). Firstly, Dan Mummery flags that "Boston firms want to make sure you're serious about the move; getting someone to relocate is an expensive investment. They are sensitive to making sure people have a genuine interest in the area, which is why a hook is important – something that gives you legitimacy." Francis Kelly agrees, noting "it's a close-knit community and there's a bit of a cachet about people who went to school there. If your education ties to the North East or Boston, that always helps."
"It can sometimes be difficult to see all the opportunities in Boston and the benefits of living and practicing law here unless you spend some time here."
That said, don't be deterred if you don't have direct ties to the location: Grant Rauscher reckons that "if you don't have ties to the location, you need to explain why you want to move to the market – it's important to have a good reason for wanting to move, whether that's because you love the area and travel here a lot, or if there's a particular law firm or company here that you're interested in." Beyond making the most of existing connections and interests, Marna Pattaropong says "I would encourage people to spend time here and talk to more people. It can sometimes be difficult to see all the opportunities in Boston and the benefits of living and practicing law here unless you spend some time here." "For some associates with dreams of going in-house, this can even mean spending a year at a Boston firm first. Find your place in the ecosystem, and the opportunities will come," Sean Burke advises.
Tad Gruman flags that "one issue firms have in Boston is attracting lateral talent; associates don't move as often as they do in other markets. Part of that reason is that the individual offices have strong cultures and reward loyalty." This means there is certainly space for folks looking to come in from out of state. Sarah Gagan notes that "sometimes Boston can be viewed as a pretty insular market, but that has changed a lot over the years; because of the changing maturity of the local legal market, firms are very welcoming to people who are going to make the move." As such, Gruman recommends that "if you are coming in from out-of-town, it's really important to take a lot of meetings to make sure you are on the platform that fits your goals and personality." In other words, there are more options beyond just transferring offices within your current firm, and it is very much worth exploring those. And luckily, the folks at Whistler are well-placed to serve as a guide in that exploration…  
---