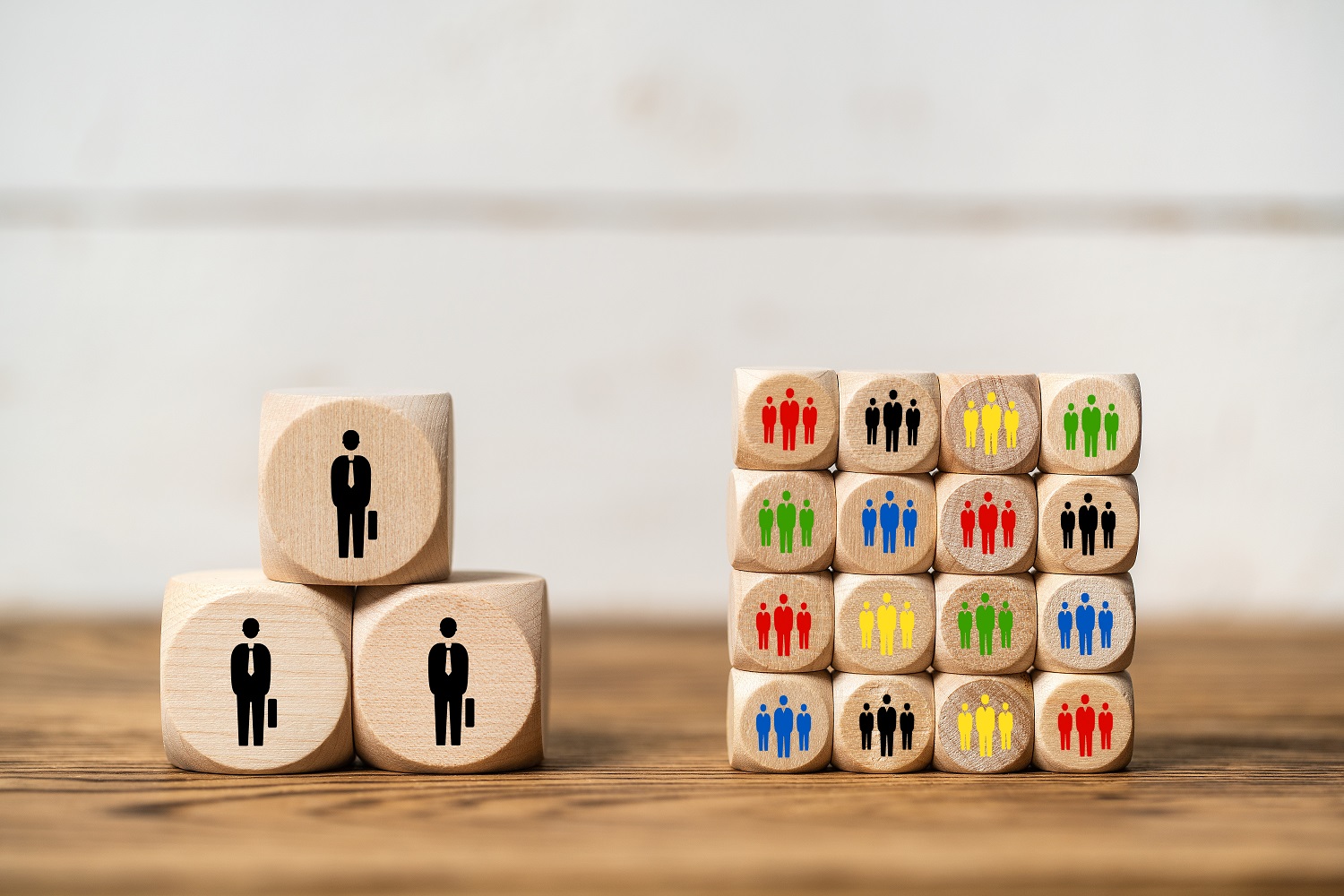 Bigger isn't always better – we get the lowdown on lateralling out of large firm life.
Olivia O'Driscoll, January 2022
Big fish in a big pond
You're in your sleek New York office looking like you stepped straight out of Succession. You take a sip of your coffee and glance out at the stunning city skyline from your vantage point on floor seventy-something. Your to-do list may be longer than the Roy family's backlog of scandals, but when you're working with some of the biggest and best-known companies in the world, what more could one want? With top-of-the-market pay, the firm's prestige tucked safely under your belt, and all the luxurious benefits that come along with it, life in BigLaw feels pretty sweet.
"I'd say around 90% of the time associates looking to move out of a big firm are working extremely long hours and feel like another cog in the machine."
But there are plenty of reasons why attorneys in big firms are waving the white flag in search of more modest-sized surroundings. The itch to downsize may start with wanting better partnership prospects, a change in location, more responsibility on challenging work, or simply a better work-life balance. "Many associates I encounter are burnt out," says Alyson Galusha, senior director and recruiter at VOYlegal. "I'd say around 90% of the time associates looking to move out of a big firm are working extremely long hours and feel like another cog in the machine. They long for more autonomy over their work and schedules."
If you're not loving life in a supersized firm (or it's not loving you), making the strategic step to lateral to a mid-sized firm can come with more advantages than you might first think. "The biggest perk is an improved work-life balance," says Leeron Molloy, director and recruiter at VOYlegal. "At big firms, associates don't have much control over their workloads. At smaller firms, they are less likely to work all weekend or have to cancel their vacation." According to Molloy, the team aspect of being at a smaller firm is also another key benefit of downsizing – with a smaller headcount comes tight-knit working relationships.
Molloy and Galusha both highlight the likelihood of associates receiving more responsibility earlier on in their careers at mid-sized firms. "Candidates want direct contact with clients and judges; they want to be a part of what's going on in a case," says Galusha. "At smaller firms, associates can get really involved in the work and see cases right through to the end." Molloy adds that "in BigLaw, there is typically a hierarchy of review before an associate's work can go out the door. Smaller firms don't have the capacity to do this."
We spoke to Greg Bishop, a partner at Williams Mullen, to get his take on what life is like at a mid-sized firm. Williams Mullen is a regional firm, with approximately 240 lawyers across seven offices in Virginia, North Carolina and South Carolina. Bishop joined the firm's Richmond office as an associate. He says he was drawn to the "entrepreneurial spirit" of the firm. "I knew if I worked hard, I'd be given client-facing opportunities and generate a book of business," he tells us. "I ended up getting promoted to partner pretty early on in my career."
"Frankly, at smaller firms the competition for partnership isn't as cutthroat."
Bishop elaborates on the kind of career development opportunities that can come with downsizing from a large firm. He points to "smaller firms that are growing – typically they have a younger leadership group and a succession plan. And because they are hungry to grow the firm, they're thinking about the need to keep people here and happy, and to build for the next generation. If you're at a smaller firm with an entrepreneurial bent, you see investment in strong training and development programs, as well as marketing and client development." He adds that choosing to downsize when making a lateral move might boost associates' prospects for partnership too: "Frankly, at smaller firms the competition for partnership isn't as cutthroat."
Our most recent research at Chambers Associate found that more attorneys in capital markets were planning to leave their firm within two years than in any other practice area. This reflects what Molloy has seen in the market with transactional practices: "Corporate/M&A, finance, real estate and capital markets are all hot practice areas right now. We haven't seen too many associate needs in litigation, so maybe that'll see more activity next year." Geographically, she says "we saw a lot of labor and employment needs on the West Coast earlier in 2021. As for the East Coast, transactional practices have been in high demand all year."
The downsides to downsizing?
However, as with any important life decision, there are of course some challenges that need to be taken into consideration if you're considering a move like this – the downsides to downsizing, if you will. Mid-sized and small firms obviously come with less staff and fewer resources. "The biggest challenge to associates will be the reduced amount of resources, whether that be financial or in terms of people," Galusha underlines. "At a smaller firm you will often have to do the more menial tasks yourself before you can turn to a secretary or a paralegal." And you may have to make your peace without the level of luxury you may be used to at an AmLaw 100 firm – you know, opulent retreats, in-house dry-cleaning, on-site gyms and the like. But that's not to say that mid-sized firms are without benefits – smaller firms can offer much more comprehensive healthcare coverage, for example. 
Firms with fewer people are obviously less likely to have a distinct team for every scenario, which in turn shapes an associate's experience. But that could be a positive, if downsizing enables associates to develop a more diverse practice. With less staff, smaller firms often adopt a cross-practice working model, giving associates more opportunities to get exposure across different departments. "We tend to be more exposed within our firm to other practice groups," Bishop confirms. "After my third year at Williams Mullen, I was working pretty closely with both the benefits and IP groups and had made many valuable connections within multiple departments."
"Associates still want challenging work."
Molloy notes that "candidates often worry that they'll be taking a step back in terms of their work." When earning the big bucks at big firms, associates are used to coming across household names, whether it be a major bank or retail giant. Molloy says "associates still want challenging work" at smaller firms. "That's a question you should ask your recruiter. They'll be familiar with the firm, its clients, and current matters. And this is something associates can find out about during their interview too – asking these types of questions is a must!"
Bishop agrees that associates interested in downsizing should pay attention to 'big picture' questions: "For example, is the firm growing? Who are its bigger clients? You also need to figure out if the daily life at the firm suits you" (you can get an insight into this by reading a firm's Inside View on Chambers Associate).
"The advantage in a mid-sized firm is that leadership knows everyone."
When piecing together an image of the perfect candidate for a smaller firm, Bishop gives us his opinion: "Someone who wants to have the security of a steady job, explore entrepreneurial avenues, develop their own practice, and have a deeper cultural connection to their firm." On that note, Bishop also speaks to the difference in culture between a large firm and a mid-sized one: "The advantage in a mid-sized firm is that leadership knows everyone. At a 260-lawyer firm, the story behind every one of those people is known."
Galusha concludes that "there are so many advantages for attorneys looking to move to mid-market firms. You may take a compensation reduction but there are plenty of other benefits and opportunities to make up for it."
Should I stay or should I go?
"When thinking of what time in your career to lateral, mid-level is the sweet spot," Molloy underlines. According to the recruiters at VOYlegal, about three to five years into an associate's career is the sweet spot for moving. "It depends on your practice area and what city you're in, but mid-level is generally a good time to lateral. If you are too junior, you don't have enough experience and it can translate to you not being able to hold a job. If you are too senior, you start getting a little too close to partnership to make a move."
"The demand for top talent in mid-market law firms increased."
Although three to five years is the recommended time to make a move, many associates are starting to scope out their options in the market a little sooner. "We're seeing folks making the jump after just one or two years," says Galusha. "This is becoming more acceptable in the lateral market." It started with the subsequent salary hikes that have been rolled out over the last few years. In 2016, the average salary for newcomers sat at $160,000. Just five years later it's risen to $205,000. Associates knew that at the one-year mark they could make a lot more money elsewhere and started to jump at these opportunities. "However, while many sought this opportunity to move for more money, many also saw this as an opportunity to make a move for better hands on experience," Galusha points out. "The demand for top talent in mid-market law firms increased and opened opportunities for more junior associates to get more substantive experience, work less hours, and get stronger mentoring." 
The best way for associates to showcase their experience to prospective employers is to have tangible demonstrations of their skills. Besides having an up-to-date CV, creating a deal sheet is a great way for transactional candidates to track and display their experience. "Associates should be compiling their deal sheet from the moment they start at the firm," Molloy advises. "If you're a litigator, you will want to have a list of representative matters, listing the cases and court proceedings you were involved in." Galusha adds that "firms want to see junior associates explaining the details of the matters they've worked on and showing an understanding of the outcome. It's no good saying you worked on 20 deals – how did you handle the deal? What did you learn? How did you overcome any issues? Give examples!"
---