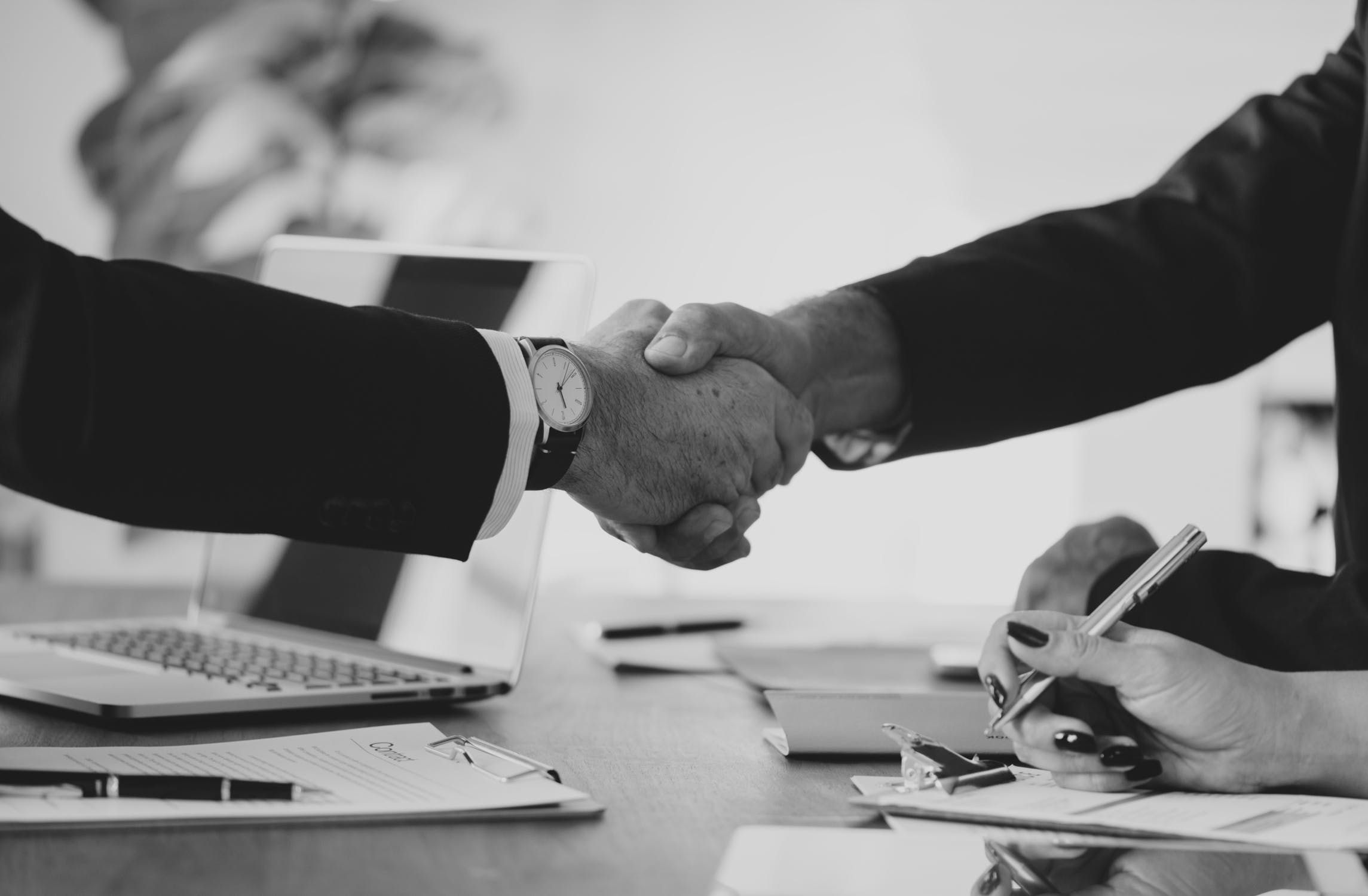 Got an urge for mergers but only know a fraction about transactions? No big deal, we got the experts at Jones Day to paint a portrait of corporate law.
Chambers Associate: Why did you choose to practice in this area? 
Adam Cromie: M&A transactions move at breakneck speed. To keep up, I'm often in the trenches with our clients working through business issues in real time. It's exciting and engaging. We're all pulling in the same direction to meet a common goal, and the team feels a sense of accomplishment when it solves a difficult problem.
Stephanie Breitenbach: When selecting a practice area, I was advised to observe the work done by mid-level associates in a particular practice and consider whether I was interested in that work. Looking up to mid-levels as a new lawyer, I was excited about not just the type of work I saw, but also that work of such substance could be in my near-term future.
Randi Lesnick: An M&A lawyer is typically the quarterback on a transaction and works collaboratively with the team – our internal team as well as the client's team and other advisers. M&A is extremely collaborative and fast-paced, which I enjoy.
CA: What is a partner's typical role in matters? What kind of work is involved day to day?
AC: If a senior associate is the deal team 'quarterback,' then a partner is the 'coach.' The partner sees the whole field and designs a plan for the deal team. That primarily means understanding our client's strategic objectives and implementing the most effective means to accomplish them. Like any good coach, Jones Day partners are constantly communicating with the deal team, reassessing strategy and efficiently deploying the firm's resources. Most important, our partners love to teach, and they spend substantial time educating our clients and our associates about the legal issues implicated in a transaction.
RL: M&A partners are responsible for advising the board of directors and partnering with the client to understand their objectives. The M&A partners then lead the multidisciplinary team across geographies to structure, negotiate and execute the transactions to meet the client's objectives in a cost-effective and efficient manner. It's also up to partners to develop the talent on the team, both internally and at the client, with a focus on ensuring our clients are making informed decisions.
"Jones Day works on plenty of 'atypical' transactions, and the deal team isn't necessarily a hierarchy."
CA: What do associates at each level do?
AC: Jones Day works on plenty of 'atypical' transactions, and the deal team isn't necessarily a hierarchy. The best associates, irrespective of seniority, roll up their sleeves and attack any task that will move a deal forward for our client. Most junior associates interact with partners and clients from day one as an M&A lawyer. It's not uncommon for a junior or mid-level associate to take a lead deal team role if the situation calls for it and the associate is prepared.
Joanna Sutton: In general, junior associates are expected to take ownership of the due diligence process, disclosure schedules and other ancillary documents. Mid-level and senior associates are responsible for managing the deal team, drafting and negotiating key transaction documents and communicating with the client on day-to-day transaction matters.
Dotun Obadina: Due diligence is the process of evaluating the operations of the business to identify risks of a transaction by investigating the obligations and liabilities of the selling company. Even when representing the seller, doing sell-side due diligence is important to gain an understanding of the selling company's business and the obligations and liabilities of the selling company. On the buy side, due diligence is critical. Due diligence helps the buyer understand the key risks of the transaction, allows the buyer to value the business appropriately and to consider transaction structures and terms that will provide for an appropriate allocation of pre- and post-closing liabilities of the business.
SB: Depending on the size and complexity of a deal, there may be either or both a mid-level associate and/or a senior associate. The mid-level and senior associates typically draft the main transaction agreement and negotiate other material ancillary agreements (e.g. nondisclosure agreements). They will also oversee junior lawyers and serve as principal advisers to the client.
CA: How would you describe Jones Day's M&A practice? 
AC: The Jones Day M&A practice partners with clients to tackle complex problems in a variety of industries and across borders. Our clients choose us because they need a firm that combines a personal touch with substantial resources and experience in markets, legal and regulatory systems and cultures around the world. We specialize in solving complicated problems that others can't tackle. 
SB: We advise companies ranging in size and structure (from founder-led private companies to public companies with market capitalization of over $100 billion) on various corporate matters, including take-private transactions, carve-outs, bankruptcy sales, board/special committee situations and takeover defense. Our clients are leaders in a wide array of industries, including manufacturing, chemicals, retail, technology and pharmaceuticals.
RL: We understand our clients' businesses and structure transactions to meet their needs while offering practical advice. Our M&A lawyers are also strategic advisers to boards of directors and management to help them navigate complex business decisions, engage with shareholders and evaluate corporate governance issues.
CA: What separates the Jones Day team from its peers?
AC: One Firm Worldwide isn't just a motto at Jones Day. It truly describes the way that we service our clients. Many transactions that I work on are staffed with attorneys from around the world and across disciplines to ensure that our clients receive the best possible advice to solve their particular problem. The Jones Day team excels at recognizing a client's needs and finding the resources to efficiently meet them from a deep bench of experienced attorneys. It doesn't matter where in the world those resources are located.
SB: From an associate's perspective, Jones Day is distinguishable from its peers for its "flat" deal team structure. Associates, even at junior levels, have significant substantive work exposure to partners and senior associates. I have found that, as a result, opportunities to take on increasingly challenging work are abundant.
RL: We commit all of our firm's resources to each of our clients, and we put client interests above all else. This, together with our global footprint, collaborative culture and ability to execute seamlessly across geographies, differentiates us from our peers. We view our relationships with clients as partnerships, aimed at helping our clients attain their goals. Every member of a deal team is valued and plays an important role.
"A good M&A lawyer is a shapeshifter, capable of understanding a client's goals and adapting to meet them in the most effective way possible."
CA: Where can new associates expect to be in five years?
SB: After five years as an M&A associate, you will appreciate how far up the steep learning curve of M&A you have climbed. You will feel gratified that you have learned enough that you can now see the forest through the trees. On the other hand, your growth and understanding will allow you to truly appreciate the complexity of M&A transactions and will spur a newfound excitement for the practice. Your days will vary widely and include time spent drafting documents, advising clients and thinking about solutions to complex legal and business issues.
RL: Five years out, associates should be actively involved in drafting and negotiating transactions. They would be wearing many hats: resource to our junior people, right hand to our senior people and practitioners focused on developing their drafting and negotiation skills as they continue to learn and grow.
CA: What qualities make for good M&A lawyers?
AC: A good M&A lawyer is a shapeshifter, capable of understanding a client's goals and adapting to meet them in the most effective way possible. Each deal or client may require a different approach. However, deals almost universally require critical thinking, attention to detail and efficient and timely communication. The most important quality at all levels of practice for an M&A lawyer is an interest in business and the laws governing M&A. There is no substitute for enthusiasm and curiosity.
JS: No matter how small or large a role you play on a particular transaction, it is critical that you understand how the responsibilities you are given fit into the bigger picture of the transaction and the client's overall goals. This will allow you to approach the transaction strategically, spot potential issues and develop creative solutions.
DO: Good M&A lawyers are great at managing projects, have a vast understanding of corporate law, are able to understand the details and the bigger picture, exercise great judgment, communicate effectively with the client to ensure everyone is on the same page, understand the goals of the client, and are responsive.
CA: How do you see the market evolving in the next few years?
SB: I expect that shareholder activism will increasingly drive M&A strategy and activity and continue to affect board representation and composition. Additionally, I expect that divestitures and spinoffs of assets deemed nonessential will continue as companies refine their operations and portfolios.
RL: Given the rise and continuation of shareholder activism, we are likely to see an increasing number of spinoff transactions and bolt-on acquisitions aimed at aligning a company's core strengths. Private equity and alternative capital providers will continue to play a critical role in transactions in the next several years and will materially impact valuation in many respects given the significant amount of dry powder available to be deployed.
CA: What are the current trends affecting this market?
JS: In the last year or two, shareholder activists have played a more significant in the M&A landscape, opposing announced transactions and pressuring companies to pursue specific acquisitions or divestitures. I expect this trend will continue as the number and influence of shareholder activists grow, adding another layer of complexity to transactions involving public companies.
SB: Uncertainty has recently defined the M&A market on a macro level, stemming from unpredictable political and regulatory landscapes worldwide. We have also seen an increasing prevalence of representations and warranties insurance (RWI), which has brought with it a shift in transaction structures and risk allocation. Because RWI shifts certain transaction risks from the seller to the insurer, it is also often true in RWI deals that the representations and warranties are negotiated to a lesser degree than traditional indemnity deals.
RL: Uncertainty is affecting the market in a number of ways. The market is facing geopolitical, economic, trade and other regulatory uncertainty, increased levels of shareholder activism and (at the time of writing, at the height of Covid-19) a pandemic of unknown proportions. All of those factors are resulting in a slowdown in activity as businesses across the globe reassess risk and are reevaluating the rationales for transactions.
"Bringing home a deal for a client in a way that delivers value and protects the client's interests makes the hard work and long hours worthwhile."
CA: What are the highs and lows in this area?
AC: The highs are simple – guiding our client to an executed transaction. Numerous people work for months, and sometimes years, to effect a single transaction. During that time, the deal team has typically discovered and worked arm in arm with the client to resolve several issues that would have otherwise derailed the transaction. Bringing home a deal for a client in a way that delivers value and protects the client's interests makes the hard work and long hours worthwhile. Conversely, it can be disheartening if the work doesn't lead to a transaction.
SB: The months, weeks, days and hours leading up to a transaction signing become progressively more intense, intellectually challenging and fast-paced, and the moment when the transaction ultimately signs is an adrenaline-filled high. On the other hand, the unpredictability and highly variable nature of deal flow are challenging aspects of an M&A practice, and the ability to manage that inconsistency is a learned skill that takes time to develop.
DO: The highs are the varied nature of the work. You are working in several different industries, like manufacturing, pharmaceuticals, software, consumer goods, retail, etc., and in each deal there is a different driver, whether it's an environmental, regulatory, intellectual property, tax, inventory, employee benefits or other issue. This is incredibly fascinating as you are exposed to – and are expected to understand – so many different areas of law. 
CA: What advice would you give to students interested in the area?
SB: Do not be discouraged from pursuing an M&A practice due to a lack of finance or accounting background. A basic accounting class will give you the tools you need to get started. In law school, be sure to take a course on corporate law, and also consider a course on securities regulation.
DO: Understand that the learning curve is steep. You really have to want to do M&A to do it appropriately. This profession rewards curiosity in terms of following deals happening in the market and issues/changes in law related to M&A. 
RL: Don't be intimidated by M&A. There is a steep learning curve, but with each matter you work on, you start to anticipate next steps and recognize what comes up often: any matter you work on will give you some additional insight into another area of the law; you will always be learning. I think it is important for lawyers to always understand why something is in a transaction agreement so that they can explain why it should be there. Always say yes when you can. The more available you are to take on new assignments, the more experience you will have and the more value you will bring to a team you are on. If you are known to say yes, it makes it easier to say no when you need to.