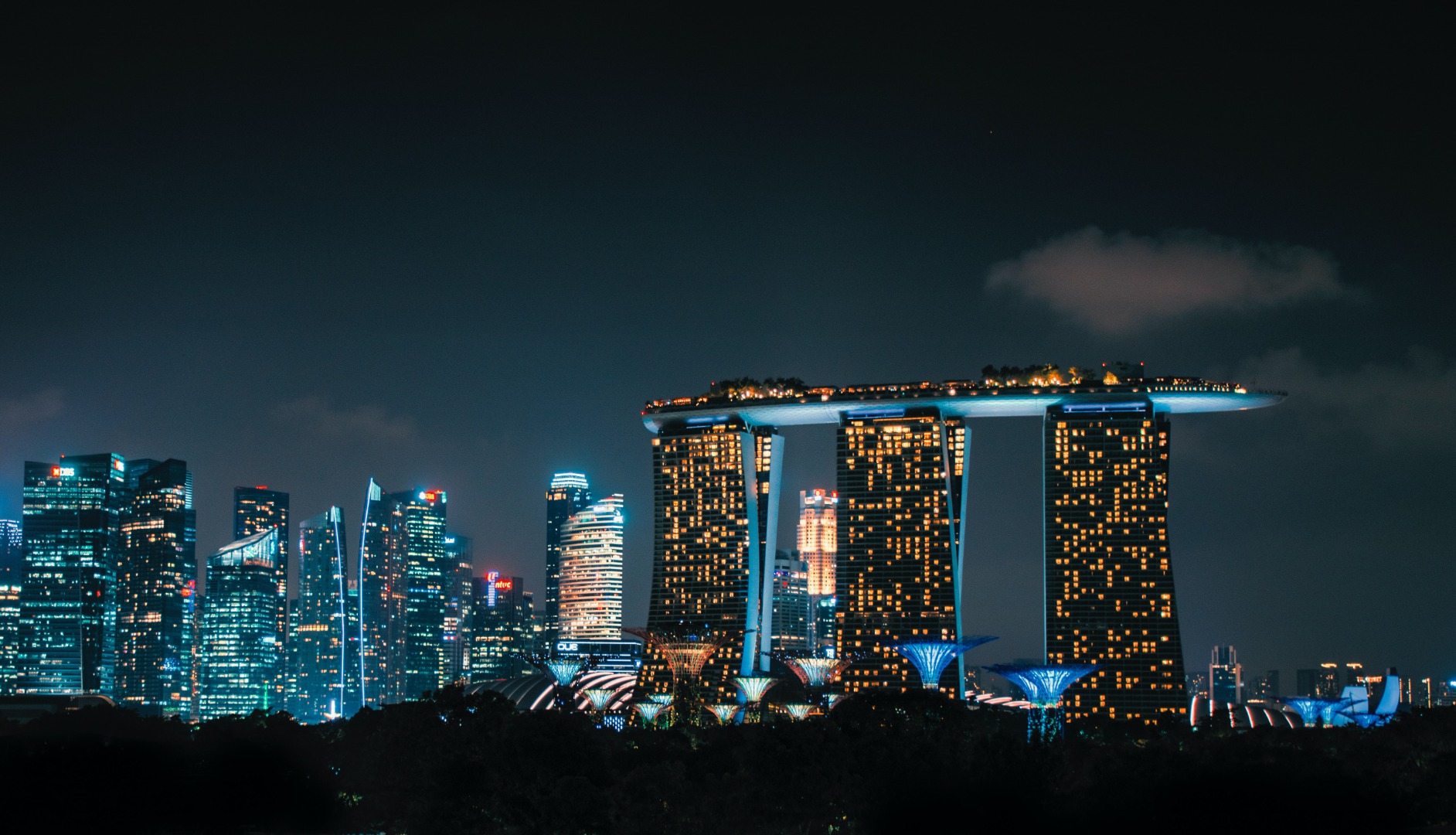 Is a move eastward on the cards? We spoke to the folks at Lateral Link to unearth the state of BigLaw in Asia.
Global is the name of the game for many a BigLaw firm. And you can't go global without targeting the largest continent on the planet. It's been over 40 years since BigLaw made its grand entrance in Asia; the '80s were when we first saw firms set up shop in key Asian markets, following their largest clients. Since then, BigLaw investment in the Asia market has come in waves, though the momentum is ever growing.
"Firms go through different phases of how much they're investing in Asia," Evan Jowers, principal and head of the Asia office at Lateral Link, underlines. For example, the period between 2007 and 2012 were perhaps among the most exciting expansion years for those involved in the Hong Kong and China markets, thanks to the region's rapid economic growth. The amount that firms are investing in Asia is also often heavily reliant on the priorities of global management teams, the makeup of which changes every several years. As of late, it's been no secret that economic headwinds are rife, and that's been reflected in BigLaw investment and recruitment. "Sometimes some of the most established international law firms in Asia, particularly during a global downturn like we're in, might want to scale back a bit," Jowers tells us. "At the same time a handful of US based firms not so established in Asia may be ramping up their Asia expansion and building plans, including new office openings," Jowers explains.
"The offices in Asia are all relatively small compared to major US markets."
When the Asia lateral associate recruitment market heats up again, you'll want to be in the best place possible to make the move eastward. Jowers highlights key points and considerations that go into making such a transition. Right off the bat, he explains it's important to note that "the offices in Asia are all relatively small compared to major US markets; even in a market like Hong Kong, the office is a fraction of the size of a New York headquarters office." This is particularly key for associates "who will likely be going to work for one or two partners, and basically putting their career in those peoples' hands." Jowers goes on to explain, "It's not a huge office or team, so it's unlikely they'd be able to shift to other partners if there's a personality conflict or some other issue. They're also relying on the deal sheet and deal flow of one or two partners, and if they choose wrong it can set them back in the upward trajectory of their career, more so than may be the case in a much larger practice team and office in the US." As such, US associate recruiters versed in the Asia market are heavily relied on "to differentiate between different firms in terms of global and local brand and reputation, what they do in a specific practice team, and what they've done in the past in Asia. For partners looking to lateral, the recruiter will also be able to provide insights into the firm's potential future plans in Asia, what may be on the drawing board, as the top Asia partner recruiters are frequently in touch with global management of major US and UK firms," Jowers says.
If you've read thus far and all signs are still pointing east, we've got you covered. We spoke to experts in the Asia market, Evan Jowers and Justin Flowers, to uncover insights into key jurisdictions across Asia, current hiring trends, and top tips on life across Asia. Jowers and Flowers are principal recruiters at Lateral Link's Asia office.
Regional breakdown
It goes without saying: Asia is huge. There are plenty of jurisdictions to uncover across the continent. Even if you've already got your heart set on one, it's important to stay up to date with developments in others, as Jowers explains, "Most US trained BigLaw associates in Asia are frequently working on matters related to countries other than that which they are based in – that's part of working in Asia."
In summary, Jowers tells us, "Hong Kong, Beijing, and Shanghai have a lot of China deal flow. In Hong Kong, there's also some deal flow that's outside of China covering more of Pan Asia, especially Southeast Asia. And then, of course, Singapore is a hub for South Asia and Southeast Asia work, while Korea and Japan are typically focused on clients based in those markets."
Singapore
A number of firms have kept a close eye on the Singapore legal market since the pandemic, and for good reason. "Singapore is an EC/VC and tech transaction practice hub," Jowers explains. "It's kind of like the Silicon Valley of Asia. That's developed over the past decade or so, and it's something that firms are trying to grow in."
Jowers goes on to explain, "Singapore has always been a hub for projects and energy work. It's also been a hub for debt capital markets (DCM) work, especially high yield work because that's what clients have needed more than in other markets in Asia." Clients in Southeast Asia are often operating in emerging markets which can make for more risk and thus make the deals more high yield.
And in a recent development, Jowers tells us, "There's more private equity work now." This is in part down to the fact that a number of important private equity attorneys operating out of Asia made permanent moves to Singapore during the pandemic for a myriad of reasons. Some may have done so as a result of the travel restrictions in place at the time, but the main motivating factor often boils down to their clients and deal flow – both of which are often as active across Pan Asia as they are in China.
"There's a lot of expansion [in Singapore] at the moment."
"Singapore has its distinct flavor of work," Justin Flowers highlights. As such, associates working on any team in a Singapore office will likely find themselves working on a multitude of cross-border deals. "It was a relatively small BigLaw market until recently. There's a lot of expansion there at the moment, but it's still small compared to Hong Kong," he concludes.
Big names announcing Singapore hires as of late include Squire Patton Boggs, Norton Rose Fulbright, Milbank, and K&L Gates, as reported by Reuters. Jowers and Flowers tell us there's also been activity at the partner level at Morrison & Foerster, Greenberg Traurig, Goodwin, and McDermott Will & Emery, among other firms. The latter three firms are recent additions to the Singapore market – and they're not the only new kids on the block. Orrick and Baker Botts have also opened up new offices in Singapore recently, and just last week Ropes & Gray announced their own plans to enter the market.
Hong Kong
Despite the recent spotlight on Singapore, "Hong Kong is still Asia's private equity hub, and remains the largest BigLaw market in Asia," Flowers makes clear. "There's also a huge IPO market for Hong Kong IPOs," he adds. In fact, firms' Hong Kong offices typically house all the practices you'd commonly find in Asia, making them closer to full-service than in other Asia markets. Of course, it's no secret that Asia markets are more deal-heavy, though there is some contentious work to be done. "Hong Kong has more US litigators than other Asia markets," Jowers details. "That's a relatively new part of Asia BigLaw; starting around 2010, some US firms started to have boots on the ground in US litigation – mostly to do with FCPA and investigations."
Flowers tell us associates in the region "may typically be on either a China focused team, or a Pan Asia focused team. The China teams at most firms are the larger of the two teams, and there is a lot of travel to and from mainland China." On the other hand, "Pan Asia team associates are working on deals all over the place, depending on the partners they're working with and where their deal flows are coming in – similar to Singapore based associates."
Mainland China (Shanghai & Beijing)
In tandem with a Hong Kong presence, "It's important for most firms to have a mainland China office too, because a lot of the clients they're dealing with are based in the mainland," Jowers explains. "I would say at most firms, their Hong Kong and mainland China offices kind of operate as one office." However, this is hardly to say the work across the offices is the same. "Shanghai is more of a newer BigLaw market in China when compared to Beijing, with some focus on life sciences, private equity, and tech transactions," Jowers breaks down. "In Beijing, there's perhaps more work dealing with state owned enterprises and big Chinese banks." A case in point: Reuters reports Quinn Emanuel recently set up shop in Beijing in order so serve its Chinese clients, namely state owned banks, in cross-border matters. Jowers clarifies though that "these are general descriptions of the Beijing and Shanghai markets. In reality, an associates deal flow in mainland China depends on the supervising partner's practice, and that can go against the grain of the general market because of their choice of location among Beijing, Shanghai, and Hong Kong."
Japan & Korea
Japan and Korea are smaller international BigLaw markets nowadays than Hong Kong and China. Recent lateral partner activity in Japan has seen firms seek out strategic hires to strengthen their corporate and finance offerings in the region. Examples include the likes of Mayer Brown, DLA Piper, and K&L Gates, all of whom have added prominent Asia partners to their Tokyo offices in recent months. Flowers explains, "While many international firms have smaller Tokyo offices with narrower practice focuses, a firm like MoFo, which has long maintained a flagship Tokyo office with 100+ attorneys, is strong across finance as well as corporate transactional and disputes, and even does IP work out of the office as well."
As such, the work in these markets can be relatively broad in nature: "US associates working in Japan and Korea are typically working with clients related to those countries on outbound deals – in many cases, to the US," says Jowers. Flowers explains, "There are a lot of cross border deals with clients that are mostly Japanese or Korean, or clients based in the US or elsewhere that are investing in those markets."
"The associate hires are made more strategically in Asia."
Hiring practices
So, how do you get your slice of the market? First and foremost, Flowers warns it takes time. "When associates are lateraling in the US, the process is usually pretty quick. With a move from the US to Asia, it can take several months because of work visa wait times, on top of the fact that's an international move." It's also the case for lateral moves within Asia where firms may have three-month long notice periods. Long processes aren't just down to visa wait times though. Jowers explains, "The associate hires are made more strategically in Asia, in part because it takes months to onboard the lateral and it would take months to replace any hires that did not work out." Because the teams are so small, the hire will likely be reporting to one or two key partners so it has to be a good fit; going through the entire process only to later realize there's a personality or work clash would be a massive waste of everyone's efforts and resources.
"When the markets boom back, whether it be later this year, 2024, or 2025, we'll see a similar hiring boom to 2011 and 2021."
With global economic downturn as of late, Asia BigLaw hiring has been hit in the same ways as US hiring. "We work with US and UK firms, and they're experiencing hiring freezes for associates globally," Jowers explains. But as we all know, the legal industry is a cyclical business. "When the markets boom back, whether it be later this year, 2024, or 2025, we'll see a similar hiring boom to 2011 and 2021 because firms are going to be understaffed following layoffs made which didn't really correspond with deal flow and the economy." Jowers notes, "We've seen 2009-level layoffs at some firms, despite the fact that deal flow is not as low globally compared to 2009."
Turning to the present, "Hong Kong is the biggest market, so it's always going to be somewhat of a focus," Flowers underscores. "But because Hong Kong has a lot of US capital markets lawyers and a lot of the deal flow is China focused, this market has been hit pretty hard because of the global economy and the slow recovery from lockdowns that happened in China." From a recruiting stance, "the hottest market right now is Singapore," thanks to the introduction of new firms to the market and the subsequent need for strategic partner hires. Placements have been made across projects, energy, M&A, disputes, funds formation, and finance, mainly in Singapore, though Hong Kong and Korea get notable mentions, too.
For associates, Jowers explains M&A and project finance have seen the most activity, with placements made in Singapore and Hong Kong. There's no particular trend toward hiring associates with a certain number of years under their belt, Jowers explains: "It's dependent on the makeup of the team and what they're lacking."
"You're dealing directly with clients from different countries and cultures; you're helping to manage institutional client relationships to some extent."
So, let's say a firm has an opening for a fourth year associate. What would they look for in the ideal candidate? "Of course, language skills can be critical for many openings, especially in Hong Kong or China where Mandarin may be required. Same thing for Korean or Japanese," Jowers tells us. "Firms also look at the candidate's deal sheets, the law school pedigree and grades, and the type of firm they're coming from," he adds, but that's no different to lateral recruitment elsewhere in the world. What does differ slightly is the focus on levels of professional maturity. "For juniors to mid-levels, firms look especially at whether this is someone who can handle having a higher level of responsibility on a smaller team, especially if you're on a Pan-Asia team flying around to different markets. You're dealing directly with clients from different countries and cultures; you're helping to manage institutional client relationships to some extent, and that rarely happens in New York or London," Jowers explains.
Firms also want to know candidates have thought seriously about the move. "They don't want to hire someone who hasn't really had any international life experience or doesn't have a personal connection to Asia or an otherwise good reason to relocate their life and career to Asia," Jowers makes clear. Potential candidates may need to demonstrate some sort of connection to the area, whether it be family, friends, or previous experience living or working abroad. There's also a strong case to be made for those who have experience working in smaller offices with heightened responsibility.
Lifestyle & compensation
One thing to make clear is a smaller office doesn't mean you'll be sat with your feet up. Sure, "Comparing New York and Hong Kong in a booming market, there'll typically be more billable hours in New York, but the associate in Hong Kong might have three months a year where it's the busiest they've ever been," Jowers explains. The nature of being on smaller but busy teams often means the deal flow is not as evenly spread out across the year as may be the case in an HQ office in New York or London during a boom economy.
"There are more opportunities for personal weekend getaways to the many beautiful locations in the region."
Though long nights aren't ideal, there are certain perks that come with putting in a shift. Thanks to the lack of a facetime culture in Asia markets, Jowers tells us, "If you've been really busy through the night, you don't need to come to work the next day purely because that's what's expected of you." And what about the rest of the year when the market is slightly cooler? "In Hong Kong and Singapore, if you aren't busy, there are more opportunities for personal weekend getaways to the many beautiful locations in the region, and even long weekends – more so than may be typical working in major US markets," Flowers reveals.
Speak to any lawyer and they'll agree efficiency is key. And what's more efficient than little to non-existent commutes? "Hong Kong is a special place where most of the clients and the firms are within a five-to-ten-minute walk from each other, thanks to the overhead walkways and the fact that most law firms and clients are located in Central," Jowers describes. "There's very little commute time for many associates in Hong Kong, and there's a thriving social life, even when billing a lot of hours, because so many people are living and working in this relatively small footprint of the city with many bars, restaurants, lounges, cafes, and coffee shops near work and home and in between. This means time can be spent more efficiently, and BigLaw billing hours can feel less stressful, making a healthy work-life balance more achievable."
And, finally, the cherry on top is perhaps the higher-than-New-York compensation packages for many US associates in Asia. "US trained associates are compensated in line with the Cravath scale, like in New York or any other major market," Jowers tells us. Associates in Hong Kong are at most major US and UK firms are also paid a COLA (Cost of Living Adjustment) allowance on top of their base salaries, too, which can be as much as an extra $90,000 per year. More often than not, associates lateraling to Shanghai, Beijing, and Tokyo also receive COLA.
---