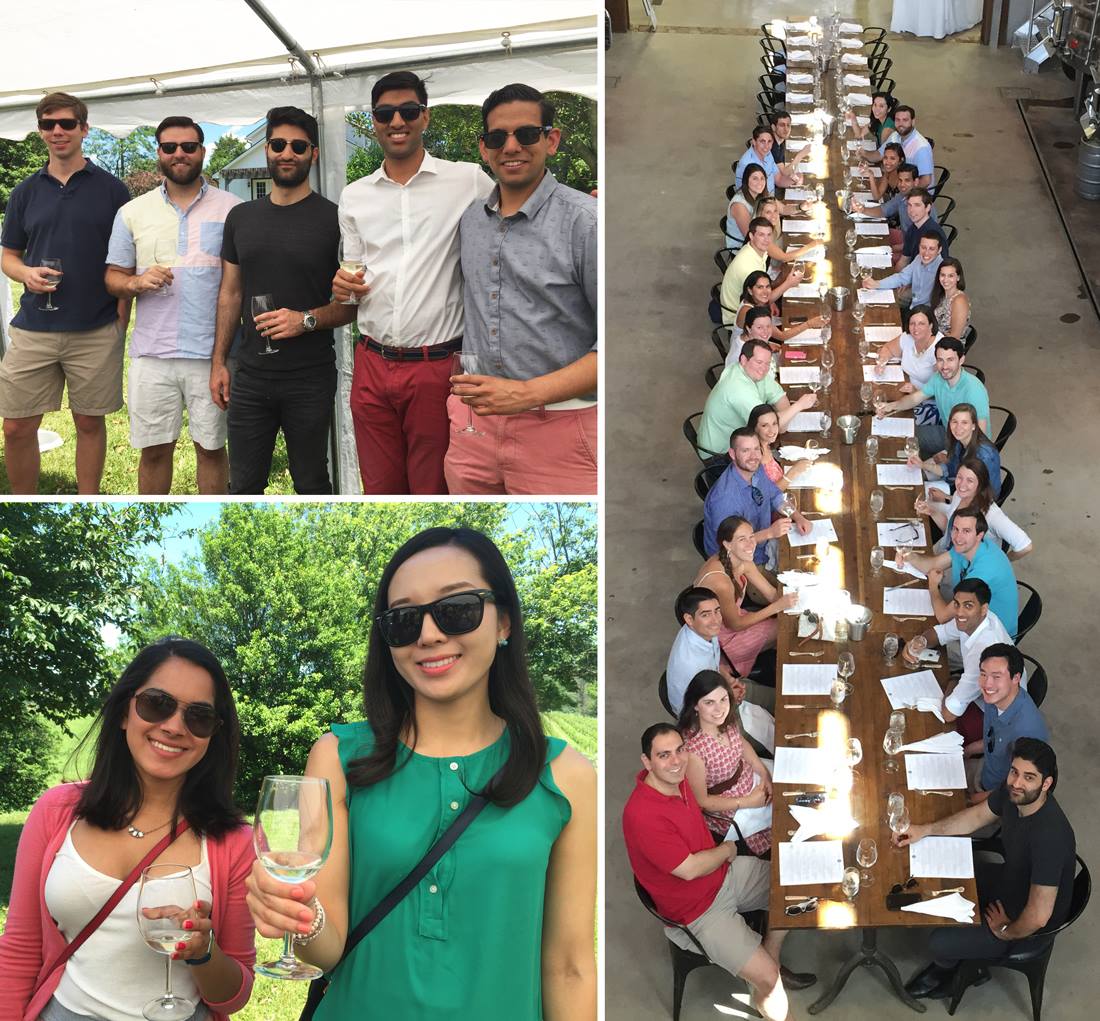 BigLaw recruiters assume you are intelligent, so their goal is to find out what you're like as a person...
Main photo: Finnegan DC and Reston wine tour
Recruiting the best candidates "is not just about law school academics," Gibson Dunn's chief recruiting officer Leslie Ripley emphasizes. "Part of the equation is the personalities of the people we're hiring, and whether they fit into our culture. That's why we have an extensive OCI program and generally include meals during the callback process – we want to spend more time with our potential recruits."
Hiring partners at other BigLaw firms regularly give the same advice. They all look for the right mix of personality traits to fit their firm's particular culture. It's up to you to research your target firms enough to figure out whether your unique character would sink or swim there. It's true that many firms want the same thing – likable and driven team-players – but, beyond that, different firms may look for different nuances in how candidates present themselves. Read our Inside Views and talk to as many people as you can – lawyers/alumni, 3Ls who were summer associates, your career service – to find out where your own personality might fit best. Then interview with these firms and convince the interviewers that you have the perfect personality for them.
"The callback is about personality," a Mayer Brown associate explains. "We just want to know if your personality will fit in."  What personalities do firms look for? Below are some slightly tongue-in-cheek stereotypes to get you thinking about this most subjective of issues. Firms tend to look for elements of each, to varying degrees. If you are too much of one and too little of another, that's a problem. The challenge you face is wising up on firms before OCIs so you can match your multi-faceted personality with theirs...
The team player
Everyone loves a team player, though no-one wants to have to spoon-feed you. Some firms value self-confident individualism, and some find it distasteful. Interviewers often ask themselves if candidates pass the 'plane test' – would they want to be stuck on a plane for hours with you? Friendliness isn't just prized at most of the firms in this guide: it is expected. But don't get too cozy with your future buddies: act over-friendly and you'll come across as weird.
Interviewers often wonder "whether I'm going to like working with this person," according to a DLA Piper associate, "so I ask a lot of social, friendly questions." They want to see that candidates "have a life outside of law school, whether that's extra curricular activities, or other interests."
A Sidley associate summed up the likability factor nicely:

"We can only tell so much from your resume and transcripts. Really it's more about whether or not we want to spend 50 hours a week working with you. Can you make sound decisions and can I sit you down at a client lunch?"

Haynes and Boone

's

managing partner, Tim Powers,

advises

:

"The people who have succeeded here are people who do best in a teamwork environment. Those who are focused on themselves might not get on as well."
Photo: summer boating, Fish & Richardson
The intellectual
Are you consistently top of your class? Good for you – but can you hold a conversation? Most BigLaw firms expect excellent academics as the starting point to even consider you. The question then becomes one of personality fit, often evidenced by interesting extra-curricular activities, and what you've learned from them.
"One of the first things we look for is strong academics," Latham's hiring partner Manu Gayatrinath stresses. "But we also need well-rounded candidates who have more to them than just top grades." He expands that 'well-rounded' might include prior "work experience and evidence of extracurricular activities" plus a "team-oriented and collaborative" mindset. He's also looking for "like-minded people" who believe in the value of promoting diversity and inclusion. In other words, top grades alone won't cut it at Latham.
A Skadden associate is more blunt: "You need the ability to work well with others; you can be the best in your school but if everyone hates you at law school you won't be able to fit in here."

I

t's the same story at countless other firms including

Hogan Lovells. DC managing partner Eve Howard says the best candidates demonstrate "obviously strong intellectual capabilities, a sense of curiosity, and problem-solving. Those are table stakes. But, just as critically, they need to really fit our culture."
Likewise, Jones Day's hiring partner Sharyl Reisman warns: "Superior academic achievement is certainly a necessary part of any applicant's background, but that's only the starting point."
The extrovert
Self-confident, gregarious types are especially welcome at some law firms, usually those with a free market system of work assignment and/or those with a proudly entrepreneurial culture. It's good to be chatty but nobody likes a loud-mouth, so as ever you need to strike the right balance.
The nerd
An IP associate once told us they frequently bumped into grinning colleagues in their firm's hallway who would talk at a million miles an hour saying things like "hey! Did you see the latest data release from Microsoft?" before launching animatedly into arcane tech speak. Certain practices like IP prefer more a cerebral, quieter personal style compared to (for example) gun-slinging litigators or M&A deal junkies. Good communication skills, however, are essential.
An associate at top IP firm Fitzpatrick explains that "everybody's a little nerdy, but still very friendly and social – not stereotypical awkward engineers!"

Hiring chair Ha Kung Wong explains there are good reasons for hiring only experts:

"It is difficult enough to present a case convincingly to a judge or jury. With IP, we have the added challenge of needing to explain the science or technology. Having the proper background greatly increases one's ability to effectively do this."

This has a positive knock-on effect on the firm's culture,

Ha Kung Wong

adds:

"We have a unique atmosphere here. We all have science backgrounds and scientists in all fields generally like to collaborate. As scientists, this makes us different from other firms that may have cultures that encourage self-promotion over professional development."
An associate at IP specialist Fish & Richardson echoes the importance of being able to communicate

complex work

well:

"Explain it in clear sentences or convey it in a way that's understandable – it's important to see if they can explain things in simple terms for people that don't have the particular background."
The go-getter
Have you proactively contacted lawyers at your target firms and fired questions at them? Have you done a legal job in your 1L summer or spent time doing Teach for America? What about law review? Serious research on the firm interviewing you will impress interviewers as much as all that great extra-curricular stuff on your resume.
Jones Day's hiring partner Sharyl Reisman says: "I think when students have really gone that extra mile to learn about us from the website, what we do, how we do it – including by reaching out to some of our lawyers or students who have summered with us – that shows real interest."
Holland & Knight's managing partner Steven Sonberg also likes candidates with a bit of spark: "We look for individuals with a strong, competitive desire to be successful, as well as the obvious fundamentals of academic credentials. We look at individuals' engagement in law school activities and work experience – both legal and non-legal."
"Whether you've spent time doing Teach for America, or been in the military, or worked in consultancy, we want to hear how your experiences have shaped your development," Latham's Manu Gayatrinath tells us.
Photo: Nutter
The details freak
Law is perfect for nitpickers and you should try to convey your detail-oriented mindset during OCIs. Interviewers' faces tend to light up when they meet someone with an attentive, practical, problem-solving aura. They are less impressed by people so detail-obsessed that they lose sight of the bigger commercial picture.
"Once, someone said they were interested in DLA because they were looking for a really small boutique firm," hiring partner Tina Martini reveals. "I had to gently tell them that we are not a boutique." Bear in mind that hiring decisions can teeter on a knife-edge according to the care and attention you demonstrate or fail to demonstrate during OCIs.
"Candidates also need to be creative and practical," Martini continues, "and to understand that what one client needs may not be what other clients want. We also like people who are very focused and dedicated – it is important for our lawyers to have their head in the game."
Read Sullivan & Cromwell's Inside View for tales of lawyers' ultimate perfectionism: here, people are "very detail-orientated" and juniors found "commas and words repeatedly switched around" in their drafts. Not all firms have such a demanding "culture of excellence" as Sullivan, but the bar is set higher than you might expect at most places, and it's up to you to demonstrate your attention-to-detail capabilities.
The rainmaker
Some go-getting firms will bite your arm off if you are a proven entrepreneur with a track record of making money (albeit on a small scale). Most firms, however, will be satisfied with evidence of a commercial mindset and the potential to impress clients. Regularly reading and digesting business news is one simple way to improve your commercial awareness – start by reading our Daily Briefing and Twitter feed.
The Pulitzer prizewinner
Congratulations if your writing is so good that Law's gain is Literature's loss. All firms need great writers but most don't expect perfect legal authors from the get-go. Writing training for junior associates is fairly standard at big firms, and most will look for evidence of basic writing ability and potential that they can then work with. Anything like journal experience or student journalism will count in your favor.
"

Legal writing is a skill anyone can master – it's a science, not an art," 

according to Julie Schrager, legal writing coach at Schiff Hardin

.

"

M

y opinion of summer associates' writing has nothing to do with them getting a full-time position," 

Finnegan's writer-in-residence, Ed Good, explains.

"They should send me their worst piece! I simply do not share my opinion of someone else's writing."

A Paul Hastings associate interviewer seeks "strong demonstrations of writing ability. I also like people with practice on things like mooting or journal editing."
Photo: Julie Schrager, writing coach at Schiff Hardin
The enquirer
Hiring partners tell us all the time they want OCI candidates to ask them intelligent questions. It helps if your personality is naturally inquisitive. An appropriate balance of polite, well-informed curiosity should endear you to interviewers. Avoid extreme, annoying interrogation if you possibly can.
If you are genuinely interested in a firm, you will instinctively want to ask questions. "I advise students to talk with our former summer associates who are back on campus as 3Ls," Sullivan & Cromwell's hiring partner, Sergio Galvis, tells us. "Those conversations can be incredibly valuable in helping students figure out what makes us unique. You should be thinking: 'It's my career; I want to understand everything I can about this opportunity'."
A Jones Day associate points out that "people assume all big law firms are the same with different old guys' names on them, but there are really important differences in firm cultures and the kinds of work that dominate certain places. Doing your research is therefore very important."
Nutter's hiring partner, Matt Bresette, hopes interviewees "will ask questions that show research and real interest in what we do. Students need to come well prepared, knowing a lot about the firm, and come with questions."
Be yourself
Firms often give this advice. They obviously don't mean literally – OCIs aren't exactly an appropriate setting for sprawling in your chair swearing like your favorite character in Wall Street, The Wolf of Wall Street, or The Firm, however much you are like them at home. On the other hand, if you try to pretend that your personality is not what it truly is, you're likely to come unstuck. If you have done your homework and interview with firms where your personality hopefully fits, then fingers crossed you can relax a little and have an honest, mutually enjoyable interaction.
"The OCI process is mostly about getting to know you and making sure you're nice and normal," associates at Goodwin advise candidly. "Just be thoughtful, and be yourself. And try not to be a jerk."
"Be yourself," a Jones Day lawyer agrees. "If you are yourself then both you and the firm can identify if it's a good match."
"Don't be afraid to be yourself," a Reed Smith associate recommends. "The interview is much more of a conversation, so let your personality shine through. You should also be figuring out if the firm is right for you, not just whether you're right for them."