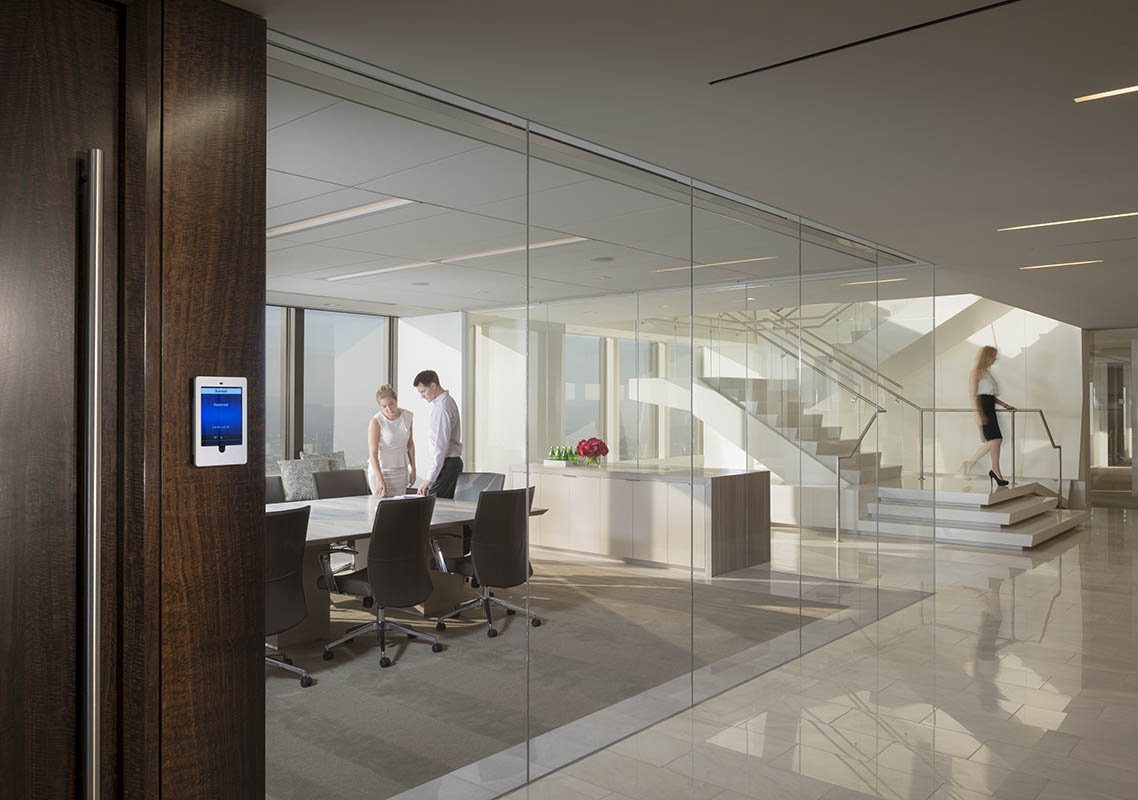 What kind of a place do you want to work in?
Photo: MoFo Los Angeles
"FIRMS all look the same on their websites," a BigLaw associate recently lamented to us. Comparing firms might seem as tricky as choosing between Evian and Smart Water, Coke and Pepsi, or (perhaps most befitting BigLaw attorneys) Moët & Chandon and Veuve Clicquot. But don't despair as you tear your hair out in the run-up to OCIs. Our Inside Views contain associates' feedback at each firm and are a great starting point. Beyond that, interrogate lawyers at your target firms if you can, for example by emailing alumni from your school or chatting to lawyers at networking events.
You should also treat OCIs themselves as an opportunity to ask probing questions to help you decide which firm is right for you. "You are interviewing firms as much as they are interviewing you," another associate pointed out. Gail Morse, a partner at Jenner & Block, agrees wholeheartedly: "Be true to yourself and decide what kind of a place you want to work in. Use the interview process to find out information."
So what kind of a place do you want to work in, and how can you find out the differences between law firms? Below is a round-up of associates and senior management talking about some basic law firm differentiators for you to consider, and ask about:
FIRM SIZE
Do you want to work in a small firm where you know everyone, a global megafirm, or somewhere in between? Find the right sized firm for you using our ranking of firms by office numbers. To find out which firms hire only a handful of summer associates and which ones hire hundreds, check out our summer hiring survey.
                                                                                                               Photo: Goulston & Storrs Boston
LOCATION 
This is easy to find out using our 'search by state' tool. Read the Strategy & Future sections of our Inside Views to see which new office openings might be on the horizon. Consider whether you want to work in the big city or get more bang for your buck in the sleepy countryside. If you plan on re-locating in a few years, it makes sense to target firms with multiple offices in areas you might want to live. 
Photo: Arnold & Porter Washington, DC
PRACTICE AREAS
Unless you've got a PhD in electrical engineering and a passion for IP law, it's perfectly normal to have only a vague idea of your preferred practice area. Some firms offer junior associates formal rotations allowing them to sample different types of work before narrowing their focus, like Skadden's corporate group in New York. At other firms, new associates are not assigned to specific groups – at Latham, for example, this is "really one of our hallmark traits. It gives juniors the opportunity to try out as many practice groups as they'd like, without the pressure of an imposed time limit or rotational program." For all firms you interview with it's important that you research what practices they offer and can demonstrate your interest in at least some of them. The summer program should then give you the opportunity to try some of them out.
The way work is allocated to associates is also something you can find out about in advance. Some firms have a formal allocation system (like Latham's 'The Book'), some a 'free market' where the onus is on you to find work (like Gibson Dunn, Cahill and Kasowitz), and some firms have a hybrid of the two (like Paul, Weiss). Think hard about which system your personality would thrive in best.
"You jump in, learn how to swim, get a little bit comfortable and feel like you're really picking up skills. Then you rotate and have to do it all again. It makes you a better lawyer...I think it's nice not to have to make a final decision on your group before you walk in the door." – Skadden associate
"

W

e are not trying to be all things to all people, 

and we are also not hyperspecialized in terms of practices like some firms. We seek a balance." –

Robert Hays, King & Spalding chairman
"

They won't babysit you. If you're not outgoing it's not a problem but it's a bit more difficult to succeed. You've got to take the bull by the horns and manage your own career trajectory; I think that plays into the free market system."

–

Kasowitz associate 
"It's great to be able to pursue matters you're specifically interested in, but it often surprises me how interesting some of the cases assigning partners have put me onto have been. It's nice to have someone point you in certain directions from time to time." – Paul, Weiss associate
"

You need to take charge of your own destiny, figure out what you wanna do and go get it!"

– Gibson Dunn associate 
Photo: Foley and Greenberg Traurig lawyers featured in Influence magazine
TRAINING
The level of formal support each firm provides its associates is another tangible aspect of firm life you can find out about. It also says much about culture and the general working environment – ask yourself what you will feel happiest in. Read the Training section of our Inside Views: the education provided tends to range from full-on formal programs to learn-on-the-job, and everything in between. All firms provide an initial orientation of some sort, then the training either continues or trails off, depending on the firm.
"One reason I really like it here is because they're very serious about training." – Kirkland & Ellis associate
"

You need to learn and pick things up as you go, and if you don't understand something you are expected to go ask for help."

–

Adam Leitman Bailey associate
"

We offer an exceptionally strong training environment, giving

associates

an ability to not only develop their legal skills but also personal skills."

–

Christina Melendi, hiring partner at Morgan Lewis, which also has 'ML Experiences' for summer associates allowing a client or pro bono secondment for four weeks
"

We don't have a mentorship program per se; we naturally work closely with the partners and everyone is willing to help."

–

Seward & Kissel associate

Gibson Dunn has a New Lawyer Academy and offers weekly practice-specific training sessions for new associates that are beamed out via videolink across offices. Of course

, "

you learn the most from actually trying to do the job!"

–

Gibson Dunn associate 
HOURS
Many firms have an annual billable hours target for associates, and many do not (although this doesn't mean they put in fewer hours). Most BigLaw firms pay the same, but check out the salaries and hours survey to find out how their hours policies differ, and read the Hours & Compensation section of our Inside Views to discover which environment might suit you best.
"I do think it's important to go into the firm with your eyes wide open and it's something they are very candid about in the interviews." That said, the lack of an official billing target is "very helpful: it means I'm not thinking just about a figure but about the work I am doing. It allows people to relax without worrying about hitting some arbitrary requirement." – Cravath associates
"The realistic approach for law students starting a career with a big firm is to understand that you're going to put in a big time commitment earlier in your career. It's just what it takes to become competent at your job." – Cooley associate
"

When you come into BigLaw you expect to work hard, and I've done the late nights and worked at weekends." –

Debevoise associate
A differentiator at some firms, including Hogan Lovells and Morgan Lewis, is generous flexible working policies. If this is important to you, ask your target firms to what extent they allow remote working or flexible hours.
"We have had a big announcement recently by a few firms about allowing associates to work up to two days a week remotely. I think this staffing model is kind of built to allow work from anywhere, and I think it will continue to evolve."

–

Jim Leipold, executive director of NALP
Photo: Munger, Tolles & Olson Los Angeles
PRO BONO
All firms pay lip service to pro bono but some are better at actually doing it than others. We asked associates how positively they rate their own firm's efforts – here are the pro bono ranking results. In our separate pro bono hours survey you can see how many pro bono hours each firm worked in total last year, as well as the average per associate. This survey also reveals how many pro bono hours can count as billable at each firm, and which firms impose no cap.
Associates at Jenner & Block – who topped our rankings – said pro bono is"a major selling point for the firm. Partners see pro bono as a time for associates to gain substantive experience," and "pro bono is very much part of the culture."
At Munger (second place),

"

i

t's

treated the same as billable hours, it's given the same credit, it's displayed on time reports."

 
King & Spalding is one of several firms that have a pro bono partner, Josh Toll in DC, who

"devotes a very large percentage of time to managing the program and sending out emails with opportunities which makes it easy to get into."

"It's widely available, but it can take quite a bit to balance pro bono work with normal cases." – Kasowitz associate
"

Cl

ient service, commitment to pro bono, volunteerism, charitable giving – they all run through the firm. They're important regardless of the geography one finds oneself in." –

Craig Martin, managing partner at MoFo
Photo: Foley DC fundraiser with Michael J. Fox 
DIVERSITY
Like pro bono, all firms claim they promote diversity, but some do so better than others. Examine our comprehensive statistics on gender, ethnic and LGBT diversity. Read the diversity section of our Inside Views, and see which firms' associates rated their firm best for diversity. If you volunteer at a diversity organization, find out which firms they work with regularly or recommend. Quiz your interviewers at OCIs and ask for tangible evidence of formal programs and other diversity successes. By doing some of these things you'll be able to tell firms apart and decide where you would prefer to work.
"Some firms may say 'yes sure, we have some gay lawyers', but Jenner says 'yes and we're really proud'. – Jenner associate Emily McWilliams 
When he was a law student, Jenner associate Thomas Garza asked GLAAD which firms they work with and recommend.

"Another thing I found helpful was speaking to professors as they have often done things like consulting or training with law firms and have some inside knowledge."

 
Debevoise – first in our diversity rankings – is

"

tremendously open on diversity. At the junior and mid levels you can see that there's a lot of progress

."

At a yearly firm dinner,

"

everyone gets together and the firm talks about where it currently stands on diversity and where our emphasis is going to be placed in the future."

Unlike bigger outfits, Hangley doesn't have a range of diversity groups or committees: "There are so few of us, the relationships are personal, not mediated through an affinity group."
"At Goodwin, we have an Inclusion Advisory Committee, a Committee on Racial and Ethnic Diversity, an LGBT Pride Initiative and a Women's Initiative...

The efforts to advance from talking about these issues to implementing real changes is where Goodwin has succeeded in moving its diversity efforts forward."

–

Blake Liggio, a Goodwin partner who identifies as transgender
Wilson Sonsini's women's initiative "tries to bring women together to create a sense of camaraderie and highlights more senior people you can go to for advice about how to succeed in a law firm."
Photo: Wilson Sonsini's Women's Leadership Academy
CULTURE
We deliberately haven't mentioned culture until now because it is not a standalone, objective 'thing'. Rather, it is a combination of all of the categories above, and more besides. You should consider many different aspects of firm life to determine whether its 'culture' – however you choose to define it – is right for you.
Photo: Foley & Lardner Chicago summer associates
And finally...
It's essential to research what differentiates the firms you interview with, not least so that you can communicate the reasons why you are a good match to your potential future employers:
"The most successful candidates that we see are those who demonstrate a sincere interest in Finnegan – a commitment to IP, a collaborative spirit, and a geographic tie to one of our global offices." – Mark Sweet, managing partner, Finnegan