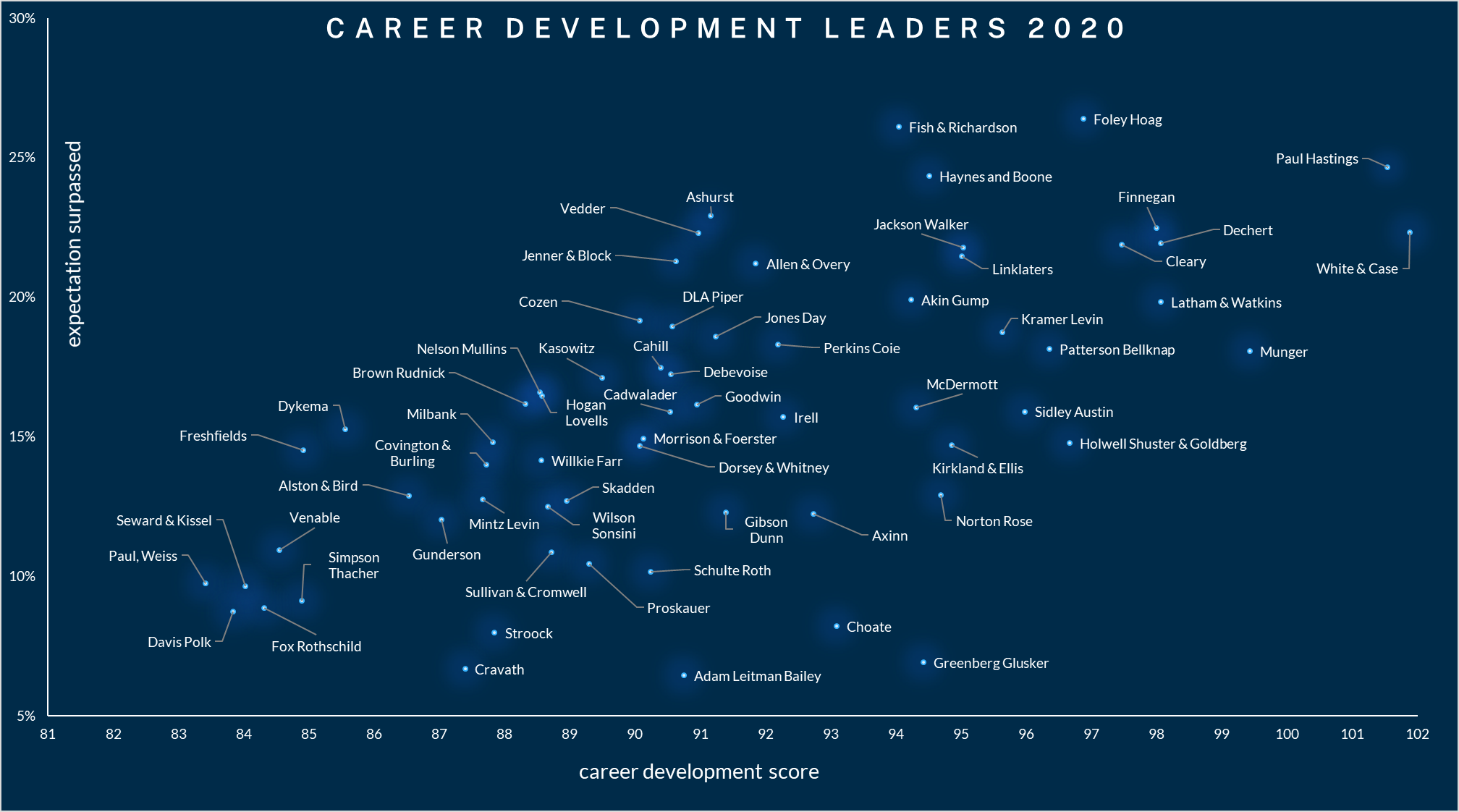 The leading firms for career progression 2020
QUESTIONS covering everything from personal practice building to client interactions, to travel opportunities, to tech support, to D&I policy that enables career progression for all, contribute to the data points we see here. We've moved away from a simple linear ranking this year and looked at career progression in two dimensions: the X axis charts how associates think their firms are helping them progress their careers; the Y axis compares reality to expectation. The firms featuring in the graph above posted strong X and Y figures: associates were net-promoters of their organisations, and we can confidently say that the firms here are the market leaders for enabling strong career progression. 
Why have we made this change?
Nuance is everything when representing data. When you conduct a satisfaction survey, there is no such thing as an unbiased response, whether it's positive or negative, so we wanted to inject some relativity. And if students are going to use rankings to make decisions, they should have useful detail. As you can see in the variance in the X axis scores, they're so tightly packed together that the difference between (e.g.) #22 and #23 has very limited meaning. So the Y axis is there to offer a certain relativity. Surveys like this are interesting, but we would urge you to look far deeper and consider the whole firm, which we explore in the Inside View. 
Methodology
For every firm taking part in our interview-based research, we also invite their junior associates to respond to an online survey covering every aspect of law firm life. They complete 40 questions asking about everything from their initial views on the firm and its competitors, to their relationships with partners and clients, to the firm's handling of D&I and pro bono. We also ask them about their expectations, aspirations and how important all these factors were when joining the profession and how those views change as they mature. Each question involves a rating, which we agglomerate here for comparison. The career progression scores are a combination of all topics that can affect career progression, such as work acquisition and practice-building, partner mentoring and client contact, support on menial tasks, quality of case experiences, D&I policy affecting upward progress, pro bono work that develops skills. 
And for those who want to see the Associate Top 50 ranking, it's here: